QHS All-Time Starting XI: Ability to communicate, control back line led to Higgins' historic career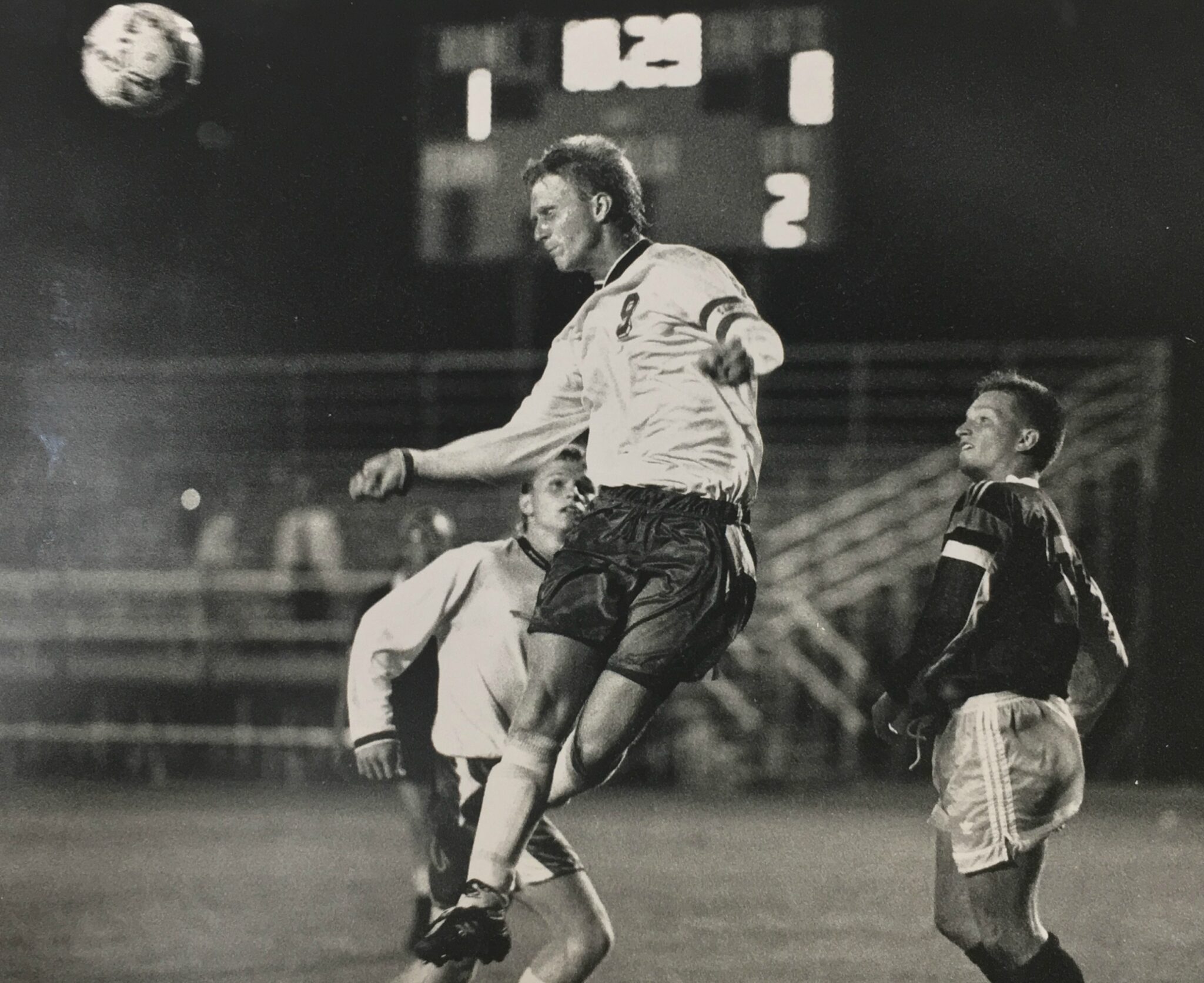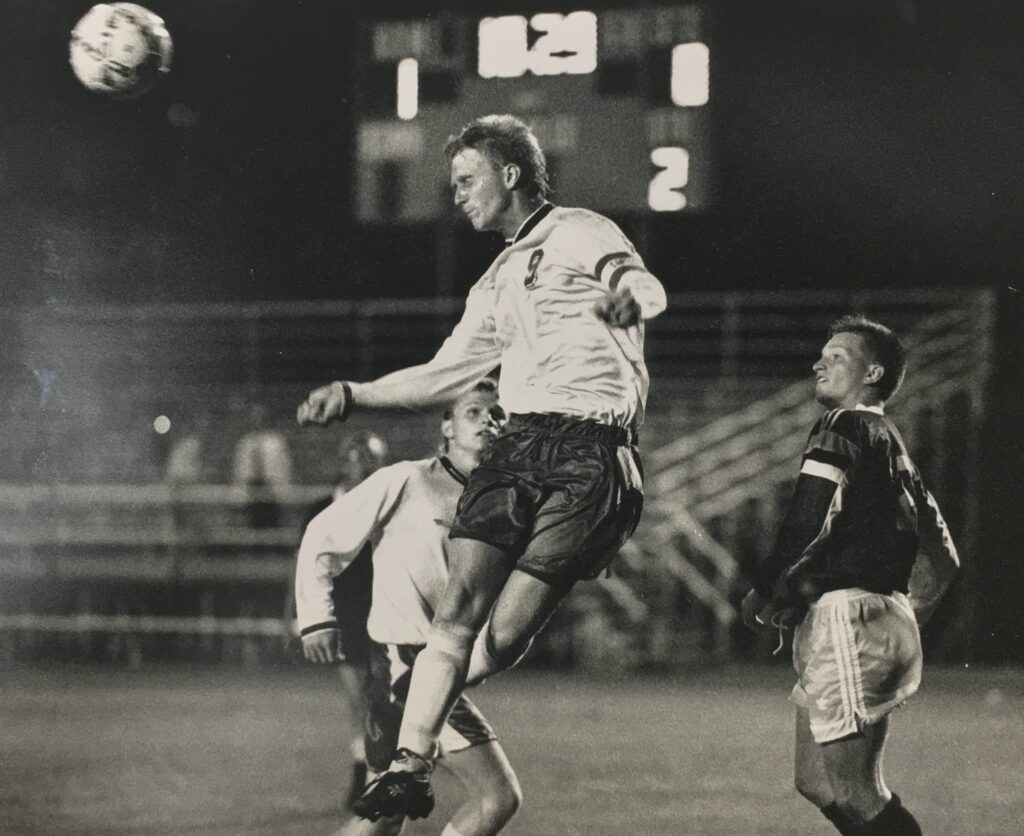 This is the eighth installment in a series highlighting the Quincy High School boys soccer players the Muddy River Sports staff has named to the program's all-time starting 11 in conjunction with the Blue Devils' 50th season.
Curtis Higgins, Defender, Class of 1993
QUINCY — You might say Curtis Higgins' pride had doubled.
Truthfully, it probably tripled, quadrupled or exponentially grew beyond measure.
So he summed it up quite eloquently.
"Ecstatic," he said of watching his sons follow in his footsteps.
A two-time all-state and All-Midwest defender for the Quincy High School boys soccer program in the early 1990s, Higgins spent two decades coaching youth soccer in this area, which included coaching his two sons — Grant and Gavin.
Both shared their father's love for the game, excelled with the Blue Devils and earned the opportunity to play in college. Grant, a 2019 QHS graduate, was a two-time all-sectional defender, while Gavin, a 2021 QHS graduate, was an all-sectional forward as a senior.
Both went on to play at Quincy University, including spending the 2022 season together on the Hawks' roster.
"You can say proud dad moments and that's all of it," said Higgins, who also played at QU. "Whether or not they struggled or did great, being able to hug them when they come out meant everything. That was pretty special. I've been fortunate to see them together. I have a picture of them on the field together at North Campus. I've seen it all. If the Lord wants to take me, I'm good."
Higgins laughed and admitted he's been blessed.
"Extremely blessed," he said.
He was blessed with the gift of being able to control the game.
One of only two players in QHS history to earn All-Midwest honors twice in a career, Higgins anchored a defense that helped the Blue Devils go 28-10-7 in his junior and senior seasons combined. Quincy won regional and sectional titles in 1992 — Higgins' senior season — before falling to Morton in a penalty-kick shootout in the super-sectional.
That season saw the emergence of a freshman forward named Everette Abbey, who went on to become the leading scorer in school history, and the culmination of a career of arguably the best defender in school history.
"An individual will win you one or two or three games, but it's not going to win you that regional, that sectional, that super-sectional," former QHS coach Matt Longo said. "Higgins was the type of player who could take a team, put them on his shoulders and say, 'This is what we need to do, this is why we need to do it, this is the way we were taught to do it.' And they followed and became a team.
"He had a way of expressing that to his teammates without coming across as arrogant or condescending. The players had respect for what he did and how he did it on the field."
The respect was mutual because Higgins understood his teammates and their desire to represent QHS. He held the same desire because wearing a QHS jersey meant something substantial.
"If you had that blue on, all of us were in it," Higgins said. "We were like one big body. It taught me a lot having that camaraderie and being a part of that fraternity. Going later on in life and coaching and knowing how well being connected to a group of guys mattered certainly helped. It's a big part of the game and a big part of life for all of us."
Higgins was inducted into the QHS Hall of Fame in 2018 and is one of five players in program history to earn all-state honors twice. He helped the Blue Devils post 20 shutouts his final two seasons at QHS, as well as win back-to-back Western Big 6 Conference championships.
The accolades and praise are warranted, but being a part of the Blue Devil tradition is what Higgins treasures.
"There was this aura around it, of being so proud to be a part of something like that," Higgins said. "We'd walk around in the locker room and it was like, 'You're a Devil.' You're going to go out with your boys and battle. Every pregame was intense.
"Some of those memories with the guys, they stay with you forever. I still remember them like they were yesterday."
How he played the game won't be forgotten.
"One thing we talk a lot about with kids nowadays is something he did extremely well, and that's how he talked and communicated with the other players on the field," Longo said. "He was in charge of what was going on out there and had a sense of defending like no other.
"He was a smart individual. Soccer IQ can mean different things — do you watch a lot of soccer or do you understand soccer? He understood soccer. You've seen it with his own kids. He coaches his own kids the way that he played, and you can see that in them."
To read more of the Starting XI profiles as they are published, follow the links below:
Speed, skill allow Abbey to develop into dynamic scoring machine
Work ethic enables Bradshaw to seize opportunity to be great
Finding footing as freshman helps Smith become part of tradition
Deft touch, high IQ turn Reeves into one of Blue Devils' greatest players
Playing up paves way for Sandercock's Hall of Fame career
Berry becomes maestro at midfield in leading Blue Devils to state tourney
Sohn's control of pace and play leads to magical state run by Blue Devils
Miss Clipping Out Stories to Save for Later?
Click the Purchase Story button below to order a print of this story. We will print it for you on matte photo paper to keep forever.