QHS All-Time Starting XI: Speed, skill allow Abbey to develop into dynamic scoring machine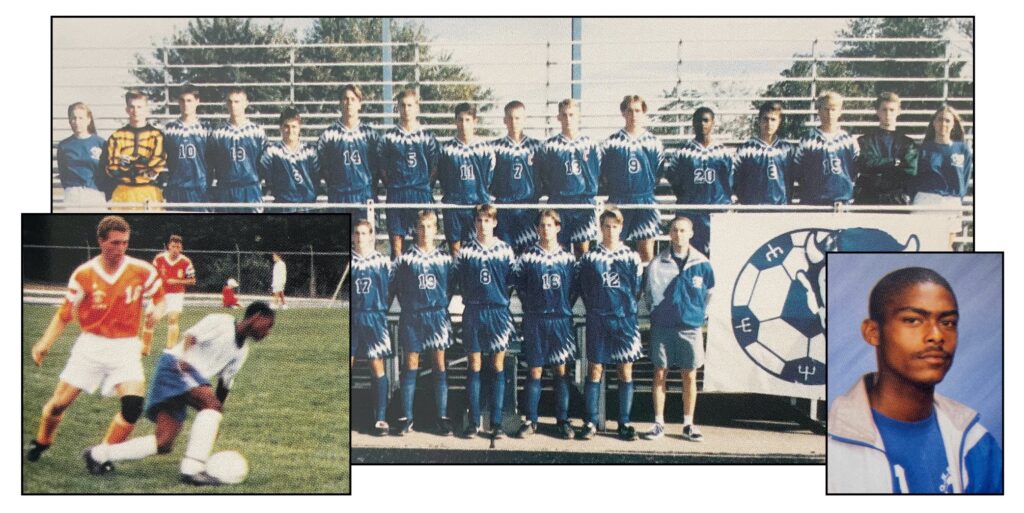 This is the first installment in a series highlighting the Quincy High School boys soccer players the Muddy River Sports staff has named to the program's all-time starting 11 in conjunction with the Blue Devils' 50th season.
Everette Abbey, Forward, Class of 1996
QUINCY — The curiosity of a coach led to Everette Abbey finally getting to where he belonged.
Nowhere was he better than on the soccer field.
After the Quincy High School boys soccer team finished its first preseason practice in the fall of 1992, Blue Devils coach Matt Longo stopped at the Clark gas station at the corner of 30th and Maine to pick up something to drink.
Inside were three boys, all roughly 14 years old, with one holding a basketball.
Longo approached them and asked, "Hey, do you guys know Everette Abbey?"
A speedy forward with a deft touch and foot skills that translated to a record-setting number of goals, Abbey was expected to be at that practice. A freshman who had played in the Quincy Hearts program leading up to high school, Abbey had been a no-show for practice.
It turned out the boy holding the basketball was Abbey.
"He says, 'Yeah, that's me,'" Longo said. "I said to him, 'You know we started soccer practice today.' He says, "Are you Coach Longo? I'll get my physical. What time do we practice this afternoon?' I told him 4 p.m. He was at practice at 4 p.m. with his paperwork complete.
"And that's a true story. He was down at that Clark gas station with a couple of his buddies holding a basketball. He was a good basketball player. He turned out to be a pretty darn good soccer player, too."
Abbey is one of the Blue Devils' best.
A 1996 QHS graduate who helped the Blue Devils take fourth place at the 1995 state tournament — one of only two state trophies won by a program now in its 50th season — Abbey is the all-time leading scorer with 97 career goals and holds the career record for assists with 48.
His individual accolades trump any other player in program history. A three-time All-Western Big 6 Conference selection. A three-time Illinois High School Soccer Coaches Association all-state selection. A three-time All-Midwest selection. The only All-American in program history, honored as a senior by the National High School Soccer Coaches Association of America.
It was the combination of speed and skill that made him special.
"There is no doubt speed was his strength," said Longo, who spent two stints as the QHS head coach covering 23 seasons, including all four with Abbey in the lineup. "There's a difference between kids who just have speed and kids who have the skills to go with the speed.
"There are kids out there who may be just as fast, at least probably as long the same lines as Everette, but I don't know if they had the foot skills and the magic he had with his feet. Not only did he have the speed, but he had the foot skills to go with it."
The same burst of quickness that went with his unique athletic ability and body control made him a stellar point guard for the QHS boys basketball team.
Still, it was on the pitch where he set himself apart. Abbey, along with running mate Donivan Bradshaw, led the Blue Devils to a 25-3-1 record in 1995. In fact, in their four years playing high school soccer, they helped Quincy go 75-11-11.
Abbey scored 36 goals his senior season, which alone would tie him for 10th in career scoring at QHS. Bradshaw holds the single-season scoring record with 45 goals in 1995 and is second in career scoring with 87 goals.
While Longo admits the two made each other better in nearly every instance, Abbey had the kind of wow factor where everyone waited for him to do something jaw-dropping.
"There was always going to be that moment when he got the ball and something happened," Longo said. "I would love to find the video, and I'm pretty sure it was against Sacred Heart-Griffin here, but someone passed him the ball at midfield and the moment he got it the coaches looked at each other and said, 'Something's going to happen.'
"Sure enough, he made a couple of jukes and stepped over the ball and one defender did a complete circle looking for him. He thought he saw him and Everette was already a couple feet past him. He went in and slipped it past the goalie. So it was never a matter of wondering what game would it be when he wowed you. It happened every game."
It's why no lineup celebrating the history of the program is complete without him at the top.
Miss Clipping Out Stories to Save for Later?
Click the Purchase Story button below to order a print of this story. We will print it for you on matte photo paper to keep forever.