QHS All-Time Starting XI: Berry becomes maestro at midfield in leading Blue Devils to state tourney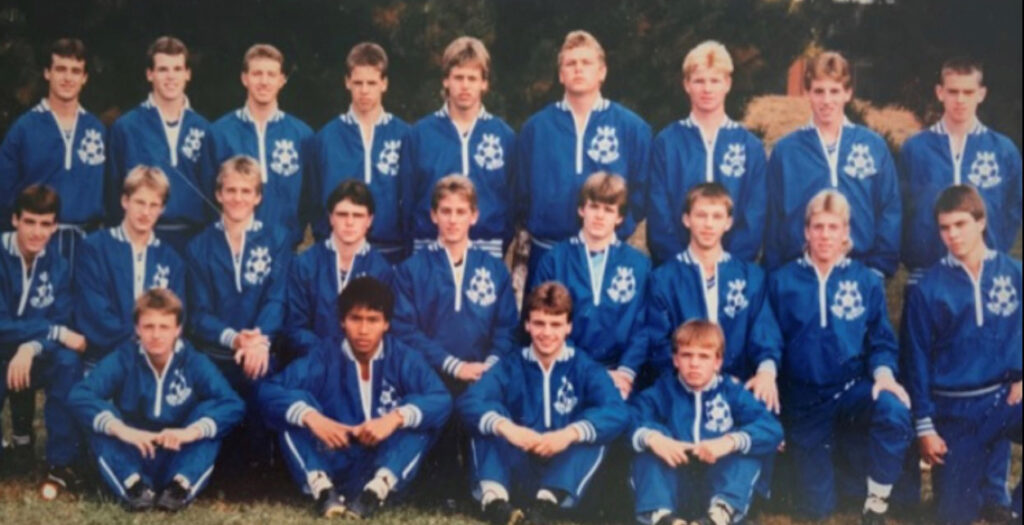 This is the sixth installment in a series highlighting the Quincy High School boys soccer players the Muddy River Sports staff has named to the program's all-time starting 11 in conjunction with the Blue Devils' 50th season.
Steve Berry, Midfielder, Class of 1988
QUINCY — The summer before his first season as Quincy High School soccer coach in 1987, Matt Longo was approached by the team's three captains — Steve Berry, Todd Fessler and Eric Conover — with a suggestion.
Berry had blossomed into an all-state midfielder the season before, while Conover had played forward and Fessler fullback. The trio proposed that Conover and Fessler switch positions.
"I made the switch on the recommendation of the three captains," Longo said. "It made us good."
Fessler emerged to lead a high-powered offense in goals scored, Conover helped anchor an ironclad defense and Berry orchestrated both units from midfield to enable the Blue Devils to post an 18-2-5 record and make their first appearance in the state tournament in 12 years.
"We were in the one-class system at the time and Steve Berry was one of the top players in Illinois in 1987," Longo said. "He was a general at midfield. He controlled the tempo of the game from start to finish. He knew when to attack on offense and when to drop back on defense.
"He was a coach on the field. He had earned everybody's respect as a junior and carried that over to his senior year."
Berry scored 18 goals and dished out 19 assists as a junior to earn the first of two all-state and All-Midwest honors when Quincy went 14-4-2 in Al Knelper's only season as head coach. Three of those losses were to defending state champion Quincy Notre Dame, which went on to finish third in the state that fall.
The Blue Devils outscored their opponents 107-19 in 1986.
"Pressure doesn't bother him. … he plays with a lot of confidence and poise, and that rubs off on his teammates," Knepler said of Berry in an interview with the Quincy Herald-Whig on the eve of the 1986 regional championship game. "The guys feel confident with him directing traffic out there.
"He's not a flashy player, but he makes things happen. Other coaches know he's the player to stop if you're going to stop the Blue Devils. And very few teams have been able to do that."
Especially Berry's senior season.
Quincy's only two losses that fall came early in the regular season to eventual state champion Granite City 1-0 and to Naperville North 3-2 on penalty kicks in the quarterfinals of the state tournament. It swept all three games against QND.
With Fessler, Mike Mann and Chris George playing up front, Berry wasn't called upon to score as often, but he remained the maestro at midfield. He finished with seven goals and 17 assists that season and graduated as the school's all-time leader in assists with 48.
"Maybe he did sacrifice some goals, but those 17 assists were like scoring 17 goals," said Longo, who had been an assistant coach in 1986. "When he got the ball, he knew what he was going to do with it, and he did. There was no second-guessing.
"He read the scenario on the field and always made the right decision. He knew when to pass or shoot. He knew how to keep the flow of the play going."
One of the turning points in the 1987 season came during a Western Big 6 Conference game against Moline when a physical game turned into an ugly scrum.
"I told the kids that is not Quincy soccer, that we have to have more poise," Longo said. "Phil Conover made up a button that said 'Poise Boys,' and we made the kids wear them to games.
"That game was a big turning point not only in my coaching career, but for that team to keep our heads in games. During games the rest of the season, you could hear players telling each other, 'Keep your poise.' "
Quincy rolled through the postseason and led Naperville North 1-0 in the quarterfinals until allowing a goal with 1 minute, 29 seconds remaining in regulation, snapping a streak of more than 335 consecutive shutout minutes.
Fessler scored his second goal early in the first of two mandatory five-minute overtime periods off a Berry restart, only to see Naperville North answer again. The winners then prevailed on penalty kicks.
There was no rematch with Granite City in the semifinals.
"Part of the reason they scored (in regulation) was because I was doing the (Granite City coach) Gene Baker thing, subbing all the time the last 10 minutes," Longo said. "I was about to sub with two minutes to go and their coach yelled, 'He's trying to run out the clock.' I didn't sub, a guy gets free on top and they ended up scoring."
Aside from being a two-time all-state and All-Midwest selection, Berry was voted the team's most valuable player as both a junior and senior and was an honorable mention All-American in 1987.
He went on to play one season at Quincy University before finishing his career at Illinois State. He has since been a successful club, high school and college coach, first in Iowa and then in Illinois.
"I've had some very good midfield players, but as far as being a general on the field, he had a natural knack for it," Longo said of Berry. "I saw it as an assistant coach. He could calm his teammates down and he could hype them up. He could dictate the pace and the tempo of a game.
"He was the key to our success."
To read more of the Starting XI profiles as they are published, follow the links below:
Speed, skill allow Abbey to develop into dynamic scoring machine
Work ethic enables Bradshaw to seize opportunity to be great
Finding footing as freshman helps Smith become part of tradition
Deft touch, high IQ turn Reeves into one of Blue Devils' greatest players
Miss Clipping Out Stories to Save for Later?
Click the Purchase Story button below to order a print of this story. We will print it for you on matte photo paper to keep forever.