QHS All-Time Starting XI: Playing up paves way for Sandercock's Hall of Fame career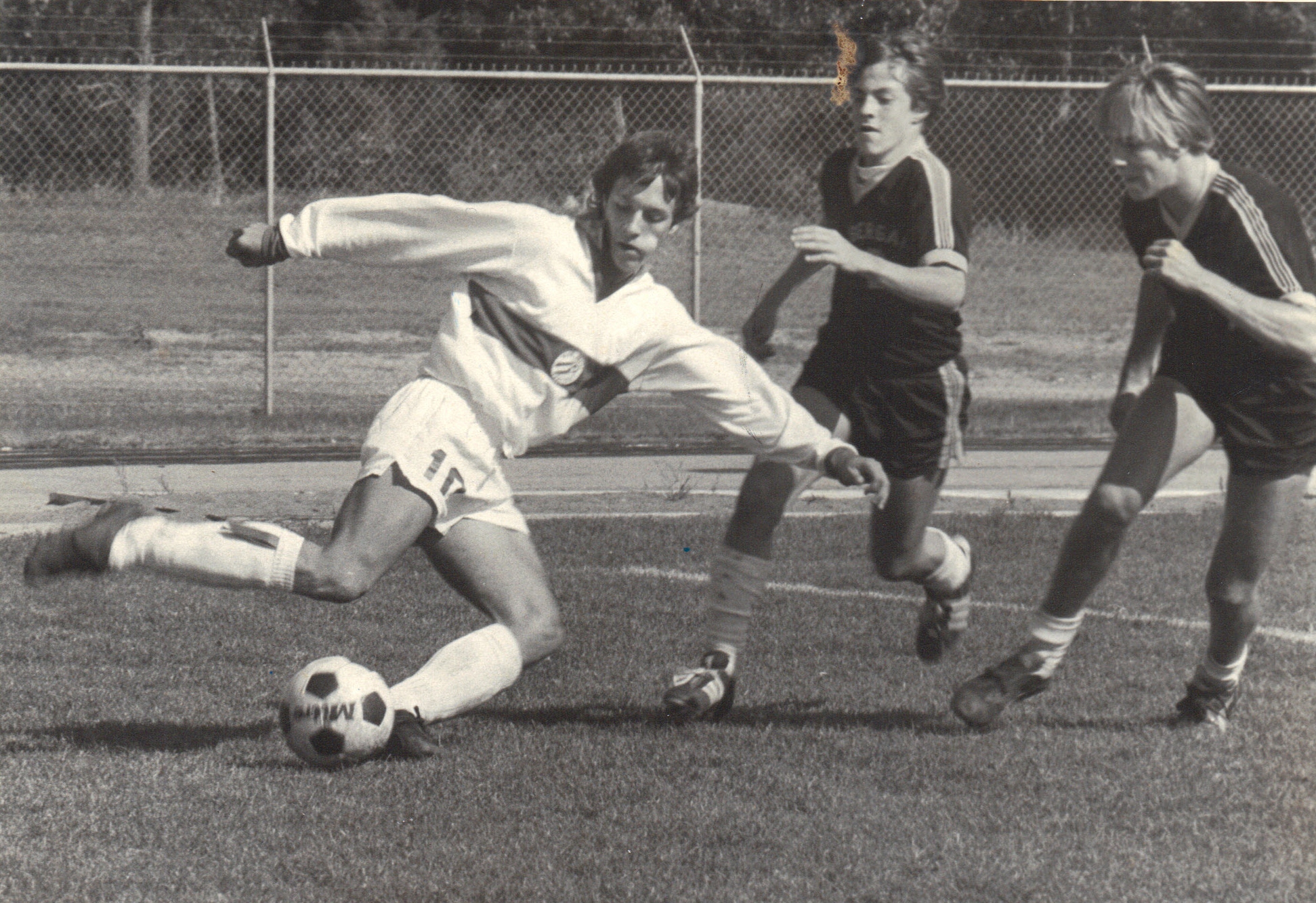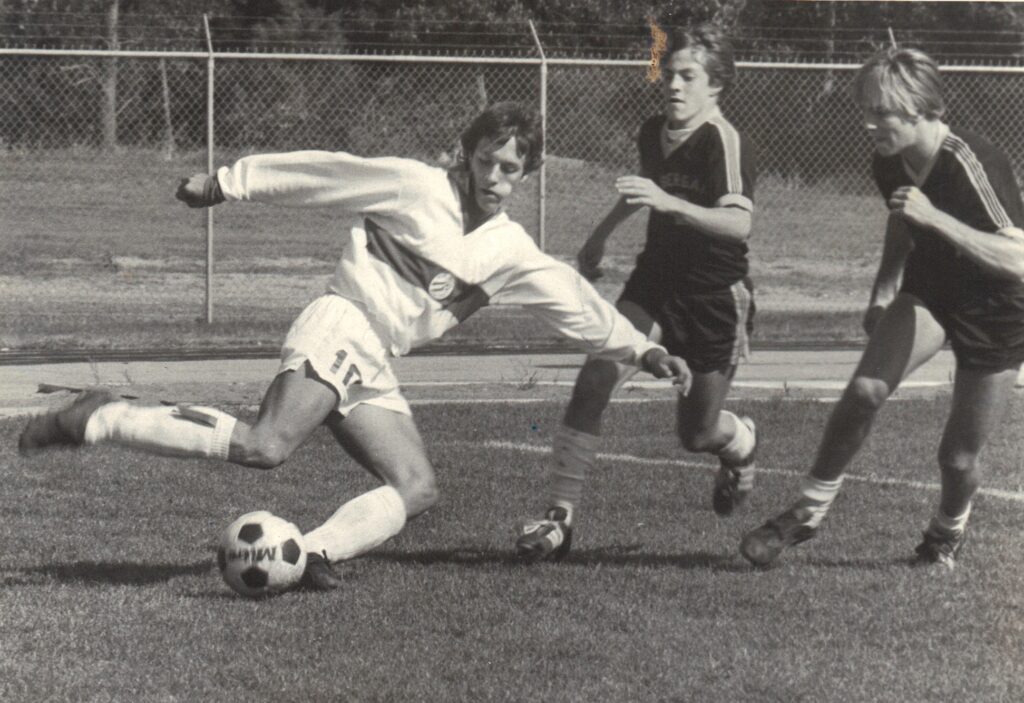 This is the fifth installment in a series highlighting the Quincy High School boys soccer players the Muddy River Sports staff has named to the program's all-time starting 11 in conjunction with the Blue Devils' 50th season.
Jim Sandercock, Midfielder, Class of 1983
QUINCY — There was an opening on an older youth soccer team being coached by Quincy University players when Jim Sandercock was in the seventh grade. His brother, Dave, was on the team and asked his little brother if he wanted to play with the big boys.
"I was like, 'Yeah,'" Sandercock said. "(Future QU All-American goalkeeper) Eric Delabar was our coach. That's what got me really fired up. That's when I decided this is the sport I'm going to concentrate on."
It proved to be a wise decision. Sandercock went on to become one of the best players in Quincy High School history. Primarily a midfielder during his four-year varsity career, his versatility, speed and field vision allowed coach Dick Stewart to utilize him anywhere on the field.
The Blue Devils won three regional championships from 1979-82 and Sandercock was a catalyst.
He was second in goals scored and assists as a junior and led the team in both categories as a senior. He was selected as the team's most valuable player in both seasons. He was voted to the all-sectional team in 1981 and was one of three QHS players — Roger Wilson and Jim Bruce were the others — named all-state in 1982.
Sandercock also was selected to the Illinois Select U-16 team for the Olympic Development Program.
"Jim was a playmaker," Stewart said of the QHS Hall of Fame inductee. "He made things out of nothing. He has great speed, great ballhandling skills and could lace a shot through a needle. He could really see the field. Not only did he score, but he also made people around him look good.
"Every time he touched the ball you knew something good was going to happen, and it usually did."
Stewart had an abundance of talented underclassmen and upperclassmen in 1979 when Sandercock was a freshman. He regularly substituted forwards and outside midfielders throughout games to keep fresh legs on the field.
"We wound up platooning like a hockey team," Stewart said. "One group would come out and the second group would go in and be faster than the first. It drove teams nuts."
Sandercock saw another advantage to the strategy.
"Coach Stewart did a great job of keeping everybody involved and putting players where they would help the team succeed in that game," he said. "It felt like a big family to me. You weren't a senior or a freshman. You were part of the Blue Devil soccer team. You treated everybody with respect."
The Blue Devils went 16-8 in 1979 and 16-4-2 in 1980. They were eliminated by eventual state champion Granite City South in the sectional round both seasons. In 1981, they lost to eventual state quarterfinalist Quincy Notre Dame in the regional final.
Sandercock said an early 5-1 victory over Granite City North in 1982 was a "telltale sign" of how that season would go.
"St. Louis was the hotbed of soccer in the 1970s and 1980s, and those Granite City schools were on the outskirts," he said. "They would cross over in the summer and play for Scott Gallagher or Busch (club teams). We didn't have year-round soccer.
"Outside Notre Dame, the teams we would think about playing the whole season were Granite City South and Granite City North. That's how you gauged yourself. That game told us we could match our playing abilities with the big-city schools."
Quincy went 15-5-2 that season and rose to No. 2 in the state poll, overcoming injuries to several key players, including forward Craig McNay and fullbacks Darren Mueller and Greg Shierling, that contributed to some regular season losses.
Finally healthy, the Blue Devils defeated Notre Dame in the regional final and rolled into the sectional championship game a heavy favorite over Springfield Lanphier, which they had defeated 5-1 during the regular season.
A victory would send Quincy to the state tournament for the first time since 1975. More so, Granite City South, which had won five consecutive state championships from 1976-80 and would beat New Trier in the finals that season, was on the other side of the bracket.
Instead, the Blue Devils got caught looking ahead.
"We lost our focus in the sectional game and lost," Sandercock said of the crushing 3-1 setback. "As a captain, I take some responsibility for that. We played the first half like it was going to be an easy game. By the time we got fired up, it was too late. Springfield has us back on our heels.
"I think we would have ended up in the finals. We wouldn't have met Granite City South until then, and I think we matched up with them. We were of the mindset that it could have gone either way. We were going to come home with a first- or second-place trophy."
Sandercock spent two years at Quincy University. He was named to the NAIA District 20 all-area second team as a freshman when he started as wing forward.
"As a kid growing up, my dad took us out to old Q Stadium to watch those national championship teams play," he said. "They were the standard. That's where I wanted to go and play."
Sandercock had difficulty dealing with an ACL tear between his freshman and sophomore seasons and ultimately decided to join his brother in the U.S. Air Force, where he spent 10 years, mostly as a heavy equipment operator. He continued playing while stationed in Germany and met his wife on a soccer field there.
While stationed stateside, he began coaching an under-18 team in Great Falls, Mont. He continued to coach various club and traveling teams after leaving the Air Force and spent three years as the head coach at Timberline High School in Boise, Idaho. He later was an assistant at South Puget Sound Community College while working in the state of Washington.
After making career moves to Atlanta and Salt Lake City, Sandercock returned to Boise in 2020, where he oversees the 32-person Southern Idaho division of Modern Machinery, a company that sells machinery for construction, mining and paving.
And after a long hiatus, he is back coaching youth soccer, helping two 7-year-old grandchildren. A third grandchild, now 3, will start playing next year.
"We're going to play him up," Sandercock said. "We think he's going to be good."
It paid off for Grandpa.
To read more of the Starting XI profiles as they are published, follow the links below:
Speed, skill allow Abbey to develop into dynamic scoring machine
Work ethic enables Bradshaw to seize opportunity to be great
Finding footing as freshman helps Smith become part of tradition
Deft touch, high IQ turn Reeves into one of Blue Devils' greatest players
Miss Clipping Out Stories to Save for Later?
Click the Purchase Story button below to order a print of this story. We will print it for you on matte photo paper to keep forever.