QHS All-Time Starting XI: Work ethic enables Bradshaw to seize opportunity to be great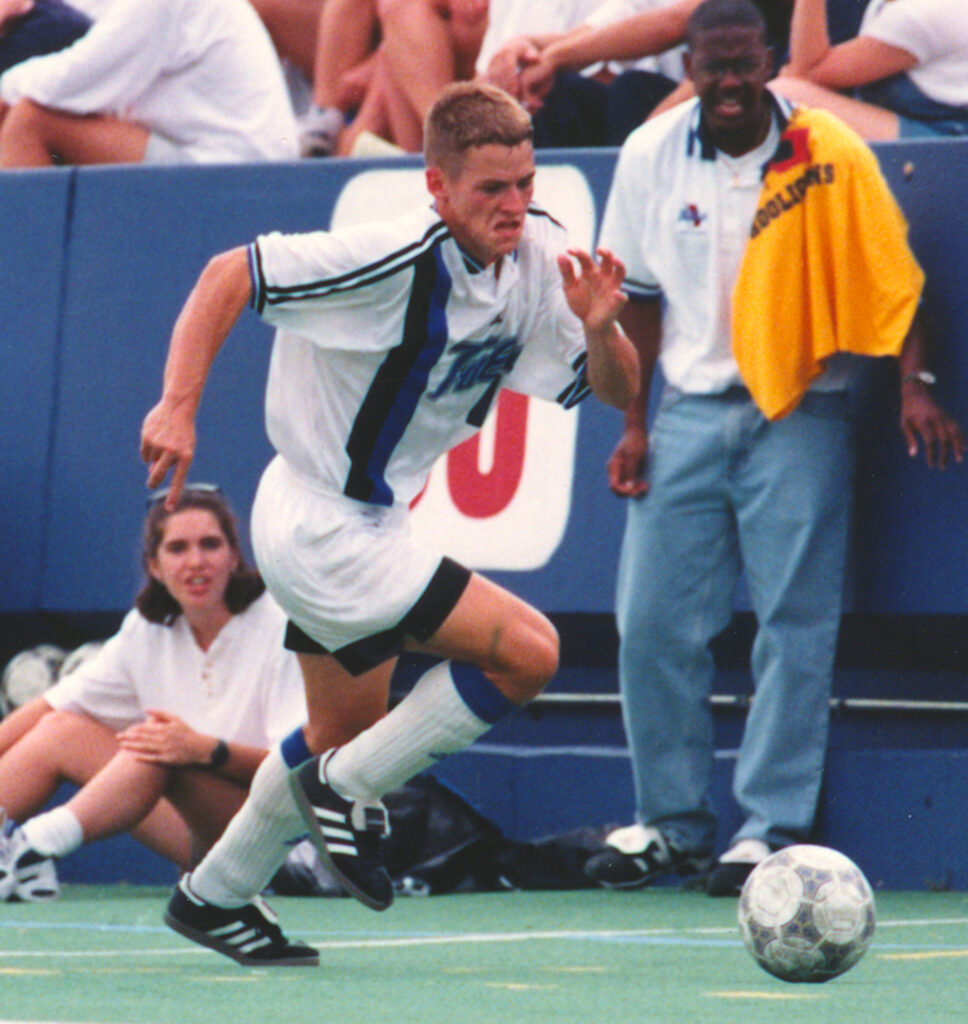 This is the second installment in a series highlighting the Quincy High School boys soccer players the Muddy River Sports staff has named to the program's all-time starting 11 in conjunction with the Blue Devils' 50th season.
Donivan Bradshaw, Forward, Class of 1996
QUINCY — Donivan Bradshaw took a moment to pinpoint the right word he'd use to describe what being a part of the Quincy High School boys soccer program meant.
Then it hit him.
Opportunity, he said.
"Opportunity to be a part of a brotherhood," said Bradshaw, the 1996 graduate who is the second-leading scorer in program history and a Quincy Blue Devil Sports Hall of Fame inductee. "Opportunity to create fond memories. There's not a day that goes by that I don't remember playing with those guys.
"There's opportunities where we came out on the winning edge. There's opportunities where we came out just shy of achieving the ultimate result. Ultimately, it was the opportunity for brotherhood that was pretty special during that time."
The Blue Devils seized the opportunity to take the QHS program to new heights during Bradshaw's senior season.
Coming off a 20-1-2 season in 1994 in which the Blue Devils scored in 22 straight games before getting upset 1-0 by East Moline in the sectional semifinals, the idea the 1995 squad would be the first team in program history to win a state trophy seemed a little like a long shot.
Although the Blue Devils returned the high-scoring tandem of Bradshaw and Everette Abbey, they graduated Hall of Fame goalkeeper Ron Bridal and pieces of a defense that allowed only seven goals the entire season.
"It's crazy how one team can make it to state and one team doesn't," Bradshaw said. "I really thought my junior year we were more dangerous having those two age groups together. Once again, it didn't happen. So I think going into my senior year people counted us out."
Not Bradshaw. Not the senior class. Not anyone wearing blue and white.
"A majority of that team played together since they were 5 years old," Bradshaw said. "If you go back to the Quinsippi (Soccer League) days, you had teams like Heibreder Peters, you had Mercantile Bank, you had Athlete's Foot. A majority of our players played in the Quinsippi league for those three teams and competed against one another.
"We were together from the time we were anywhere from 5 to 10 years old and we stayed together. That's pretty unique. That's probably what got us over the hump. We played together for so long. We really got to know each other on and off the field."
It resulted in a 25-3-1 season in 1995, which set the QHS single-season record for victories. The Blue Devils beat Normal U-High 6-1 in the super-sectional and Chicago Juarez 1-0 in the state quarterfinals, winning a PK shootout 5-3 to advance.
Evanston shut out the Blue Devils in the semifinals, winning 1-0 in overtime as part of a state-record 22 shutouts that season. A 2-1 loss to Palatine sent the Blue Devils home with the fourth-place trophy.
"The opportunity to play in the state tournament was pretty special," Bradshaw said. "That's something that many players don't have the opportunity to do throughout their sports career. To get that opportunity, even though we fell short of the ultimate goal, was certainly a pretty unique opportunity.
"We put ourselves in a position to be there. We deserved to be there. It could have went many different directions. To be able to be the first team to actually place in QHS history was pretty special. To be the first team to get back to the state tournament and place and get a state medal was pretty awesome."
Along the way, Bradshaw established a single-season scoring mark that hasn't been challenged. He scored 45 goals in 1995 and finished with 87 goals in his career, which ranks second behind Abbey's 97 career goals.
Bradshaw was named an all-stater in 1995, earned a scholarship to the University of Tulsa and became a three-time Western Athletic Conference all-tournament selection for the Golden Hurricane. He ranks fifth on Tulsa's career goals list with 37 and ninth on the career scoring list with 84 points.
He earned NSCAA/Umbro All-Midwest second-team honors in 1997 and was a 1998 preseason All-American selection.
"You always hear kids talking like, 'I want to go play Division I soccer. I'm going to get a scholarship to Division I,'" said former QHS coach Matt Longo, who won 386 games in his career, including 61 in the three seasons with Bradshaw on the varsity. "Kids say that a lot, but Donivan never really said that.
"What Donivan did was he worked hard enough so people would come to him and offer him a Division I scholarship. Kids need to realize scholarships aren't just handed out. You have to prove to people you're a good player instead of talking about how good you want to be. He never talked about how good he was. The way he played in a game is the way he played in practice. He worked harder than everyone else."
Bradshaw still does in many ways.
He works as a projects practice manager for Computacenter US in Tulsa, Okla., served as the head boys soccer coach at Bishop Kelley High School from 2007-13, winning three consecutive state championships from 2009-11, and has been a part of five state championships in his coaching career.
Last year, he served as an assistant coach at Jenks, Okla., which won the Class 6A state title with Bradshaw's son, Devin, a senior on the team.
"This was probably the most special because my son was on the team," Bradshaw said.
Bradshaw remains part of the game as a coaching director with a local club program and providing training sessions as time allows. He and his wife, Adriane, and their two kids — Devin is a freshman at the University of Kansas and their daughter Emerson is a high school senior — reside in the Tulsa suburb of Jenks.
But Quincy is never far from his thoughts. His parents still live here, and he has reminders of his QHS soccer days in his office, such as his state medal and the ball from the game he broke the single-season scoring record.
Plus, there are the connections with former teammates that exist to this day, some going back almost 40 years.
"It's pretty nice to be able to see what's happening in their lives, in their family's lives and their kids," Bradshaw said. "We're all in a slightly different chapter as we've moved on from that adventure, but that connection will be there forever."
To read more of the Starting XI profiles as they are published, follow the links below:
Speed, skill allow Abbey to develop into dynamic scoring machine
Miss Clipping Out Stories to Save for Later?
Click the Purchase Story button below to order a print of this story. We will print it for you on matte photo paper to keep forever.