QHS All-Time Starting XI: Finding footing as freshman helps Smith become part of tradition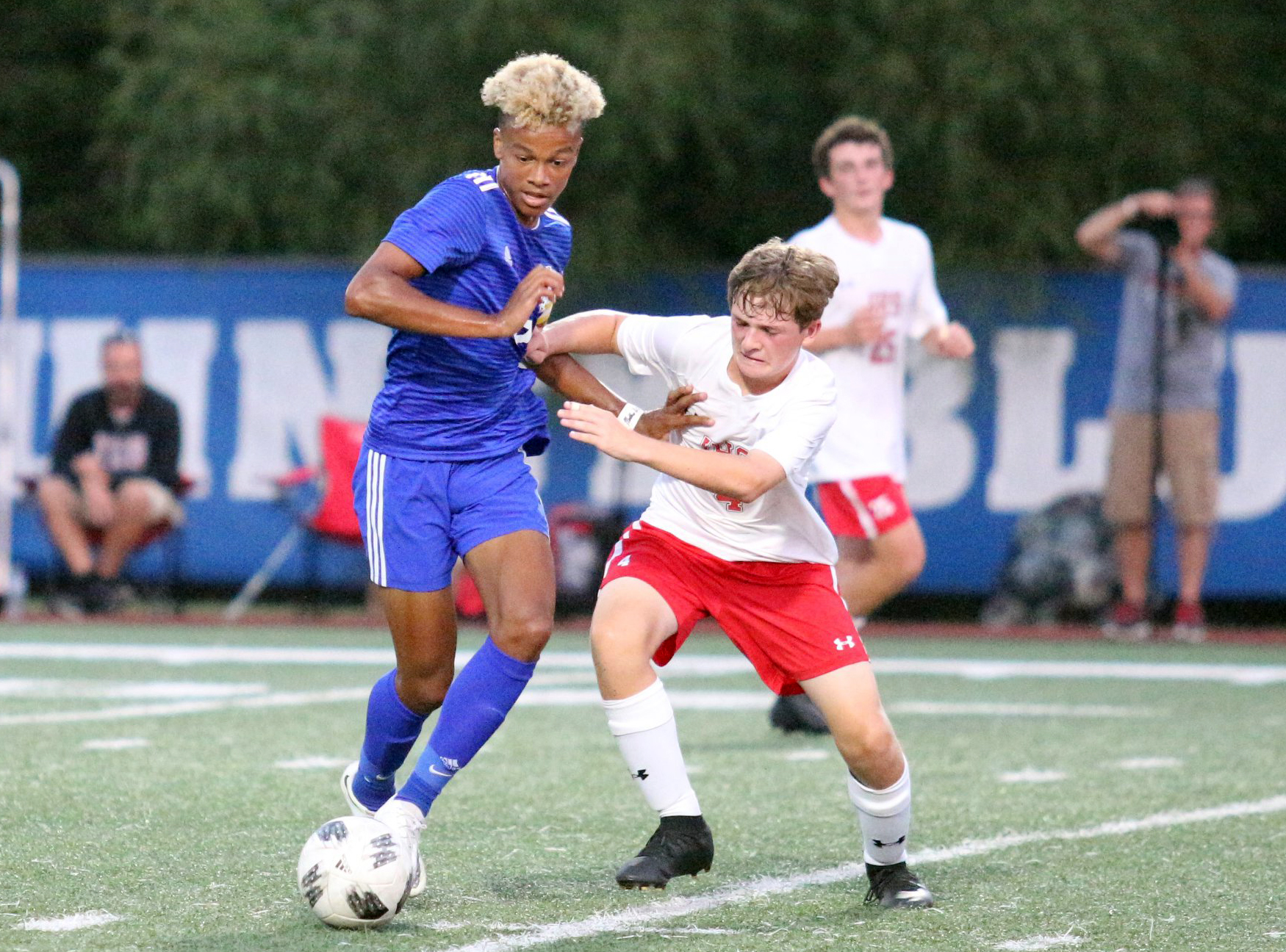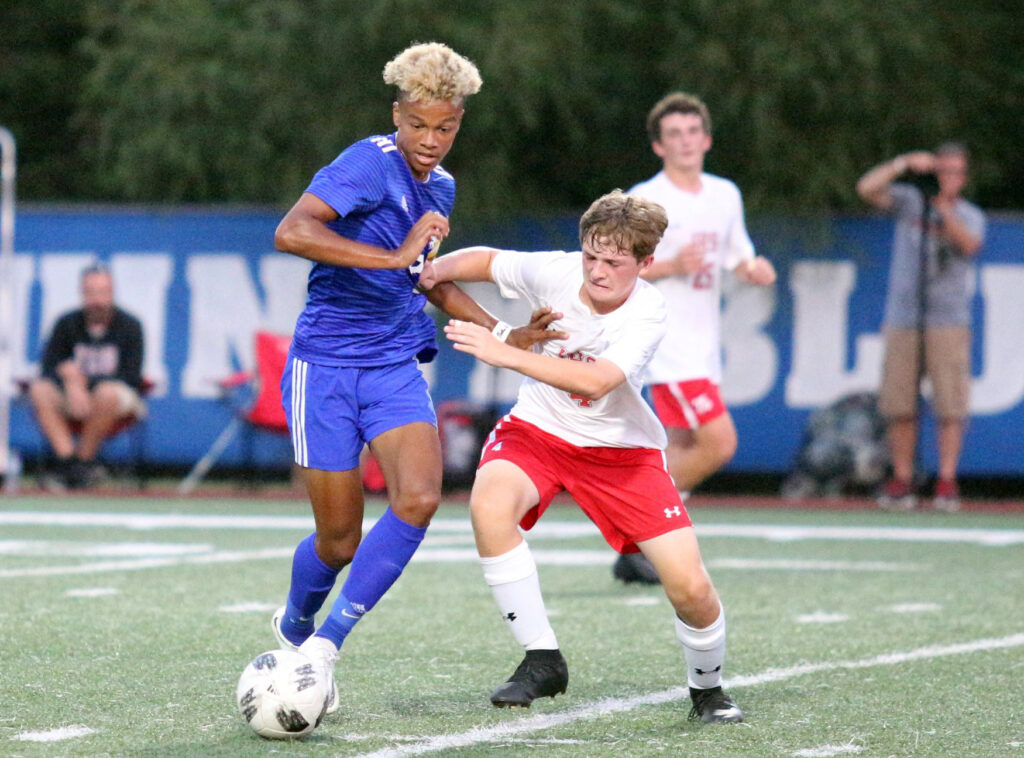 This is the third installment in a series highlighting the Quincy High School boys soccer players the Muddy River Sports staff has named to the program's all-time starting 11 in conjunction with the Blue Devils' 50th season.
Jaeden Smith, Forward, Class of 2019
QUINCY — Matt Longo had seen enough.
Seven minutes into a game against Cherry Creek, Colo., in the Gateway City Classic in 2015 and already down 2-0, the former Quincy High School boys soccer coach benched all 11 starters and put a full squad of reserves on the field.
"He subbed out everybody, even the goalie," said Jaeden Smith, a freshman forward coming off the bench for that team.
It elicited the right reaction. Longo eventually inserted his starters back into the lineup, but Smith and a couple other reserves still saw substantial minutes in the 3-2 come-from-behind victory. In fact, Smith netted the first goal, converting an assist from Riley Roth to make it a one-goal deficit at halftime.
"I hit a volley from just outside the box, and it went in the lower left corner," Smith said.
Afterward, TopDrawerSoccer.com featured Smith in its post-event writeup, something that had a significant impact on his mindset.
"That's when I figured out I belonged and I could do something special within the program," Smith said.
That is something he certainly did, starting with a goal he will always remember.
Leading Tinley Park Andrew 2-1 with 20 minutes to play in regulation in the Class 3A super-sectional in 2015, the Blue Devils were able to let Smith run free on a counterattack. Junior midfielder J.D. Sohn played the ball through, allowing Smith to carry it into the penalty box 1-on-1 with Bolts goalkeeper Tyler Muller.
Smith finished it with a nifty shot into the side netting, cementing the 3-1 victory.
"Sohn played me an amazing ball," Smith said. "I just tapped it in with my right foot. It was the game-sealing goal. I was just ecstatic. I was going to be able to go to state with the guys I got close to that year, and it was just really, really exciting."
Longo called it one of the most significant goals in program history.
"It ensured we were going to the state tournament," Longo said. "That was huge for us and huge for him. That established him as a scorer."
There were many goals that followed.
Smith, a 2019 QHS graduate, scored the third-most goals in program history, netting 62 from 2015-18. He was named an Illinois High School Soccer Coaches Association all-stater as both a junior and a senior, becoming one of five Blue Devils in the program's first 49 years with two all-state nods. He was a two-time All-Western Big 6 Conference selection as well, helping the Blue Devils win three conference titles during his four-year run.
None of it would have been possible without the faith and belief Longo instilled in Smith the summer prior to his freshman year.
He began that summer playing with the junior varsity but was bumped to the varsity roster for a tournament in Burlington, Iowa. Included in a trip to Colorado later that summer made him feel like he finally was part of the crew.
"Grant (Higgins) and Nolan (Nuttelman) were already up on varsity that summer, so I kind of felt like I was already behind everybody," Smith said. "But I just stayed the course."
He soaked in every bit of advice and knowledge he could.
"Coach Longo did a great job of teaching me the fundamentals of soccer," Smith said. "I grew up playing soccer, but I didn't really understand it until I got to high school. Having Coach Longo guide me and show me the ropes and how he wanted things run made it pretty easy to transition to high school soccer."
The bond the Colorado trip forged was unbreakable.
"I got to know a lot of the guys during that trip," Smith said. "We bonded and had a special bond going into that season. It made it pretty easy for me and I wasn't too worried about being a freshman on that team. Obviously, I was a little nervous, but you have to be confident in yourself to be your best."
Enduring a 17-hour train delay, along with other ups and downs that happen with long-distance travel, made the team tighter, a big reason the Blue Devils went 20-5-2 and finished as the Class 3A state runner-up.
"It helped us grow a bond we used to get us through the season," Smith said. "It allowed us to enjoy every game as it came."
Smith learned to enjoy every aspect of the QHS program, especially the tradition.
"When I think of QHS soccer, I think of tradition," Smith said. "I grew up going to a private elementary school. I didn't go to a lot of QHS games when I was little. The first time I started going was when I was in seventh or eighth grade when I was in the public schools. The thing that stuck out to me was the tradition and how much the city of Quincy cares about soccer."
He's part of that tradition, just as he is with the QHS boys basketball program. Smith set the career 3-point record and the single-season free-throw shooting record when he shot 91.3 percent as a senior.
Smith originally went to Maryville University, an NCAA Division II school in St. Louis, to play soccer, but he altered his path and decided to walk-on to the men's basketball program. Last winter, he made 51 3-pointers, second most on the team.
He has two years of eligibility remaining, but will have his undergraduate degree in communications completed this year and begin taking graduate classes.
Although Maryville has been a great fit and offered a fantastic education, Smith realizes nothing can top playing for the QHS soccer and basketball programs.
"It's not the same," Smith said. "Being able to play for two such tradition-rich programs was a blessing, and it helped me grow as a man, not just as an athlete. Being an athlete was just a plus. Being able to learn from such great men in the soccer program and the basketball program really helped me thrive."
To read more of the Starting XI profiles as they are published, follow the links below:
Speed, skill allow Abbey to develop into dynamic scoring machine
Work ethic enables Bradshaw to seize opportunity to be great
Miss Clipping Out Stories to Save for Later?
Click the Purchase Story button below to order a print of this story. We will print it for you on matte photo paper to keep forever.