Talton's career-best scoring effort highlights return of QHS hoops and Thanksgiving Tournament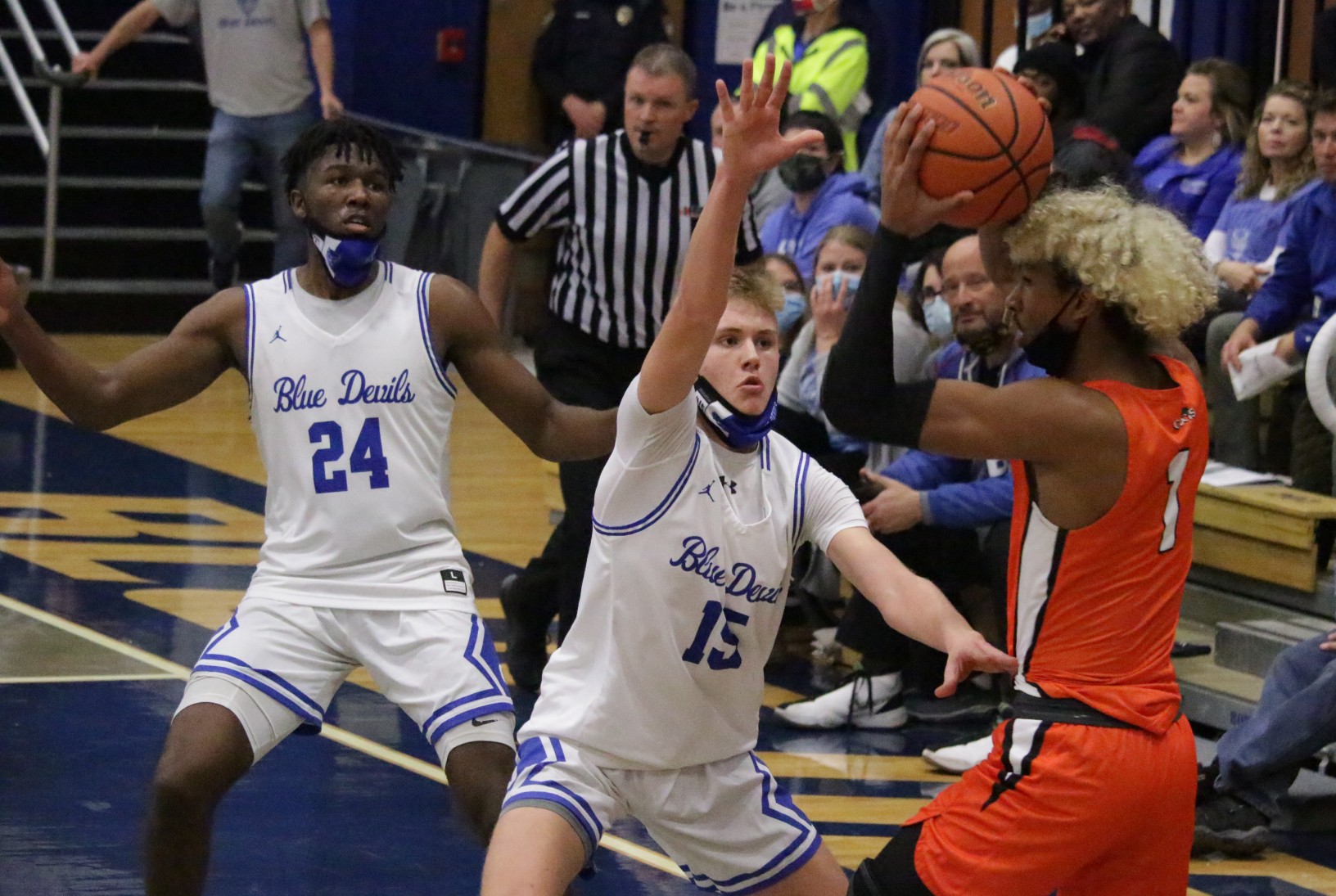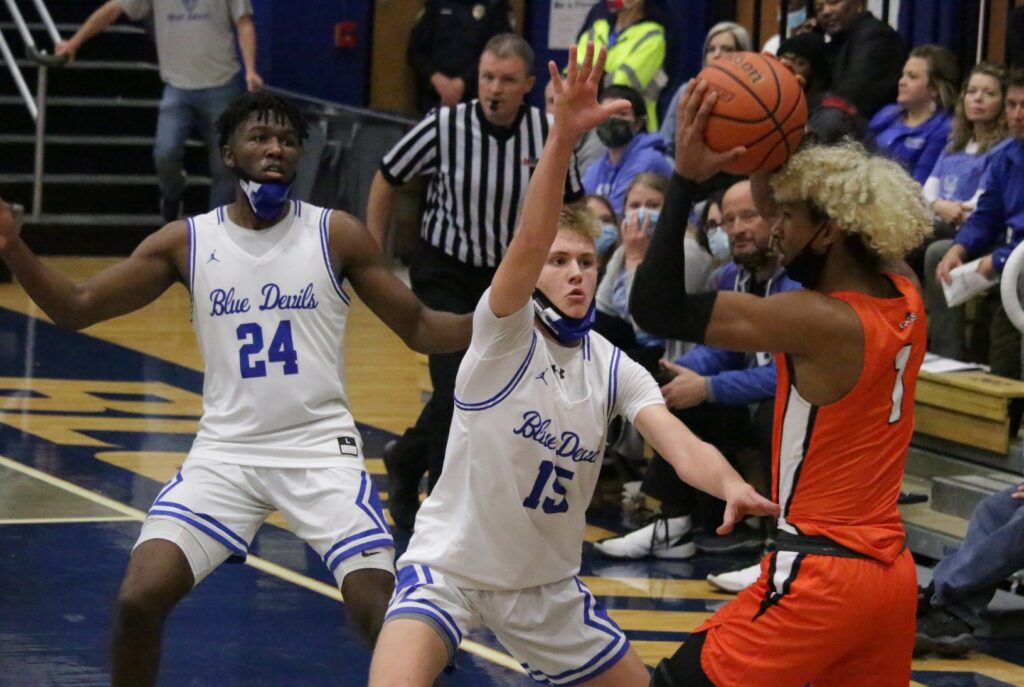 QUINCY — Jeremiah Talton left no chore undone Thanksgiving night.
He even mopped the floor.
With the Quincy High School boys basketball team leading Lake Forest Academy by 15 points with 4 minutes, 37 seconds remaining in regulation Thursday night, Talton slid into the middle of the lane and drew a charge on Caxys guard Darius Duff.
The 6-foot-6 QHS swingman promptly ran to the sideline, grabbed a towel from an official and ran back to wipe the sweat off the floor.
"(Sophomore coach Bruce) Bonness mentioned as he got the towel that Jeremiah can do it all," QHS coach Andy Douglas said.
Talton did more than enough to power the Blue Devils to a 54-36 season-opening victory in the 50th QHS Thanksgiving Tournament at Blue Devil Gym. He scored a career-high 31 points, grabbed 11 rebounds and drew three charges.
Toss in two steals and two assists to make the effort complete.
"We told ourselves as a group it's personal this year," Talton said. "Last year, people thought Quincy basketball was done for and it fell off. We wanted to make a statement and we did."
It started with Talton, who had steals on Lake Forest's first two possessions, grabbed a defensive rebound after the Caxys missed their first shot and scored the Blue Devils' first 12 points as part of a game-opening 14-1 run. He scored 17 of Quincy's first 19 points and had 23 points by halftime as the lead reached 36-19.
"He was what Blue Devil fans have come to expect out of Jeremiah," Douglas said. "He came through. He came through in a lot of ways."
Talton scored off assists from four different players and twice converted off offensive rebounds in the first half alone.
"We had guys who were purposefully looking for him on the offensive end because he had the hot hand," Douglas said. "With this group, as many basketball minds as we have, it could be Jeremiah, and it probably will be a lot of nights, but it could be other players they look to get the ball to because they're feeling it."
Even so, the Blue Devils didn't run away with it.
A 19-point lead with 4:05 remaining in the third quarter was whittled to 41-31 heading to the fourth quarter as the Caxys started a 9-0 run with back-to-back dunks by Duff and Shaedon Simpson. Quincy turned the ball over twice and missed its final nine shots of the half.
"We're not running our offense to get a shot," Douglas said. "We're running our offense to get a good shot or the best shot every possession. We failed on multiple occasions in that stretch of not getting good looks or any looks at all."
That changed on the first possession of the fourth quarter.
Talton created a driving lane that drew Lake Forest's attention, and he kicked a pass to the right corner where freshman guard Bradley Longcor III knocked down a pivotal 3-pointer. Longcor made Quincy's first three field goals of the fourth quarter, finishing with seven points.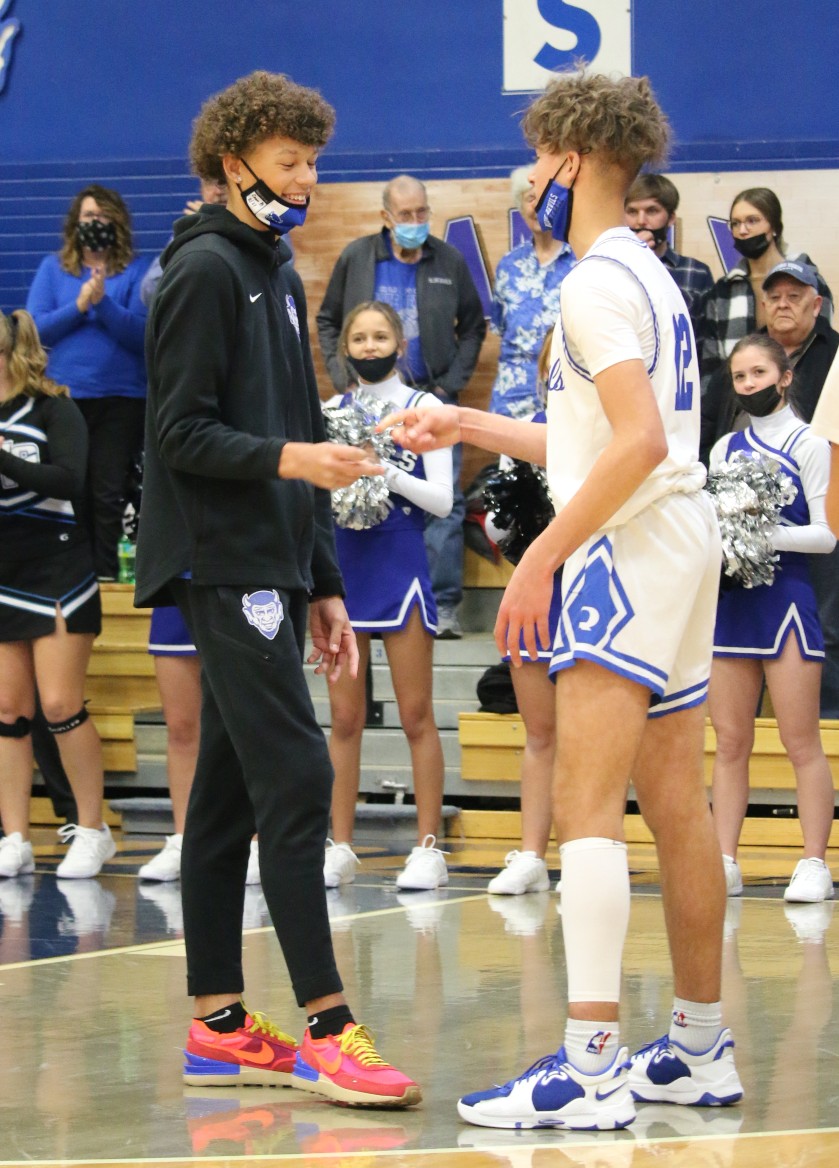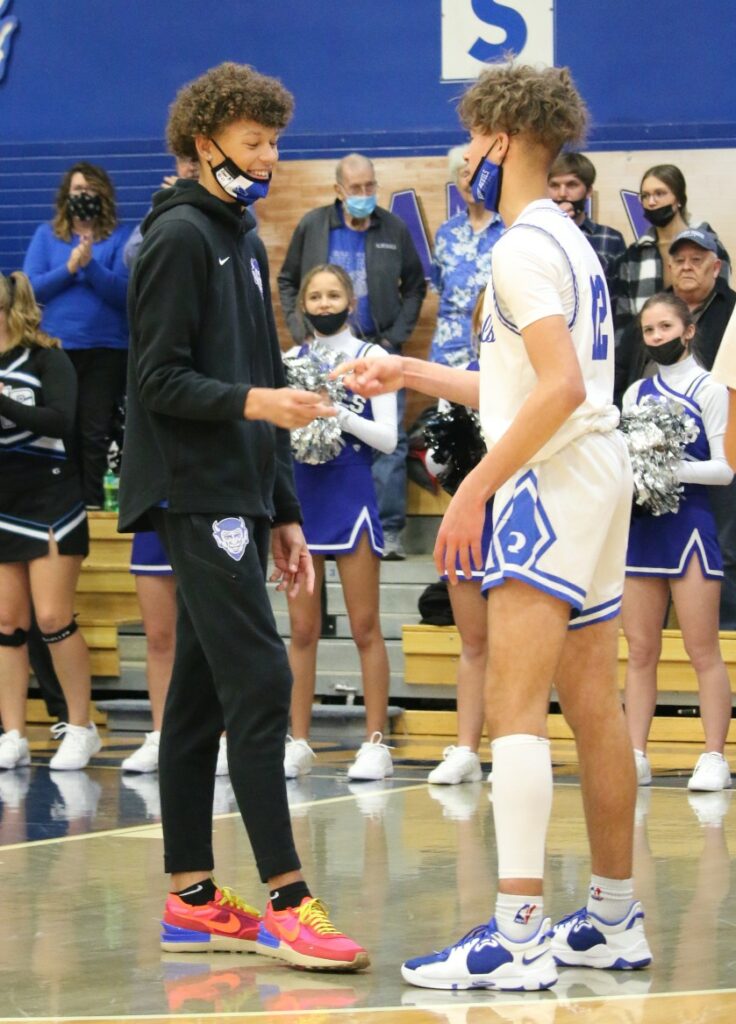 He was one of three freshmen — Keshaun Thomas and Dominique Clay were the others — to score in their high school debut.
"They stepped up," Talton said. "They weren't scared and they didn't play nervous. They came out and were ready to shoot the ball. That translates over from practice. As a senior, I've really been pushing them and telling them we have to go 100 percent all of the time."
Five of the nine players to see the floor for the Blue Devils were freshmen or sophomores.
"I liked that they took coaching well," Douglas said. "They did from the coaches and they did from the senior leaders and guys who had experience. There were some times where defensively we weren't great and we got exposed, but the communication was good.
"They knew what the problem was and how to fix it. We need to do a better job of fixing it quicker, but we're recognizing it. That's a good sign."
50th QHS Thanksgiving Tournament
At Blue Devil Gym
Thursday's Games
Quincy High School 54, Lake Forest Academy 36
Miller Career Academy 72, St. Mary's 65
Friday's Games
Lake Forest Academy vs. St. Mary's, 5:30 p.m.
Miller Career Academy vs. Quincy High School, 7 p.m.
Saturday's Games
Miller Career Academy vs Lake Forest Academy, 5 p.m.
St. Mary's vs. Quincy High School, 7 p.m.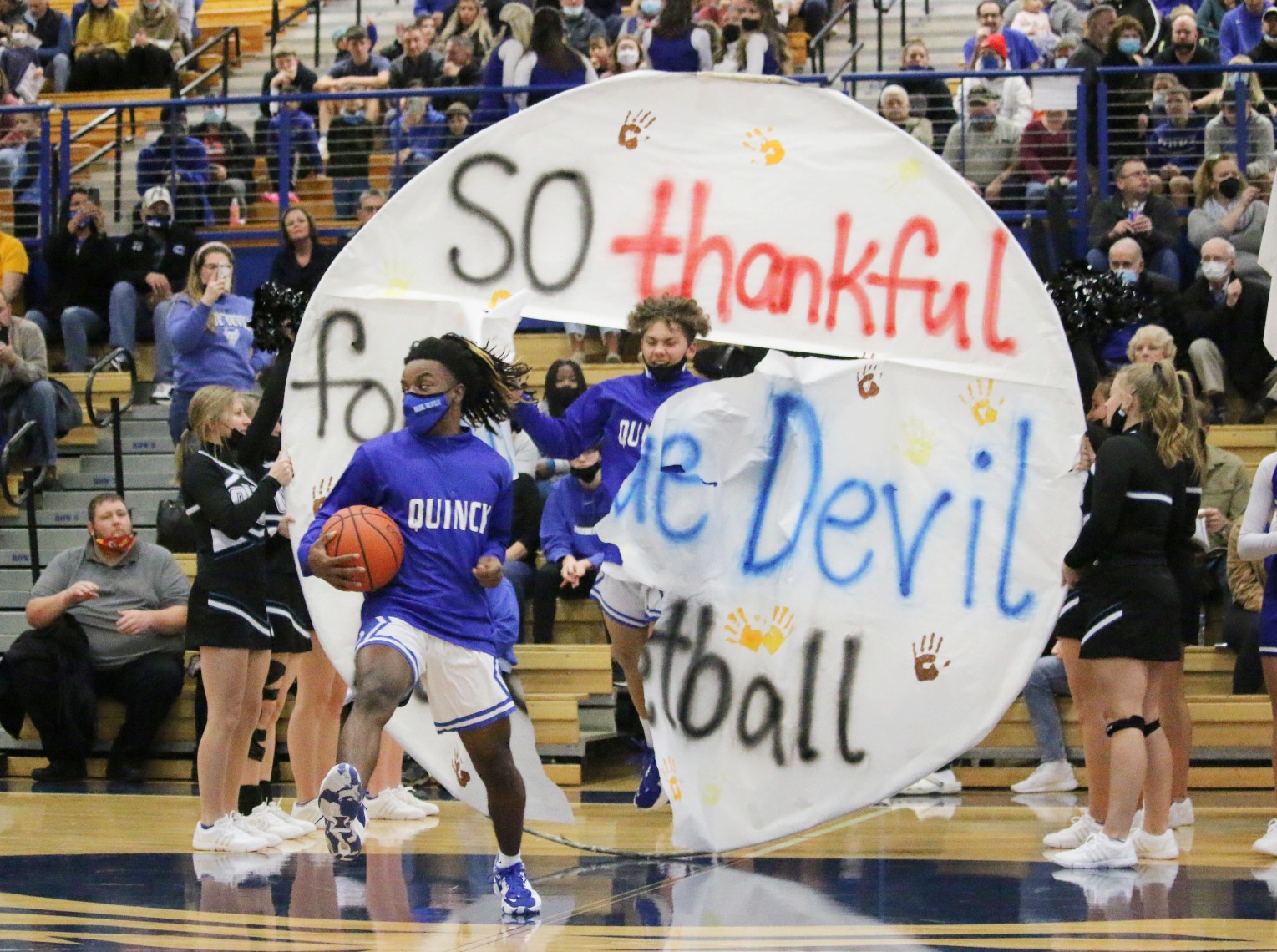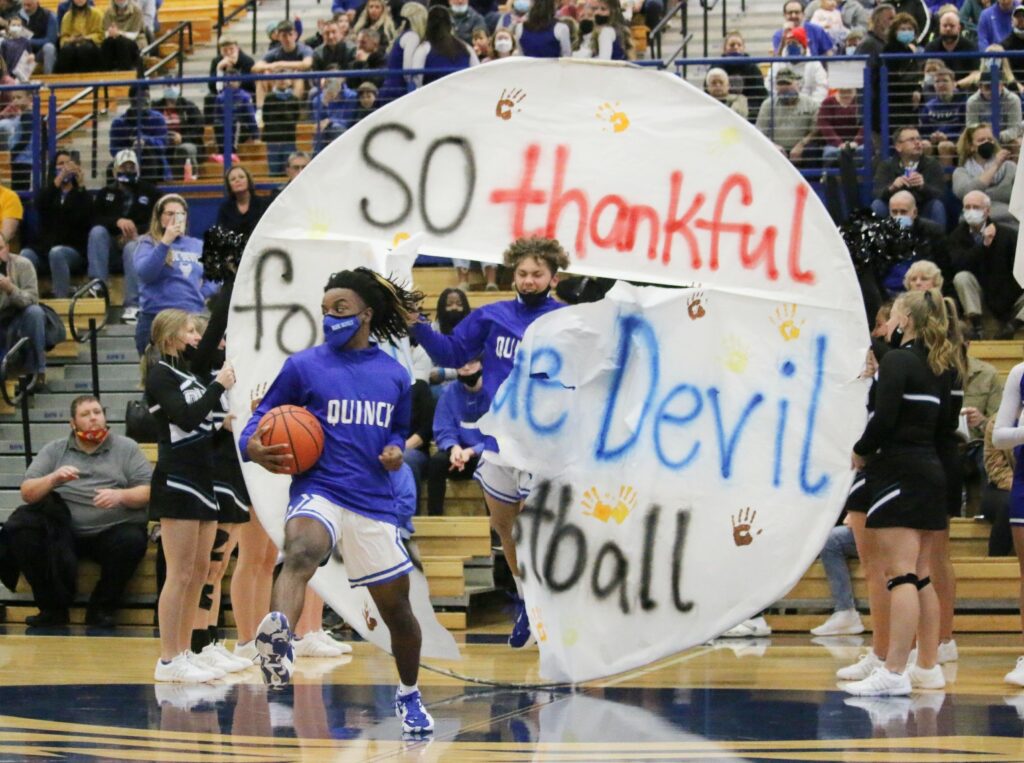 Miss Clipping Out Stories to Save for Later?
Click the Purchase Story button below to order a print of this story. We will print it for you on matte photo paper to keep forever.