'We've got some dogs, man': QU men take top-seeded Indianapolis into double OT before losing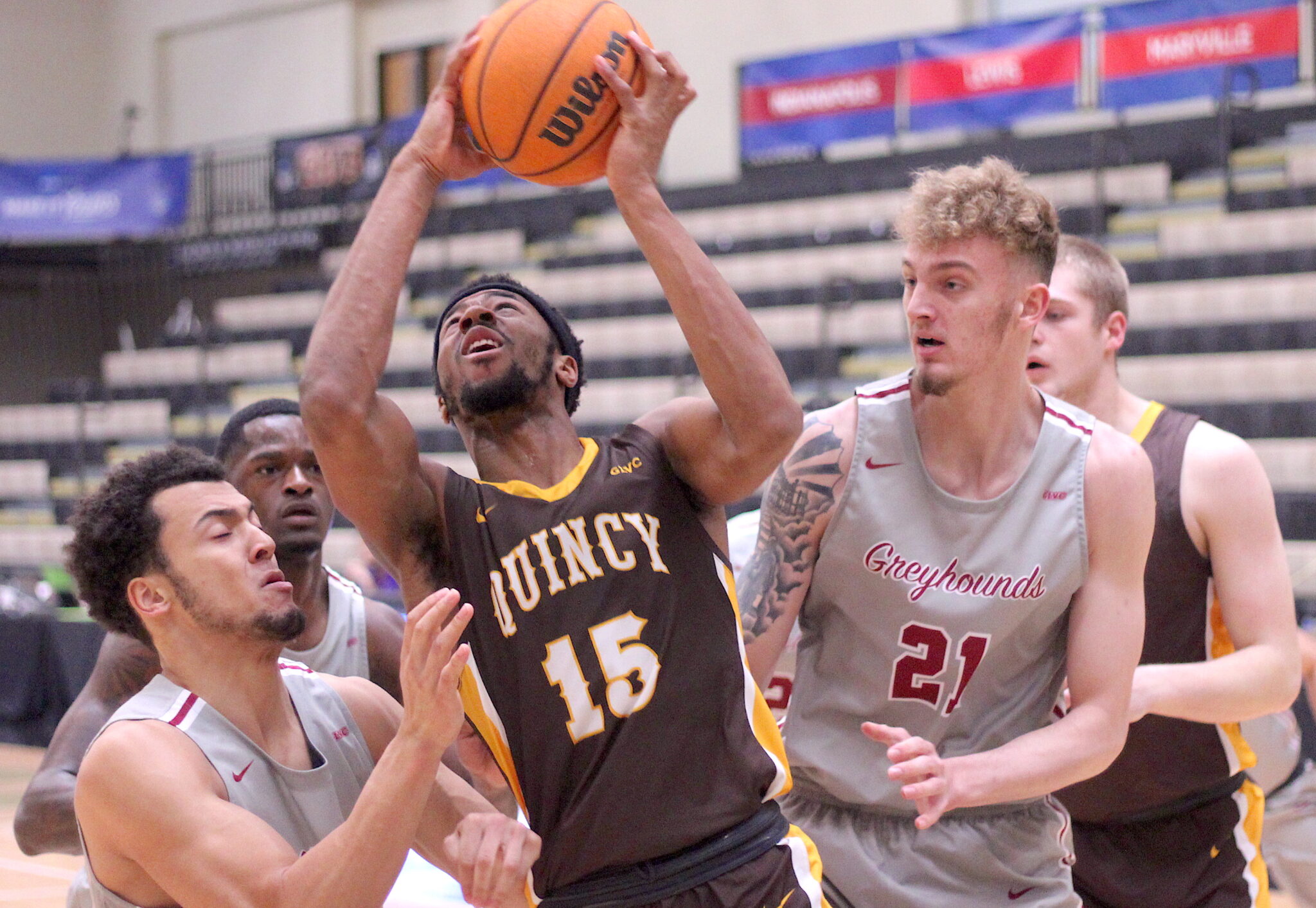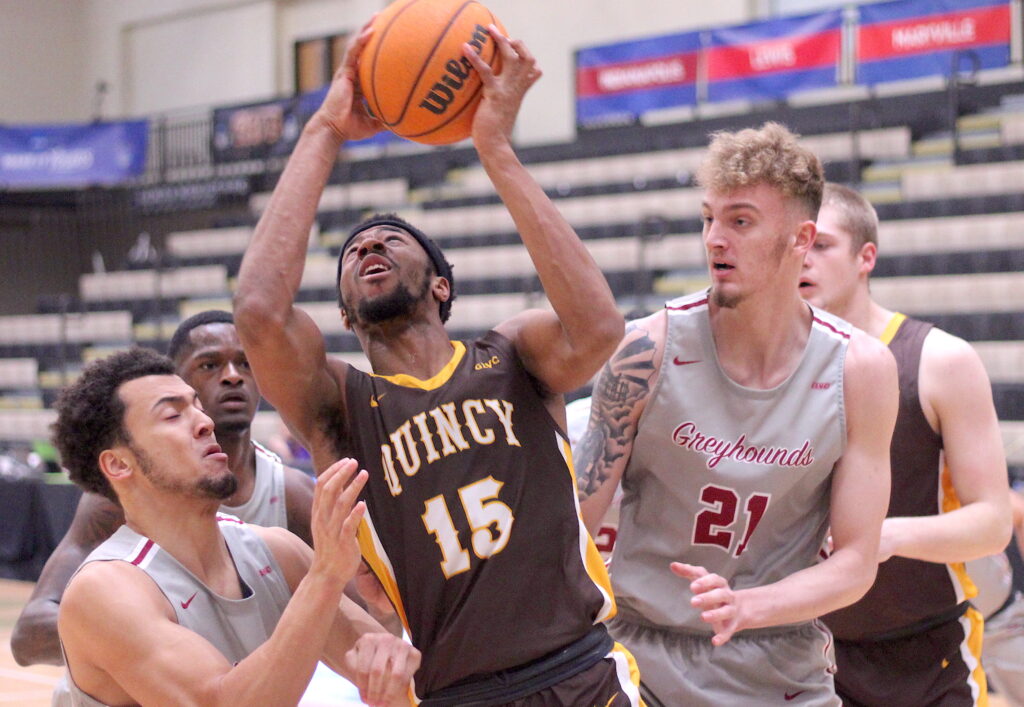 ST. CHARLES, Mo. — An outsized and physically overmatched Quincy University men's basketball team did everything it could on Thursday afternoon, but it couldn't change the outcome — a gritty 79-77 double-overtime loss to top-seeded Indianapolis in the first round in the Great Lakes Valley Conference Tournament.
What the Hawks did change this season, however, was the culture.
It was evident when QU overcame an abominable shooting performance in the first half (making just 5 of 29 shots) to tie the score at 53 with 5:38 remaining in the game.
It was evident when QU, trailing 60-54, held Indianapolis without a basket for the final three minutes and forced overtime.
It was evident when Jamaurie Coakley scored twice in the final 45 seconds of the first overtime, slashing to the rim against the Greyhounds' formidable front line to force a second overtime.
Indianapolis (26-3) captured the GLVC regular season championship and is a shoo-in to get a bid for the NCAA Division II Tournament. However, the Greyhounds won't find a team tougher to beat than the Hawks, who edged Indianapolis 62-57 at home and lost 76-70 on the road.
"The word for Quincy is tough," Greyhounds coach Paul Corsaro said. "They're a tough, physical team. They really get into you on defense, and they're disciplined. Quincy fans should be really, really thankful Coach (Steve) Hawkins is their coach. He's who I gave my vote to for Coach of the Year in the league. He's the best coach in our league."
The Hawks (14-15) qualified for the GLVC Tournament for the first time in six years. QU teams had won just 30 out of 97 league games before this season, going 10-10 in GLVC play.
Junior transfer Zion Richardson, who led the Hawks with 20 points, says he's seen major changes during his first season.
"We have a whole culture of just being together, thinking tough together, win or lose," he said. "The guys just uplift each other. And I've seen it through just guys uplifting each other. You know the next guy's got your back, and the next guy and the next guy, from the bench to the starters. We all support each other.
"We've got some dogs, man. That's what it comes down to. We've got some dogs. All those rankings and stuff, all those records don't matter. We play up to our competition."
Indianapolis led 31-24 at halftime, then took its biggest lead at 35-24. QU stormed back, scoring 11 straight points. Richardson tied the game with a 3-pointer at the 15-minute mark.
Quincy took a brief lead at 40-38 on a three-point play by Hardmon. Indianapolis rebuilt the lead to seven points, but the Hawks tied the score at 53 with 5:38 to play on two free throws by Coakley — who had 19 points.
The Hawks entered the game as the worst field goal shooting and worst 3-point field goal shooting team in the GLVC, but they stayed close by making 28 of 32 free throws and forcing 23 Indianapolis turnovers. Only one GLVC team (Southwest Baptist) made more free throws in league play than the Hawks.
"They run a system where offensively, as good as they are, our defense is a good matchup," Hawkins said. "Our offense was to try to get to the free throw line, but we also have to score there. We have to score with aggression, because we're not as talented as we need to be offensively."
Indianapolis led 60-54 after two free throws by Kendrick Tchoua, the GLVC Player of the Year, with 3:13 remaining. Paul Zilinskas hit a 3-pointer with 2:44 to play for the Hawks, who then failed to score on their next three possessions.
Indianapolis had a chance to put the game away, but Jesse Bingham missed two free throws with 52 seconds left. The Greyhounds secured the offensive rebound, but a turnover gave QU the ball with 33 seconds to go.
Richardson missed a 3-pointer with 11 seconds to go, but Isaiah Foster was fouled. He made the first free throw but missed the second, and Hardmon was fouled on the rebound with four seconds left. He made both free throws to force overtime.
The Hawks never led in either overtime. Indianapolis led 67-64 in the first overtime with 45 seconds to play, but Coakley made a layup with 19 seconds. After Josiah Tynes split a pair of free throws with 10 seconds left to play, Coakley drove the length of the floor and scored with four seconds remaining to tie the score.
The Greyhounds finally took the lead for good on a jumper in the lane by Bingham at the 3:15 mark of the second overtime. Richardson made three free throws with seven seconds remaining, but the Hawks couldn't force a turnover in the backcourt before time ran out.
"Our guys just battled," Hawkins said. "I couldn't be more proud.
"You've got two storylines here. One of them is the current team. You've got to do everything you can to help them win, all while trying to establish your culture, which is what's going to carry you into the future. When you look at the seniors, I told them, 'You guys are Hawks forever. You represent everything we're trying to do.' There are a lot of tears in that locker room. If you don't care about something, and it doesn't matter if you lose, you won't cry. These guys really cared, so everybody's crying. These guys laid the foundation.
"The fun has just begun around here."
Miss Clipping Out Stories to Save for Later?
Click the Purchase Story button below to order a print of this story. We will print it for you on matte photo paper to keep forever.