Last-second shot doesn't fall, but QU women earn respect by throwing scare into top-seeded Drury
ST. CHARLES, Mo. — It wasn't quite the U.S. national hockey team over the Russians in 1980, but for NCAA Division II women's basketball, it was darned close.
Nobody could even fathom the Quincy University women's basketball team staying remotely close to Drury, ranked No. 2 nationally, in the first round of the Great Lakes Valley Conference Tournament at Hyland Arena.
The last time the two squads met, Drury cruised to an 87-48 victory. The Panthers had the conference's highest scoring average (82.5 ppg) and best defensive scoring average (62.5 ppg). They had won their last 13 games against the Hawks, with the average margin of victory in the last nine games at 31.7 points.
Yet with 5.6 seconds remaining in Thursday's quarterfinal game, the Hawks had the ball and a chance to win, trailing by a point. The inbounds pass went to Beth Matas Martin, who had already scored 26 points. The junior guard was defended by Terrion Moore, the GLVC's Defensive Player of the Year.
Matas drove to the baseline and lofted a 10-footer that grazed the front of the rim. Drury's Mia Henderson grabbed the rebound, and Quincy's upset hopes vanished by the final score of 79-78.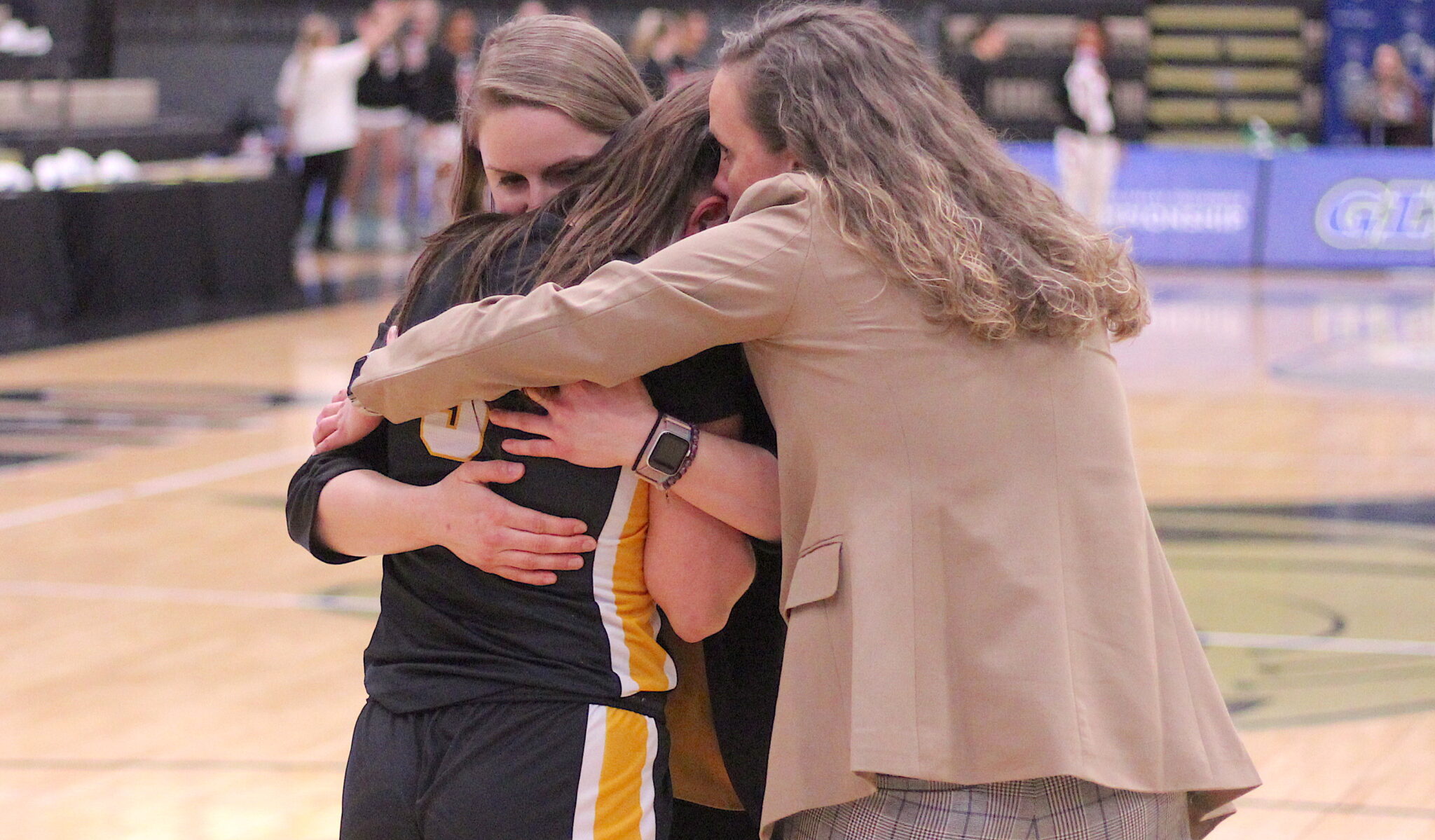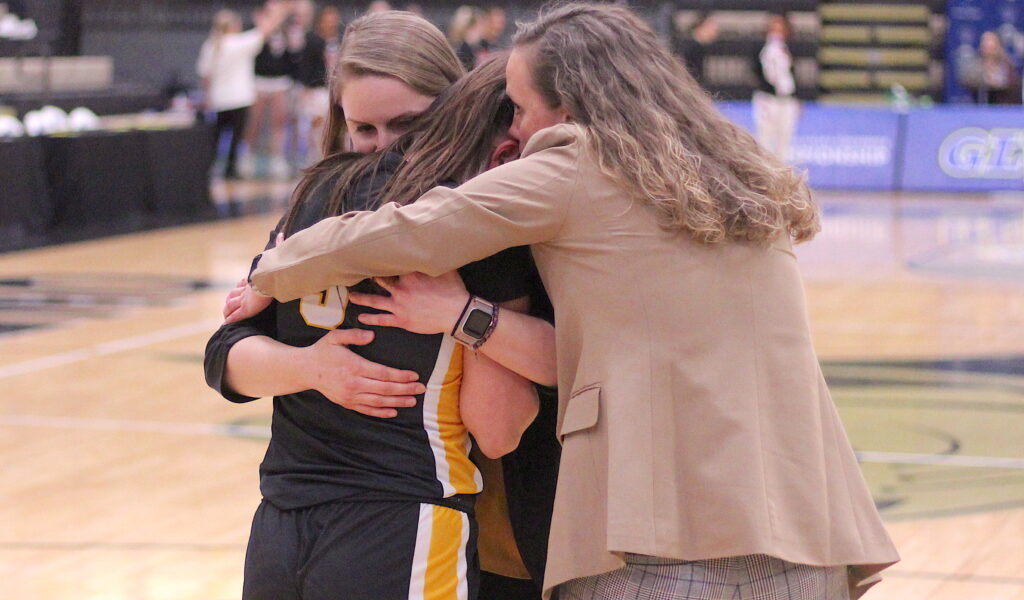 "The last thing we told them was, 'You don't lose on the shot. You lose on the rebound," Drury coach Amy Eagan said. "You see that so many times. I was happy that (Matas Martin) was a little bit short on the shot, and we were able to go get the board."
"Coach (Kaci Bailey) told me, 'I want the ball in your hands,'" a teary-eyed Matas Martin said. "I tried to get open however I could, but they doubled me. I tried to shoot, and the fadeaway didn't go in. I know my teammates have my back. Everybody wanted me to take that shot. They believed in me."
"At the end of the day, I was like, I want the ball in her hands," Bailey said of Matas Martin's shot. "I'm going to live with whatever shot Beth gets."
Matas Martin helped keep the Hawks close throughout. Drury led by 10 points with three minutes to go in the first quarter, but the expected rout never developed.
Quincy got within one point on two occasions in the second quarter, but Drury still kept the Hawks at arm's length with a 49-40 halftime lead.
The Hawks then turned in their best quarter of the season. QU scored the first eight points of the quarter to get within 49-48, then eventually led by as many as five points and outscored Drury 24-12 in the frame to take a 64-61 lead entering the fourth quarter.
"We told them all week, 'Why not us?'" Bailey said. "No one's figured out how to beat him all year. Not one person, besides us and our parents, think we can win this game. I said, 'If they're betting on this game in Vegas, no one's betting on Quincy.' We were relaxed, we had no pressure and we just came in to have fun."
"We just trusted each other," Matas Martin said. "We came together, and we knew we had to have one of our best games ever so we could compete against them. That's just what we did."
The lead for either team was never more than two points in the fourth quarter until Allie Clevenger hit a 3-pointer to put Drury ahead 75-70 with 5:08 remaining. Quincy tied the score at 75 with 2:26 remaining thanks to a 3-pointer and a layup by Matas Martin.
Cymirah Williams, who had 17 points and 13 rebounds for the Hawks, put Quincy ahead 78-77 with a three-point play with 1:55 remaining. The Hawks had two chances to extend their lead, but Matas Martin missed a 3-pointer and then had the ball stolen by Moore, who was fouled.
Moore split a pair of free throws to tie the score with 33 seconds remaining, but Drury's Alana Findley got the rebound and a timeout as well. On the ensuing play, Kaylee DaMitz-Holt missed a short shot but got her rebound and was fouled. She split two free throws with 13 seconds to go, and Findley got another offensive rebound but traveled.
Moore had 24 points and Henderson had 20 for the Panthers, who had only six games this season decided by less than 10 points.
"I give a lot of credit to Quincy," Eagan said. "I thought they played harder than us, and they competed more than us. They executed their game plan really well. I didn't think we were very focused. I didn't think we prepped very well. I'm disappointed in our effort, our competitiveness. Give (Quincy) a lot of credit today, because we didn't show up."
Bailey inherited a team that won two games the previous season when she was hired in April 2021. In the six seasons preceding this one, the Hawks won a combined 36 games and went 19-95 in the GLVC, finishing last in the division or league in all six.
The loss may be a milestone for Quincy, which finished 13-16, in its climb back to respectability.
"We don't do anything special, but we just work really hard at what we do," Bailey said. "It's heartbreaking, because two phenomenal seniors (Sarah Nelson and Emma Knipe) who I think the world about, just saw their careers end. I don't think it's really set in there done.
"I told them we're going get them next year. Hey, we've arrived. I don't think people are putting respect on our name, and I get it. We've been at the bottom of the GLVC for a long time. But after tonight, you better respect us, and we're going to be back. Put some respect on our name."
Miss Clipping Out Stories to Save for Later?
Click the Purchase Story button below to order a print of this story. We will print it for you on matte photo paper to keep forever.