'I grew up watching all of those guys' Becerra beats loaded field; Hell Tour arrives at Adams County Speedway on Wednesday night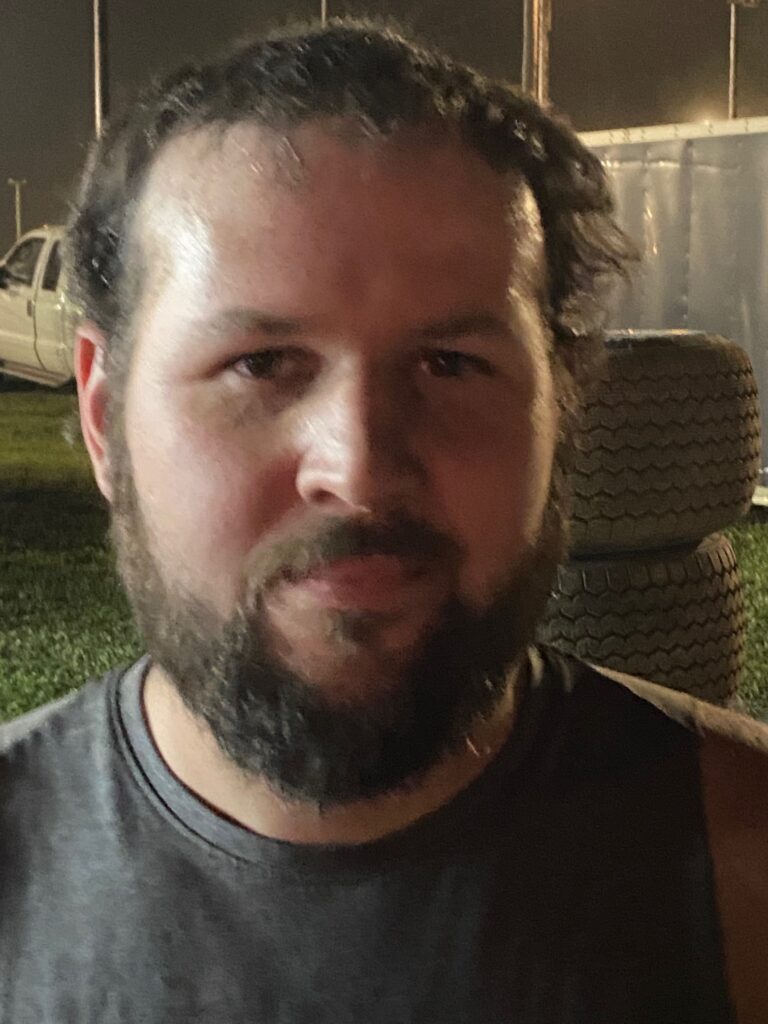 QUINCY — Austin Becerra continues to set the bar higher. Much higher, in fact.
Becerra won his second straight modified feature Sunday night at Adams County Speedway. This triumph, however, was not so much how he accomplished the feat (like he did June 5), but rather who he did it against. Becerra led the final 14 laps, finishing with a relatively comfortable advantage over the likes of track legend Mark Burgtorf, former NASCAR hotshoe Kenny Wallace and four-time defending series champ Dave Wietholder.
"I grew up watching all of those guys," the 28-year-old Carthage native said. "It's just cool to be racing against them. Yeah, it's all pretty cool."
That June 5 victory of Becerra's came with a borrowed sport mod from good friend Adam Birck. Becerra's modified had mechanical issues earlier that evening, and Becerra asked Birck if he could borrow his ride for the modified feature. Despite much less horsepower and a 19th starting position, Becerra dazzled the field by churning his way to the checkered flag.
"That win is still surreal," Becerra said as he could not really decide which victory meant more, instead choosing to talk about what proved to be a highly successful weekend and what lies ahead. Becerra had already earned two main-event victories during Friday and Saturday night stops in Iowa.
"This was my third (feature) win of the weekend," he said. "We won Friday night at Donnellson (Lee County Speedway) and then Saturday at 34 (Raceway in West Burlington). It was a pretty good weekend."
He's hoping that hot streak continues Wednesday night when he returns to Quincy to run in the Summit Modified Nationals tour, which is the main support series for the UMP Summer Nationals Hell Tour late model extravaganza that will be in town.
"We'll probably be a little underpowered that night," said a realistic Becerra, who is looking forward at taking a shot at Nick Hoffman of Mooresville, N.C. Hoffman has been the dominant driver the first week of the Summit tour, winning all five features, including Sunday night's stop in Maple Park in Sycamore, Ill.
Burgtorf's runner-up finish came in a modified owned by Bill Baker of Hannibal, Mo., and was his first appearance at the track in several years. Burgtorf has won 16 track titles in the late model division, his most recent coming in 2015.
Wallace has been a semi-regular at the track this season, regularly making the haul from St. Louis. He has been on hand for five of seven modified race nights.
Wietholder has been battling mechanical woes in recent weeks and now finds himself trailing Becerra for the series points lead 466-449. Mike Vanderiet Jr. (408), Levi Long (323) and Wallace (266) round out the top five.
Other feature winners Sunday night included Chase Osterhoff in crate late models, Rudy Zaragoza in street stocks, A.J. Tournear in sport mods and Jimmy Dutlinger in the 4-Cylinders. Tommy Elston (crate late models) and Michael Grossman (4-Cylinders) won makeup features from May 29.
Osterhoff, who lives in Kankakee, Ill., made the 5-plus hour pilgrimage from his home base and said he would be back.
"This is one bad-ass track," said Osterhoff, who is chasing UMP national points and Quincy is one of the few tracks in the region that races on Sunday nights. "I've been to a lot of (different) tracks, and this place is my favorite."
Elston and Denny Woodworth finished behind Osterhoff. Woodworth continues to rule the crate late points, now showing a 430-356 margin over Darin Weisinger Jr.
Zaragoza's victory was arguably the most popular of the evening. The Jacksonville, Ill., resident, who is deaf and a mute, received three different full or partial standing ovations after his feature win over Beau Taylor and Steve Grotz.
"I absolutely love racing here in Quincy," said Zaragoza through an interpreter. "The track was fast and slick, and I tried to use my head."
Zaragoza also pulled within three points (267-264) of series leader Robert Cottom. Also in the hunt are Jake Powers (255), Robert Thompson (237) and Brandon Boden (233).
Tournear took the sport mod feature lead with three laps remaining and then withstood a late charge from series points leader Birck. Michael Goodwin ended third.
"I wasn't sure how close (Birck and Goodwin) were behind me, but I was glad … to see the (checkered) flag," Tournear said. Birck (209), Tanner Klingele (286), Logan Cumby (282), Dakota Girard (269), Tournear (256), Goodwin (256), Reed Wolfmeyer (2465), Joe Bliven (244) and Austin Poage (244) are the points leaders on a tightly packed leader board.
Dutlinger's big night in the 4-Cylinder class further tightened that series. Dutlinger is now within two points (297-295) of Jeffrey DeLonjay for the division lead. DeLonjay had to bow out of the feature with mechanical problems.Kim Abbott (278), Nick Johnson (274) and Jaden DeLonjay (254) are close behind in the 4-Cylinder points pursuit.
Hell Tour update
The 37th annual UMP Summer Nationals Hell Tour will land in Quincy on Wednesday night with a tightly bunched points race, which will likely be led by four-time series champ Bobby "The Smooth Operator" Pierce. Pierce finished sixth Sunday at Sycamore, Ill., behind winner Brian "The Squirrel" Shirley, but was able to maintain his points lead.
Pierce (404), Ryan "The El Paso Express" Unzicker (400), Dennis Erb Jr. (381), Jason "The High Side Hustler" Feger (376) and Shirley (362) are the top five going into Tuesday's tour stop in Springfield, Mo. The Hell Tour is off Monday.
Tickets for Wednesday night are $30 for adults, $15 for senior citizens and $5 for kids 13-under.A crowd of 4,000-plus is expected.Racing will start at approximately 6:30 p.m.
Hell Tour Champions Since 2000
2021: Bobby Pierce, Oakwood, Ill.
2020: Brian Shirley, Chatham, Ill.
2019: Brian Shirley, Chatham, Ill.
2018: Brian Shirley, Chatham, Ill.
2017: Bobby Pierce, Oakwood, Ill.
2016: Bobby Pierce, Oakwood, Ill.
2015: Bobby Pierce, Oakwood, Ill.
2014: Shannon Babb, Moweaqua, Ill.
2013: Brandon Sheppard, New Berlin, Ill.
2012: Brian Shirley, Chatham, Ill.
2011: Shannon Babb, Moweaqua, Ill.
2010: Jason Feger, Bloomington, Ill.
2009: Dennis Erb Jr., Carpentersville, Ill.
2008: Dennis Erb Jr., Carpentersville, Ill.
2007: Dennis Erb Jr., Carpentersville, Ill.
2006: Shannon Babb, Moweaqua, Ill.
2005: Shannon Babb, Moweaqua, Ill.
2004: Don O'Neal, Martinsville, Ind.
2003: Billy Moyer, Batesville, Ark.
2002: Scott Bloomquist, Mooresburg, Tenn.
2001: Billy Moyer, Batesville, Ark.
2000: Kevin Weaver, Gibson City, Ill.
Miss Clipping Out Stories to Save for Later?
Click the Purchase Story button below to order a print of this story. We will print it for you on matte photo paper to keep forever.