'I felt threatened, and I felt violated': QND coach berated in locker room by parents after regional title match loss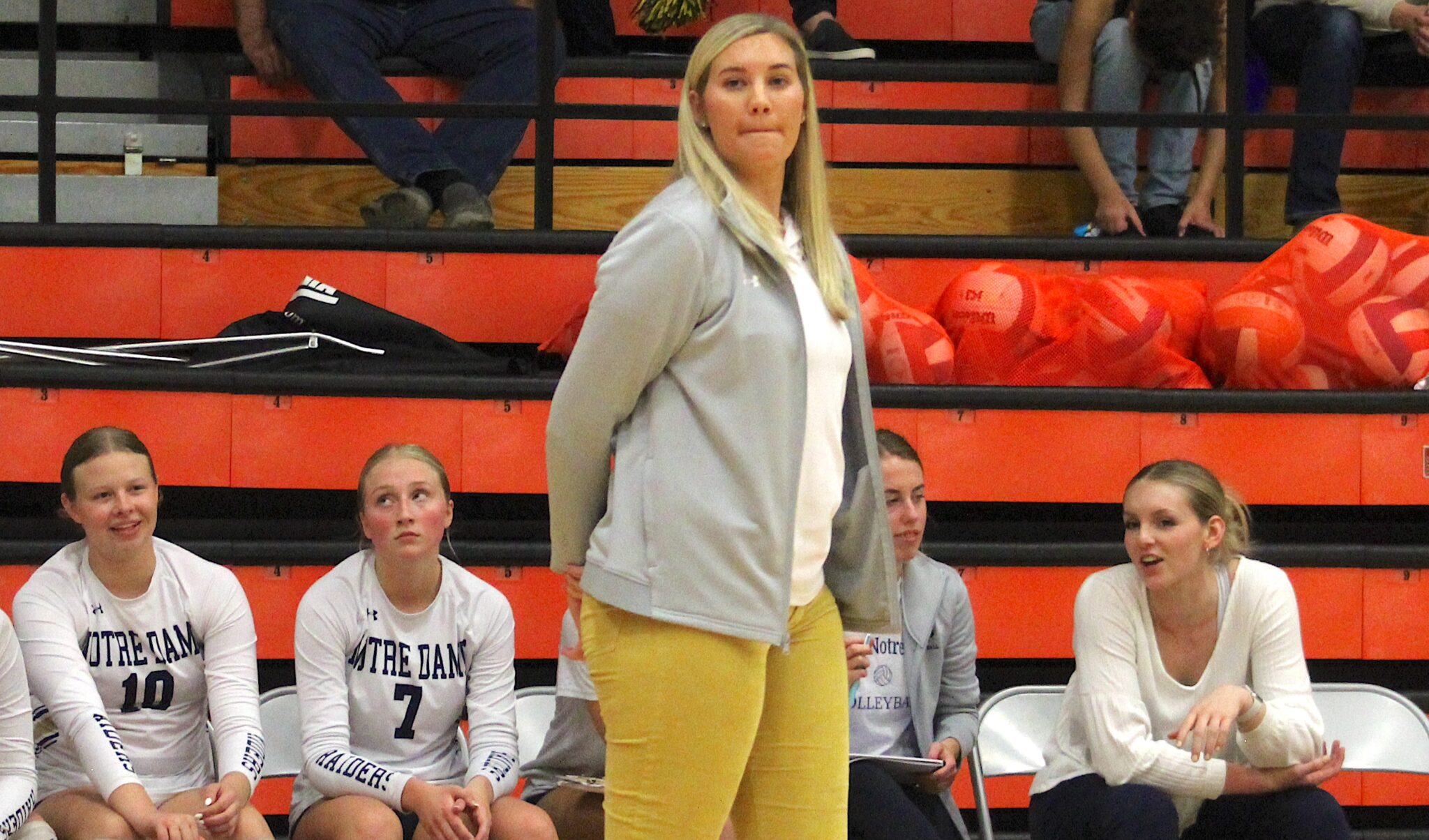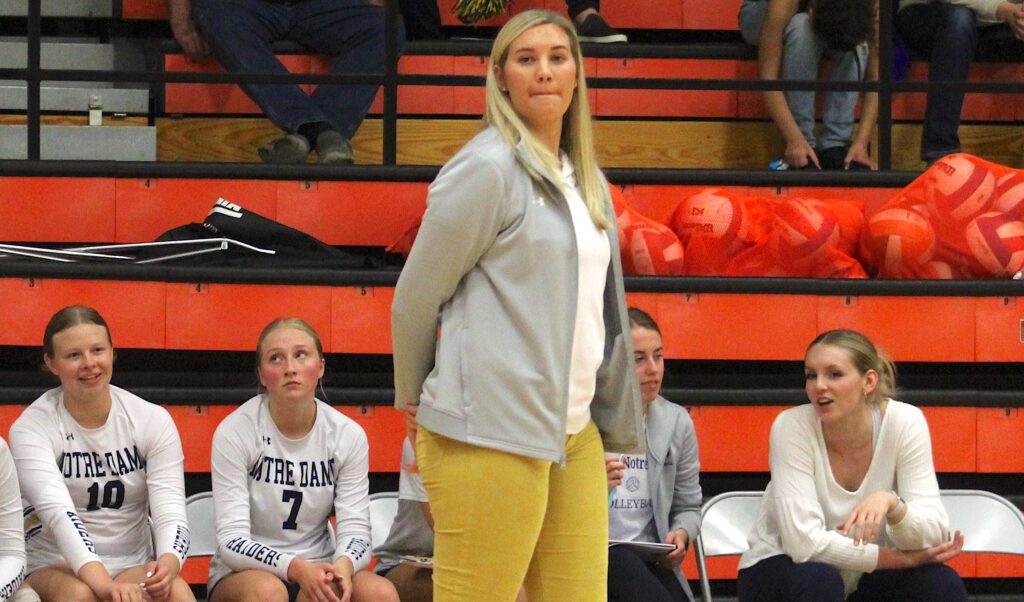 MACOMB, Ill. — Quincy Notre Dame volleyball coach Courtney Kvitle went into the locker room for a talk no coach wants to have after a disappointing 25-18, 25-14 loss to Macomb in Thursday night's Class 2A regional championship game at the Hangar at Macomb High School.
However, Kvitle's final words with her team were interrupted when parents of two players on the team entered the locker room to claim — in front of the players — she had "quit" on her team.
After Kvitle finished the visit with her team, the same two parents were seen loudly castigating the coach outside the locker room.
"I am not OK with the reaction that I received after the match," Kvitle said in an interview after she returned to Quincy following the loss.
"It felt like (the parents) were in (the locker room) kind of forever, but it probably was a matter of seconds, to be honest. I really didn't know what to say. I didn't even know what to think. I was just immediately hurt. The locker room is supposed to be a safe place for players and coaches, and that was completely taken away from me today.
"I felt threatened, and I felt violated. I felt I wasn't protected as a coach."
Amanda Keck and Jennifer Breckenkamp were identified as the parents who went into the locker room.
The Raiders held just three leads — at 5-4, 6-4 and 6-5 — in the first set and were overwhelmed by the host Bombers. Kvitle walked along the sideline in front of the QND bench as she typically does, instructing her players throughout the set.
Assistant coach Mattie Norris addressed the team as it gathered before the second set, with Kvitle staying out of the huddle.
"The first set, we didn't play great," Kvitle said. "I'm standing and I'm coaching and I'm trying all the things we talked about in our scouting report, and we still lose, right? So Mattie gave them a big pep talk. Maybe that'll change the atmosphere. Maybe they'll listen to what she's saying.
"I still believe we'll win the second game and then we'll win, but I kind of just didn't know what to do. I feel like I've prepared them and prepared them and tried to make them tough and gritty, but I'm not seeing that. I was at a loss for what I should do."
The Raiders then made nine errors in falling behind 11-3 in the second set. At one point, Kvitle simply stopped walking along the sideline and sat quietly on the bench next to Norris.
QND never got closer than six points in the second set and eventually lost the match.
"I'm speaking with Mattie, trying to maybe make a good decision or try something different," Kvitle said. "And then, you know, the game, it just went by … and then it was over."
After the match, Kvitle said she was frustrated because her team didn't follow a scouting report she had planned.
"You've prepped them, and you give them all the tools, right?" she said. "Then you come out, and they're not doing those things. That's really frustrating. As much as you tell them, 'We need to hit to the corner' or 'We need to serve to (Macomb's) No. 1,' that doesn't mean that we're going to do it every time. But you really have to focus and play when there's pressure, and today we weren't able to handle that."
As the Macomb players and fans celebrated, the Quincy Notre Dame players retreated to the sanctity of the locker room.
"(Keck and Breckenkamp) were upset that I sat down, thinking that was equal to giving up, which it isn't," Kvitle said. "I've never given up in my entire life on anything, and I would do anything for those girls."
Keck and Breckenkamp were outside the locker room when Kvitle left to allow her players to change. Bob Sheffield, a teacher and coach at the school, intervened to prevent any potential altercations between the parents as they continued their tongue-lashing of the coach.
"I walk up the stairs, and they're standing there, staring at me," Kvitle said. "They were still kind of getting in my face. I've never felt so attacked before, and I've played for a lot of tough coaches. At the end of the day, no matter what happens in practice or in a game, deep down I love those kids. But I was not respected tonight, and that was hard."
Kvitle says she typically has a "24-hour rule" after a match to allow coaches, players and parents time to think about what happened before having any conversations.
"For you to come into my locker room minutes after the last loss of the season and attack me is simply not OK," Kvitle said.
The Raiders finished with a 32-5 record this season, their fifth consecutive 30-victory season (not counting the shortened 2020 COVID season). Kvitle's teams have posted a 175-24 record in six seasons, with five regional championships and two sectional championships during that span.
She was a sophomore on the University of Wisconsin team that lost to Penn State in the NCAA championship game in 2013. She was a setter for her first two years at Wisconsin, then became an outside hitter for her junior and senior seasons and was a second-team All-American in 2015. She got her start as a high school coach when she was an assistant for two seasons at Payson Seymour.
Kvitle says she will wait to talk with members of the Quincy Notre Dame administration before deciding about her coaching future.
"This isn't even about me. I feel like it's a lot bigger," she said. "This is something that can't happen to any coach anywhere, unless a coach has done something absolutely terrible like committing a crime against those girls."
Miss Clipping Out Stories to Save for Later?
Click the Purchase Story button below to order a print of this story. We will print it for you on matte photo paper to keep forever.