Freshmen don't wither in spotlight, help QND girls capture sectional title over Central-Southeastern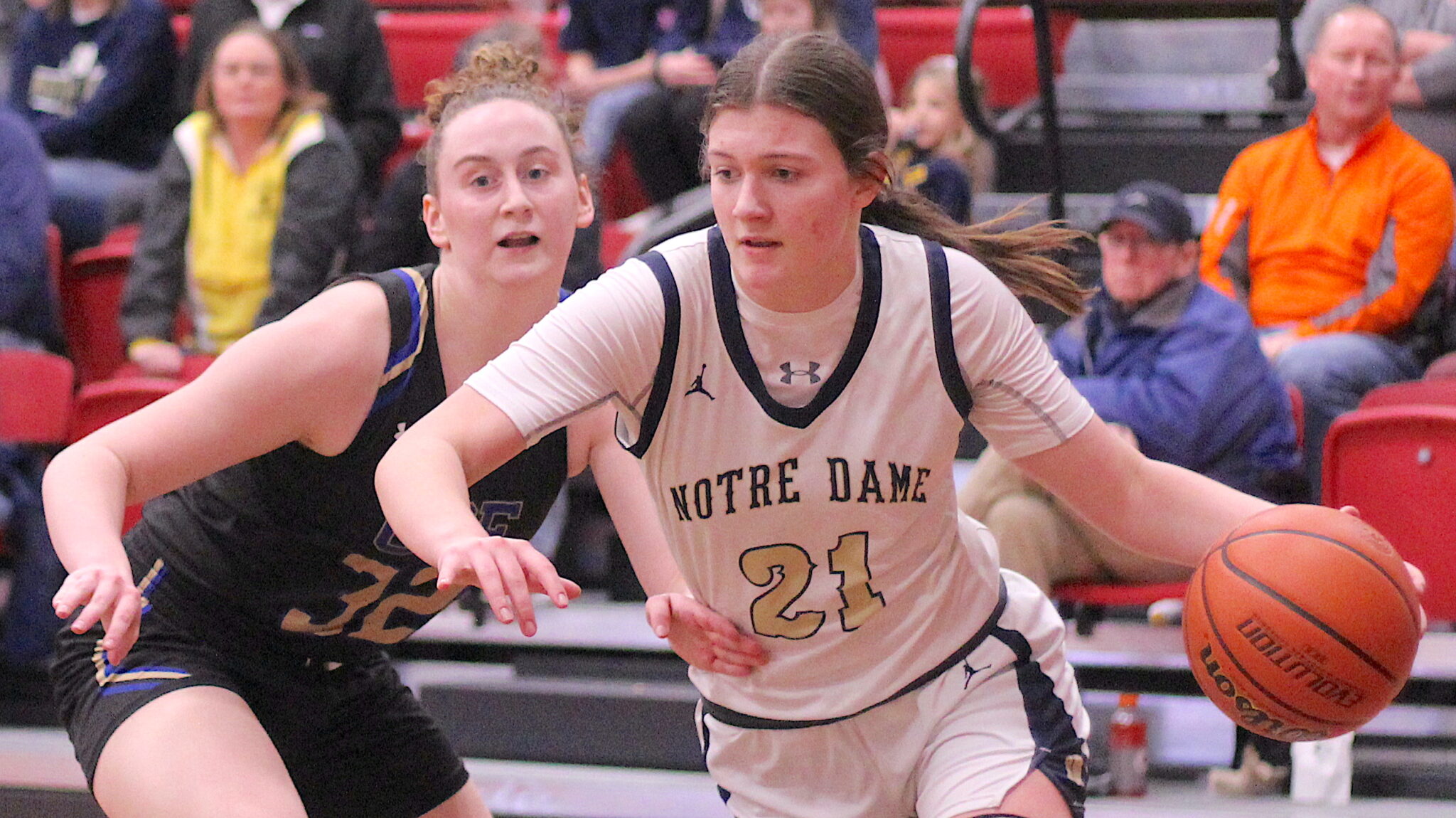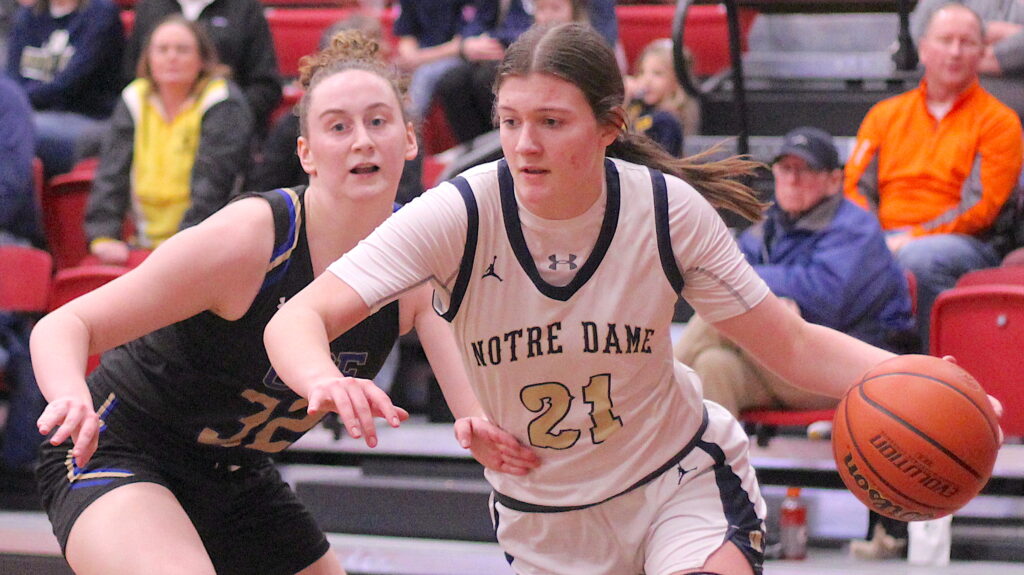 PLEASANT PLAINS, Ill. — Central-Southeastern girls basketball coach Matt Long was asked any advice he has for the seven teams left in the Class 2A state tournament for how to beat Quincy Notre Dame.
"It's only happened once," he said succinctly. "Good luck."
The No. 1-ranked Raiders took early command of Thursday night's sectional championship game at Pleasant Plains. They never let their lead dip below nine points in the second half in a 44-29 victory over No. 5-ranked Central-Southeastern.
Abbey Schreacke had 18 points for the Raiders, who advance to Monday's super-sectional at Macomb High School. QND (33-1) will face Deer Creek-Mackinaw, which defeated Eureka 37-32 in the championship game of the Taylor Ridge Sectional.
CSE (30-5) thought the key to upsetting the Raiders was using on-the-ball pressure to force freshmen Ari Buehler and Jenna Durst into mistakes. However, Buehler hit two driving layups in the first quarter to stake Quincy Notre Dame to an early lead. Durst followed with eight points in the third quarter.
Both of Buehler's layups came late in the first quarter when she beat her defender near mid-court and zipped to the rim for the shot. The second one put the Raiders ahead 12-4.
"We were hoping the environment and the magnitude of the game might rattle her, but it didn't," Long said of Buehler. "She proved tonight she's a warrior."
"(Central-Southeastern's) specialty is trapping and ball pressure, and when they do that, Ari can just go right around them," Schreacke said. "She made those two layups, and they were huge for us."
"We had to understand what they were leaving open, and we had to take advantage of it," Raiders coach Eric Orne. "Ari has elevated her play. She's not a freshman. She's a sophomore right now."
With Central-Southeastern's Lauren Miller sidelined for the second quarter with three fouls, QND survived a stretch where it missed eight straight shots and turned the ball over twice yet maintained a 21-9 halftime lead.
Abbey McMillen's 3-pointer with 4:49 left in the third quarter got the Panthers within 23-14. That's when Durst took over. She had missed several left-handed shots in the first half, but she scored twice on left-handed drives, then grabbed an offensive rebound and scored to put the Raiders ahead 29-14.
"I got mad at myself. Then I tried to forget about it and move on," Durst said of the early missed shots. "I knew I just had to let it go and focus on the next play. They were going to overplay and give me a drive. I just had to go hard and finish strong, because I knew there was going to be contact."
McMillen hit another 3-pointer and Miller scored on a lob to trim QND's lead to 10 points. Durst then answered with a layup on a pass from Buehler. Miller scored again, but Buehler found Schreacke for another layup to make the score 33-21.
Central-Southeastern never got closer than 11 points thereafter.
"I've been telling Jenna since the beginning of the year to be strong and to make a ball fake," Schreacke said. "She's really improved since the beginning of the year. She's got a high IQ, and she's still progressing. Her ability to clean it up in the second half was really big for her."
"She rose back up to the challenge," Orne said of Durst. "Those were eight huge points, especially in the second half when they were really trying to take away everything else we were doing."
Schreacke, Blair Eftink and Sage Stratton gained plenty of postseason experience during last year's state championship run. However, this is all new for Buehler and Durst.
"I was nervous," Buehler said with a smile. "Yeah, I was pacing before the game. But when the game started, I was like, 'I've just got to go. I've got to be confident, and I've got to do what I do best.'"
"I get pretty nervous before the games. Once you go out there, my teammates and my coaches really encourage me," Durst said. "The nerves just kind of go away."
Playing 15 games this season against state-ranked opponents — losing only to Columbia Rock Bridge, ranked No. 9 in Missouri Class 6 — helped the Raiders become battle-tested and prepared for Central-Southeastern's physical defensive style.
"We definitely knew what was coming, and we had only 24 hours to prepare for it," Orne said. "I think our longevity of our season and what we've been up against helped us as well. Night in and night out, I look at games like (Jefferson City) Helias and South Shelby, especially late in the season. They were like postseason games."
"It's a lot of fun. You get to go play the best teams in the state. You get to just go do what you love doing and get to do it against the best," Buehler said.
Losing to one of the best didn't make Thursday night's loss any easier for an emotional Long, who fought back tears afterward.
"I told our kids coming in, 'They're better than us,'" he said. "We were just hoping on this one night, we might be a little bit better, and we weren't.
"It's tough. This is one of the most special groups, if not the most special, I've ever coached. Not the best maybe, but they just bought in and wanted to represent both communities the right way. It's just a tough night for us."
Miss Clipping Out Stories to Save for Later?
Click the Purchase Story button below to order a print of this story. We will print it for you on matte photo paper to keep forever.