'All I wanted was a single': Schreacke's simple approach leads to game-winning three-run blast as Raiders rally to win sectional semifinal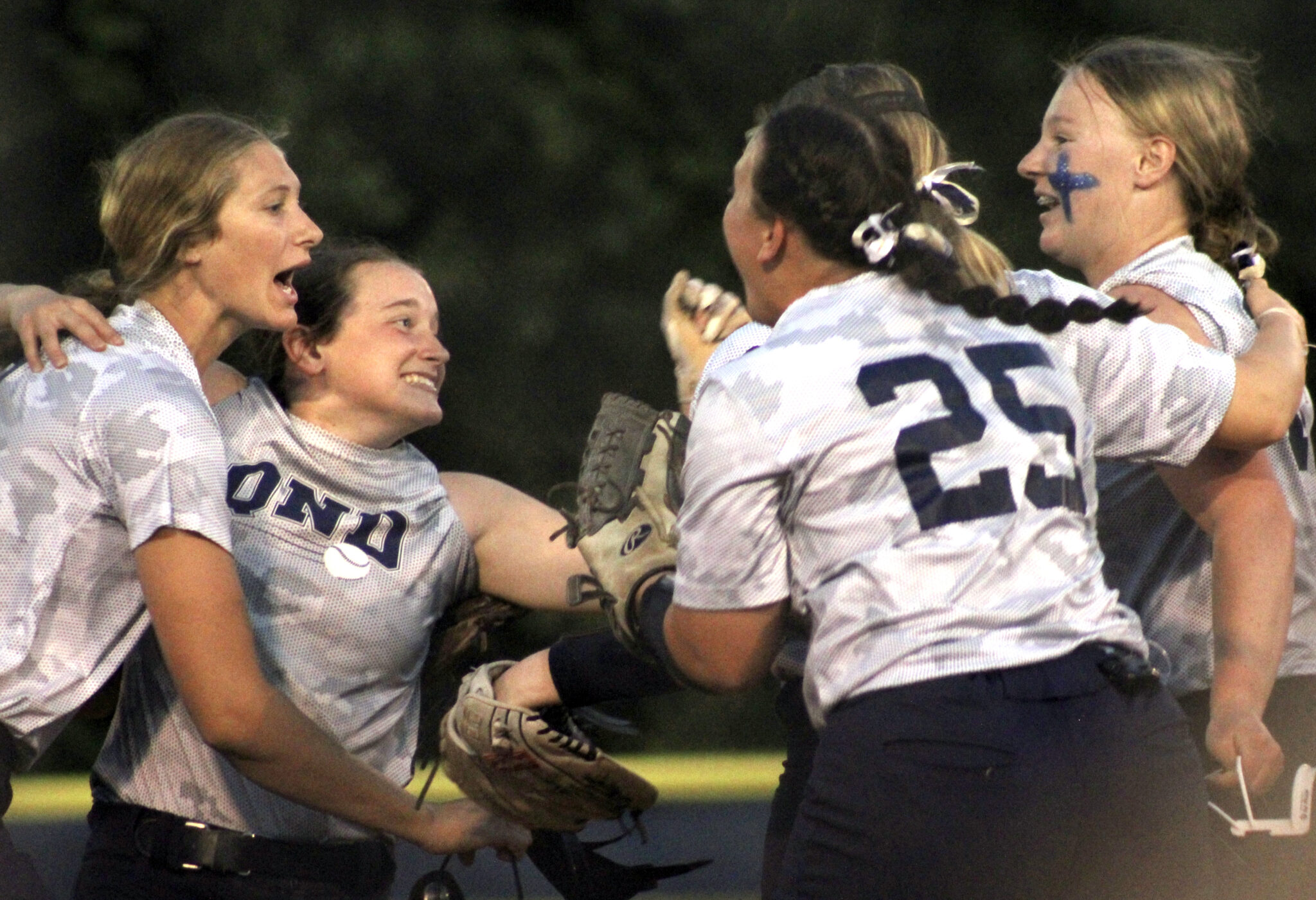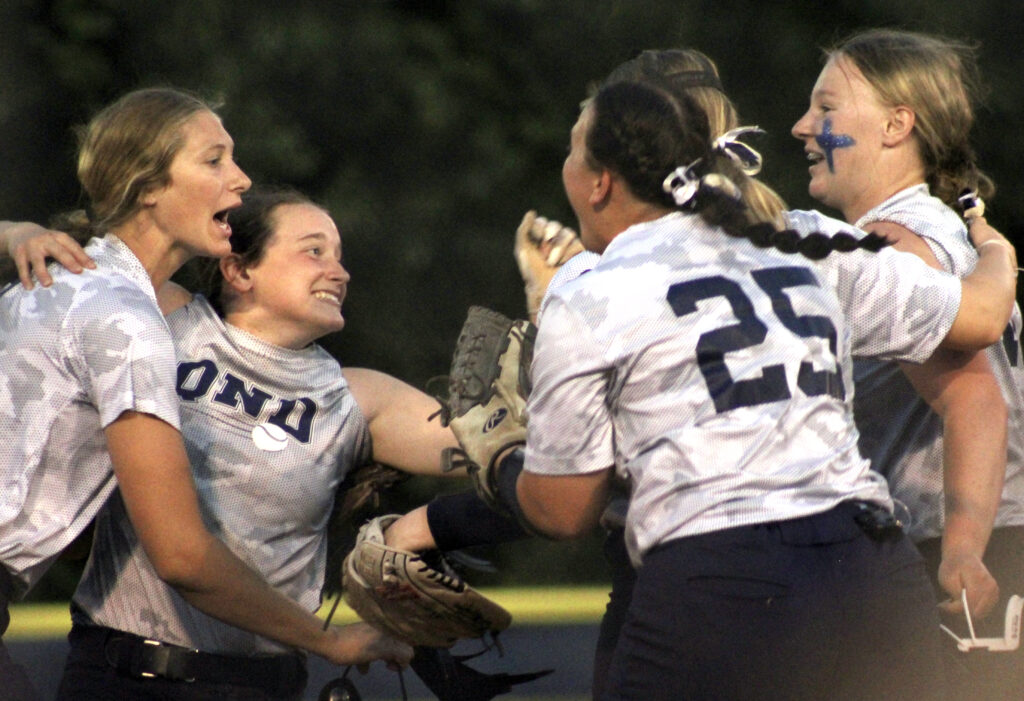 QUINCY — A not-so-silent plea rang from the Quincy Notre Dame faithful stacked along the third-base line as Abbey Schreacke strolled to the plate.
"C'mon, Abbey, put it over the fence," one fan bellowed.
Schreacke had something a little less dramatic in mind.
With the QND softball team trailing Stanford Olympia 5-3 with one out and two runners on base in the top of the seventh inning of the Class 2A QND Sectional semifinal Tuesday night, Spartans coach Courtney Hoffman used a mound visit to discuss defensive strategy.
Schreacke took a moment to exhale.
"It gave us time to talk, and (assistant coach Lori) Vogel came up to me and said, 'Just act like you're about to shoot a 3-pointer,'" said Schreacke, the University of Missouri-bound all-state basketball player who had struck out in her first three at-bats against Olympia ace Danika Frazier. "I was like, 'OK.' Then she said, 'You just need a base hit. You don't need a home run.' Again, I was like, 'OK.' So that gave me time to think, breathe, relax.
"I just wanted to go up there and have a good at-bat. The first three at-bats, I was confident, but I was just an inch off or an inch away from getting a rip. So I was confident going up there and all I wanted was a single."
Oh, Schreacke got so much more.
After fouling off two pitches, one of the most clutch athletes in QND history crushed a three-run home run to center field, giving the Raiders the lead in what ultimately was a 7-5 victory at The Backyard. Now, the Raiders (23-4) get to play in their first sectional championship game since 2011.
"What was amazing before she hit the home run was her battling and fouling pitches off," QND coach Eric Orne said. "Then she caught a mistake, and that's what you live for. It was the opportunity we needed. We needed just to have a chance. One more runner, one more out, something to give us a chance."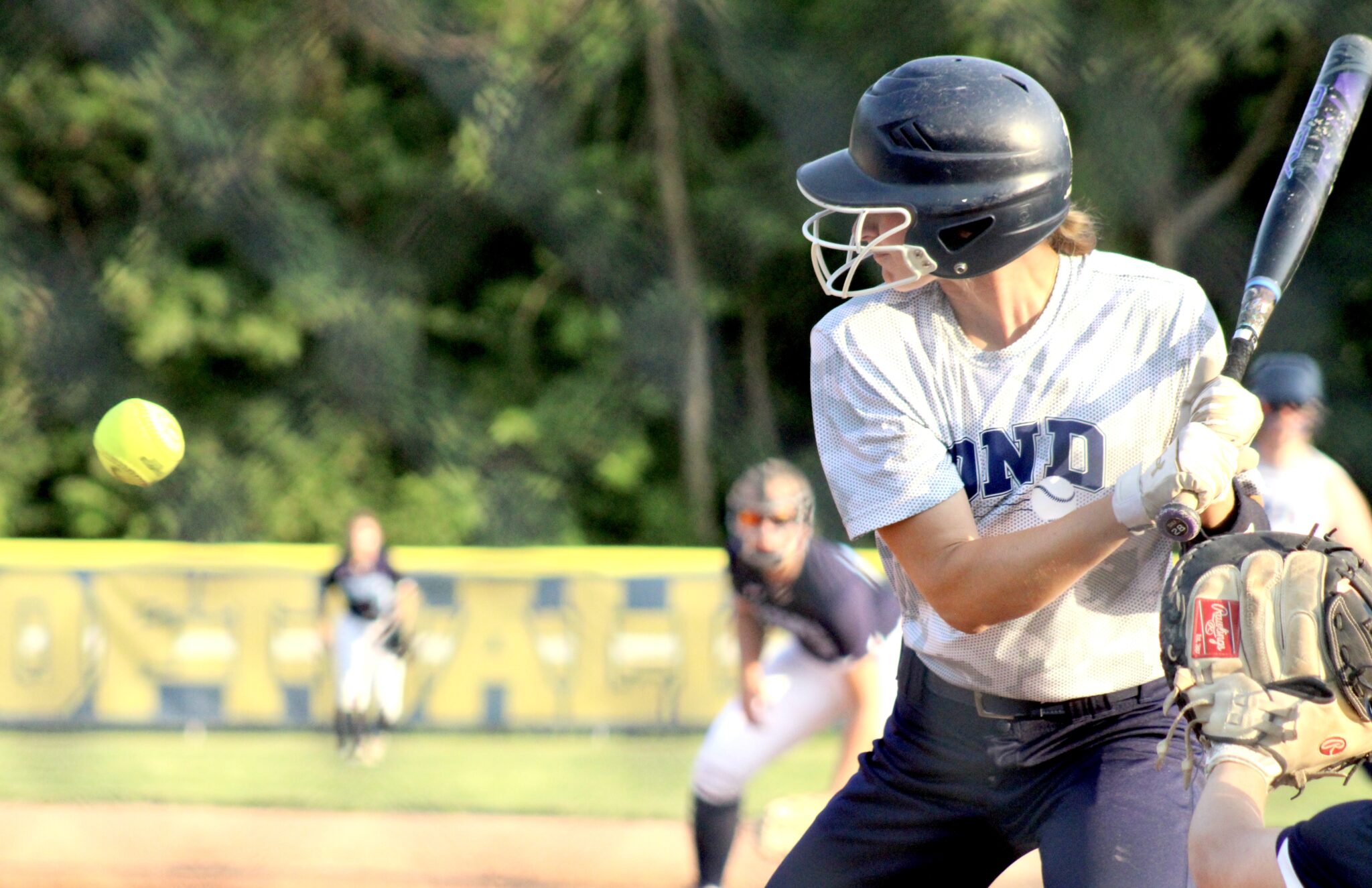 It creates another opportunity come Friday. The Raiders will face Auburn at 5:30 p.m. at The Backyard in the sectional title game. The Trojans dispatched Macomb 16-0, scoring 11 runs in the first inning, in the other semifinal.
"They can hit. They can flat out hit," Orne said. "They came here with a purpose, and we know we're going to have to score against them. They go out there with an attitude at the plate. We're going to have to play good defense because they swing it with authority.
"So we know what we have to do, but momentum is swinging in our direction."
That started with one out in the seventh inning.
On a two-ball, one-strike pitch from Frazier, QND No. 9 hitter Mackenzie Flachs had an inside pitch graze her right forearm. She immediately turned to the home plate umpire and pointed to where she was hit, but the initial call was a ball.
After a discussion among the three umpires, Flachs was awarded first base.
"Once I got on base, I knew I had to score and the girl behind me had to score to keep our season alive," Flachs said. "That's why it was so important I get on base. I just trusted the girls behind me were going to get it done."
QND leadoff hitter Caitlin Bunte followed by smashing a hard ground ball to the left side of the infield, which Olympia shortstop Lydia Rutledge couldn't field cleanly.
"I took two pitches down the middle and that kind of freaked me out a little bit," Bunte said. "I don't normally do that. At that point, you're looking for a base hit and just to keep something going. You're not looking to do too much. Make them make an error."
When the Spartans, it set the stage for an Abbey Schreacke moment.
"I knew she had seen it and she had battled," Bunte said. "I was hoping she could sit on one and drive it because she's good at it. We all knew she could do it."
And she did.
"At first, I was like, 'Oh, no,' because I didn't know if it was going out or not," Bunte said. "So it worried me a little. As soon as I saw the center fielder stop running, we all started screaming and I knew it was gone."
The dugout erupted, as did Schreacke as she rounded the bases.
"I was definitely hyped," Schreacke said. "You could see it. That was a chance for me to show some real emotion. It was incredible."
The Raiders tacked on another run on Addi Zanger's two-out single, but still needed to get three outs to end Olympia's season.
Bunte, the left-handed hurler, got the first two outs with a strikeout and a comebacker. Although an error allowed the Spartans' Kat Springer to reach safely and advance to third base, Bunte got Jordyn Tuner to ground out to second baseman Alyssa Ley to end the game.
"Our whole defense was backing me up and telling me to breathe," Bunte said. "They can back me up. They can do their job. It's not my responsibility to get every out. Having them supporting me and telling me they had my back was a huge part of it. I knew they would."
And Orne knew his team wasn't going down without a fight.
"When the lights pop on back here, it can be really special," Orne said.
Miss Clipping Out Stories to Save for Later?
Click the Purchase Story button below to order a print of this story. We will print it for you on matte photo paper to keep forever.