After disastrous first half, Raiders' valiant comeback comes up short in sectional semifinal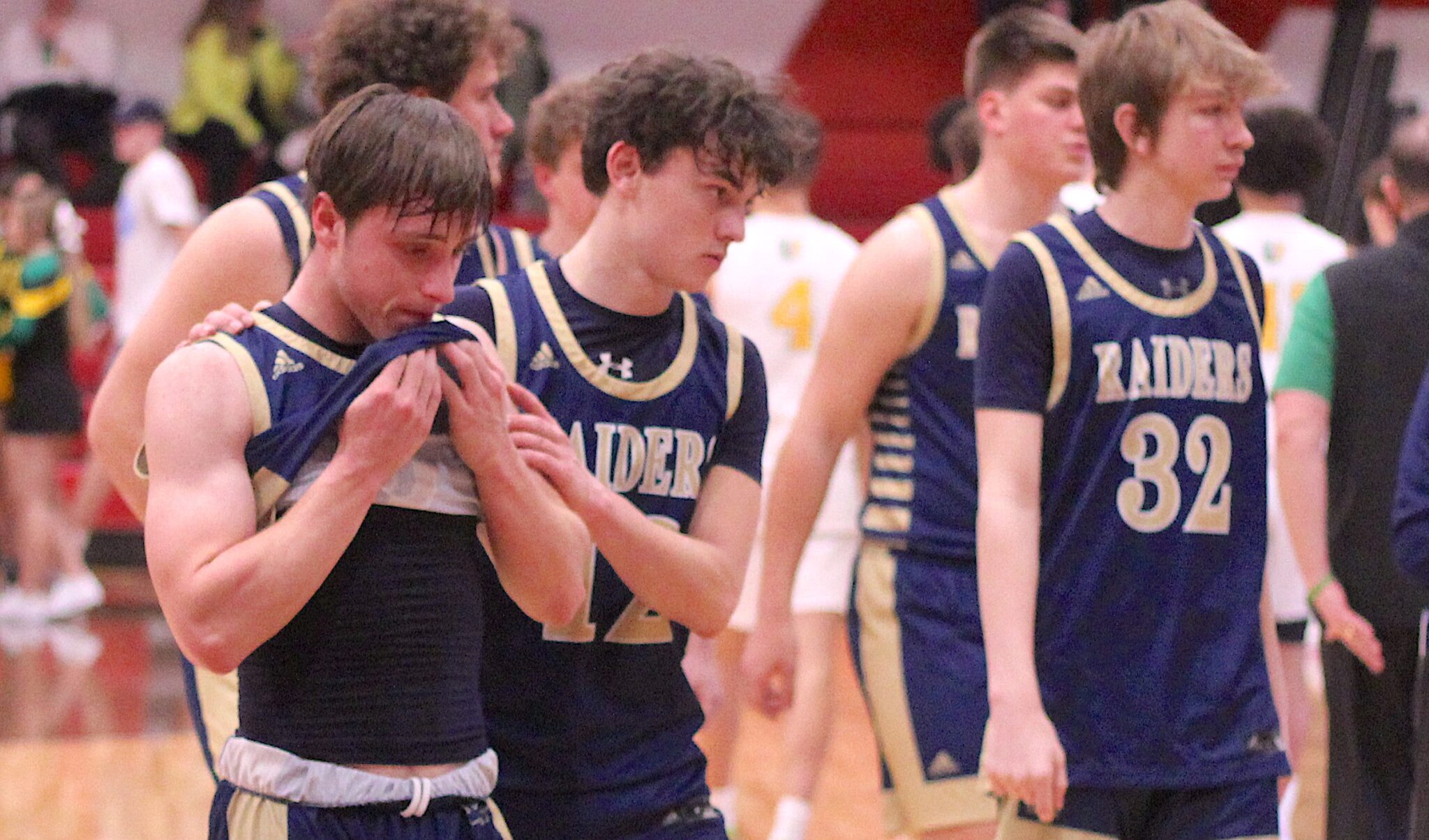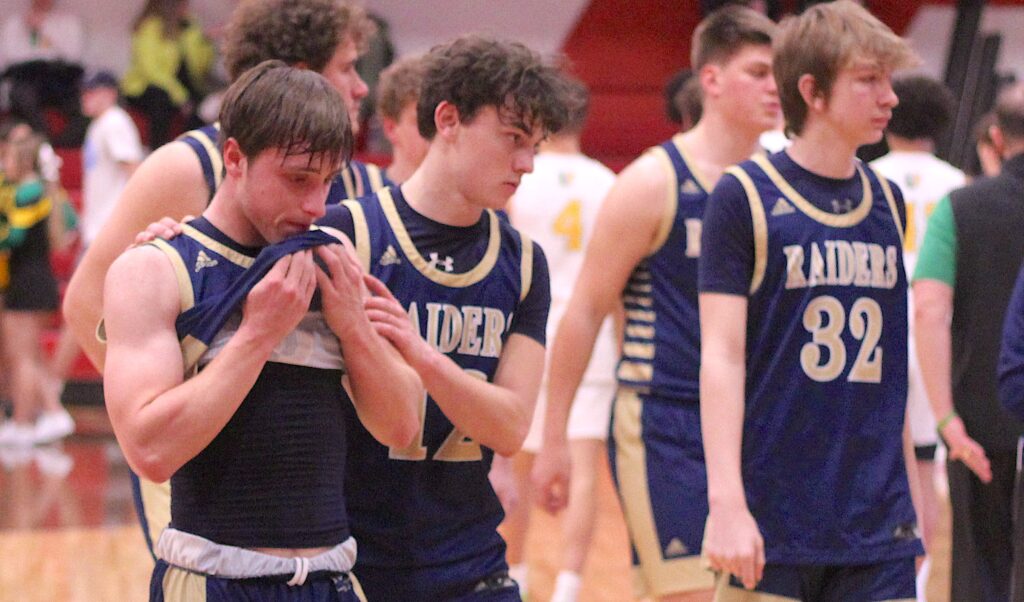 PLEASANT PLAINS, Ill. — Sure, the players on the Quincy Notre Dame boys basketball team were pleased with their play in the second half.
The Raiders got as close as 10 points with 5:09 remaining, but Normal University High made 8 of 10 free throws in the final three minutes to seal a 72-49 victory in the semifinals of the Class 2A sectional at Pleasant Plains High School.
But that fateful first half … it unquestionably was one to forget.
"It's kind of hard to think about, to be honest with you," senior guard Jackson Stratton said. "I'm not satisfied at all with that. It just sucks, and we can't do anything about it now."
How bad was it?
The Raiders missed their first seven shots, yet they only trailed 12-7 after Stratton scored on an inbounds pass from Jake Hoyt.
Normal U-High, ranked No. 3 in the final Associated Press Class 2A regular season poll, then scored 18 straight points in the next three minutes, while the Raiders turned the ball over five times on their final six possessions of the quarter. A 3-pointer by Jonah Harms rattled around the rim, hit the backboard and finally dropped as the buzzer sounded to give the Pioneers a jaw-dropping 30-7 lead.
"It felt like they were making everything," Stratton said. "They were doing everything right. We weren't playing the best defense, but it felt like they played perfect."
"We just came out super slow and weren't ready to go," Hoyt said. "They come out hot, they made shots, and we just dug a hole for ourselves."
The Raiders couldn't make a dent in the Pioneers' lead in the second quarter, and U-High closed the half with a pair of 3-pointers by Ty Minor — the second one also beating the buzzer.
"I was like, 'Are you kidding me?'" Raiders coach Kevin Meyer said of the two buzzer-beaters.
The halftime score was 45-17. The Raiders had turned the ball over 13 times and missed 15 of 22 shots, while the Pioneers made 7 of 13 3-point shots and shot 56.7 percent from the field.
"In the locker room before the game, our players calmed me down," Pioneers coach Andrew McDowell said. "I had anxiety. I was stressed about the game, but the look in their eye, they were kind of like, 'We're ready to go, Coach.'"
"U High played fabulous, and we played fast and had some turnovers," Meyer said. "We had a lot of empty possessions, and they capitalized on every single one of those. That's the hole that we dug."
After Wallingford and Alex Connoyer missed consecutive layups to start the third quarter, U-High stretched the lead to 30 points on a left-handed layup by Oliver Cade.
However, the Raiders finally began chipping away. Wallingford and Braden Sheffield made 3-pointers to get QND within 47-27 with 4:25 left in the quarter. The Raiders also stiffened defensively, holding the Pioneers to 1-for-9 shooting after Cade's basket. U-High also turned the ball over six times.
After the Raiders failed to score on five consecutive possessions, they closed the third quarter with an 8-0 run. Junior reserve Aiden Klauser scored twice, Wallingford scored on a pass from Sheffield, and a steal at midcourt led to a dunk by Sheffield to make the score 49-35 with eight minutes left.
"I always knew we had a shot," Hoyt said. "I trust the guys I'm playing with to make plays. I never had a doubt that we had a shot to win that game."
A 3-pointer from Sheffield, followed by a post-up basket by Wallingford, got QND within 54-44 with 5:09 to go. U-High, however, answered with a layup by Miles Kirin and 3-pointers from Minor and Ty Blake to re-establish an 18-point lead, snuffing out the Raiders' hopes.
"Our message at halftime was, 'How do you want to be remembered?'" Stratton said. "We came out fighting and got within 10. We just couldn't finish it. We kept trying and kept trying and left it all out there."
McDowell watched his team allow a 29-point lead over Williamsville in Friday's regional championship game dwindle to 13 points.
"What it was happening against (QND) made me a little bit more nervous," he said. "But then Blake made a three and Ty made a three. Those are seniors hitting those shots. Juniors don't make those shots."
Wallingford had 14 points for the Raiders (23-9), who had an 11-game winning streak snapped. Sheffield added 13. Blake had 15 points for the Pioneers (25-9), who had five players with at least nine points.
An emotional Meyer could only express pride in the seven seniors who played their last game.
"They handled high expectations, because they had high expectations for themselves as well," he said. "They went out and competed at a high level.
"Every one of those guys is going to be so successful and show so much character for the rest of their lives. They're going to become the adults, the husbands, the fathers, the leaders of our communities. That's their legacy, not a medal, not a trophy. Their legacy is leaving the program at a really, really high level. They did it for four years the right way."
Miss Clipping Out Stories to Save for Later?
Click the Purchase Story button below to order a print of this story. We will print it for you on matte photo paper to keep forever.