Return engagement: QND girls soccer team upends defending state champ to return to final four in Naperville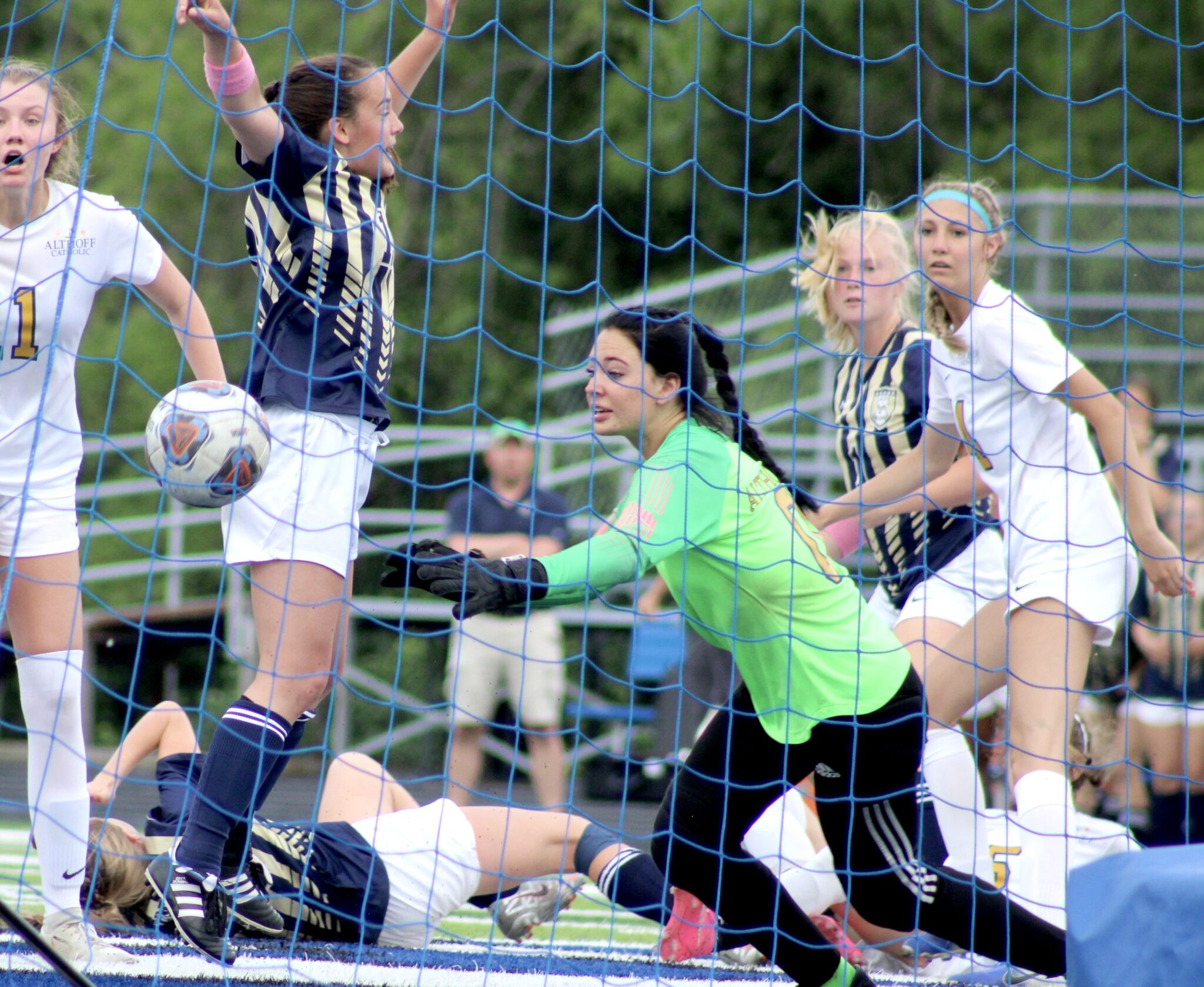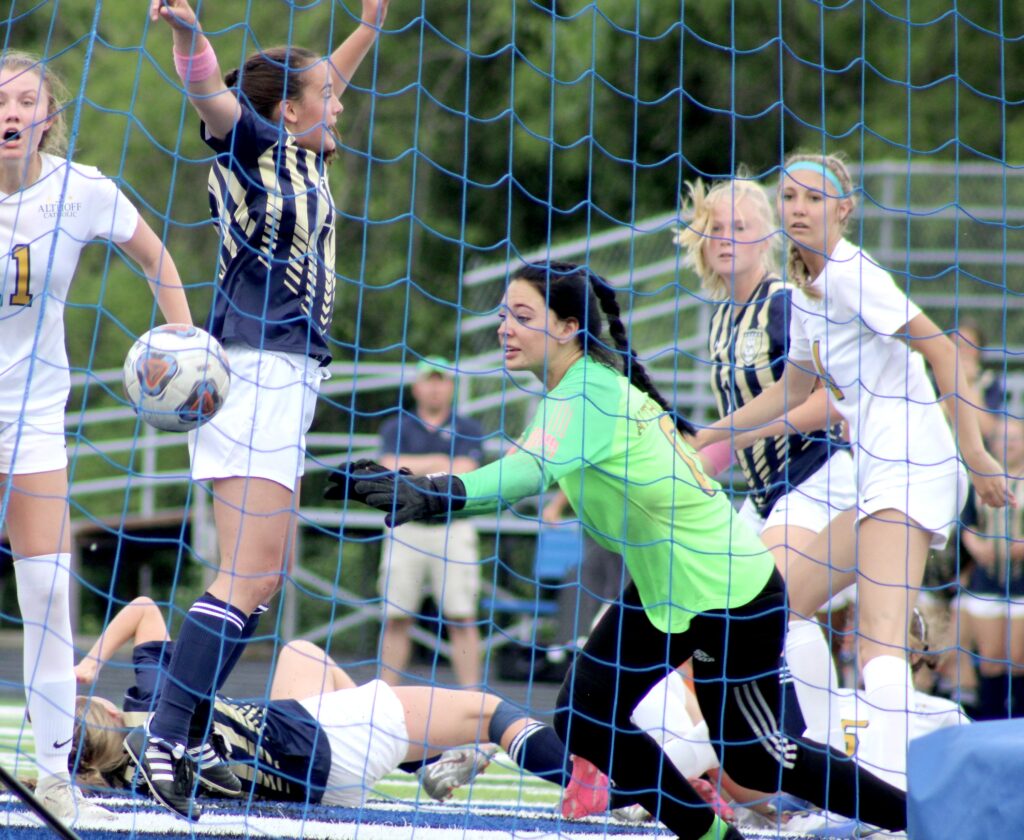 COLUMBIA, Ill. — The Illinois girls state soccer championships are returning to North Central College's Benedetti-Wehrli Stadium in Naperville this weekend for the first time in three years.
It's only fitting Quincy Notre Dame returns, too.
As QND coach Mark Longo put it, it is the Raiders' "home away from home."
Figuring out how to win away from home is what guided the Raiders back.
Scoreless through regulation and the first 13 minutes of overtime in Tuesday's Class 1A Columbia Super-Sectional, QND ended the drought when Lia Quintero pounced on a punched corner kick and headed it in, securing a spot in the final four with a 1-0 victory over defending champion Belleville Althoff.
It was the Raiders' first postseason game not played at Advance Physical Therapy Field and the 10th super-sectional victory in program history.
"This feeling is like no other," Quintero said.
Only one feeling can top it — winning a state championship.
"Definitely don't want to get fourth again," said Quintero, who guided QND to a fourth-place state finish a year ago. "I'm going to win a state championship and nothing less."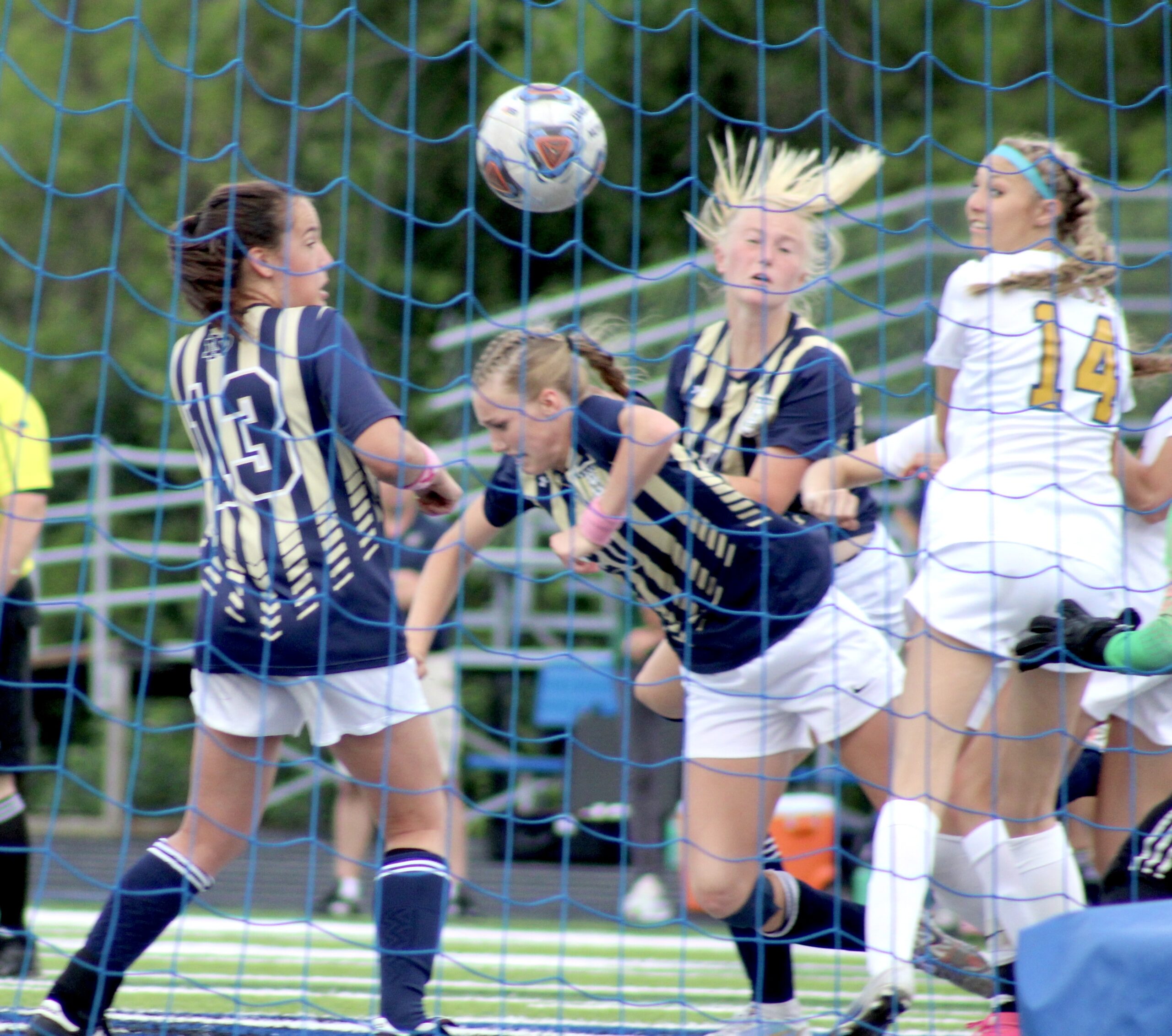 Should the Raiders accomplish that, it would be the sixth title in program history. The first five all were won on the North Central College campus.
Last year's state tournament was played at Hoffman Estates and Palatine Fremd High Schools and marked the second time QND brought home something other than a championship trophy. In 2000, the Raiders finished fourth in a tourney played at Naperville Central High School.
So being back at Benedetti-Wehrli Stadium matters.
"We know what to expect," Longo said.
The Raiders better be ready for another slobberknocker. QND (21-3-3) will face Normal U-High in the state semifinals at 7 p.m. Friday. The Pioneers (16-6) knocked out Herscher 5-0 in the Bloomington Super-Sectional.
"I told the girls during this game to focus on us," Longo said. "It'll be the same message at state. We have to focus on what we're doing and what we do well."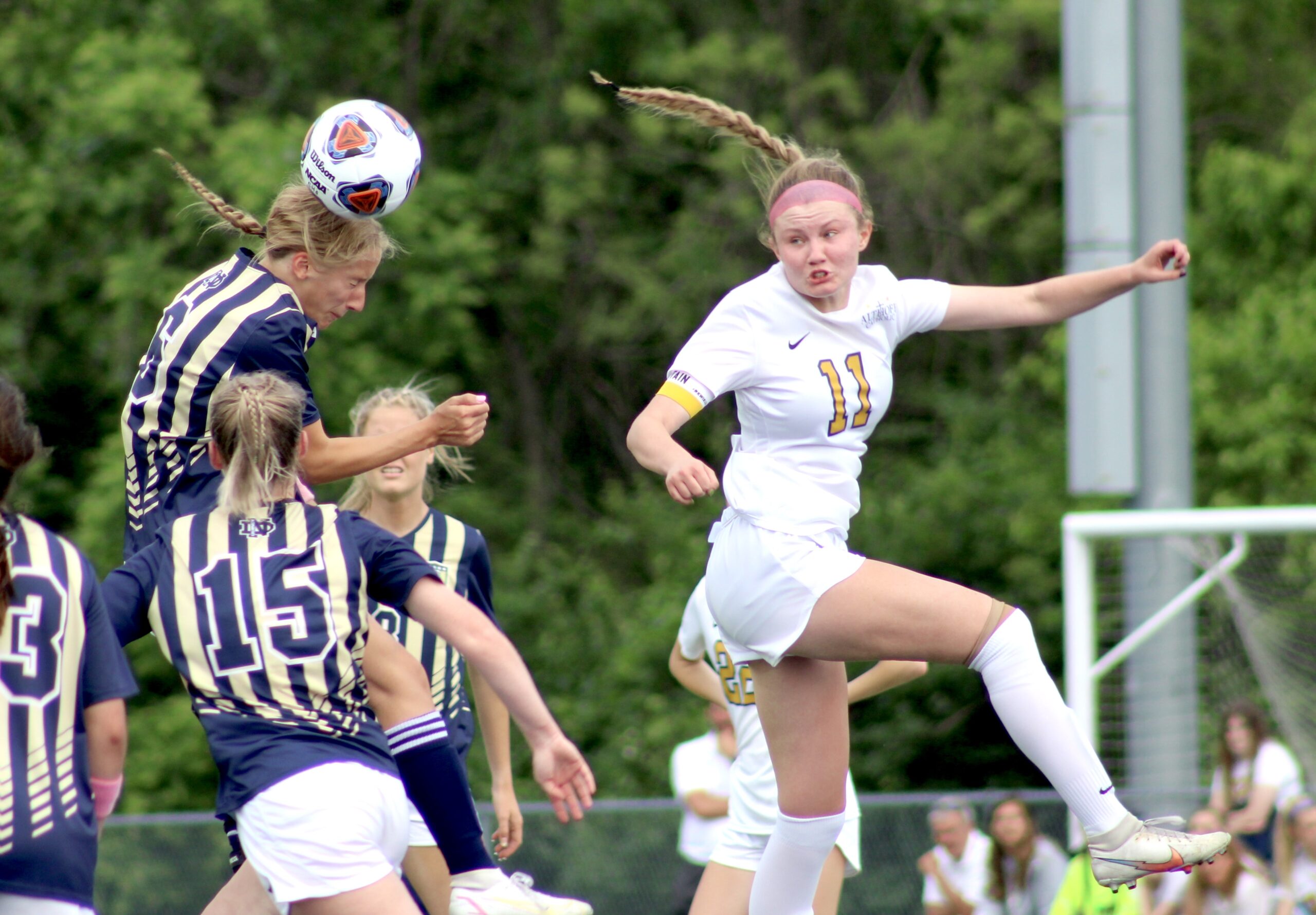 Clearly, that's corner kicks.
Early in the second 10-minute overtime — IHSA rules dictate teams played two 10-minute overtimes in the postseason with no sudden death — Quintero had a corner kick from the left side that sailed to the far side of the box and was knocked out by Althoff. It set up a corner kick for Eva Dickerman on the right side.
Her corner sailed in front of the goal and was knocked down but not cleared or corralled by Crusaders goalkeeper Anna Brewer. The ball bounced off the turf at an angle that allowed Quintero to attack it with her head, driving the ball to the ground. It bounced twice over the end line in the goal to give QND the lead.
"I didn't realize it went in for a couple seconds until I saw the linesman with his flag and my team started screaming," Quintero said. "At that point, I was just absolutely ecstatic."
She did think she had a shot at scoring.
"I saw that it was either going to have someone from our team head it on goal or that it was going to bounce just because it was so well placed," Quintero said. "When it bounced, I knew I was in the right spot and I had leverage over the girl in front of me."
Creating scoring opportunities off corner kicks had been Longo's message.
"Between the overtimes, I made the point, if you're a wing forward or halfback on the wing or even when Lia makes a run, to get a corner," Longo said. "Corners are going to be dangerous. And we got it, and we end up scoring on it."
Dodging a few bullets during regulation made it possible.
Despite playing without University of Illinois recruit Reagan Moody, a senior forward with 52 career goals who suffered an ACL injury and missed the final three games, Althoff controlled the pace of play early and applied sustained pressure.
"I'll be honest with you," Longo said, 'if Moody wasn't hurt for them, we might have been down 2-0 or 3-0. If Moody is in there, they push it wide and outrun you. They just didn't have that person in the middle to do that."
Even so, the Crusaders (21-6-2) generated high-quality scoring chances in the second half with three shots hitting the crossbar and an apparent goal by Kylie Petroski was disallowed because the lineseman ruled the ball had gone over the endline before coming back into play.
"Our bend-but-don't-break mentality is doing wonders," Longo said.
The defense posted its eighth consecutive shutout, the first time Althoff had been shut out in 12 games and only the third time all season.
"We found a way," Longo said. "We've been finding ways."
The Raiders have found their way home to their home away from home.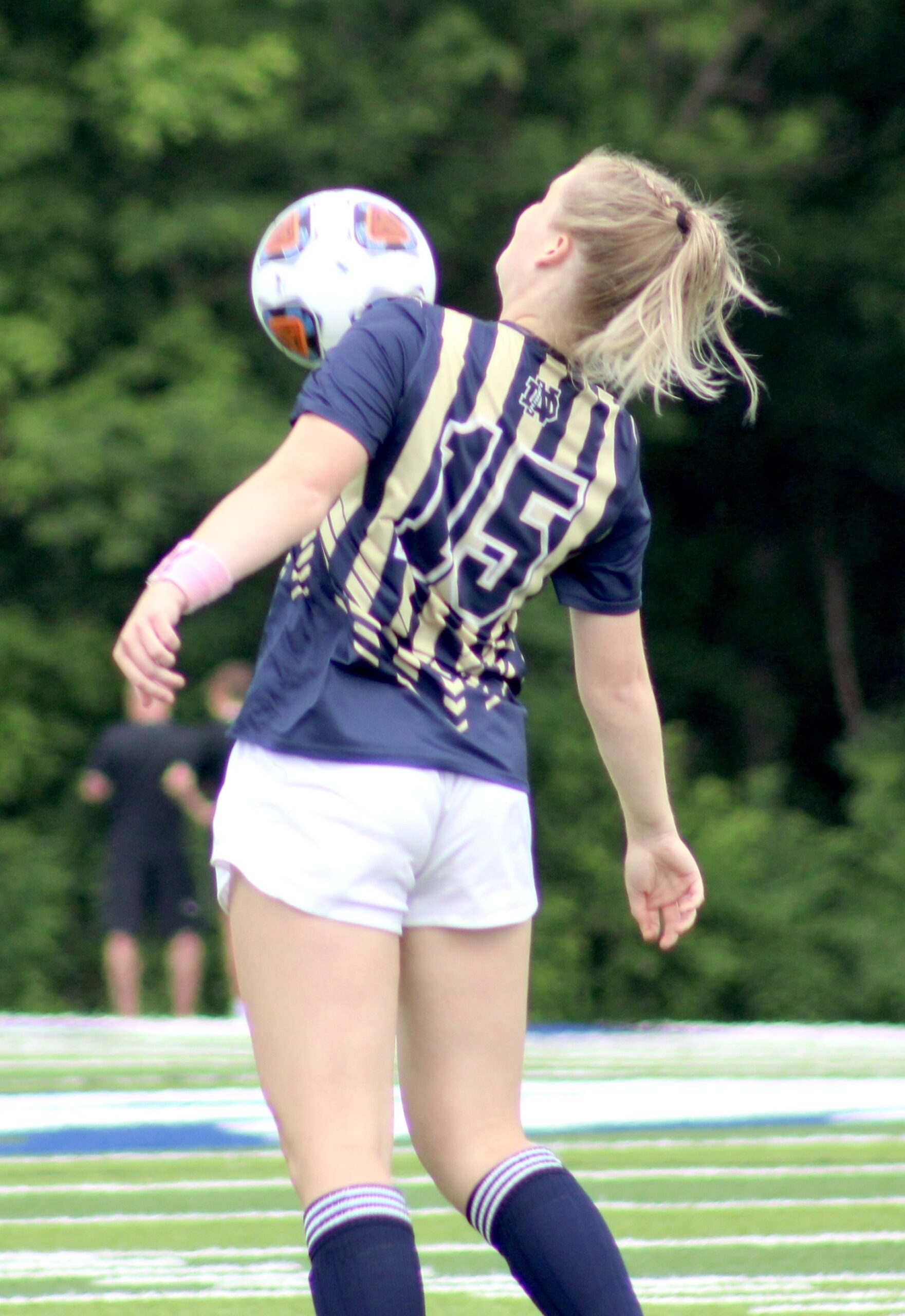 Miss Clipping Out Stories to Save for Later?
Click the Purchase Story button below to order a print of this story. We will print it for you on matte photo paper to keep forever.