One for the Road: QND girls play first game outside Adams County in 45 days, steamroll Hillsboro in sectional semifinal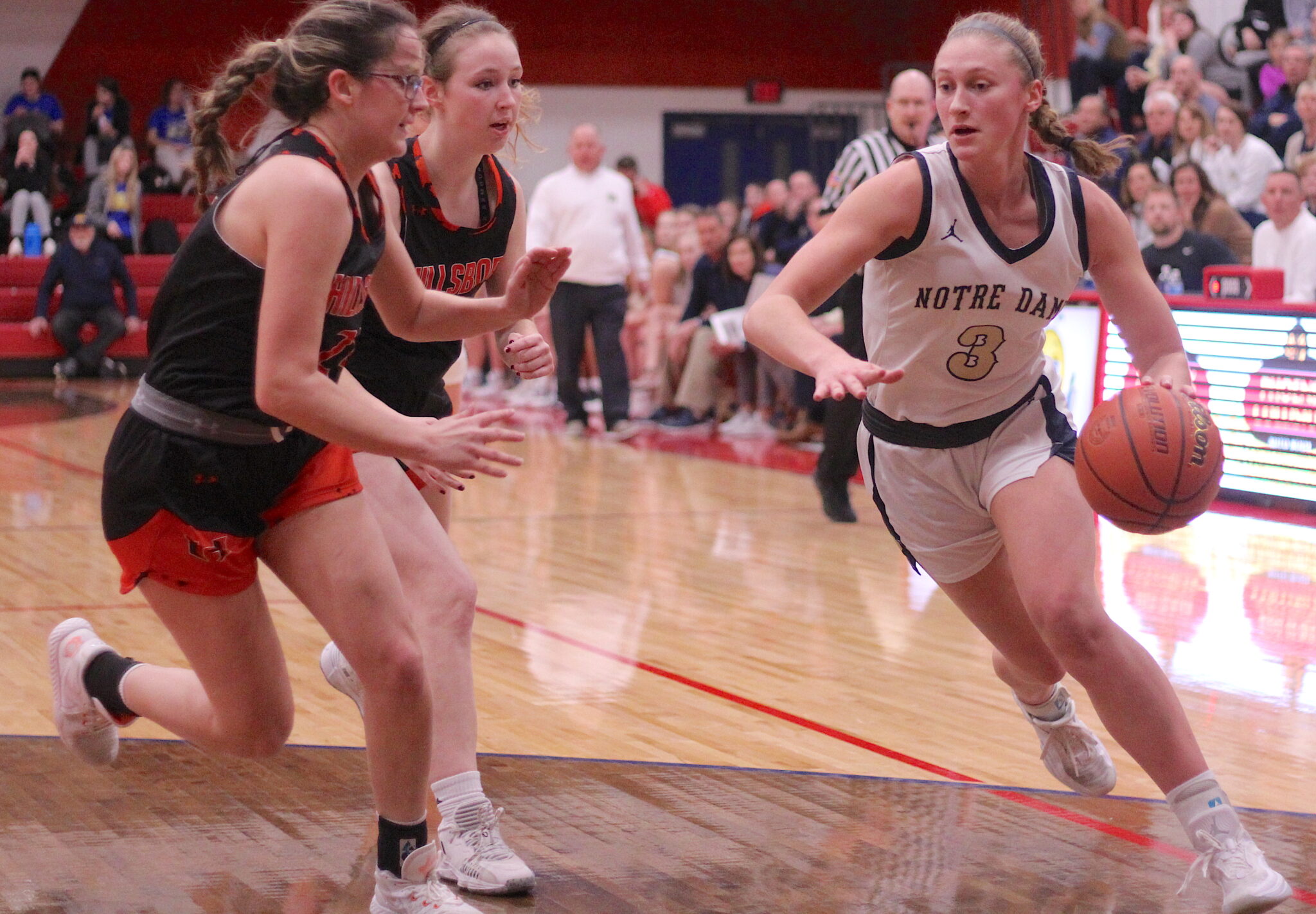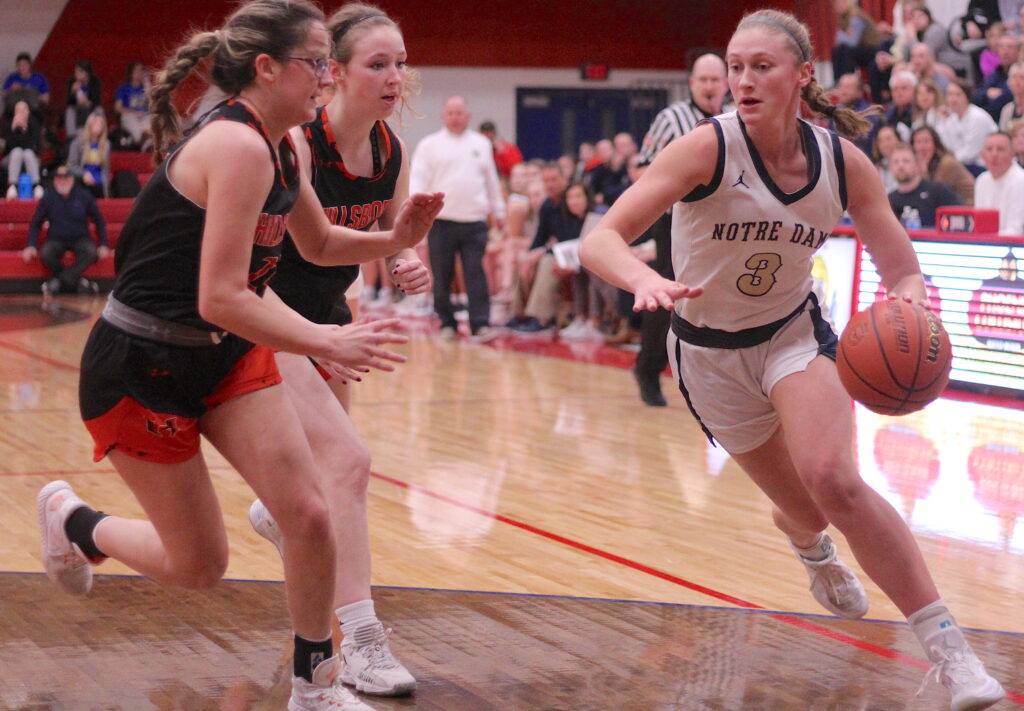 PLEASANT PLAINS, Ill. — After playing 13 consecutive games in Adams County, Quincy Notre Dame coach Eric Orne thought his team needed to pack its bags and hit the road.
The Raiders were 16-0 at The Pit this season, concluding with an emotional and demanding 54-43 victory over Springfield Sacred Heart-Griffin in the championship game of the regional played at The Pit last Thursday.
Orne thought playing outside of Adams County for the first time in 45 days helped his team play loose in a dominant 67-30 victory over Hillsboro in the semifinals of the Class 2A Pleasant Plains Sectional on Tuesday night.
"There was a lot on our shoulders last week," Orne said. "There were some emotions in the last home game, and the girls played into it like they normally do. We fought through that.
"Tonight, I just thought it was good to get away. It was good to play somewhere new and play a different team that really didn't know us. I just thought we were definitely more loose. You could tell."
The top-ranked Raiders (32-1), the defending Class 2A state champions, have won 25 consecutive games. They will play for the sectional championship at 7 p.m. Thursday against No. 5- ranked Central-Southeastern, which steamrolled Staunton 62-26 in Tuesday's other semifinal.
The Raiders have played 13 games since a 61-54 victory over Okawville on Jan. 7 during the PAWS Shootout at Breese Central High School. Eleven of them were played at The Pit. One was played at Blue Devil Gym against Quincy High School, and the other was played in Liberty.
"This was our first away game in a while," senior Abbey Schreacke said. "To be able to change that atmosphere and change the environment put a little charge in our game and changed our mindset."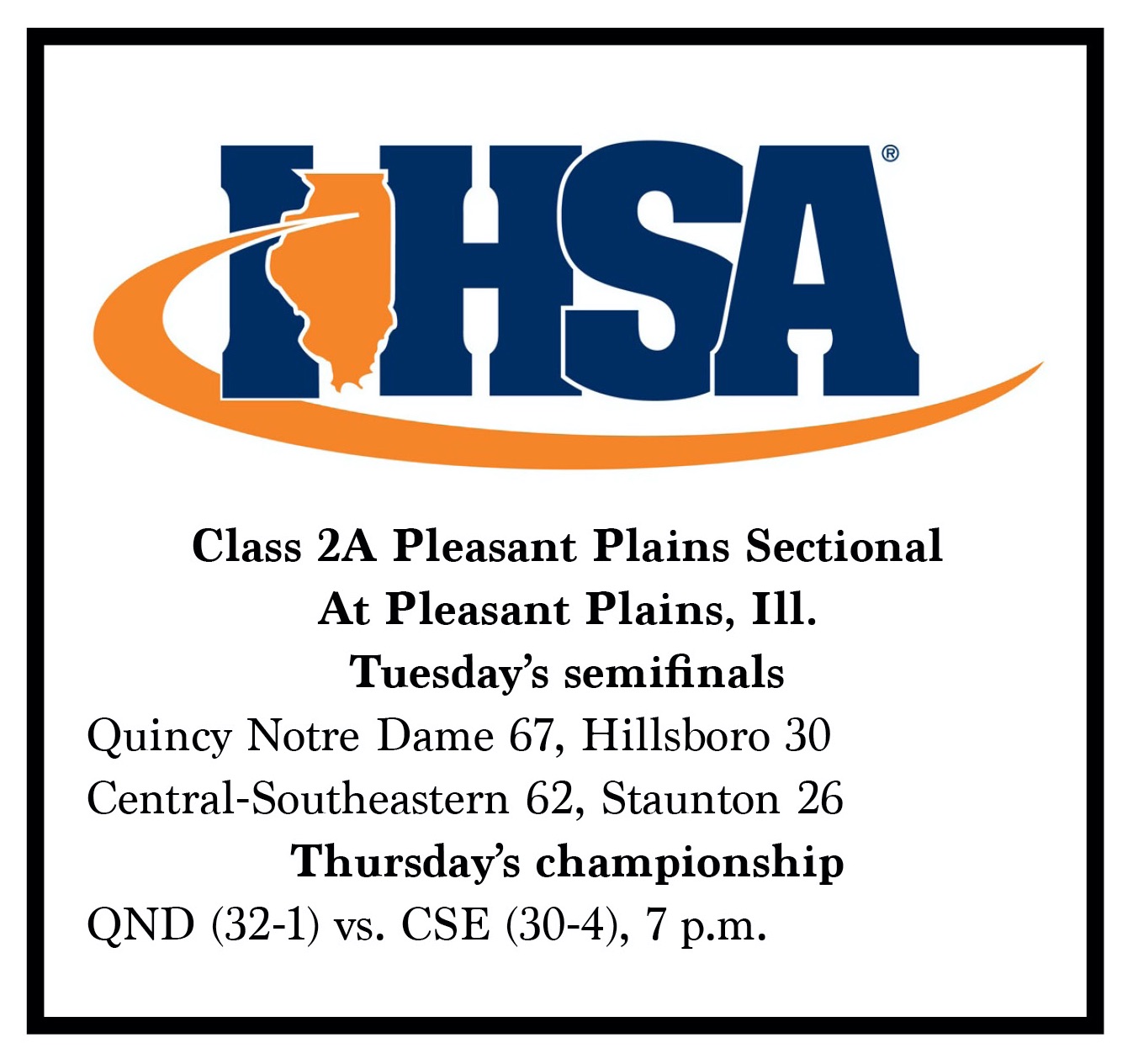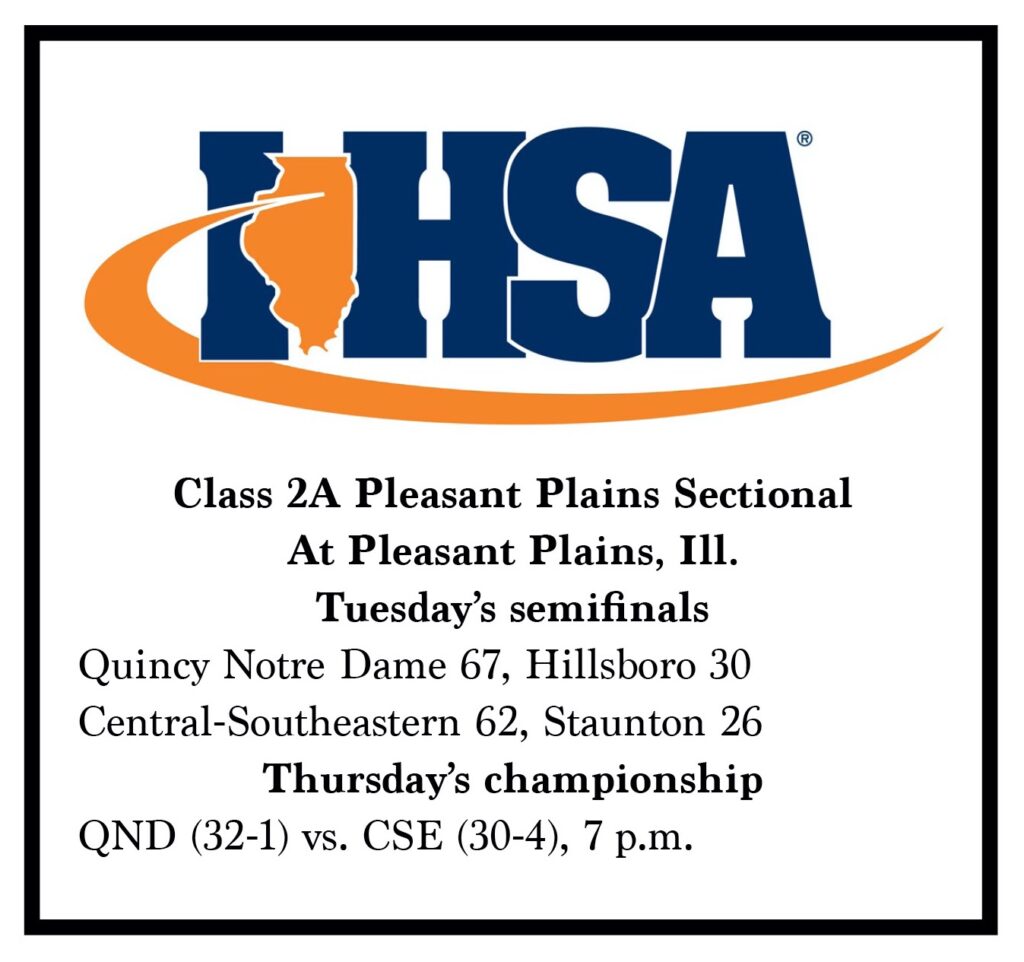 Notre Dame stumbled out of the gate, missing eight of its first 11 shots and turning the ball over twice. Hillsboro took its only lead when Layne Rupert scored on an offensive rebound to make the score 9-7 with 3:01 remaining in the first quarter.
Schreacke's 3-pointer gave QND the lead for good at 10-9, and it kickstarted a 14-2 run that ended with a driving layup by Schreacke. Meanwhile, Hillsboro missed 10 of 11 shots and turned the ball over four times in a six-minute span.
Alex Frailey's 3-pointer briefly halted the Raiders' momentum, making the score 25-14. But the Raiders went on a 12-1 run and eventually led 42-21 at halftime.
Nine of the Raiders' first 12 shots were from the 3-point arc. After that, their focus switched to attacking the basket. Schreacke converted two old-fashioned three-point plays and Blair Eftink had another. QND converted 10 layups after falling behind.
"When we were getting downhill, that's when we got things to click," Schreacke said. "We were finishing through contact. We got some and-ones, and that's a really big booster. Arguably those are a bigger booster than a regular three-point play."
"We missed a lot of threes early, but we were getting good looks," Orne said. "We had to make some adjustments to getting back going downhill. That was the important thing."
QND also frustrated Hillsboro with a 2-2-1 half-court trap that forced several turnovers leading to breakouts. The Hilltoppers (20-12) committed 18 turnovers.
"Once we settled in, our defense was controlling the game," Orne said. "That made a big difference. We knew they had some good guards, but we wanted to put them in a bad situation where they maybe felt uncomfortable and threw the ball away. Then our transition took over."
"We were hoping to slow them down," freshman guard Ari Buehler said. "We weren't trying to do something extravagant. We were looking to just control the game and play at our speed."
In case Hillsboro had any ideas of making a comeback, the Raiders scored 19 points in the first 4½ minutes of the third quarter while allowing just two free throws. A 61-27 lead after three quarters triggered a running clock for the fourth quarter.
Schreacke finished with 23 points and five rebounds. Eftink scored 17 points, and Sage Stratton chipped in with 11. Freshman Jenna Durst had eight points and a team-high seven rebounds.
"This was just one more step to the bigger goal," Schreacke said.
Miss Clipping Out Stories to Save for Later?
Click the Purchase Story button below to order a print of this story. We will print it for you on matte photo paper to keep forever.