Keeping everybody on their Tippy Toes: Williams uses family dog to help make Notre Dame his college choice
HANNIBAL, Mo. — A plastic baggie filled with marshmallows helped keep quiet the biggest secret in Hannibal a little bit longer.
Aneyas Williams, the No. 1 all-purpose back in the 2024 recruiting class according to Rivals.com, and Tippy Toes, the family dog dressed like a leprechaun, combined to announce Williams' decision to attend the University of Notre Dame in the fall of 2024.
During a ceremony at Korf Gym, Williams first thanked his family, friends and coaching staff at Hannibal High School. He picked up a blue Notre Dame cap at his far left and brought it to his forehead. He then tossed it aside and said "Nah" — eliciting an audible gasp from the crowd.
Williams then grabbed a University of Alabama hat, looked at it and gently placed it back on the table. He then reached under the table to scoop up Tippy Toes, an Aussiepoo (a cross between the Australian Shepherd and Poodle dog breeds). She had stayed quiet while snacking on marshmallows while hiding in a box for at least 30 minutes.
Williams also grabbed a white Notre Dame hat from under the table and put it on his head. He handed the dog to his sister, Olivia Williams, and unzipped his sweatshirt to reveal a kelly green Notre Dame T-shirt.
Williams said it was the idea of his mother, Sarah Williams, to incorporate Tippy Toes into the ceremony
"She's a good girl," Sarah Williams said. "The hats were Aneyas' idea, and then I said, 'You know what would be really fun is the little leprechaun outfit on the dog.' And he said, 'I love it.'"
The other hats on the table were from Kentucky and Tennessee, members of the Southeastern Conference along with Alabama. When Williams tossed aside the blue Notre Dame hat, some of the approximately 500 people in attendance gasped.
"I feel like I've made it kind of known where I was going," he said. "It was pretty obvious, just seeing the commitment date (being set) right after I came back (from South Bend, Ind.). … I kind of knew what everybody was thinking. I wanted to play with everybody a little bit and have my fun out of it."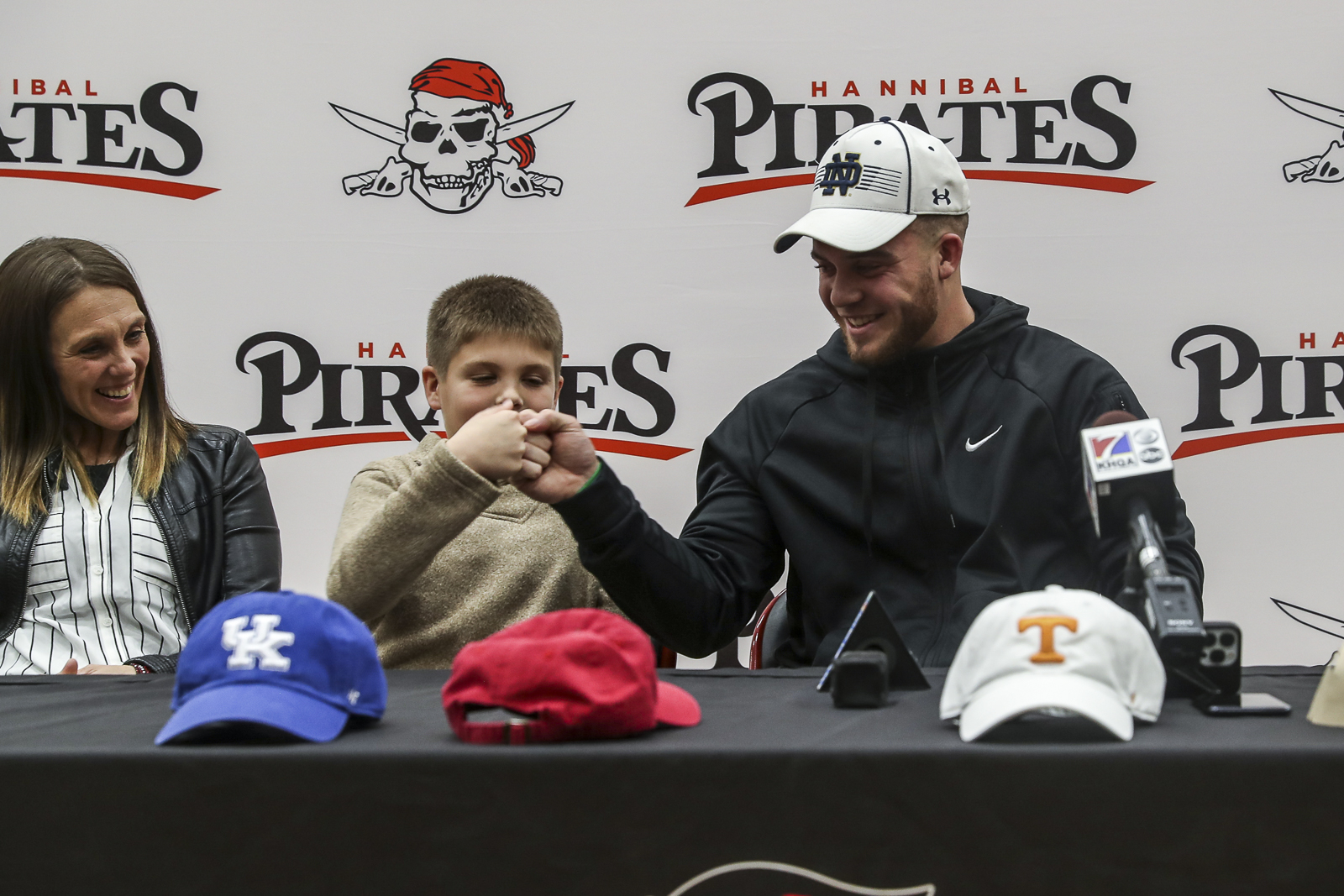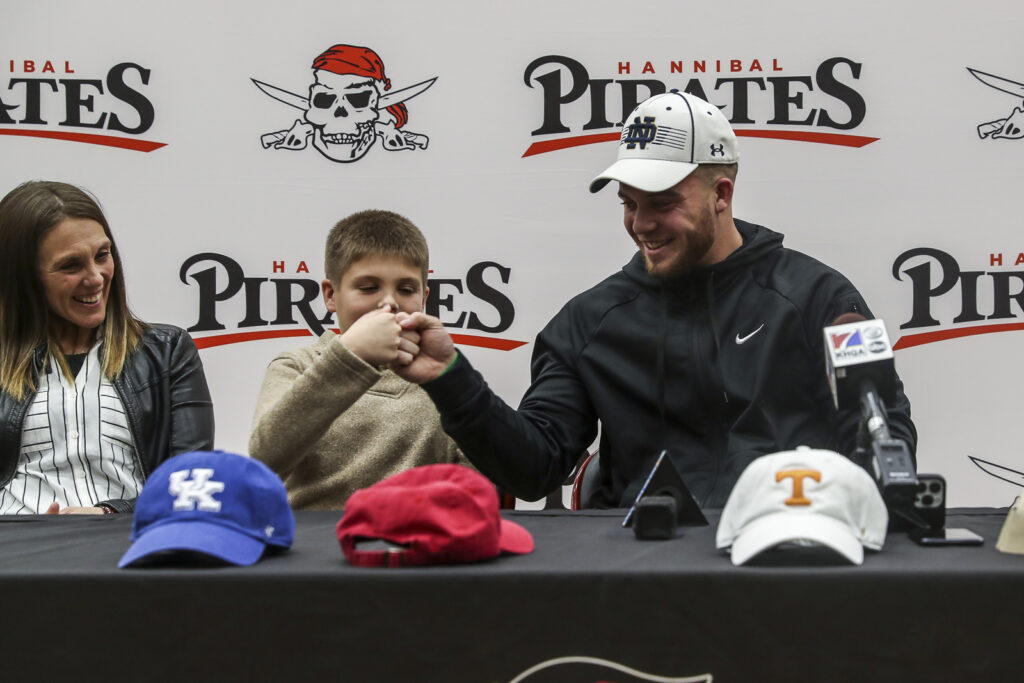 In announcing Williams' plans to make his college commitment, Sports Illustrated said the 5-foot-11, 200-pound Hannibal star is viewed as "one of the more well-rounded running backs in the nation, boasting an incredible combination of patience, explosiveness, physicality and versatility out of the backfield."
Williams only played nine games as a junior before his season ended because of a broken collarbone. He rushed for 1,362 yards (9.7 yards per carry) and 27 touchdowns. He also caught 33 passes for 424 yards and seven touchdowns.
During his sophomore season, when the Pirates reached the state championship game, Williams rushed for 977 yards (9.3 yards per carry) and 20 touchdowns. He also caught 63 passes for 1,297 yards and 24 touchdowns and added three more touchdowns on an interception return and two punt returns.
He was a second-team pick to the Missouri Football Coaches Association all-state team as an all-purpose athlete as a freshman. Williams was a first team MFCA all-state selection as a wide receiver as a sophomore and a first team MFCA all-state selection as a running back as a junior. Tom Lemming of CBS Sports named him to the All-American team during the summer before his junior year. He's been nominated for the Gatorade Player of the Year in Missouri.
Sarah Williams said her son visited Alabama, Tennessee, Kentucky, Iowa, Missouri, Clemson and Ohio State — all on unofficial visits. She said he made his decision on Nov. 5 when the Fighting Irish played host to Clemson.
"He got to go to Ohio State (when the Buckeyes played host to Notre Dame on Sept. 3), and that experience was huge," she said. "I kind of thought he would choose Tennessee, but he shocked me.
"He's pretty open with me. We talk about everything. James (Branch, her husband) and Aneyas went (to Notre Dame) for a game, and I'd been wanting to go to a game. So we loaded up, and I drove. We drove back the same night because he had something the next day. And he just told (the Notre Dame coaches that day). We left at halftime to get on the road, but I think he knew going into that game that week. That was home."
Williams said he got to see the "true atmosphere" during the Clemson game.
"The potential that Coach Freeman has, and (offensive coordinator) Tommy (Rees) and Deland (McCullough), my running back coach, just knowing the plans that they have for me … I got the whole output on that and what they plan to do with me," he said. "That's huge."
Notre Dame is one of college's football's most storied programs with 11 national championships. The Fighting Irish had an 8-4 record this season under first-year coach Marcus Freeman, and they will play Dec. 30 in the Gator Bowl against South Carolina.
Notre Dame's top two running backs, Audric Estime (825 yards, 11 TDs) and Logan Diggs (732 yards), are sophomores. Junior Chris Tyree rushed for 423 yards and also caught 20 passes. Two other running backs on the depth chart are freshmen.
Only two players — tight end Michael Mayer and sophomore receiver Lorenzo Styles — caught more than 20 passes.
Williams said he had a feeling from the first time he went to Notre Dame.
"Most recruits will say you get a feeling and when you know, you know," he said. "For me, I didn't want to believe it because of how early it was, but I went back and I went back, and it was the same feeling. It just got stronger and stronger, as well as my relationship with the coaches. I just didn't really feel the need to wait much longer."
Sarah Williams called the recruiting experience "awesome."
"We've gotten to travel a lot, meet a bunch of new people and just experience him in his element," she said. "My main thing is I wanted him to go where he felt it was home, because he's going to be away from mom and he's a mama's boy. He's my baby. It's going to be hard for us both, but I wanted him to go where he felt most home."
Miss Clipping Out Stories to Save for Later?
Click the Purchase Story button below to order a print of this story. We will print it for you on matte photo paper to keep forever.