JWCC Prairie State Profile: Pittsfield's Cox carries on family tradition with integrity and confidence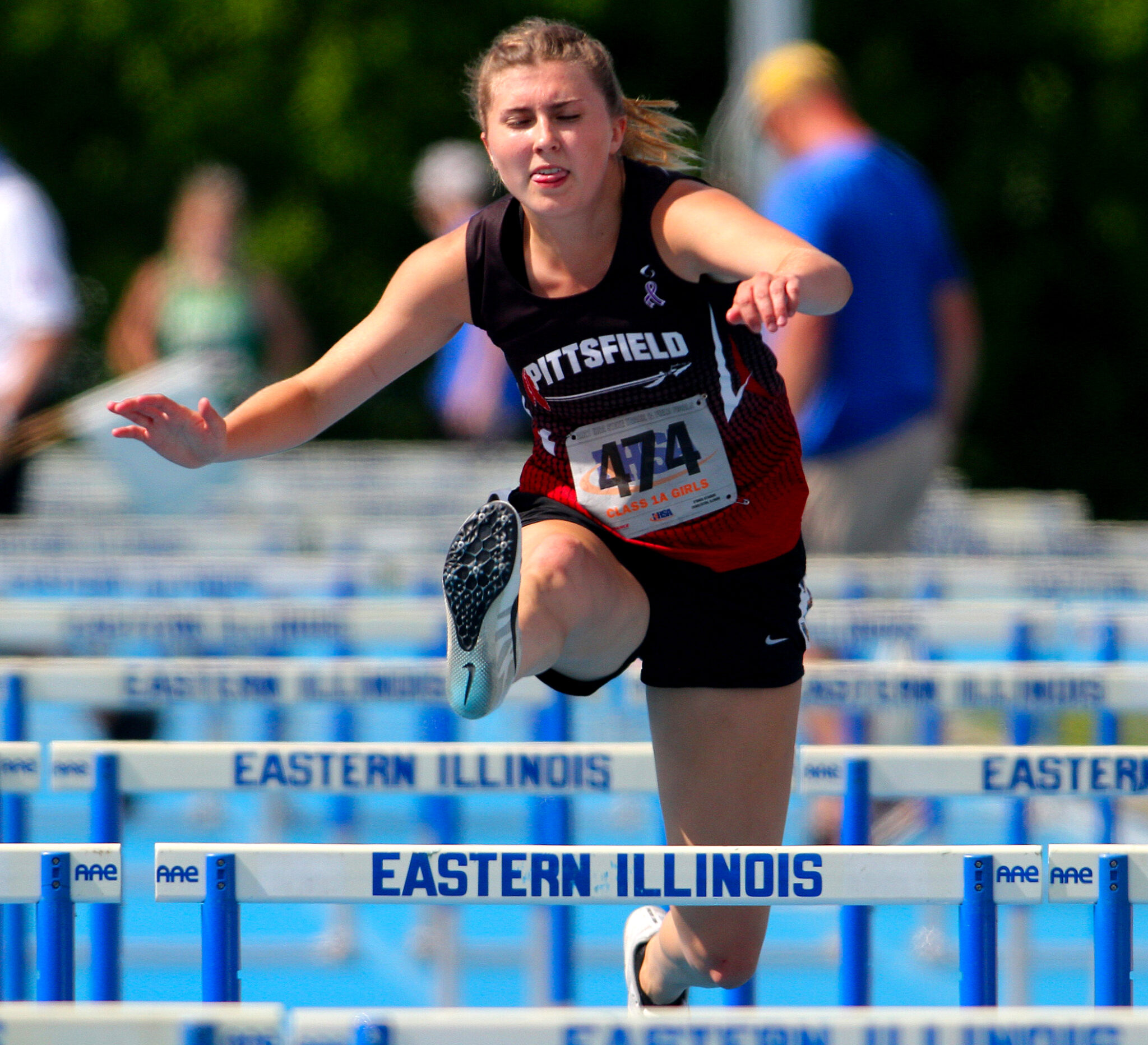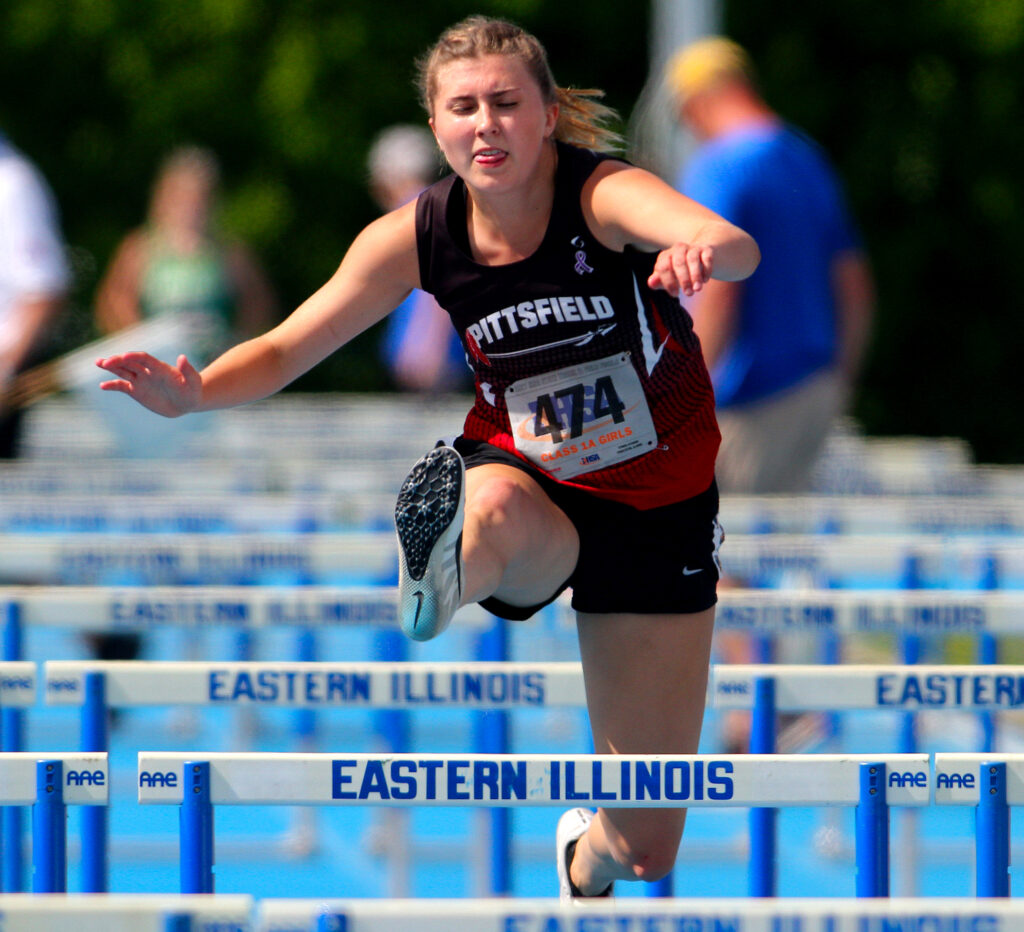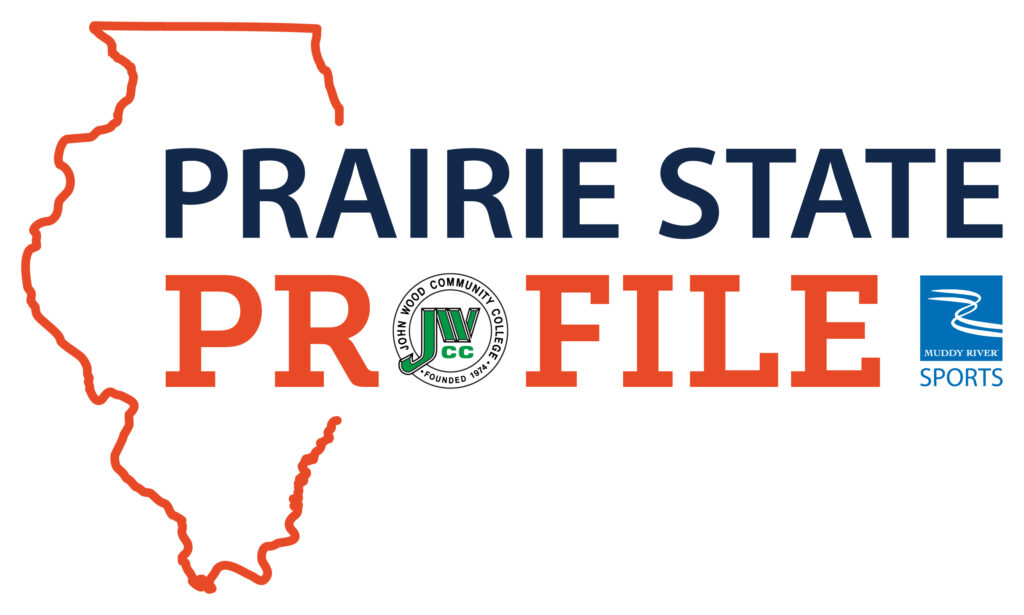 PITTSFIELD, Ill. — Steve Smith became known throughout West-Central Illinois as one of the region's most influential and impartial basketball referees.
For Katie Cox, he was simply grandpa.
"He truly always wanted me to be the best," said Cox, a senior three-sport athlete at Pittsfield High School. "With everything I did, he was pushing me. On one of my Christmas cards he wrote, "Make my free throws." I still have that card today. Anytime I miss a free throw, I'm like, 'Grandpa's probably yelling 'Gee, whiz' at me.'"
She fought back tears as she talked about those memories.
Smith passed away in December 2020 at the age of 65, leaving a legacy of athletic success and Pittsfield passion. Not only did he officiate basketball for more than 40 years and get inducted into the Illinois Basketball Coaches Association Hall of Fame, but he was an avid golfer who won the Old Orchard Country Club championship in six different decades.
His father, Toby, was a longtime coach in the Pittsfield system, spending 10 seasons compiling a 176-91 record as the Saukees boys basketball coach and guiding the 1982 boys golf team to the state championship — the first state title in any sport in Pittsfield history.
It's the kind of legacy Cox embraces.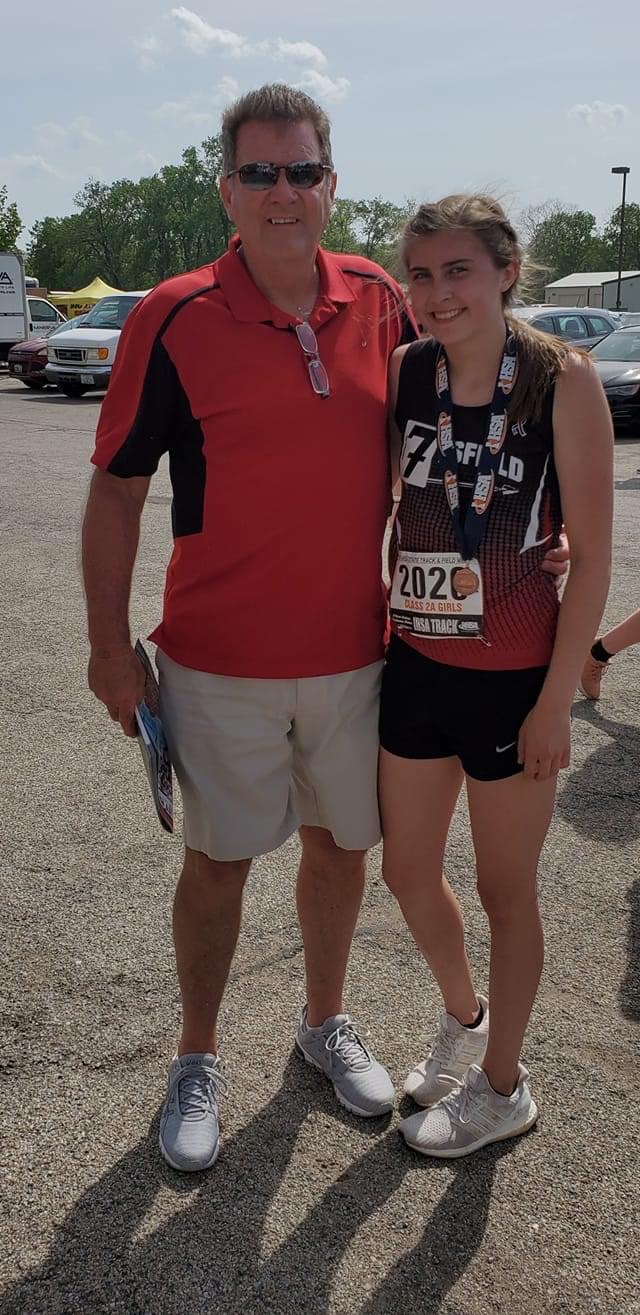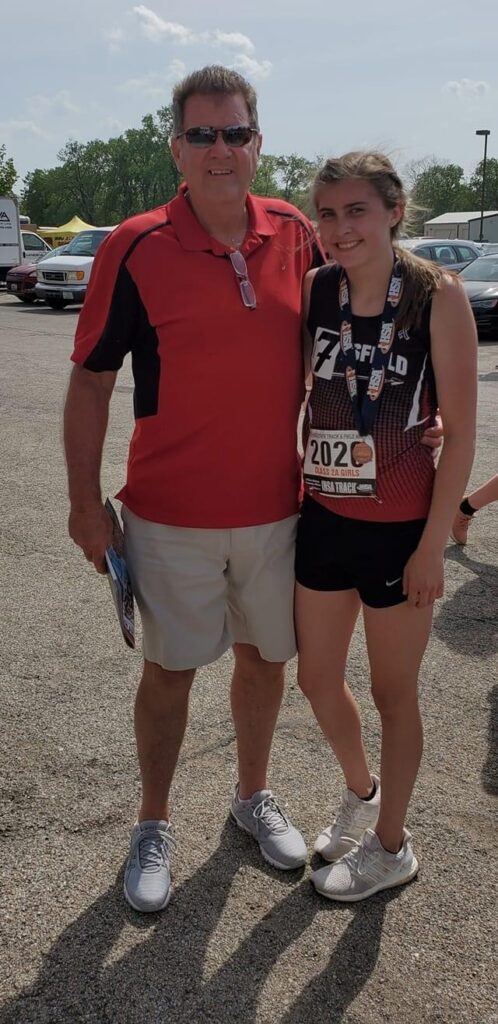 "It's an honor," said Cox, who runs the 100- and 300-meter hurdles and is on two relay teams for the Pittsfield track team. "My grandfather was at every single track meet of mine. Right before COVID hit, we had indoor season. The last track meet of mine he was at was at Illinois College. My parents were unable to go because of my dad's health issues, so he was there for me. It's memorable, very memorable."
She smiles thinking about him.
"He was definitely a good one," Cox said.
Cox discussed her volleyball, basketball and track careers as well as her extracurricular activities and what the future holds with Muddy River Sports Editor Matt Schuckman for this Prairie State Profile:
Q: How difficult is it to compete when the weather is so uncooperative?
A: I personally think it's all mental. If you tell yourself the weather is bad, then you'll probably perform bad. If you tell yourself you can overcome that, it will be a much easier race.
Q: How much are your sights set on getting to state?
A: That's my goal at the beginning of the school year. Before track even starts, I'm looking forward to that sectional competition so I can go to state.
Q: How do you choose to become a hurdler?
A: It was kind of born into me. My mom (Amy Smith Cox) was a hurdler and went to state when she was in high school. I haven't broken her school record yet, but I will eventually. So my first year of track, I decided I was going to beat that record. It's always been in the back of my head. It's my motivation I guess you could say.
Q: What kind of advice does your mom give you?
A: She says when I get to that start line I have to look at the race and tell myself I can do all of it. Visualize. Visualize myself winning and it will be a lot easier.
Q: Does your mom get nervous when you're racing?
A: Yes, extremely. She feels like she was in high school.
Q: How much fun is it to be doing an event your mom did?
A: It's pretty fun. We are pretty competitive with each other even though she doesn't run track anymore. It's my running and all of her records I guess you could say. It makes us competitive.
Q: Is coming from an athletic family pressure or an honor or both?
A: I definitely think it's pride. I use it as motivation also.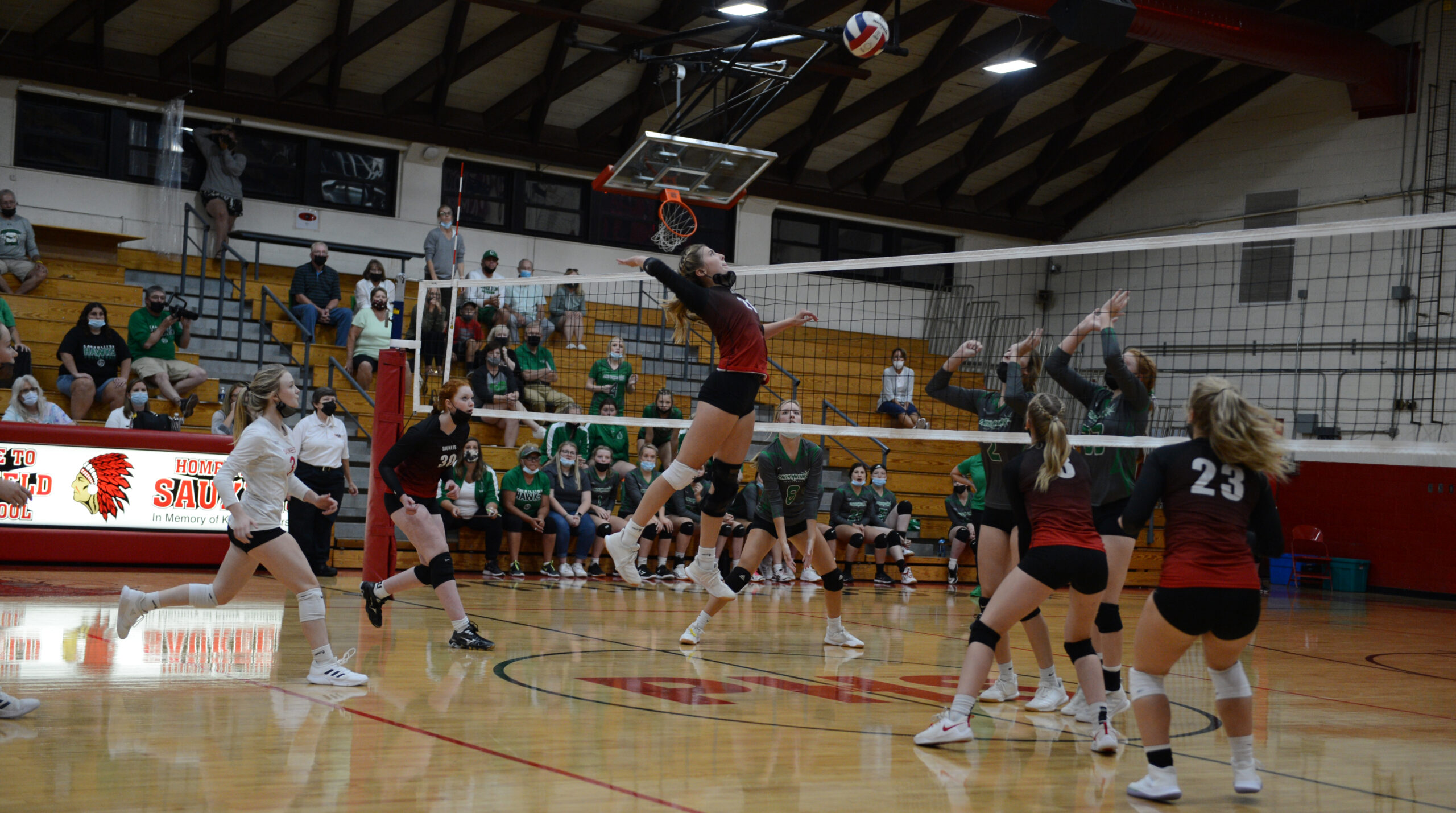 Q: How tough is it to be a three-sport athlete?
A: I don't find it very tough. I'm involved in most of the school extracurricular activities. I thrive whenever I'm busy. It's my favorite thing to do. I never get out of shape. There's maybe a couple of days off between each sport, and I'm involved in I believe 11 extracurriculars. So I truly stay busy.
Q: Do you have a favorite sport?
A: I think I do. I'd say it's volleyball. It's volleyball, then track, then basketball.
Q: Is there a sport you'd like to try?
A: I've been to the golf course with my dad. I've done swim team. But I've always wished Pittsfield had a tennis team. We play badminton in P.E. and I feel like I'd be really good at tennis. I don't know why. It just feels that way.
Q: People who only know you as a student-athlete, what activity would they be surprised you're involved in?
A: I have a couple for you. I'm the co-editor of our yearbook. I'm also the school's webmaster, so I control the school's website. And I'm the FFA (Future Farmers of America) treasurer. I have a wide variety.
Q: Does that come from mom and dad pushing you to expand your horizons or does it stem from you wanting to be busy?
A: It's really just me wanting to experience new things and get out there. Make friends and talk to more people. It's experience.
Q: Is it safe to say you're adventurous?
A: For sure. I love experiencing new things.
Q: When you're not in sports and not involved in the different extracurricular activities, what do you do for fun?
A: I hang out with my friends and I spend time with my family. I sometimes go to the gym with my mom.
Q: What happens after high school graduation?
A: This summer, I will work as a lifeguard. Then I'm going to John Wood Community College, where I will play volleyball, and I will study ag business.
Q: What's it meant to you to be from Pittsfield and be part of the Saukee community?
A: It's truly great. People say, "Once a Saukee, always a Saukee." It truly means that. I have a lot of pride being from Pittsfield. I think Pittsfield's a wonderful place.
Miss Clipping Out Stories to Save for Later?
Click the Purchase Story button below to order a print of this story. We will print it for you on matte photo paper to keep forever.