Fresh approach: Trio of youngsters play with no fear in shouldering scoring load as Blue Devils knock off Maroons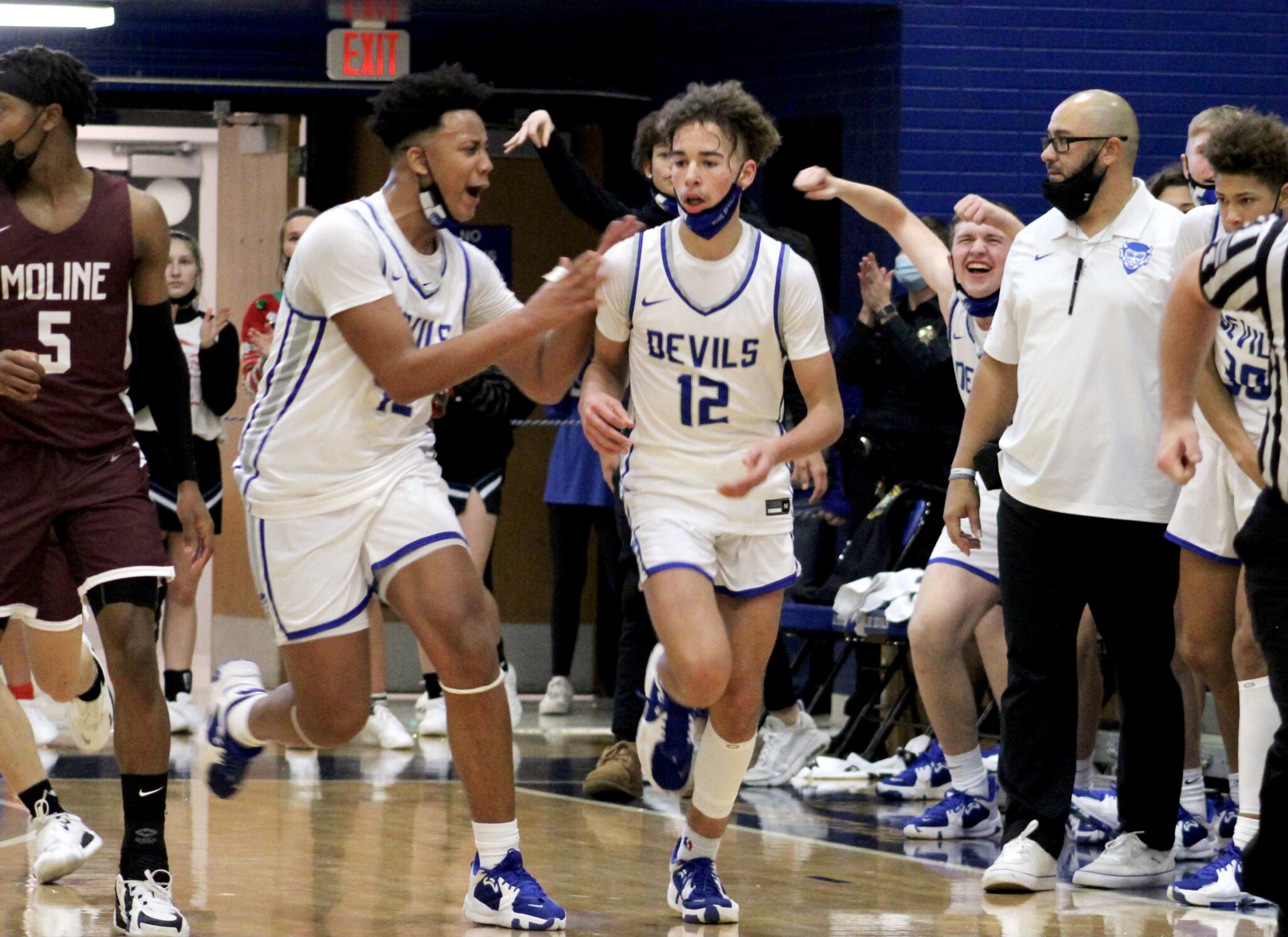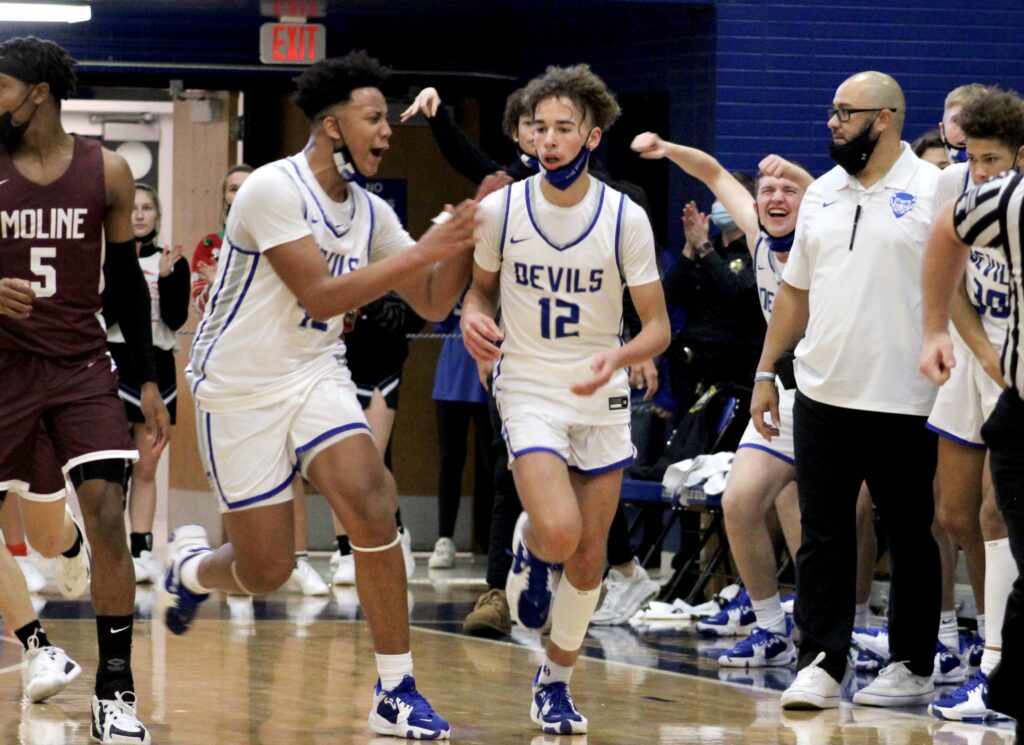 QUINCY — The innocence of youth and the confidence of experience.
It's a lethal combination a trio of Quincy High School freshmen seem to possess, and their brashness, play-making ability and no-fear attitude is creating problems for the rest of the Western Big 6 Conference boys basketball teams.
Friday night, Moline discovered how devastating those attributes can be.
Dominique Clay made four consecutive 3-pointers late in the first half to give the Blue Devils the lead. Keshaun Thomas outworked and outphysicaled the Maroons in the paint. And Bradley Longcor III hit a 3-pointer with two minutes to play that finally gave Quincy some needed separation.
Longcor then finished off a 63-49 victory at Blue Devil Gym by making 5 of 6 free throws in the final 30 seconds of regulation.
"We're just out there playing ball," Longcor said after QHS stayed tied atop the WB6 standings with Rock Island with a 4-0 record. "You're just playing your game and nothing really changes for you no matter what the atmosphere is. You just think about playing your game."
All told, the threesome combined for 43 points and made the absence of Jeremiah Talton from the scoring column hardly noticeable. The WB6's leading scorer at 28.7 points per game, Talton was limited to seven points by a string of aggressive, physical, in-his-face defenders.
It didn't hurt the Blue Devils, who had three freshmen show no fear.
"We just go and get it," Clay said. "Just keep playing. No fear at all."
At critical junctures, those freshmen made fearless plays.
First, it was Longcor hitting a pull-up fadeaway jumper in the lane to give the Blue Devils a 13-11 lead midway through the second quarter. Thomas followed by making two free throws on the next possession, and then Clay ignited the sizable Quincy crowd when he took a pass from Longcor and buried a 3-pointer from the right corner with 1:52 to go in the half.
"It just felt good," Clay said. "My teammates executed very well and got me open. They moved the ball well and set screens. I just hit it. And after that, it was just on."
He made a 3-pointer from the left wing on the next possession and drilled consecutive 3-pointers from the left corner to give the Blue Devils a 27-21 lead with 25 seconds to go.
"I was a little happy," Clay said. "I was going crazy."
Everyone was.
"It was crazy," Longcor said. "We just kept trying to find him, and he just kept getting open. I don't why they left him open when he just kept making them."
The Maroons' Kyle Taylor hit a 3-pointer from the right wing with three seconds remaining in the half to trim the deficit to three, but the Blue Devils still had momentum.
"It was huge for us to get the momentum going," said Quincy coach Andy Douglas, whose team is 8-1 heading into Saturday's game against Quincy Notre Dame at the Pit. "And everyone played a role in making it happen."
The three-point halftime advantage ballooned to a 39-31 edge at the end of the third quarter as the Maroons (6-2, 2-2 WB6) went eight consecutive possessions without scoring and managed just two points the final four minutes of the quarter. Longcor capped the frame with a step-in 18-footer with three second remaining.
"Bradley was just consistent," Douglas said after Longcor scored a game-high 18 points. "That's the best thing I can say about his game. He stays consistent."
Quincy's advantage eventually grew to 10 points before Moline chiseled it back to two as Taylor drove the left baseline and made the running jumper to make it 44-42 with 2:31 to go.
Longcor answered with a 3-pointer, sophomore guard Ralph Wires had a steal and layup, Thomas scored on a putback and Talton finished the run with a dunk for a 53-45 advantage with 45.7 seconds remaining. The Blue Devils then made 8 of 10 free throws to finish things off.
Thomas finished with 13 points and 11 rebounds, and Clay added 12 points. Brock Harding led the Maroons with 13 points, and Taylor added 12 as Moline scored 31 points fewer than its season average.
The freshman trio's defensive presence was vital in quieting the Maroons, maybe more vital than the pile of points they scored.
"We have a roster of kids that have no fear," Douglas said. "Occasionally, that's a bad thing, but a majority of the time it's a good thing. In watching these guys compete, it doesn't matter who, when, where, why, how. They just compete."
Miss Clipping Out Stories to Save for Later?
Click the Purchase Story button below to order a print of this story. We will print it for you on matte photo paper to keep forever.