Connoyer finds hole in West Hancock defense, scores 19 points to help Raiders win 20th game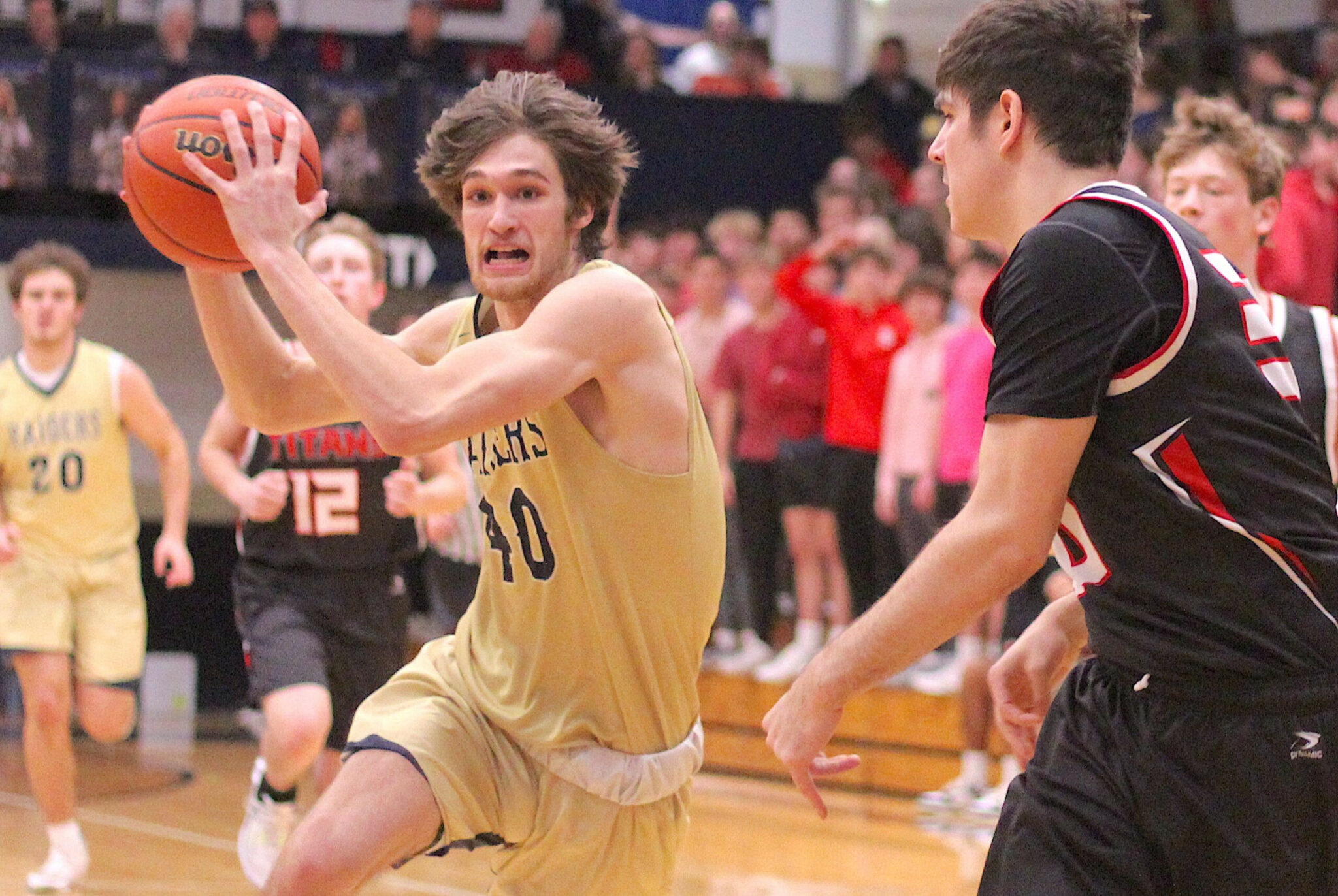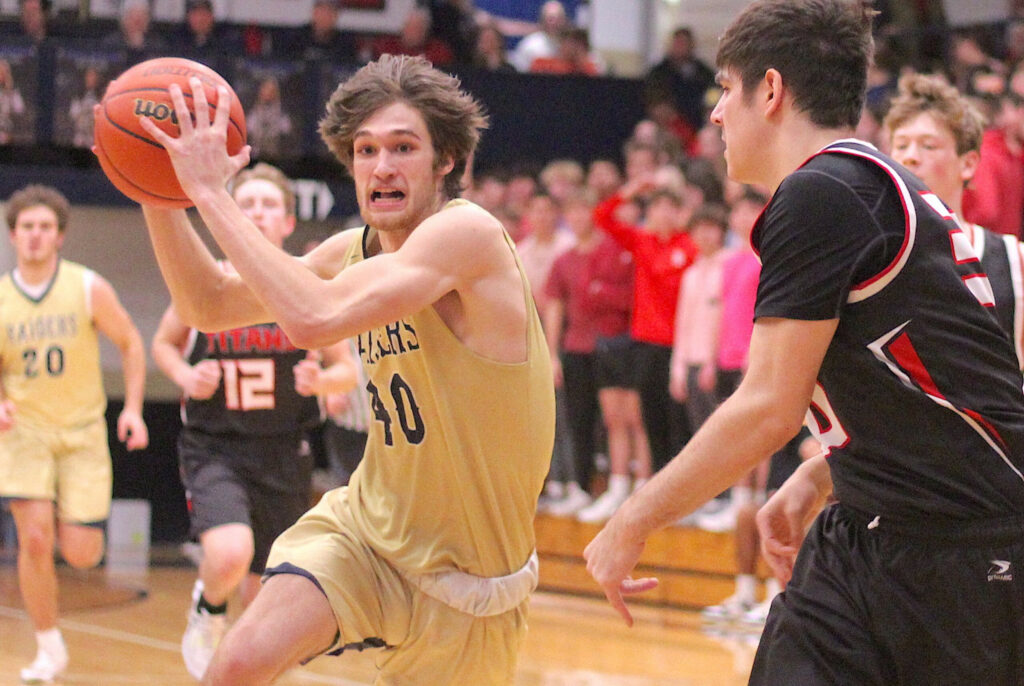 QUINCY — In the aftermath of Quincy Notre Dame's 20th victory of the season on Tuesday night, Charlie Lavery was quick to point out the importance of his senior teammate Alex Connoyer.
"Without him, we're in trouble," Lavery said.
Connoyer scored 11 of his game-high 19 points in the third quarter to help the Raiders pull away in the second half to defeat West Hancock 73-56 on Senior Night at The Pit. Connoyer found a hole in the Titans' zone defense and continually exploited it.
"On the (ball) reversal, they were going out and I could just sit there and (my teammates) were finding me open on the baseline. It wasn't me. It was all my teammates," Connoyer said.
QND head coach Kevin Meyer says it was apparent Connoyer did his homework and was prepared.
"He's paying attention to detail. He knows if I sit in the short corner and we get (their defense) moving around, they have to come out and guard a guard," Meyer said. "His mentality is pass first, but he was wide open and went to the basket and he scored. That really got us some separation."
That separation proved to be critical.
The Raiders went to halftime clinging to a 34-32 lead but built that advantage to 54-48 after three quarters. They blew it open in the final frame by outscoring the Titans 19-8.
"Our bigs got in foul trouble in the first half because we were trying to block shots, and we were the first guy off the floor," Meyer said. "In the second half, Jake (Wallingford) stayed on the floor, Alex stayed on the floor, Josh Bocke stayed on the floor, and they didn't have to sit with us in foul trouble. I thought that was really important."
West Hancock (22-8) rolled out a zone defense in the second half for the first time this season, according to Titans coach Jeff Dahl.
"We haven't run zone all year," Dahl said. "We just wanted to see how it would look, and we have a lot of stuff we can correct. Our defense was uncharacteristically terrible, and our rebounding was bad. Our guys, for some reason, were standing and watching rather than going and rebounding."
QND (20-8) also received key contributions from Lavery, who had at least one field goal in each quarter and finished with 16 points.
"I'm gaining some confidence over my senior year," Lavery said. "This is the last ride. You've got to play with all your might. This is it. Might as well play hard."
Meyer isn't surprised by Lavery's emergence.
"I think he's playing at a really high level," Meyer said. "You can date it all the way back to the State Farm Holiday Classic on the last day when we played El Paso-Gridley. We were struggling and looking for points, and Charlie had 11 or 12 points in the first quarter. I think from that point on, he's been playing with a lot of confidence. He's scoring, but he's defending like crazy."
West Hancock had two players finish in double figures. Bryan Gerhardt had 14 points and Alec Hymes chipped in with 10.
Despite the loss, Dahl said playing in a postseason environment in a gym the Titans will return to for next week's Class 2A regional will only help.
"Some people hate coming (to The Pit), but I like it," Dahl said. "We haven't had a game like this for a while, and we found out some of our weaknesses. We'll watch this tape about 20 times, and we'll figure it out."

Dahl wasn't kidding. He plans to show the game tape to his team at least 20 times.
"Probably," he said with a smirk. "Some of these guys will hate it when they're done (watching). The point is to show when we weren't in the right spots. We continually were in the wrong spots, and that's unacceptable. You can't watch what's happening without anticipating where the next play is. We didn't do that tonight."
A victory on Senior Night was special for the Raiders and another game they can build from. The regular season finale at Keokuk is set for Friday night before QND awaits Wednesday's regional semifinal opponent, either Illini West or Pittsfield.
"We really needed this game right now," Lavery said about playing West Hancock. "We're gaining confidence going into the postseason, which is huge."
Meyer hopes his team is ready for what lies ahead.
"You don't want to look too far ahead but there's going to be a ballgame next Friday night in The Pit for a regional championship," he said. "I hope our guys are a part of that."
Miss Clipping Out Stories to Save for Later?
Click the Purchase Story button below to order a print of this story. We will print it for you on matte photo paper to keep forever.