Battling bronchitis, Uppinghouse dominates final two matches to place third in Class 3A state meet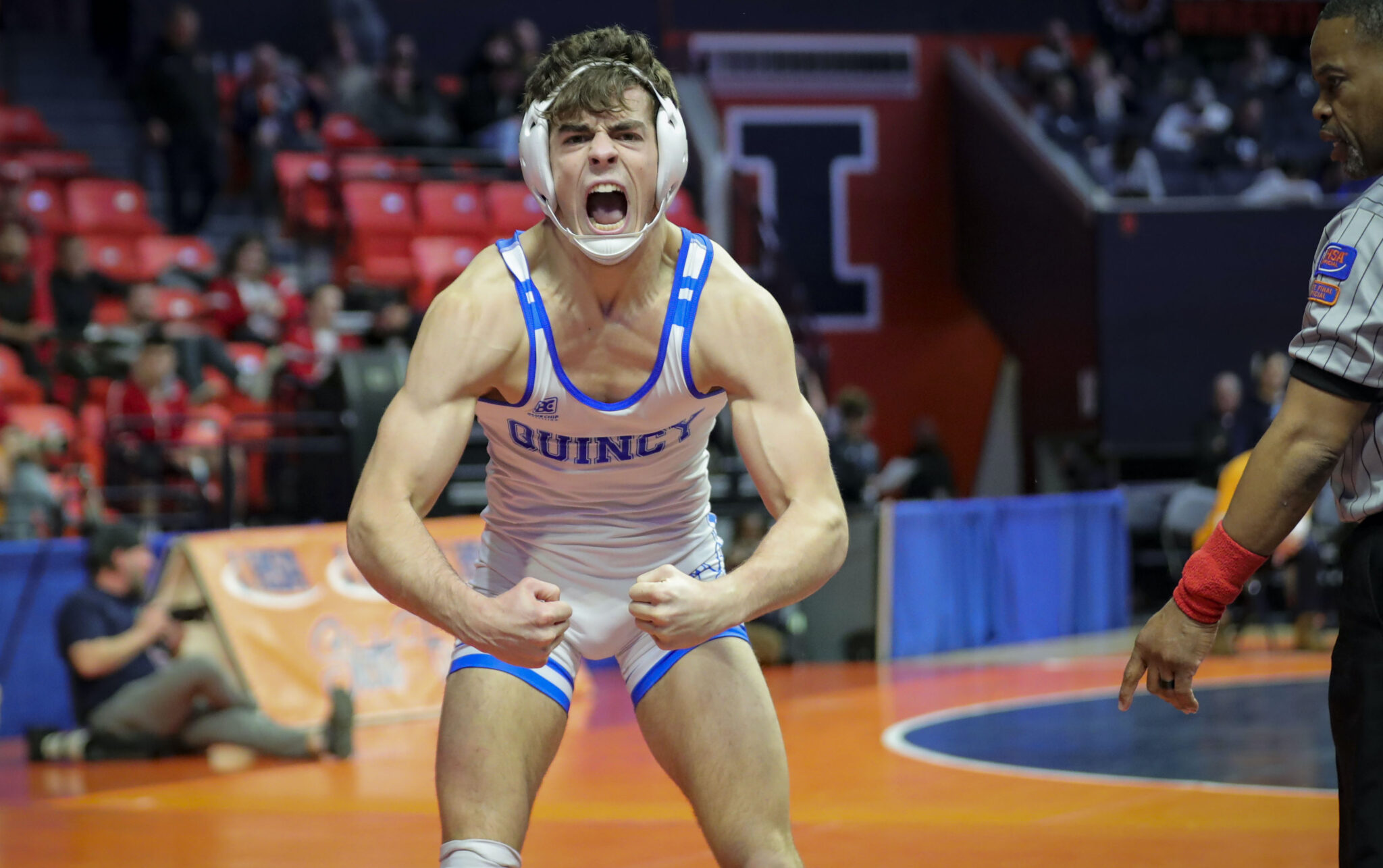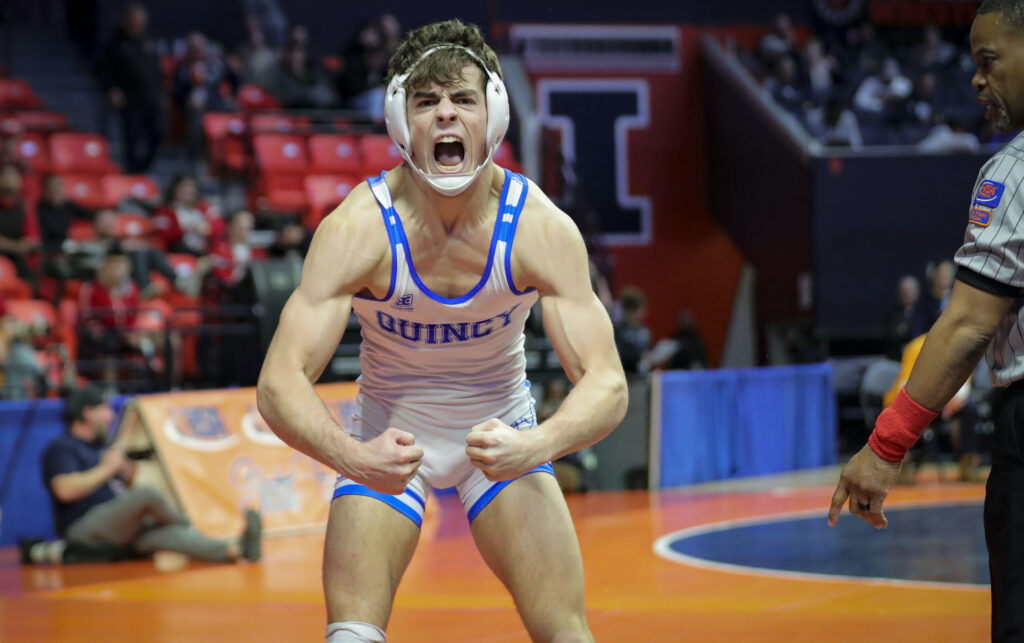 CHAMPAIGN, Ill. — After placing third in the 160-pound division in Class 3A at the Illinois High School Association Class 3A individual state wrestling tournament, Quincy High School's Owen Uppinghouse is ready for a break.
And some sleep.
Uppinghouse won four out of five matches this week at State Farm Center to finish with a 45-2 record. What makes his accomplishment even more remarkable is he competed with bronchitis during the state meet.
"I've been sick probably about a week now, but I just had to wrestle through it," Uppinghouse said. "I didn't bother me much when I was wrestling, but it did during recovery after matches and just having to cough so much.
"I probably fell asleep around three (in the morning on Saturday) and then woke up at five for weigh-ins. I feel awful right now, to be real with you."
Blue Devils coach Phil Neally took Uppinghouse to a local walk-in clinic to have his bronchitis treated.
"I just think mentally Owen tried to focus more, because he was constantly coughing and stuff, and he doesn't make excuses," Neally said. "He just battled through that stuff. We just fed him cough drops, and his parents were trying to get things for him, but that didn't bother him. He just keeps on rolling and doing the things that he does, and then in the matches, he dominates people."
Uppinghouse went to the consolation bracket after losing to undefeated and top-seeded Ethan Stiles of Conant by pinfall in the semifinals on Friday. Stiles, who will wrestle next year at Nebraska, is ranked No. 4 nationally at 160 pounds.
"I didn't dwell on (the loss to Stiles) much," Uppinghouse said. "That was a match on paper that I really had no shot at, even though I think I held my own against him. I was really just focusing on today and wrestling well and being smart on my feet."
Stiles won his third state championship on Saturday night, defeating Lockport's Logan Swaw — a University of Illinois signee who gave Uppinghouse his only other loss this season in the sectional championship match at Normal.
Uppinghouse started Saturday by winning an 8-0 major decision over Luke Swan of Downers Grove South. He then needed just 1:37 to pin Gunnar Garelli from Lyons in the third-place match.
"I think today went really well," he said. "After losing (Friday) night, I came in there with a little bit of chip on my shoulder. I got the job done. It's just really exciting and make it on the podium."
"He was on his game this weekend," Neally said. "The guys he lost to this year are Big Ten wrestlers. I just felt like Owen had a mindset when he came here that he wanted to be a state champion. When that wasn't going to take place, he got his head right and bounced back. Sometimes that's really tough for kids, but he just wasn't satisfied with fifth or sixth or fourth. He just wanted to place as high as he could."
Uppinghouse is the seventh wrestler in school history to place third or better at the state tournament. The others were:
William Schwartz (first at 165 pounds in 1948);
Jack Miller (first at 112 pounds in 1957);
Curt Scott (third at 112 pounds in 1981);
Sam Smith (second at 145 pounds in 1998);
Jermaine Dade (first at 171 pounds in 2000);
Hunter Yohn (second at 160 pounds in 2019);
Thomas Culp (first at 195 pounds in 2021).
"I'm proud of my accomplishments this year, but I'm always shooting for better," Uppinghouse said. "Luckily, I'm only a junior, and hopefully I place higher or I win my semifinal match next year and advance to the finals. That's the end goal."
The graduations of Stiles and Swaw will certainly make Uppinghouse a favorite to win a title next year.
"I won't have to worry about running into them," he said. "The matches I have lost this year are the type of matches that keep me up at night. I'm always looking ahead. I think I still have a lot to improve on. I'm just looking to be more impressive next year."
Neally said he was impressive this weekend. Uppinghouse also is impressive in the classroom, carrying a 4.375 grade-point average.
"I had a couple of coaches from the Chicago area tell me they liked how, when he's on top of you, he dominates," Neally said. "Only being a junior, he's only going to get better. He's going to have to stand his ground for the year, but he'll put the work in."
Uppinghouse was thankful for his "support system" — his coaches, parents, grandparents and practice partners.
"I know I got all the credit, and I get the medal, but it really took an army to get me here," he said. "It's really cool to have my name put on the wall in our high school wrestling room, but at the same time, you could put 50 other people who have affected me through the journey on that wall, and it would mean the exact same thing.
"I feel a lot of kids take for granted all the support they get, but I really appreciate what people do for me."
Miss Clipping Out Stories to Save for Later?
Click the Purchase Story button below to order a print of this story. We will print it for you on matte photo paper to keep forever.