'You have to stay with it': Blue Devils rally from 14-point deficit to win regional championship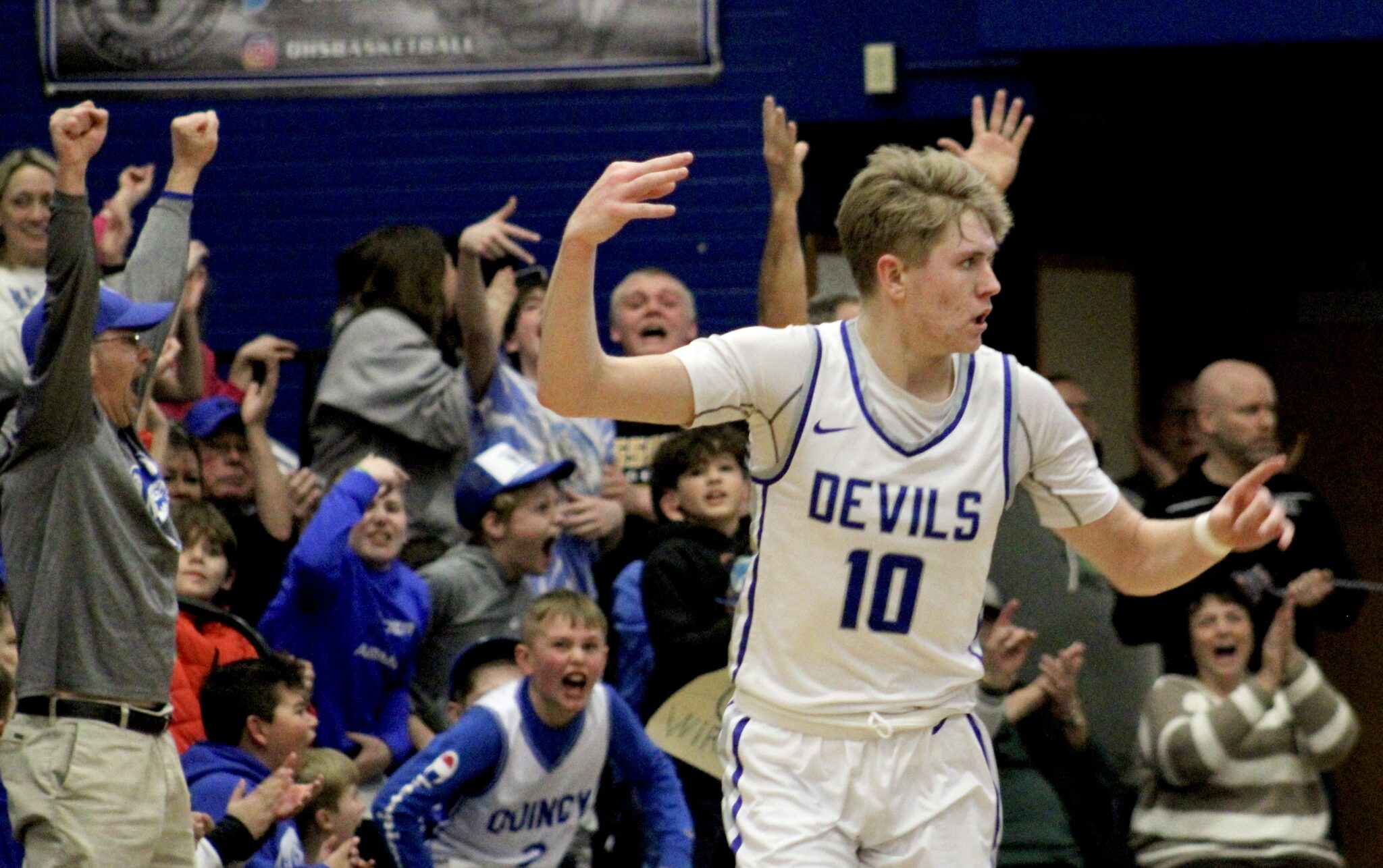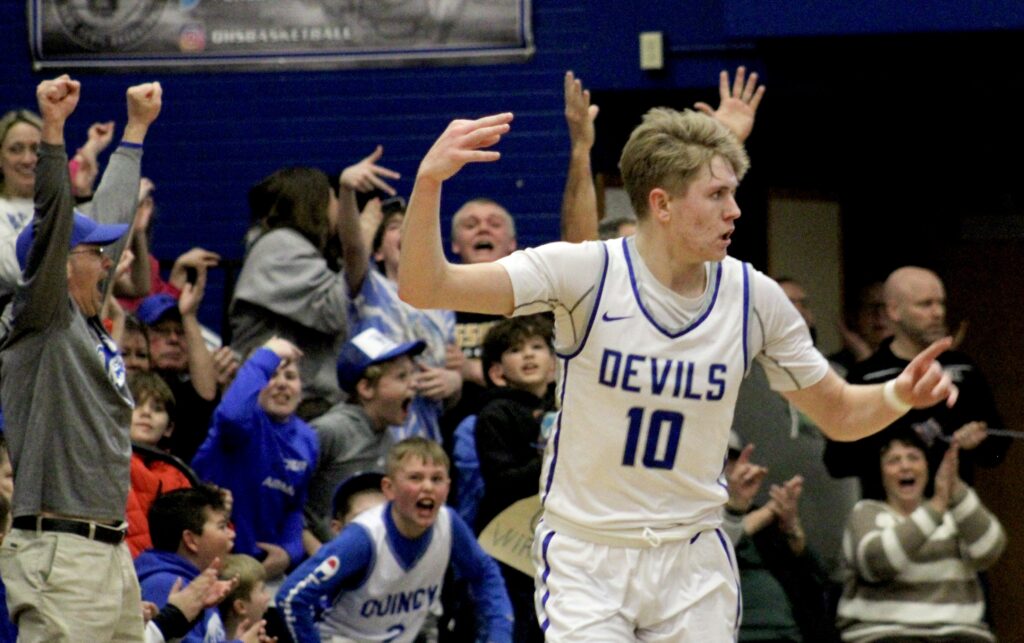 QUINCY — Tyler Sprick said he never looked at the scoreboard, but he was fully aware of the situation the Quincy High School boys basketball team faced.
No one went as far as to call it dire, but there was trepidation.
Blindsided at the start of Friday night's Class 4A Quincy Regional championship game as Collinsville opened on a 14-0 run, the Blue Devils steadily fought their way back to within five points by halftime. Less than a minute into the third quarter, the deficit was back to 11 as the Kahoks' Jake Wilkinson and Jamorie Wysinger drained back-to-back 3-pointers.
Suddenly, it felt like "uh-oh" all over again.
"I knew we were down, but we didn't panic when everyone else may have," said Sprick, the junior guard who was instrumental in keeping the Blue Devils focused and engaged. "It was just going three possessions, then two possessions, then one possession, then taking the lead. That's what it takes. You have to stay with it."
The Blue Devils stayed with it until the end. The 11-point deficit was whittled to three by the end of the third quarter and completely erased midway through the fourth quarter.
But it wasn't until Sprick hit a 3-pointer from the left wing with 1 minute, 55 seconds remaining in regulation that the top-seeded Blue Devils took the lead for good. Four free throws in the final 15 seconds finished off a 53-47 victory over the fourth-seeded Kahoks at Blue Devil Gym.
"It might not have been pretty, but it's kind of cool to fight back and win," Sprick said. "That's a huge win for us."
Monumental, in fact.
The championship — Quincy's state-record 62nd regional crown — marked back-to-back regional titles for the Blue Devils for the first time since winning six straight crowns from 2002-07. It also sets up a sectional semifinal matchup with O'Fallon,
The Panthers beat Belleville East 52-50 to win their own regional and will meet Quincy at 7 p.m. Tuesday at Alton High School. Although Moline is the sectional host, the Illinois High School Association moved the semifinal game for travel considerations.
The Blue Devils (26-4) believe they will have momentum on their side no matter where they play the Panthers (24-7).
"Hopefully this leads into more good practices before the sectional, more good things we can get out of this," Quincy sophomore guard Bradley Longcor III said. "We just have to see where it takes us."
Had it not been for Dominique Clay's spirit, Sprick's tenacity, Keshaun Thomas' physicality and the utter belief from every player on the floor or on the bench this game was winnable, advancing would not have happened.
"I always had this feeling like we had control even though we were down," Longcor said. "It never felt like it was out of reach for some reason. They did hit us in the face a little bit, but it never shook us."
The Kahoks (21-12) opened the game by scoring on their first five possessions, getting a 3-pointer from the left corner by Wysinger on the opening possession and another from him from the right corner to cap the 14-0 spurt.
The Blue Devils missed their first six shots and didn't score until Sprick made a runner in the lane as part of a three-point play with 3:59 to go in the first quarter. It jumpstarted a 9-0 run that featured 3-pointers from Clay and Longcor.
"Heart," said Clay, who led Quincy with 14 points. "It took heart from everyone to stay in it."
Defense, too. Collinsville scored on only one of its final seven possessions of the first quarter, and a steal by Wires on the final possession of the first half led to a layup that pulled Quincy without 30-25 at the break.
The momentum seemed short-lived when Wilkinson and Wysinger hit back-to-back treys to open the third quarter, but the Blue Devils responded with Sprick, who finished with 10 points draining a 3-pointer from the top of the key and Thomas, who had 12 points, powering his way to a putback two minutes into the third quarter.
"We all had the same feeling that we weren't rushed and we weren't out of control," Longcor said. "We had the momentum even though they had the lead."
Eventually, that led to the Blue Devils tying the game at 42 when Sprick scored off a tipped ball three minutes into the fourth quarter. They took their first lead at 46-45 on Longcor's two free throws with 3:56 to go, but gave it back when Collinsville's Nick Horras scored with 2:30 to play.
Then came Sprick's take-the-lead-for-good 3-pointer.
"It feels better now than it did in the moment," Sprick said with a smile. "If I would have celebrated then, I would have gotten my butt chewed."
He didn't need to celebrate.
"The crowd celebrated for him," Longcor said.
The Blue Devil Gym faithful didn't stop celebrating the way the Blue Devils stayed resilient in making their championship dreams possible.
"Playing together," Sprick said. "That's what it took. Playing as one, playing together. … It was a team win, and that's what it's going to take for us to keep winning these games."
Miss Clipping Out Stories to Save for Later?
Click the Purchase Story button below to order a print of this story. We will print it for you on matte photo paper to keep forever.