'We never lost faith and we never gave in': Resilient effort not enough to keep Raiders' postseason run alive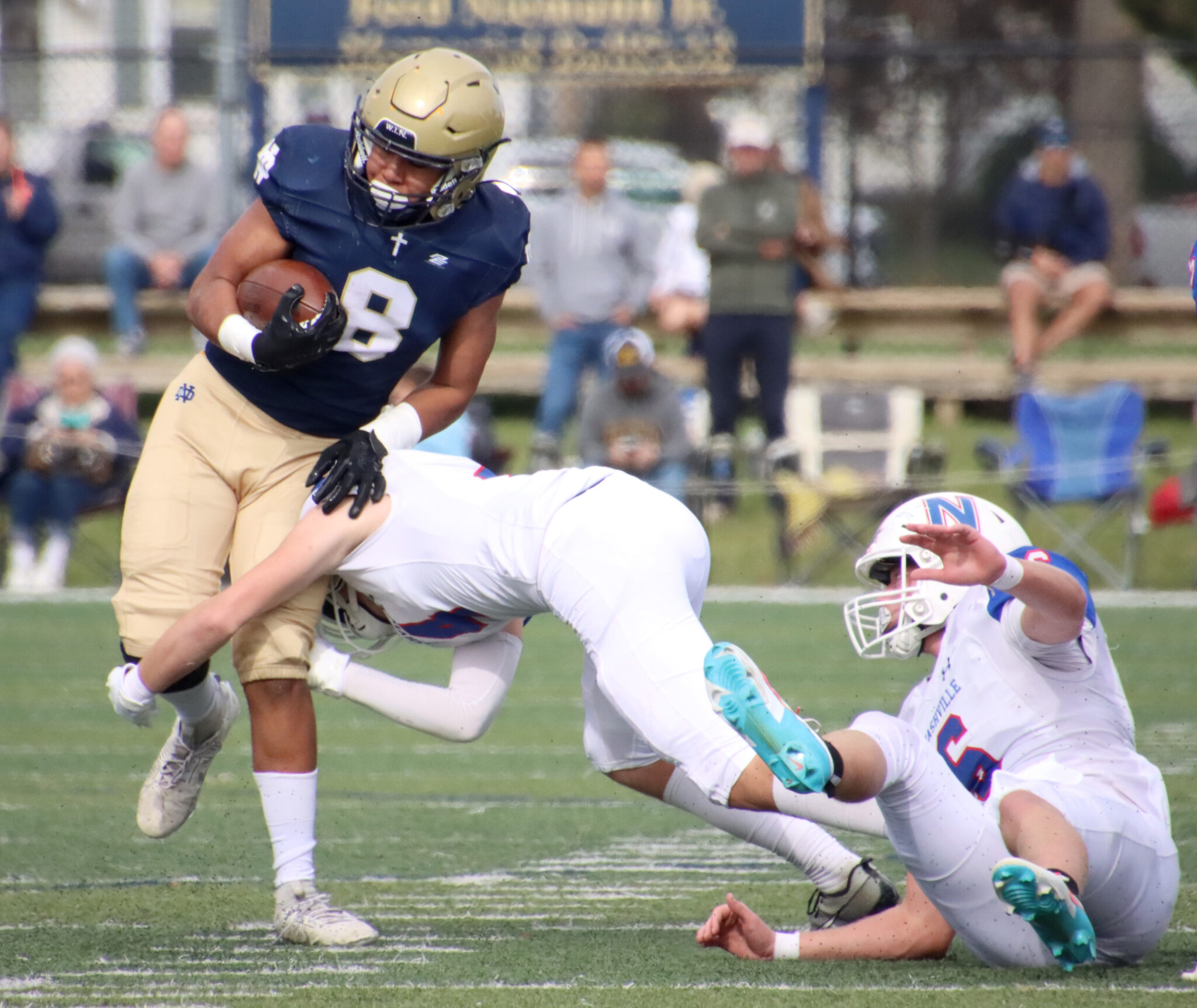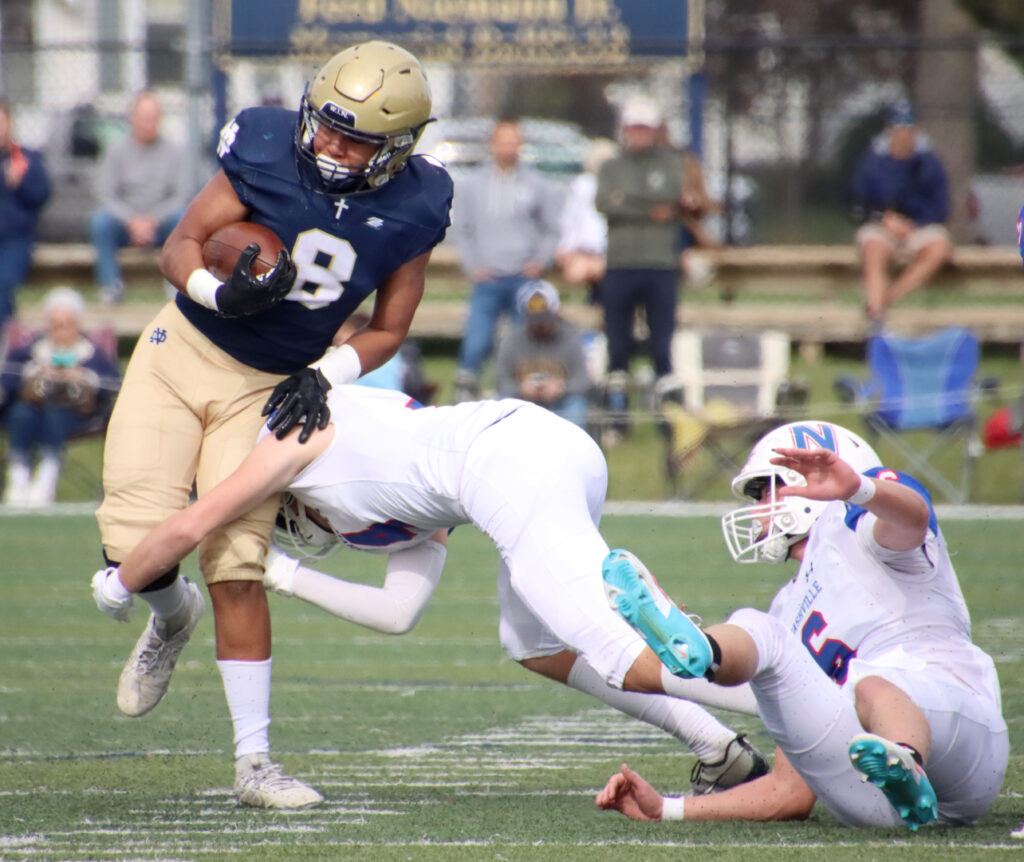 QUINCY — The team which grasped onto a flicker of hope weeks ago and let it light the way to the playoffs tried everything imaginable Saturday to keep that flame from dying out.
Still, the Quincy Notre Dame football players discovered what flickers usually fades away.
Nashville brought the extinguisher.
An Isaac Blazier 5-yard touchdown reception two plays after a change of possession gave the Hornets a 15-point advantage with less than two minutes remaining in the third quarter. It proved to be a big enough cushion to knock the Raiders out in the second round of the Class 2A playoffs with a 27-18 victory at Advance Physical Therapy Field.
"It's really hard on all of us right now," QND senior left tackle Collin Altgilbers said after the Raiders ended their season with a 5-6 record. "Believe me, I wish we had some plays we would have made. But we just kept going, we just kept fighting. You can't have every play, but you can't give in either.
"We never lost faith and we never gave in."
That enabled the Raiders to wipe away the tears and disappointment before they made it to the locker room.
"I'd say I'm as proud as you can be of this team," QND senior center Ben Schwartz said. "We've never ever given up. That's a long-lasting tradition at QND. They don't teach us to give up or give in or have a doubt. When you start having doubts, other things creep in and that's something we don't do.
"We've always had the fight in us. We upheld that tradition, and it will continue to be our tradition."
A two-touchdown deficit wasn't enough to ruin that tradition.
Nashville (8-3) opened the game by scoring on its first drive when Samuel Kollbaum turned a short pass near the left sideline into a 43-yard catch-and-run. QND blocked the extra point to keep the deficit at 6-0. A Noah Miller 1-yard touchdown run with 9:23 to go in the second quarter made it 12-0 as the two-point conversion failed.
"You just have to make a play when it's time to make a play," QND coach Jack Cornell said. "That sounds like coach speak, but when you have the chance to catch a ball or make a block, you have to do it. Making a tackle is the same thing. You have to eliminate mistakes for your season to continue."
Having struggled to run the ball much of the half, the Raiders finally put together a solid drive in which they moved the ball on the ground. It resulted in an Ivan Hun 3-yard touchdown run with 34 seconds remaining in the half to cut the deficit to 12-6.
It was enough time for the Hornets to get into field goal position, but the Raiders blocked a 24-yard attempt as the first-half clock expired.
At that point, the Raiders had momentum to go with receiving the opening kickoff of the second half.
"I thought we had some heat under our belts and that we were going to go out there and do what we know we can do," Altgilbers said. "We're a well driven team and I thought we had the heart to come back."
They did. The Raiders just didn't make enough plays.
The Hornets forced the Raiders to punt on the opening possession of the third quarter and extended the advantage to 20-6 on Noah Miller's 6-yard run and Kollbaum's two-point conversion catch.
Two minutes later, Gavin Doellman caught a short pass from QND sophomore quarterback Hunter Schuckman and turned it into a 15-yard touchdown play.
Then came the tide-turning moment.
Nashville drove into the red zone before fumbling inside the 10-yard line with QND junior linebacker Taylin Scott recovering the loose ball. On the next play, Schuckman threw a pass that was intercepted at the 8-yard line. Two plays later, Blazier scored and the Hornets' advantage was back to two touchdowns.
"Anytime a change of possession happens it's big," Schwartz said. "For us to get it and then lose it right back, it really sucks. But that's not the game-determining play. There are plenty of plays left out there on offense. We can't go three-and-out the first three or four drives of the game.
"The o-line is going to take a lot of heat for that because it's our job to set (Schuckman) up better and keep it clean for him. If we keep him clean, he has a better chance of throwing an accurate ball. So it's not on him at all. It's on all of us."
QND added an 11-yard touchdown pass from Schuckman to Evan Goestenkors with 7:32 to go, but it was as close as the Raiders could get.
Schuckman completed 23 of 35 passes for 206, but he threw four interceptions. Aiden Klauser caught eight passes for 60 yards, and Hun finished with eight carries for 10 yards as Nashville bottled up the run and allowed QND only 27 total yards rushing.
"Our guys have a lot of fight," Cornell said. "The resiliency they've displayed all year is going to take these guys to great places in life. I have the most confidence that our seniors will be successful human beings because of those traits they displayed here."
Miss Clipping Out Stories to Save for Later?
Click the Purchase Story button below to order a print of this story. We will print it for you on matte photo paper to keep forever.