Trout season: Fiery QND right-hander pitches with purpose to lead Raiders into sectional title tilt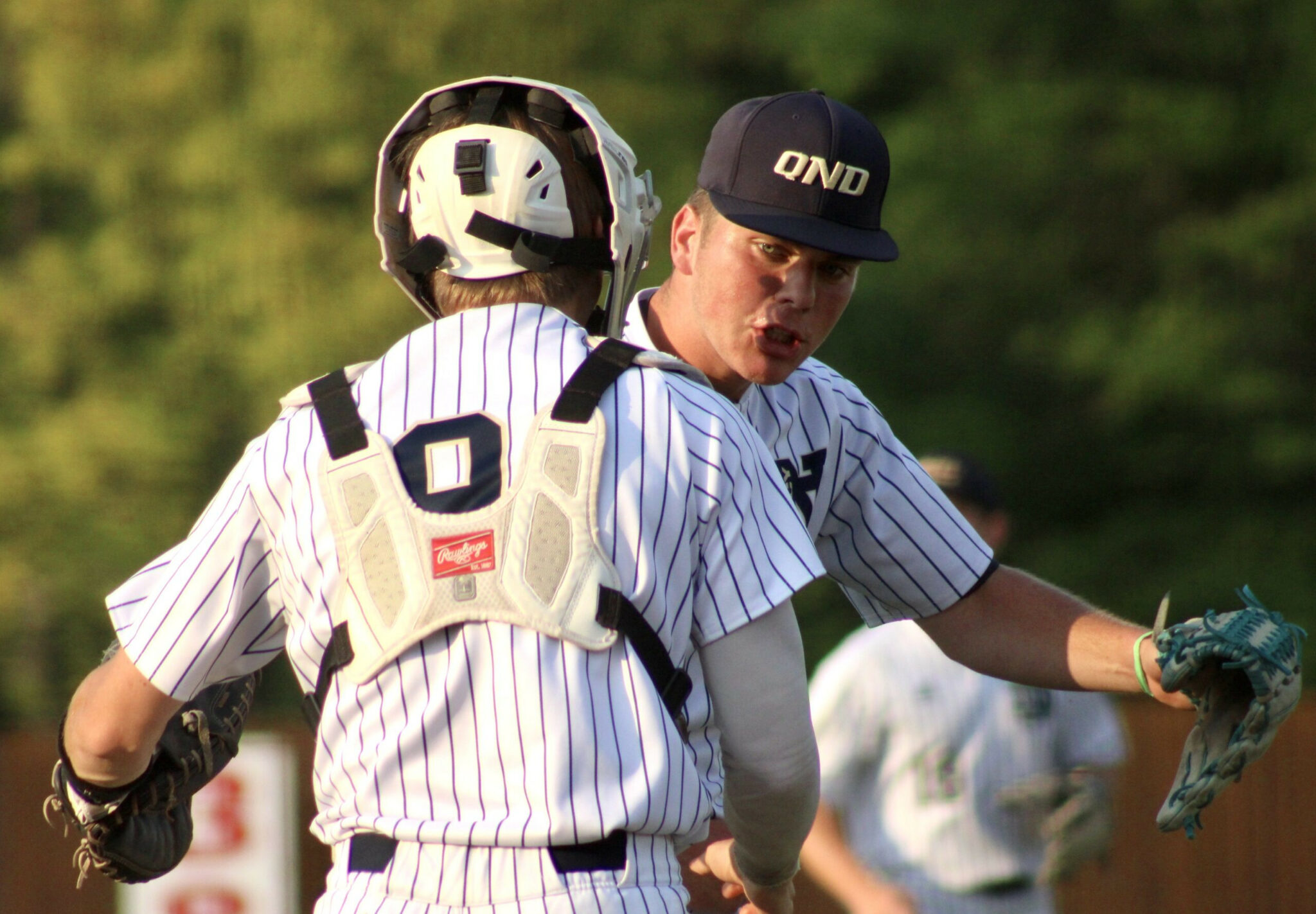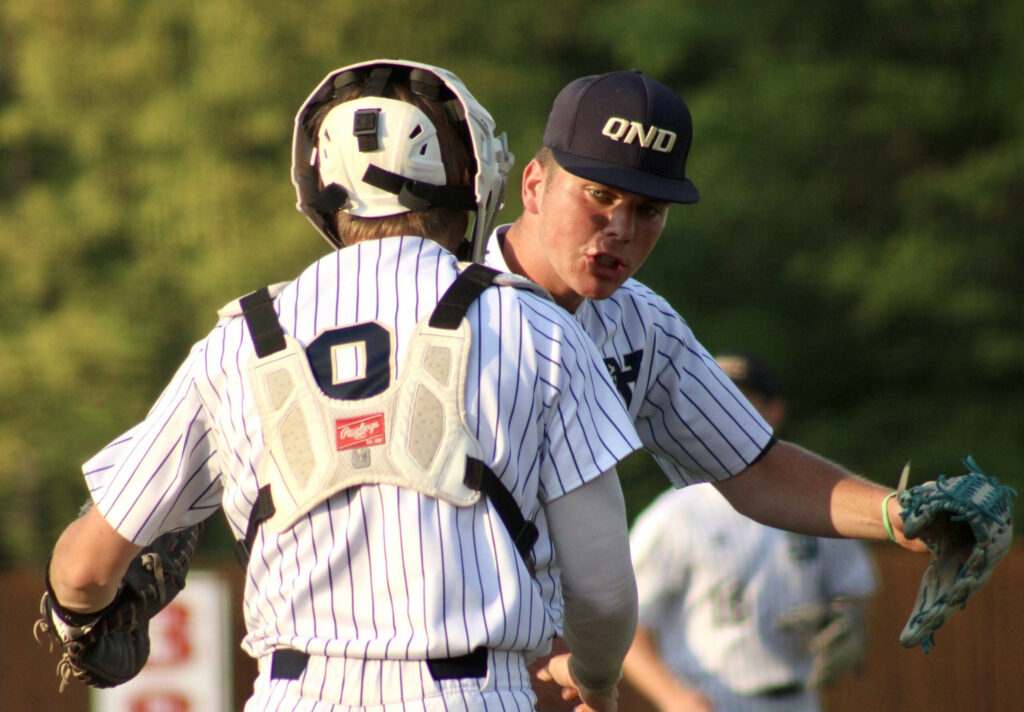 SPRINGFIELD, Ill. — The motivation to finish what he started sent Tyler Dance to the pitcher's mound in the seventh inning with purpose.
An eye-popping fastball accompanied him.
The senior right-hander punctuated a two-hit shutout of Shelbyville in the Class 2A Pleasant Plains Sectional semifinals by striking out the Rams' Kelton Logan on an 88 mph fastball — the fastest recorded pitch Dance has thrown in a game — as the Quincy Notre Dame baseball team advanced with a 2-0 victory Wednesday at Claude Kracik Field on the Lincoln Land Community College campus.
Dance struck out the final two batters in the seventh and retired the final seven Rams he faced in his complete-game effort.
"This feels amazing," said Dance, who is known by the nickname "Trout" within the QND baseball family. "We got here early and got ready. We got off the bus and we were locked in. I was feeling good and it carried over. I felt really good. I felt I had command and could throw any pitch I needed to throw."
He threw darts most of the time.
"Everything I called, he put it there," QND catcher Michael Stupavsky said. "When you call it and he throws it there, it feels amazing. It really helps you sequence the batters and stay ahead."
That will be crucial again at 11 a.m. Saturday when QND right-hander Jake Schisler takes the mound in the sectional championship game against undefeated Gillespie. The Miners (32-0) scored five times in the top of the eighth inning to outlast Maroa-Forsyth 7-2 in the other semifinal.
"Our approach to everything right now is pretty good," QND junior second baseman Nolan Robb said. "We have to maintain that and stay locked in."
Dance set the tone for that, especially with the way he pitched with the lead..
Scoreless going into the top of the fourth, the Raiders finally adjusted to the umpire's wide strike zone and Rams right-hander Drake McDonald's decision to work away from right-handed hitters and take advantage of that zone.
Dalton Miller led off with a single up the middle, and Brady Kindhart followed by lacing a full-count fastball to right field. A balk one out later moved both runners into scoring position, and Stupavsky jumped on an inside fastball and pulled it past the third baseman for a two-run single and the lead.
"With two strikes, I was looking for the fastball outside because that's where they had been locating," Stupavsky said. "Adjust to the curveball if I had to, but luckily he threw me a good fastball to hit and I connected on it."
Two runs were all Dance needed.
"Once they gave me the lead, I felt good," Dance said. "I was waiting for those one or two runs, and then I was going to come in and close the door."
Some stellar defense helped.
After Dance hit the leadoff hitter in bottom of the fourth, McDonald smoked a line drive Robb jumped to snare for a lineout and then threw to first to catch the Rams' Nate Trimble off the base for a double play.
Off the bat, no one was sure Robb could reach the liner.
"I didn't think so," Dance said. "But I know he has some hops now."
Robb never had a doubt.
"Perfect timing," Robb said. "Timing is all that is."
Dance has come to expect perfect timing from the QND defense.
"Even if we have a mistake of any sort in there, the next guy will pick us up," Dance said. "That's what this team is all about, picking each other up and having each other's back. The defense had my back whenever I needed it."
Two groundouts in the fifth inning helped Dance navigate letting two runners on in the fifth, and he worked the expanded strike zone to his advantage in the final two innings to force the Rams to chase pitches he located on the outside of the plate.
"Once you go through an inning or two and realize the umpire's strike zone, you have to do what's best for him," Dance said. "You have to work within him and adjust to his strike zone."
The ability to adjust is critical, but it begins by being in the right frame of mind, something the Raiders continue to do.
"If we stay with our approach, good things happen," Stupavsky said.
Miss Clipping Out Stories to Save for Later?
Click the Purchase Story button below to order a print of this story. We will print it for you on matte photo paper to keep forever.