Tigers rally from three-run deficit to end Blue Devils' season in regional semifinals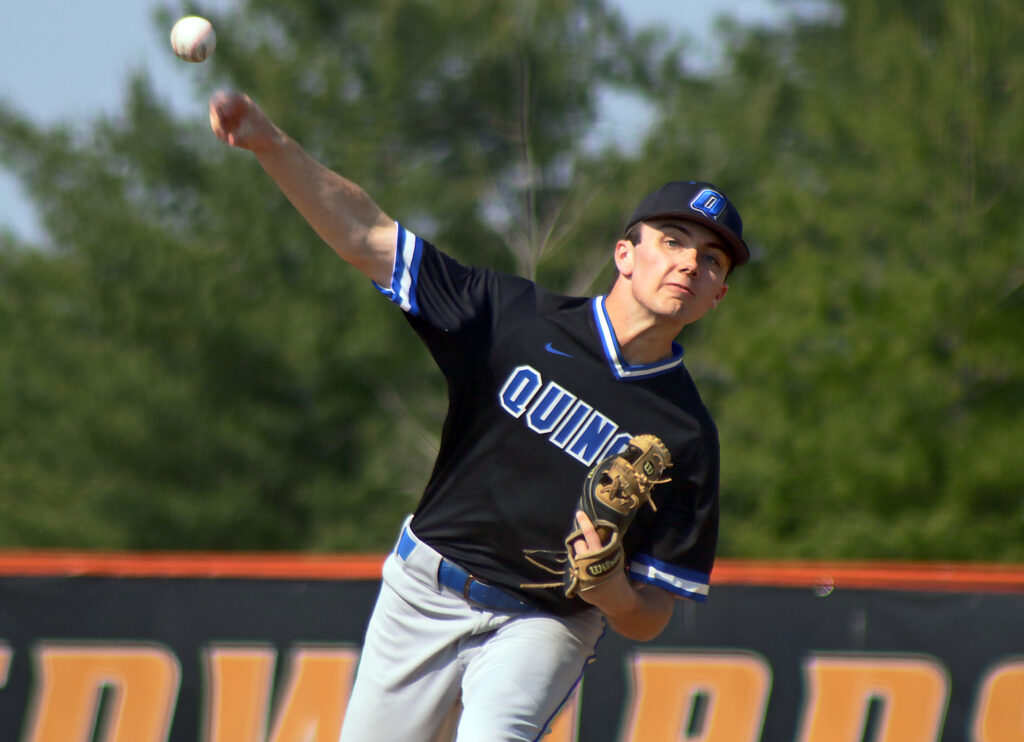 EDWARDSVILLE, Ill. — The Edwardsville baseball team started this postseason how it ended last season.
Winning in comeback fashion.
The defending Class 4A state champion faced a 3-0 deficit to Quincy High School before coming from behind for a 6-4 victory in the Class 4A Edwardsville Regional semifinals on Wednesday at Tom Pile Field.
"Everyone's going to give us their best game," Edwardsville senior Andrew Hendrickson said. "They gave us a good, hard fight. We fought back and it was good for our team."
Top-seeded Edwardsville (27-9) advances to face Collinsville in the regional title game at 10 a.m. Saturday. The season ends for eighth-seeded Quincy at 14-16. It is the second straight season the Tigers have ended the Blue Devils' season. Last year, the Tigers beat Quincy 13-3 in the regional finals.
"Every team is going to give it their all in the postseason," Tigers senior infielder Cole Funkhouser said. "You got to bring it every day."
Down 6-3 in the top of the seventh inning, the Blue Devils gave the Tigers their second big scare of the day.
Quincy loaded the bases and scored on a sacrifice fly by Brady Lowe to make it 6-4. Blue Devils outfielder Tykell Hammers, the go-ahead run, was hit by a pitch to load the bases for the second time in the inning.
That's when Hendrickson, a Lincoln Land Community College recruit, took the mound.
"It's definitely a little nerve-wracking warming up in the pen," Hendrickson said. "But right when I got out there, I calmed down."
Hendrickson came in and forced two straight fly outs to secure the 6-4 win. The first fly out was caught by Tigers center fielder Joe Chiarodo, who made a throw to keep the advancing runner on third base and prevent a run from being scored.
"You just have to make sure you hit your spots and don't give up a big hit," Hendrickson said. "I think I handled it well."
While Quincy's offense couldn't get a hit when it needed it the most, that's not how the game started.
The Blue Devils gave the Tigers their first big scare when they took a 2-0 lead in the first inning behind a two-run double by Blake Bunch that scored Evan Sohn and Joe Schroeder. Quincy extended its lead to 3-0 in the third inning after a single by Bunch scored Hammers.
Starting on the mound for Quincy was Lowe, who allowed only two runners on base in the first two innings.
"Our philosophy going in was to change speeds and keep them off-balance," Quincy coach Rick Lawson said. "(Lowe's) changeup was on today, and he did a good job of commanding the strike zone."
Lowe could only keep the Tigers' bats cold for so long.
A single by Chiarodo in the bottom of the third inning scored Greyson Rathgeb and a sacrifice fly by Hendrickson scored Funkhouser to make it 3-2. Rathgeb got on after his bunt forced the Blue Devils' infield into a tough play that resulted in an error.
"I was just trying to create a spark and get us going," Rathgeb said. "We were a little dead on energy. I was trying to get us something to raise the energy."
Edwardsville tied it 3-3 in the fourth inning on a single by Funkhouser that scored Rathgeb. Funkhouser later scored on a ground out by Riley Iffrig that put the Tigers ahead 4-3.
Funkhouser gave the Tigers some much-needed breathing room in the bottom of the fifth inning with a two-run single that scored Montrez West and Lucas Krebs. Funkhouser led Edwardsville with two hits and three RBI.
"I take pride in that," Funkhouser said about his RBI opportunities. "Whenever there are runners on, I'm always trying to put it in play. Good things happen when you put it in play."
For Quincy, Lowe pitched 3 2/3 innings and struck out three batters. He allowed four unearned runs on four hits and walked four batters. Kyle Taylor pitched 2 1/3 innings of relief for Quincy. He allowed two unearned runs on one hit.
Bunch and Owen Zanger had two hits apiece for the Blue Devils.
"We gave ourselves a chance there in the seventh," Lawson said. "We just didn't come up with a hit when we needed. But it wasn't from a lack of effort. The boys gave it everything they had."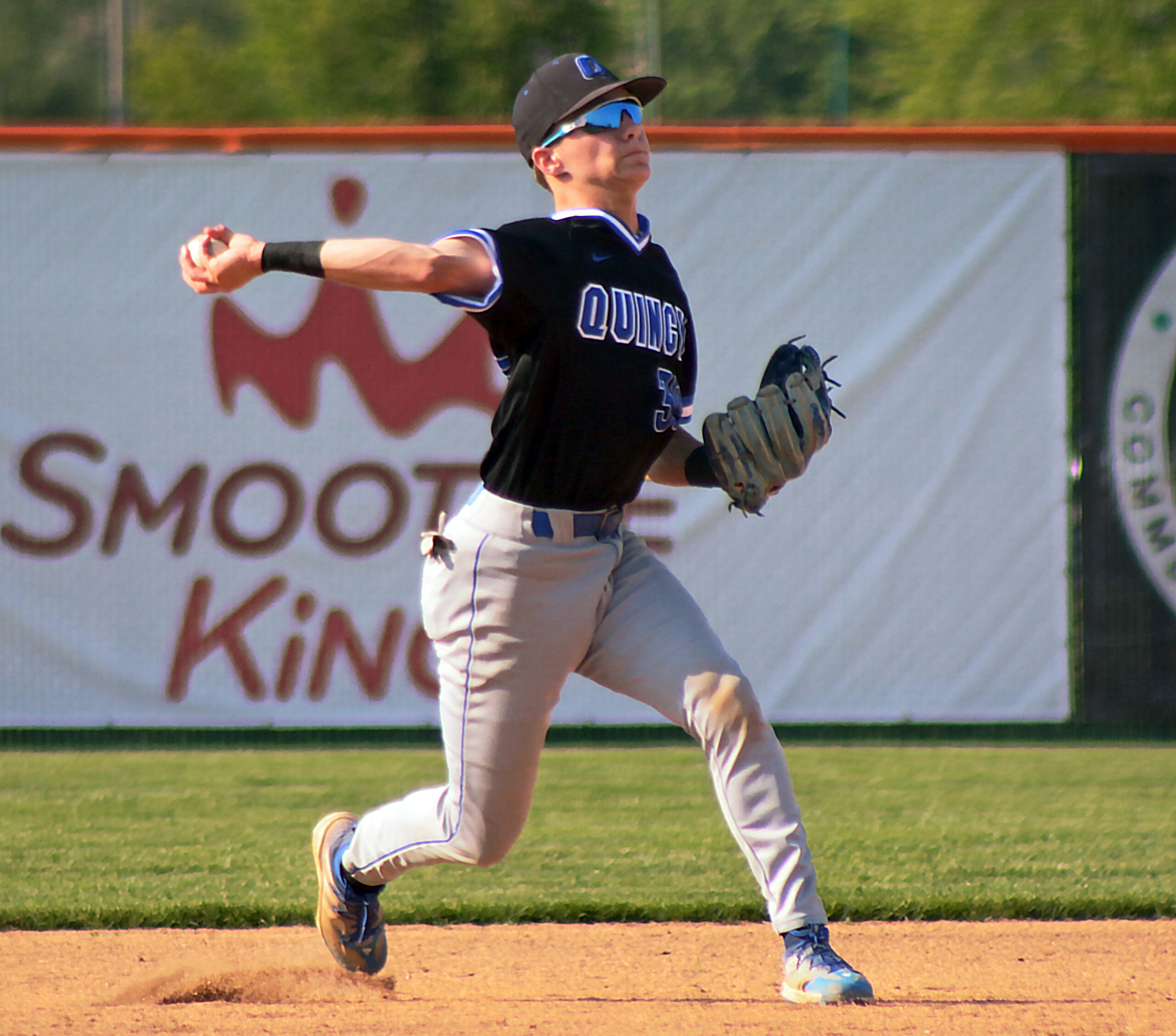 Miss Clipping Out Stories to Save for Later?
Click the Purchase Story button below to order a print of this story. We will print it for you on matte photo paper to keep forever.