Three of a kind: QHS wrestling team finishes second in WB6 behind three individual champs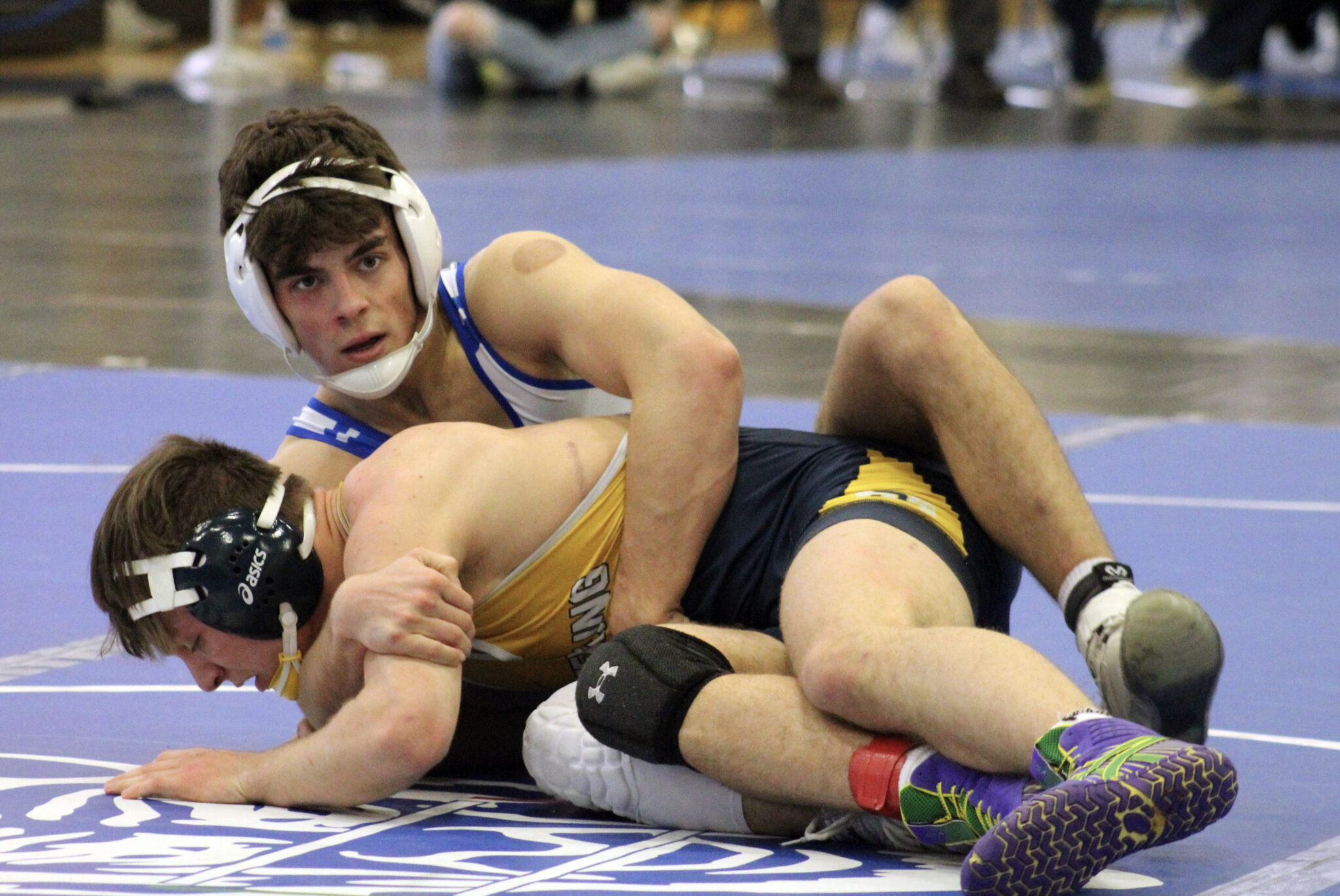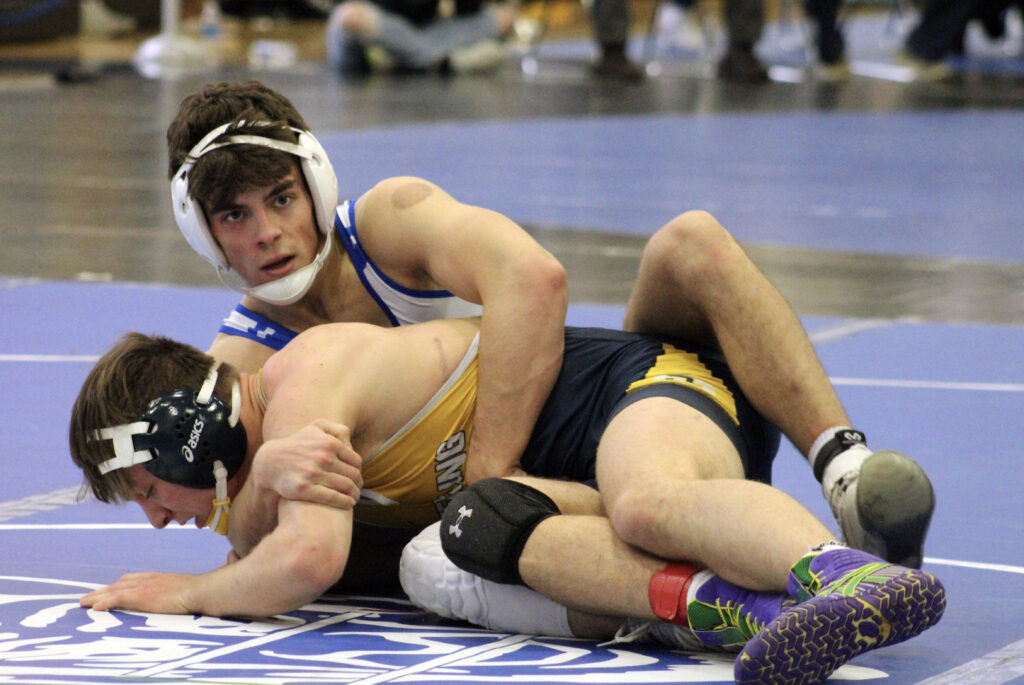 QUINCY — Perfection, maturity and optimism.
Therein lies what the Quincy High School wrestling program's three Western Big 6 Conference individual champions put on display Saturday.
Owen Uppinghouse stayed perfect, finishing the regular season with a 36-0 record as he won the 160-pound title. Bryor Newbold defeated a returning WB6 champion and reversed a loss in last year's conference tournament by winning the 182-pound crown.
And Todd Smith won the first of what could possibly be four WB6 titles if he builds off a tremendous freshman season at 285 pounds.
Now they chase postseason glory.
"I think it's exciting," said Uppinghouse, who won the title match with an 18-2 technical fall of Sterling's Thomas Tate. "I feel like every team brought their best competition, but I felt like I was going to answer that and I think I answered it pretty well.
"Now, everything that's led up to here doesn't matter. Going forward is what matters. I'm looking to succeed over the next three weeks and make a name at the state tournament, making it known I'm here to do some damage and mess up the bracket a little bit."
It's certainly possible, just as it is with Newbold, Smith and a handful of other QHS grapplers.
The Blue Devils finished second in the team standings as Geneseo won the WB6 title with 197 points. Quincy had 160 points and Rock Island finished with 144 points to take third.
Quincy had six wrestlers in title matches with Brody Baker (138), Eric McClelland (145) and Gunner Derhake (152) each finishing second. Hugh Sharrow (106), Max Miller (170) and Ty Moore (195) each finished third to earn a spot on the podium.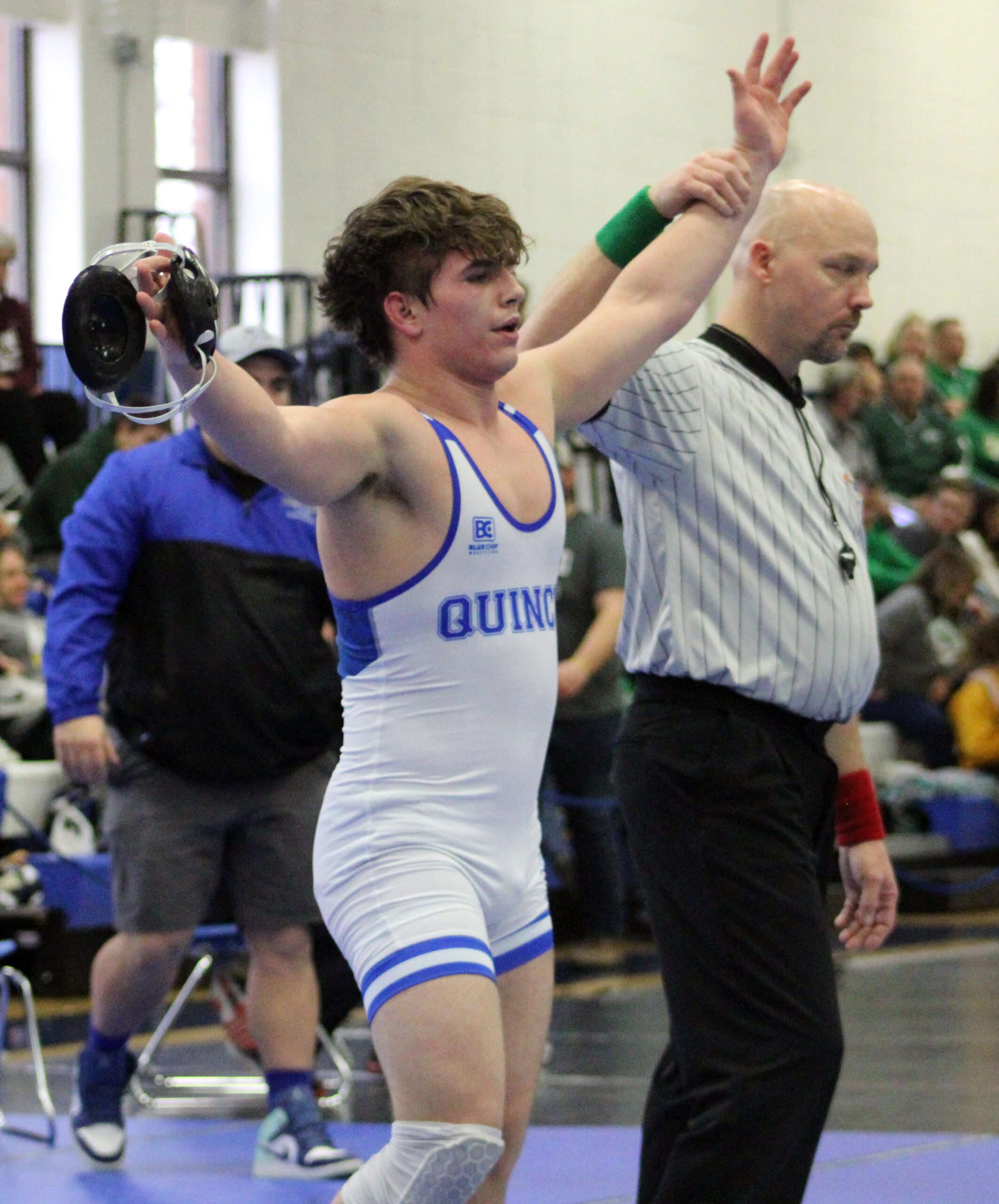 As Uppinghouse said, it all gets wiped away come Monday when preparations for the Class 3A Alton Regional begin. The Blue Devils are one of eight teams in the regional and truly believe they have a chance to win the program's first regional title since 2006.
"This makes me feel good, makes me feel really confident," Newbold said. "It gives me confidence that I can qualify for state, that I can go place at state and that I can accomplish my goals this year."
One of those would be to wrestle in the team sectional.
"We came in here hoping for a conference title," Newbold said. "We fell a little bit short. That's OK. We have regionals next week and I believe we're going to come back strong."
Just like Newbold did.
The junior finished third at the WB6 championships last season, losing by major decision to Moline's James Soliz in the semifinals. This year, Newbold earned an 11-2 major decision over Soliz in the title match, handing Soliz just his second loss of the season.
That came on the heels of Newbold (34-4) of beating Rock Island's Steven Marquez 6-0 in the semifinals. Marquez was a state qualifier last season as a junior.
"This week, I honestly don't feel I was wrestling that well at practice, at least not compared to what I usually do," Newbold said. "Then to come out here and put on a show like I did, I was really proud of myself."
It's a sign of maturity and growth in his style and effort.
"If you wrestle all summer and you work on your technique, you will get better," Newbold said.
Smith has the opportunity to do that after winning an Illinois Elementary School Association state championship as an eighth grader and showcasing his raw ability as a freshman. He pinned Geneseo's Levi Neumann in 4:35 in the title match, improving to 33-10 overall.
"I'm starting to use more of my technique," Smith said. "In junior high, I didn't have to use it much. Now, I'm really starting to focus on the importance of the small stuff like that."
Part of that is understanding how to be patient.
"Knowing it was a tight match (against Neumann), I really didn't want to screw anything up," Smith said. "So that's why I just took my time and did things the right way."
Uppinghouse sets the standard for doing things the right way.
He pinned Geneseo's Aiden Damewood in 46 seconds in the semifinals, scoring a takedown with a three-point nearfall before finishing the pin. In the championship match, Uppinghouse scored a first-period takedown with seven back points to go up 9-0. Another takedown with a two-point nearfall extended the lead in the second period, and he finished the match with an escape and a takedown 10 seconds into the third period.
The only glitch was allowing a second-period reversal, something he negated with his own reversal of Tate just 23 seconds later.
"I wrestled aggressive and wasn't afraid to shoot on my feet," Uppinghouse said. "I did slip up and get scored on there. I rode a little too high. So there's still always room to improve and get better."
Miss Clipping Out Stories to Save for Later?
Click the Purchase Story button below to order a print of this story. We will print it for you on matte photo paper to keep forever.