Thomas, Blue Devils power way through second half to set up showdown with Maroons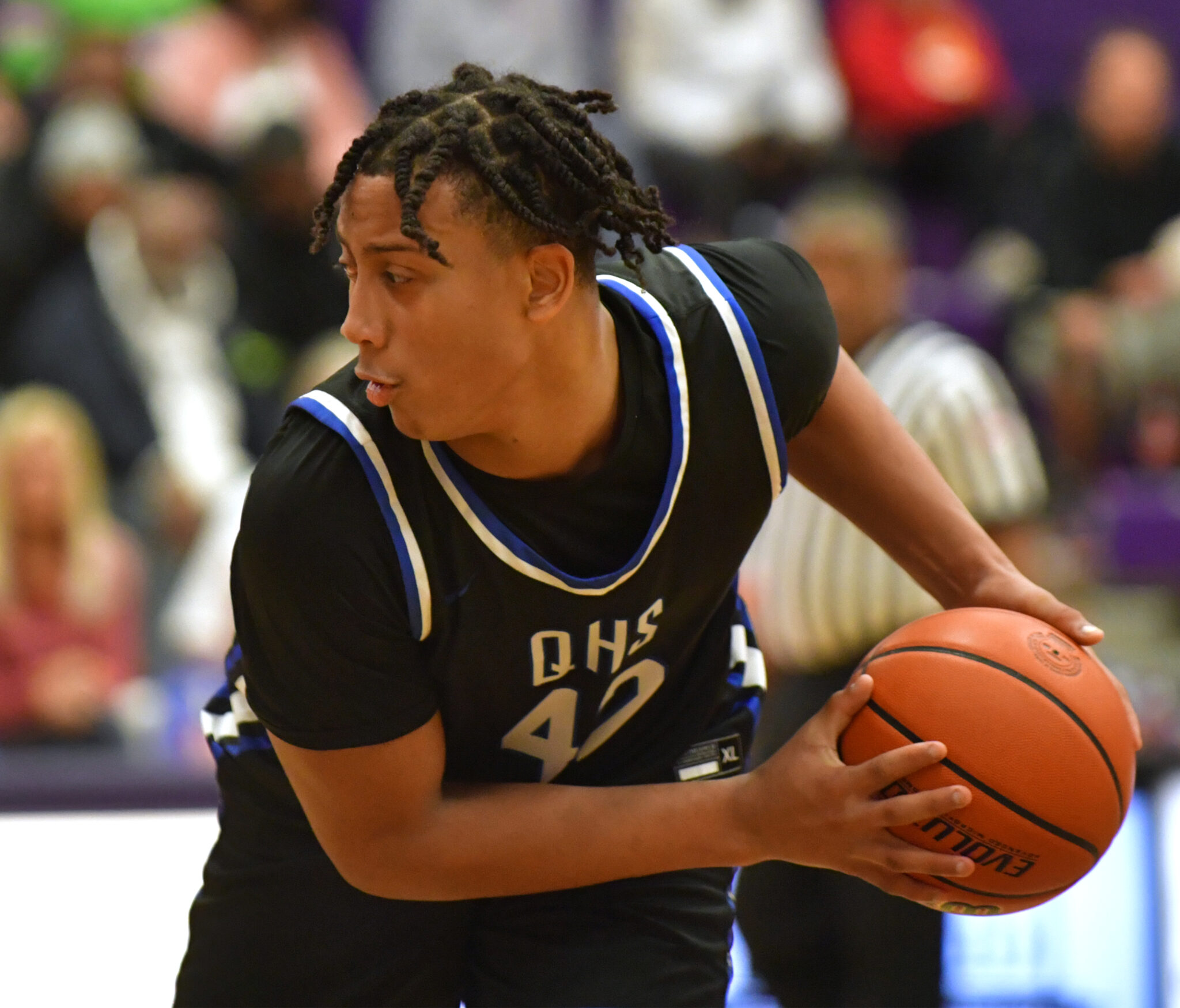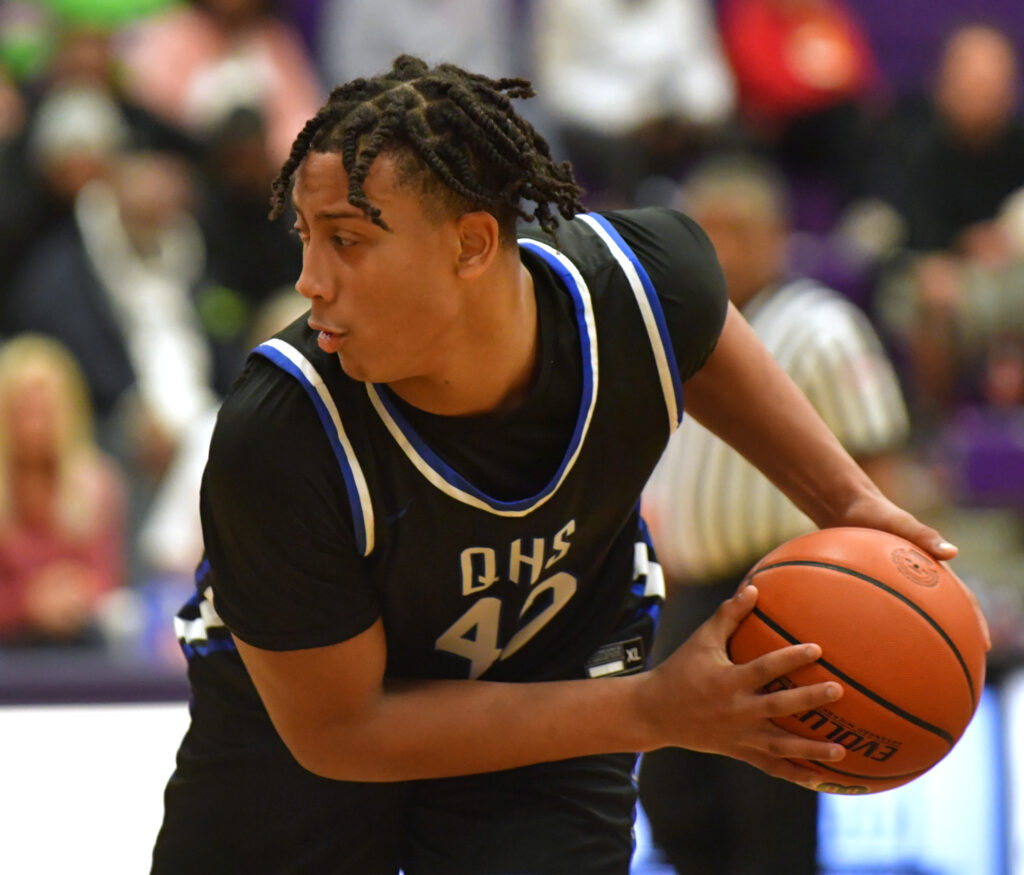 STERLING, Ill. — Saddled to the bench for the duration of the second quarter Friday night, Keshaun Thomas bottled his frustration and was anxious to unleash it.
The Sterling boys basketball team felt the brunt of that.
Thomas, Quincy High School's 6-foot-6 sophomore forward, scored 11 of the Blue Devils' 14 points in the third quarter when a two-point deficit became a four-point lead. Quincy pulled away for a 57-45 victory in Western Big 6 Conference play at Homer B. Musgrove Fieldhouse as Thomas scored 18 points — all in the second half.
"It made me mad that I could not be on the floor," Thomas said. "I was eager to be out there. I got my appearance and I provided."
The Blue Devils needed that to stay on track for a monumental WB6 clash.
Moline beat Rock Island 94-66 to ensure next Friday's game at Blue Devil Gym will be a battle for the league's top spot. The Maroons, ranked second in Class 4A with a 21-3 record, are 10-0 in the league and alone in first place, while the Blue Devils, ranked eighth in Class 4A with a 20-3 mark, are 9-1 and alone in second.
They are three games clear of the rest of the league in the standings.
Moline beat Quincy 56-44 at Wharton Field House on December 16, and Quincy needs to win to give itself a shot at repeating as WB6 champion. Only four league games remain.
"We have a full week of prep," Douglas said. "We know what it's going to take on our end. It starts with a lot of focus in practice."
And an emphasis on defense.
"We need to be working on a defense the whole week, figuring out ways we can stop Brock (Harding) and stop Owen (Freeman)," Thomas said. "We have to figure out how to do our best."
The advantage the Blue Devils expect to rely on is an overflowing crowd.
"We like packed-house games," Thomas said. "We like the energy. We like the crowd. It's just a great environment to play in."
Said Douglas, "We're going to need it. Blue Devil Nation has got to show out, and we normally do."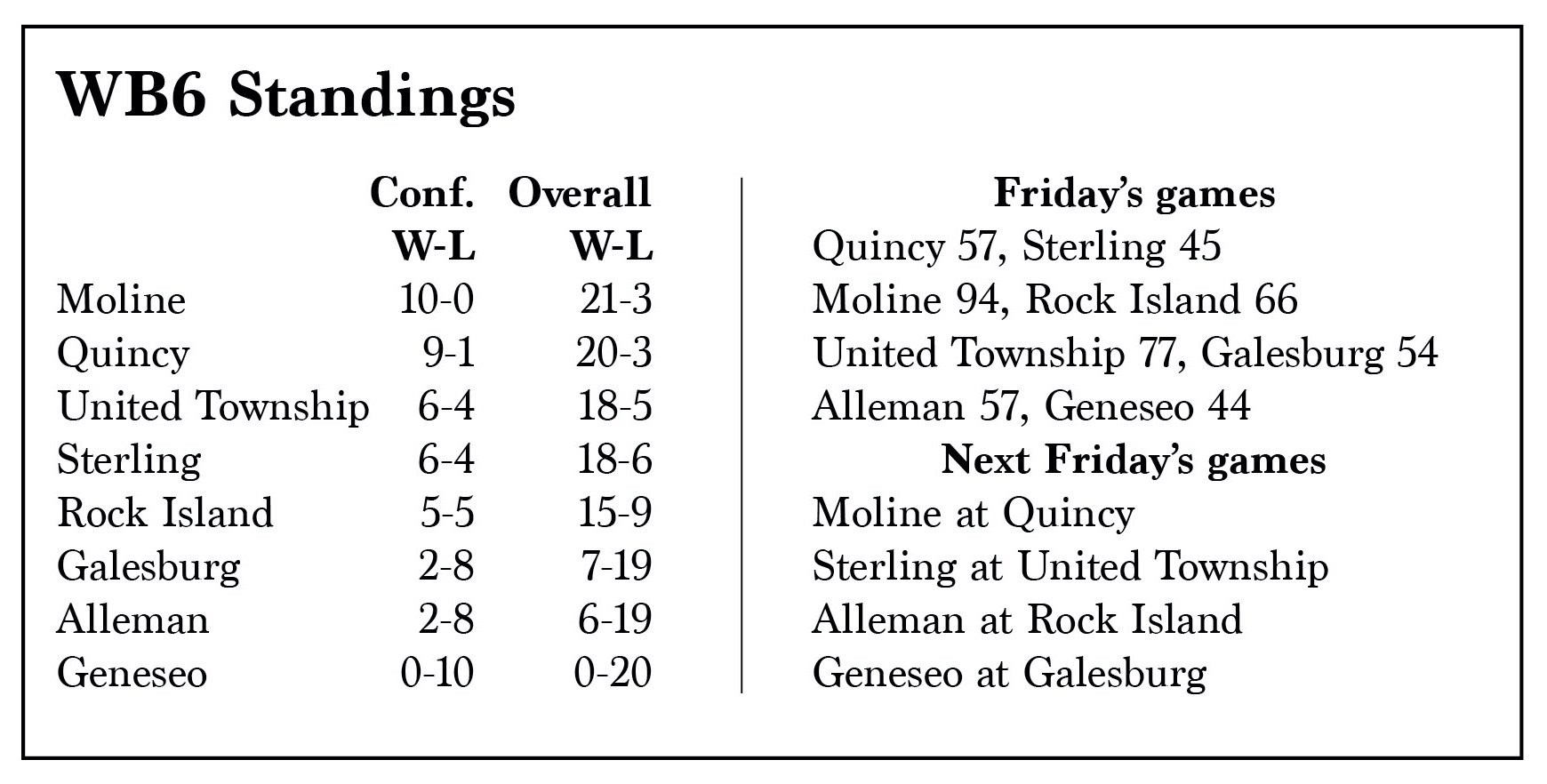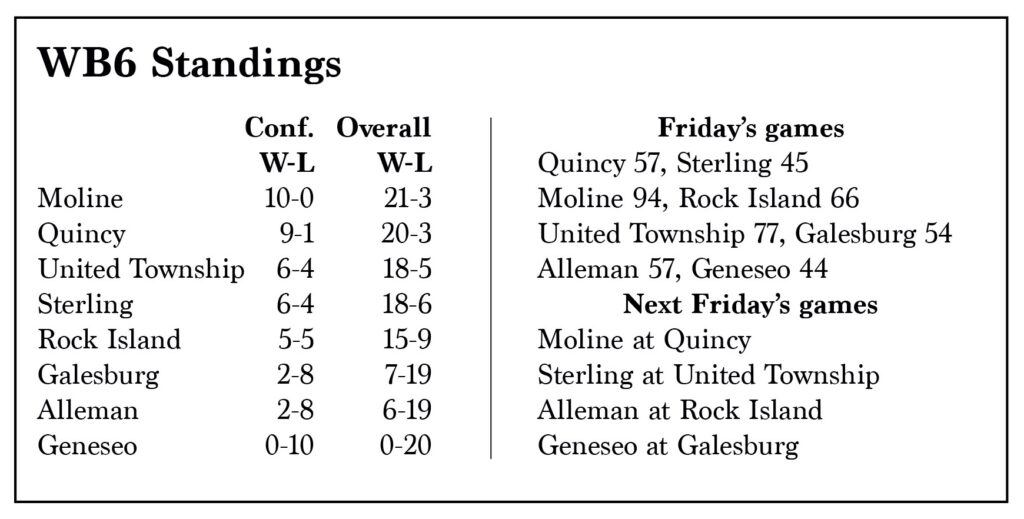 Carrying some momentum into the matchup should help.
Looking to stay within shouting distance of the WB6 leaders, Sterling opened the game on a 10-3 run and led 12-9 when Thomas picked up his second foul with 1:30 remaining in the first quarter. He went to the bench, not to reappear until the third quarter.
Senior forward Sam Mulherin helped the Blue Devils keep it close, scoring back-to-back baskets in the middle of the second quarter as a seven-point deficit was whittled to two with a 7-2 run over the final three minutes of the first half.
Sophomore guard Dom Clay capped the run, banking in a desperation 3-pointer from deep on the left wing as time expired to pull the Blue Devils within 25-23.
"I think it helped us take a deep breath," Quincy coach Andy Douglas said of Clay's shot. "It gave us a little momentum knowing we played the way that we did and we were only down two."
The Blue Devils took their first lead on Bradley Longcor III's three-point play and took the lead for good on Thomas' layin with 1:45 remaining in the third quarter.
"I thought we did a really good job of running the floor and our transition offense was solid in the third quarter," Douglas said. "Bradley and Camden (Brown) were both able to get pieces of the paint and create bounces passes for layups for Keshaun under the basket. It took those guys running the floor, and it took Keshaun running, too.
"We needed everybody to run. We needed Keshaun to run in order to make sure their big (Lucas Austin) was running the floor as well. The more he does that, the more his legs are tired out at the end of the game."
Austin finished with 17 points and four rebounds, while Sterling's Andre Klaver had 16 points and six assists. Longcor finished with 17 points, scoring 10 points in the first half and dishing out four assists in the second half.
"After halftime, we just went out there and played," Thomas said.
Miss Clipping Out Stories to Save for Later?
Click the Purchase Story button below to order a print of this story. We will print it for you on matte photo paper to keep forever.