'This is our team up on the wall': Blue Devils finish off Rocks to guarantee themselves share of WB6 championship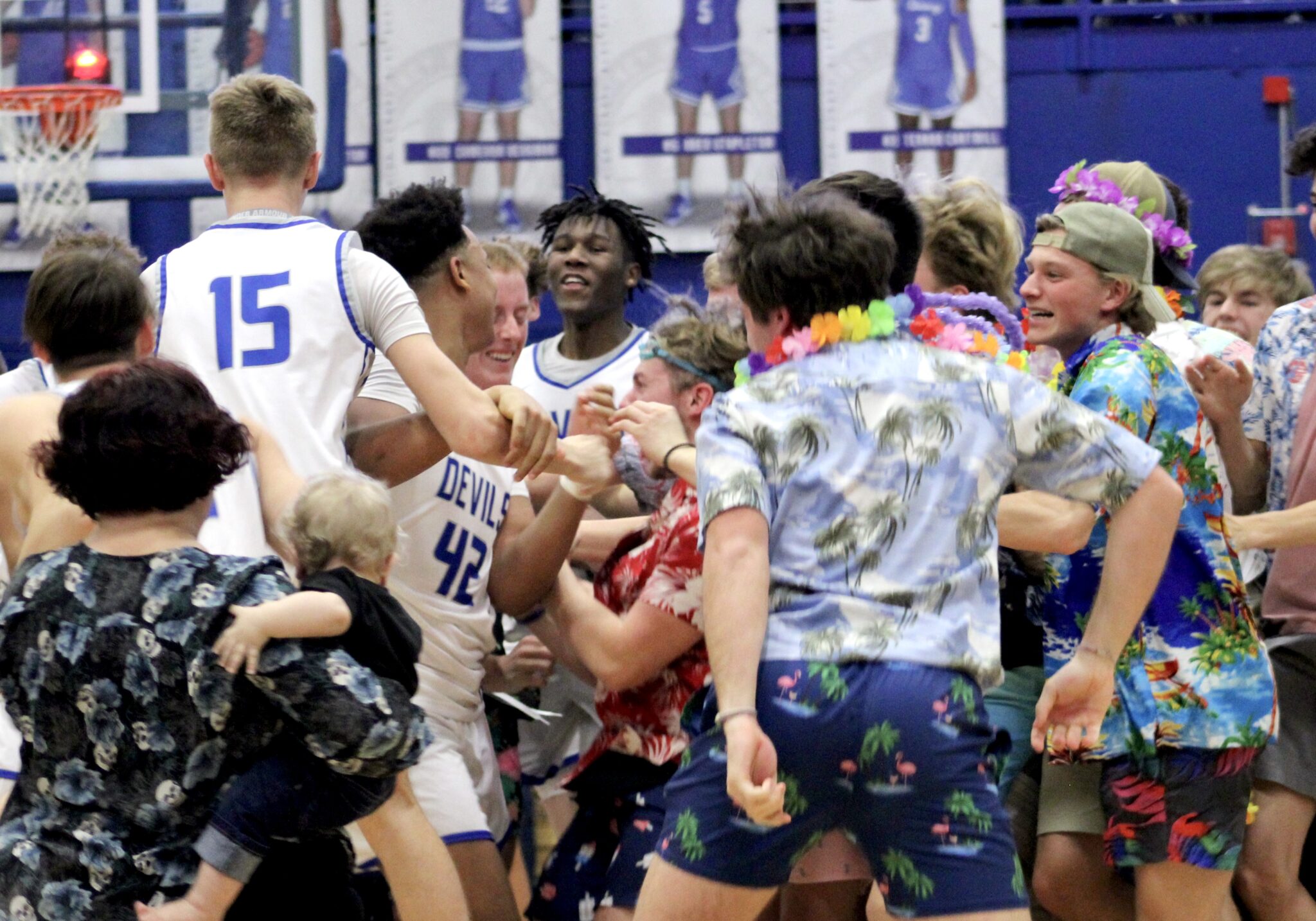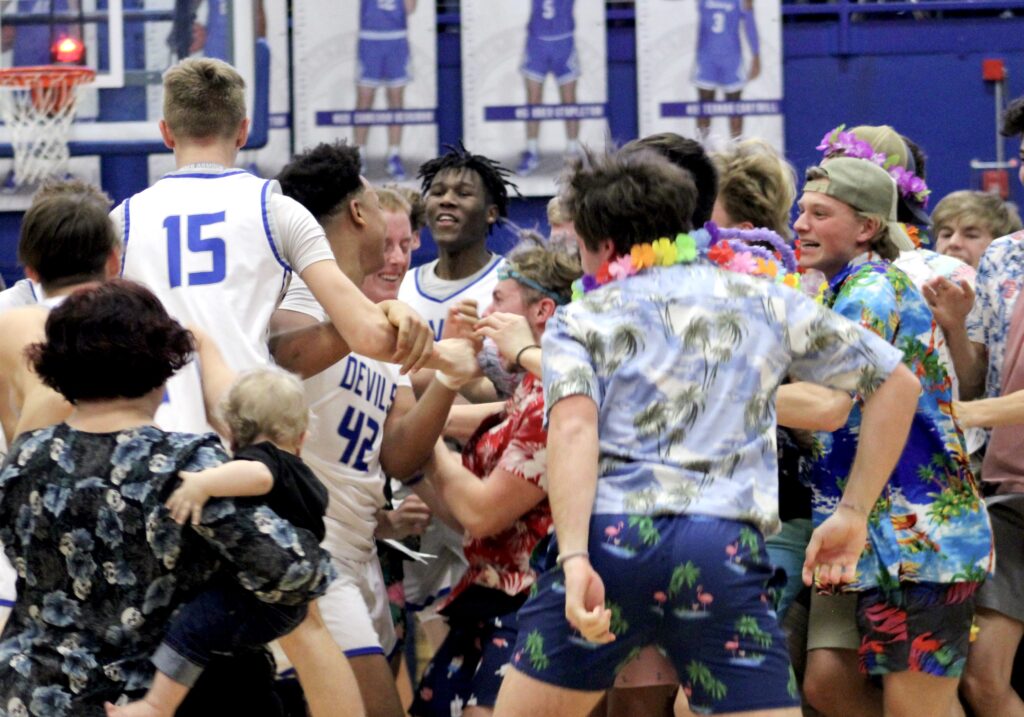 QUINCY — To leave a legacy within Quincy High School's tradition-rich boys basketball program, you have to put a number on the wall.
Jeremiah Talton finally gets that opportunity.
Bradley Longcor III and his classmates may end up doing it multiple times.
Friday night, these Blue Devils earned the right to be part of history for the first time.
Longcor made two pivotal 3-pointers in the final three minutes of regulation, Ralph Wires made three crucial free throws and Rock Island's final field-goal attempt caromed off the front of the rim, igniting a raucous celebration as Quincy secured a 49-47 Western Big 6 Conference victory at Blue Devil Gym.
"If we would have lost this game, we could have lost the Western Big 6 championship," Wires said. "That's big for us. We want to bring this home. We haven't had one in a while. So this was important. This is our team up on the wall."
The victory guarantees the Blue Devils (22-5, 12-1 WB6) no worse than a share of the WB6 championship, which means "2022" gets painted under the list of conference title teams on the north wall inside Blue Devil Gym no matter what takes place in Tuesday's finale against Galesburg.
But no one in the QHS locker room is content with sharing the crown.
"We definitely don't want to share it," Longcor said. "We're out to win it."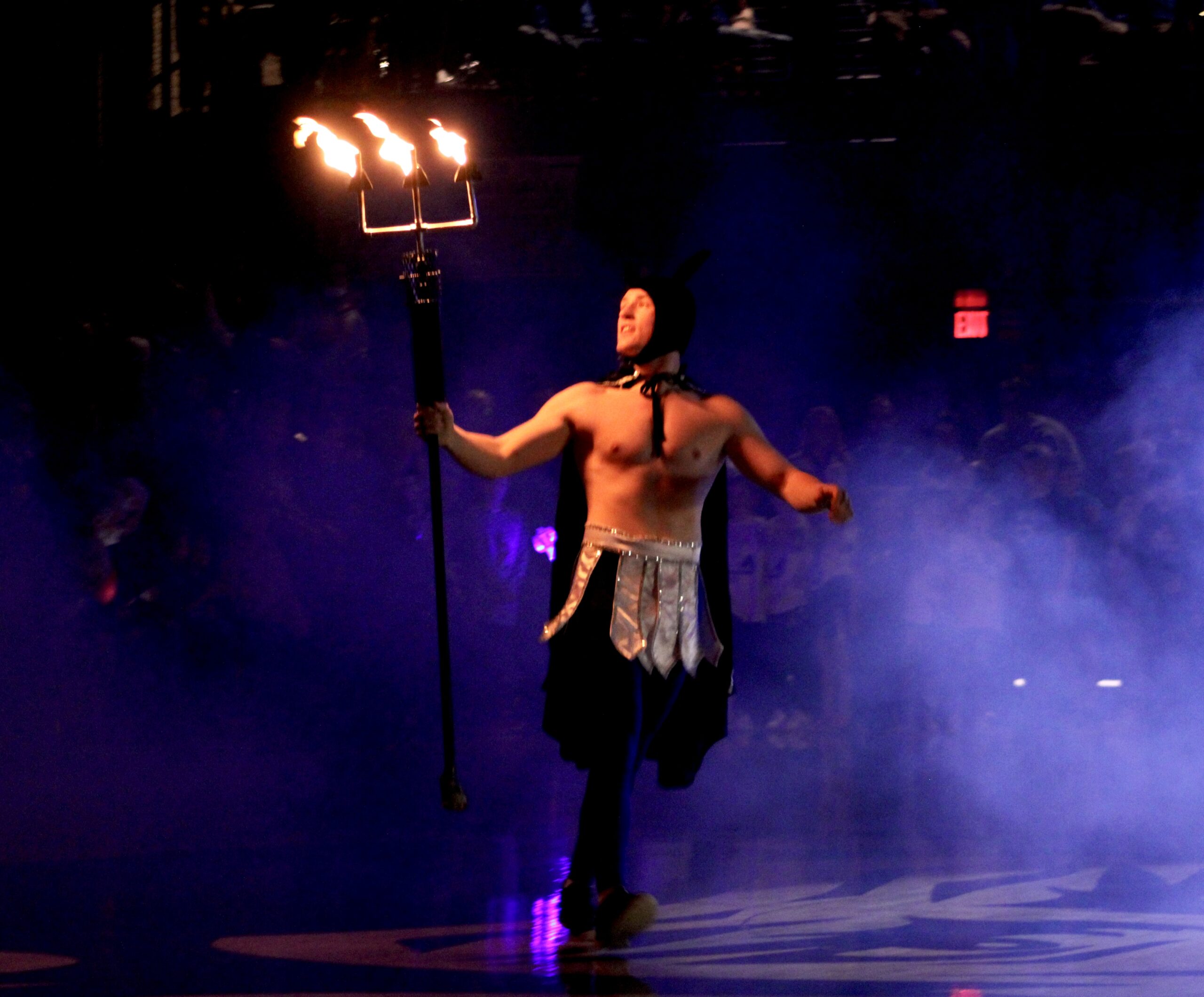 It took poise, resiliency and clutch shots to stay in position to win the title outright for the first time since 2018.
Playing in front of a packed gym — arguably the largest crowd anyone on this year's team has seen at home — against an aggressive and talented opponent, the game turned physical and emotional. It came to a head in the third quarter when Rock Island's Jaylin Randle was hit with a technical foul with 4:06 to go and the Rocks down 28-27.
Jostling for position on an inbounds play, Randle took what appeared to be an elbow from Talton to the side of his head and retaliated by shoving the QHS senior swingman with two hands.
Talton made both free throws, and Quincy inbounded the ball. Seven seconds later, Rocks coach Marc Polite was hit with a technical for arguing the previous call. Talton again made two free throws as the Blue Devils extended the lead to five points.
"Coach kept telling us to keep it under control and don't do anything stupid," said Quincy freshman forward KeShaun Thomas, who was involved in several physical battles for position in the post. "Coach was telling us all week we had to prepare and fight through it."
Rocky did that in a significant way, too.
A three-point play by forward Kai Rios and a turnaround jumper by Cameron Atkinson allowed the Rocks to pull within 34-32 by the end of the third quarter. A back-and-forth start to the fourth quarter culminated with Marieon Anderson's layin for a 42-40 Rock Island lead with 3:21 to play.
Two possessions later, Quincy regained the lead when Longcor caught a skip pass from Wires in the right corner and buried the 3-pointer with 2:36 remaining.
"I banked that one in luckily," Longcor said with a chuckle.
The next one was pure.
After the Rocks' Amarion Nimmers tied the game at 43 by splitting a pair of free throws, Longcor got open on the right wing in front of the QHS bench and drilled the 3-pointer for a 46-43 advantage with 1:45 to play.
"I was just going out there and hoop," said Longcor, who finished with 20 points. "Nothing else. Nothing else was going through my mind. I was just trying to make my shots and get open and keep working as a team."
Talton, who was held to 11 points, fouled out with 1:09 to go when he hacked Nimmers on a drive to the basket. Nimmers, who scored a game-high 23 points, made the shot but missed the free throw, allowing the Blue Devils to cling to a one-point lead.
Wires followed by making two free throws with 31.8 seconds, and he split a pair of free throws with 12.4 seconds to give Quincy a two-point lead.
"How the game was going, those were basically for the game," Wires said of his late free throws. "I was pretty nervous, but I stepped up confident and knocked a few of them down."
Rock Island had one final chance to tie or win the game, but Termell Akers' 15-foot jumper didn't get over the front of the rim and fell to the floor as time expired.
And first place in the WB6 remains Quincy's.
"It's a big accomplishment," Thomas said. "We're a young group, and we had to fight hard."
They did it for those who hadn't previously succeeded.
"I know for this senior group it means something," Longcor said. "They've been pushing us harder in practice. Coach has been pushing us in practice. That leads to success."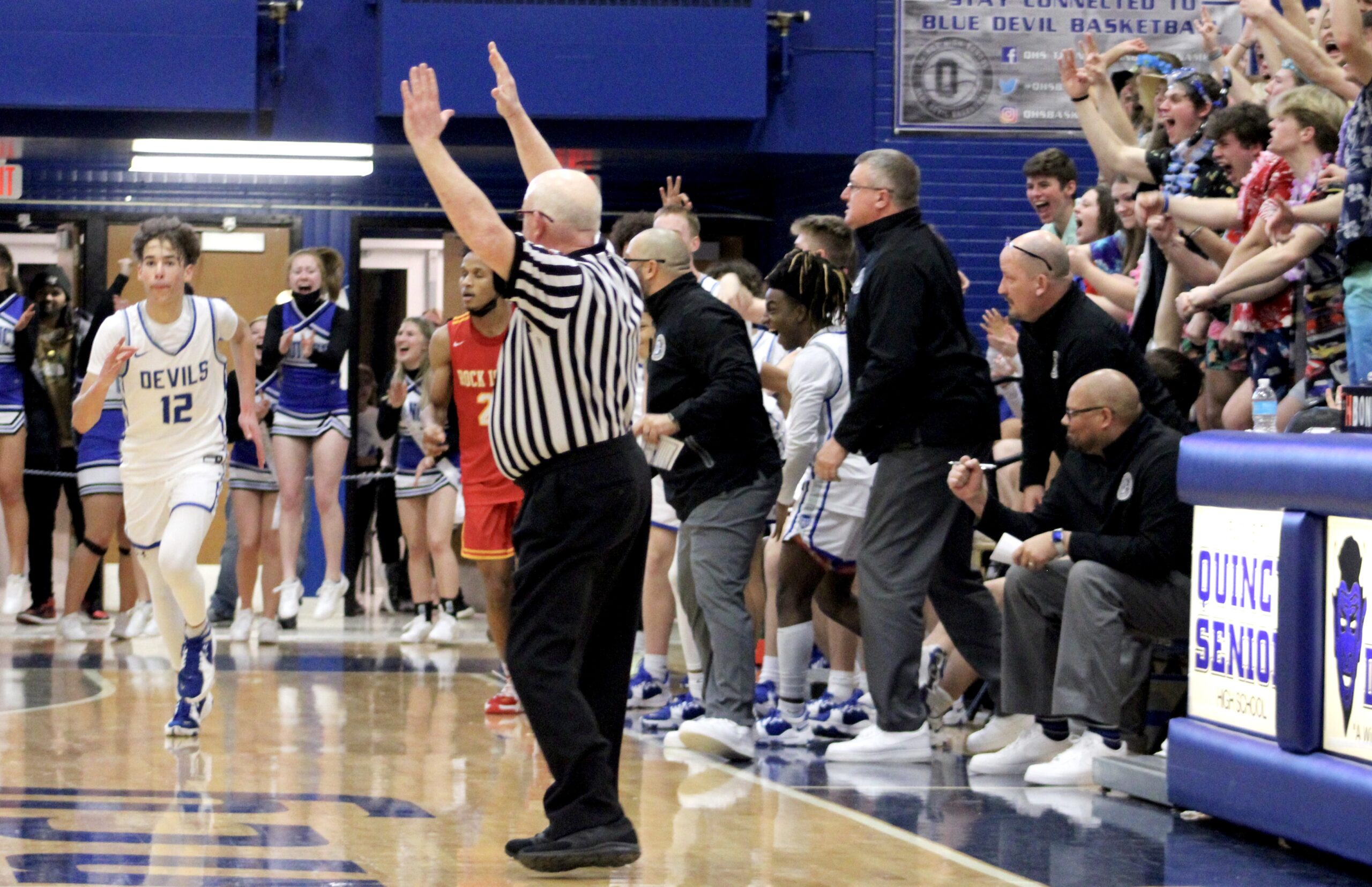 Miss Clipping Out Stories to Save for Later?
Click the Purchase Story button below to order a print of this story. We will print it for you on matte photo paper to keep forever.