'That's what my eyes tell me': QHS's magical season ends with loss to best team Blue Devils have ever faced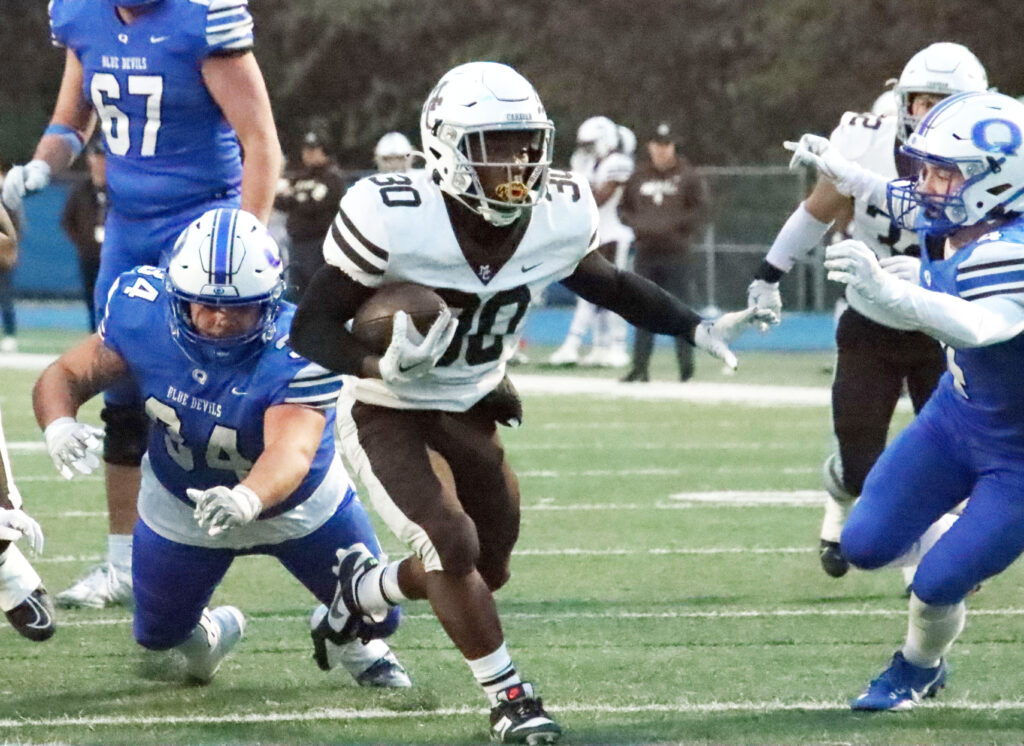 QUINCY — It took the best team the Quincy High School football program has ever faced to end the best season the Blue Devils have ever enjoyed.
"And hopefully they go win the state title," Quincy senior defensive lineman Ryan Mast said.
The odds favor Chicago Mount Carmel doing just that.
The Caravan shackled the Western Big 6 Conference's highest-scoring offense, shutting out the Blue Devils until late in the third quarter and intercepting junior quarterback Bradyn Little three times in the first half. Mount Carmel couldn't be stopped offensively either, churning out more than 500 yards of total offense while building a 47-0 lead by halftime.
The end result was a 61-14 victory Saturday in the Class 7A state quarterfinals at Flinn Stadium that moved the Caravan a step closer to repeating as state champions.
"I think that's the state champ," QHS coach Rick Little said after his team finished 11-1 following the first state quarterfinal appearance in school history. "That's what my eyes tell me."
The Caravan, ranked No. 1 in Class 7A throughout the season, showed no weaknesses in advancing to the state semifinals to face Batavia (11-1) next Saturday at Mount Carmel.
"They play collectively, they have a great coaching staff and they have great athletes," QHS senior offensive lineman Chris Flachs said. "That's why they're so good."
They made plays and capitalized on mistakes, too.
No moment showcased that more than an interception by Mount Carmel defensive tackle Jamari Chaney. After a 15-yard completion to Jeraius Rice Jr. set up Quincy with first and goal from the 7-yard line, Little rolled to his right and attempted to throw a ball to Rice wide open in the flat.
Chaney flowed to his left, tipped the pass and pulled in a one-handed interception. Seven plays later, the Caravan's Alonzo Manning Jr. scored on an 11-yard run to make it a 28-0 advantage.
"That's when it hit me," QHS senior offensive lineman Cole Wagy said. "I looked at the scoreboard and I was like, 'Yeah, this one is probably over.'"
That realization hit the Blue Devils at different stages.
Mast, like Wagy, felt it in the second quarter.
"Down 14-0, it was like, 'We've been through this before,'" Mast said. "When the scores racked up, you kind of look around and you kind of see everyone's body language change."
For Flachs, reality came in the locker room at halftime.
"I was sitting there reflecting on what had just happened," Flachs said. "I normally do that anyway, just reflect and see what I can do better. But I think it was a little bit different this time, because I was reflecting on four years of my life. It hit me right there."
For Rick Little, he didn't want that moment to ever come.
"I don't give in too easy," he said. "It wasn't like we waved the white flag. But after we threw the interception when we had the chance to make it 21-7 and then they go score, it was like, 'This is going to be a tough day.'"
After the Caravan scored twice in the final 2:42 of the first half to extend the advantage to 47-0 and ensure a running clock in the second half, the Blue Devils were forced to play for pride.
"You could tell from the get-go we were not going to bow down," Flachs said. "They came in like they owned the place, but we were not going to let it happen. The scoreboard says another story, but we all know we gave it everything we had tonight."
The Blue Devils managed two second-half touchdowns. Rice scored on a 17-yard run with 4:25 remaining in the third quarter, and Adon Byquist, the senior wide receiver who returned after missing his junior season with a knee injury, caught a 54-yard touchdown pass in the fourth quarter.
Overall, the Blue Devils were outgained by more than 250 yards. Caravan quarterback Jack Elliott threw for 369 yards in the first half, completing 18 of 23 passes as Mount Carmel churned out 538 yards of total offense.
Bradyn Little completed 23 of 38 passes for 226 yards, while Rice was limited to 56 yards on eight carries as the Blue Devils, who averaged 453.9 yards per game, finished with 287 total yards.
"We knew every week in the playoffs there was a chance we'd go home that week and not play the next," Wagy said. "You know that every snap. So we knew we had to play as hard as we could. Every snap, we gave it our all. The outcome was going to be the outcome.
"As long as we gave it our all, we can be proud of everything we did."
It'll be a season to celebrate, no matter the ending.
"You get up this morning and the plan is to go win," Rick Little said. "That was the plan. That's how much I believe in our guys, but things didn't work out."
Miss Clipping Out Stories to Save for Later?
Click the Purchase Story button below to order a print of this story. We will print it for you on matte photo paper to keep forever.