Runnin' with the Devil: QHS's Rice dices up Alton's defense with four TDs as Blue Devils move to 2-0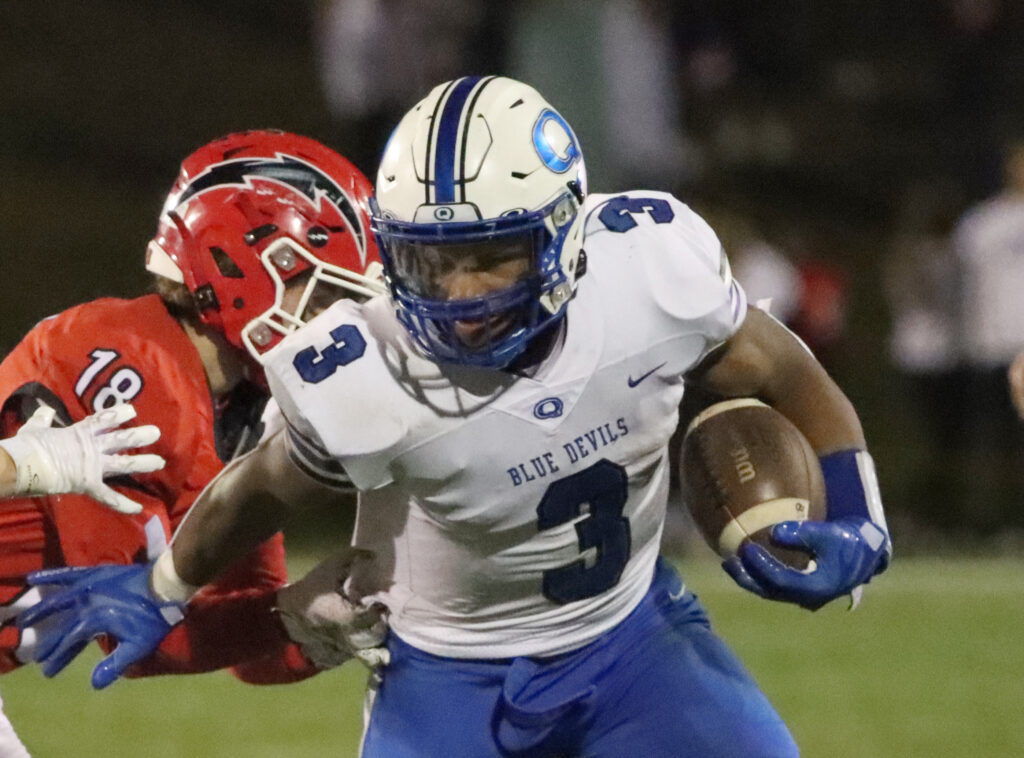 ALTON, Ill. — The Alton football team knew what was coming when it came down to stopping the high-octane Quincy High School offense.
The question that loomed was could the Redbirds' defense stop the slick and slippery Jeraius Rice.
The answer was an emphatic no. The Blue Devils tailback sliced and diced his way to 229 rushing yards and four touchdowns in Quincy's 40-6 victory over the Redbirds in Alton's home opener Friday at Public School Stadium.
Rice did much of his damage in the first half when Quincy scored three times in the second quarter on three Rice TD runs to grab a 20-6 lead that included 158 rushing yards from the 6-foot junior.
"He's a guy that can do a lot of things," Quincy coach Rick Little said of Rice. "We have a nice team from a standpoint of we're good up front, we've got some nice receivers and a quarterback that can throw it. When you have all those and then (Rice), it certainly helps everything. He's a really patient runner, a strong runner that we love and certainly can do some real good things for us."
Rice had 13 carries in the first half, of which five went for 11 yards or more, including a 50-yard TD run bursting up the gut with 3:45 remaining in the second quarter that gave the Blue Devils a 20-6 lead.
"He's just an amazing athlete," Alton coach Cody Markle said of Rice. "… He had very good vision, very good patience. He allowed his blockers to develop the blocks and be able to open up the lanes that he needed for the plays."
The Redbirds (0-2) had good crowd support after the school's administration and athletic department implemented a ban on general fan entry into the game after multiple fights broke out at school on Wednesday. The school was closed Thursday and Friday, with online learning taking place on Friday.
Only immediate family of players, cheerleaders and band members were allowed entry into the stadium from Alton supporters, while Quincy had all-access from their fans' standpoint, but it wasn't a distraction for the Alton players.
"The good thing about our boys is they're focused on football, they're focused on being great young men of character and being ball players and that's the great thing," Markle said. "That's something that we've been blessed with. We've got a lot of great guys who are leaders who control the team. We were just focused on playing ball tonight."
It was evident in the players' ability to perform. Not so much on the scoreboard as Quincy outgained Alton 250-32 on the ground and 231-198 in the air.
"We have a team that can do both, but Rice is a guy that can be that bell cow," Little said. "When you have something in a guy like that, we know we can turn it and hand it to him and do some things that helps us a ton. We've had some really good running backs here at Quincy and he's certainly on that list."
Alton held Quincy off the board in the first quarter, but Quincy went ahead 14-0 thanks to a pair of Rice TD runs of 1 and 12 yards. On each of those scoring drives, the Blue Devils converted on fourth and 12 and a fourth and 15 in Alton territory to keep those drives alive before Rice put the finishing touches on them.
On each occasion, junior quarterback Bradyn Little connected with receiver Tykell Hammers to move the chains.
"Last week, we were a little more pass-happy, so they're used to throwing the ball around," Rick Little said. "Those fourth-down conversions, one on that out route here over on this side, we've got guys that are confident when their number's called. It definitely puts us in a good situation whether it's fourth and long or any situation we feel good about."
Alton squeezed in a scoring drive when junior quarterback Riley Smith found a wide open Cayden Robinson in the right flat for a 40-yard TD pass with 5:32 remaining in the first half, but too often, when the Redbirds were putting together nice, sustained scoring drives, they would end with turnovers.
"Offensively, we drove the ball," Markle said. "We had some nice drives and then just some silly mistakes that hurt us. Obviously those things can be fixed and that's what we plan to do. We just have to watch the film and make the corrections."
Smith was 10 of 14 for 147 yards and the one TD pass before being pulled early in the third quarter for sophomore Semaj Stampley, who was 6 of 10 for 66 yards but threw two costly interceptions driving the football in Quincy territory.
Bradyn Little, who was 17 of 24 for 236 yards with an interception, also threw a pair of second-half TDs, one to Jack Mettemeyer for 18 yards in the third quarter and another to Hammers for 20 yards in the fourth. Rice scored his fourth rushing TD from 2 yards out with 7:26 left in the third that made it 33-6.
"They're pretty balanced," Markle said of the Blue Devils. "We knew that they were going to come in, run the ball to set up the pass in their play-actions. We knew that seeing the film and being able to prepare for that. Coach (Jeff) White does an amazing job setting up our boys for it. We just shot ourself in the foot."
Miss Clipping Out Stories to Save for Later?
Click the Purchase Story button below to order a print of this story. We will print it for you on matte photo paper to keep forever.