Return to Redbird: Raiders blanket Chiefs with defensive pressure, earn spot in Class 2A final four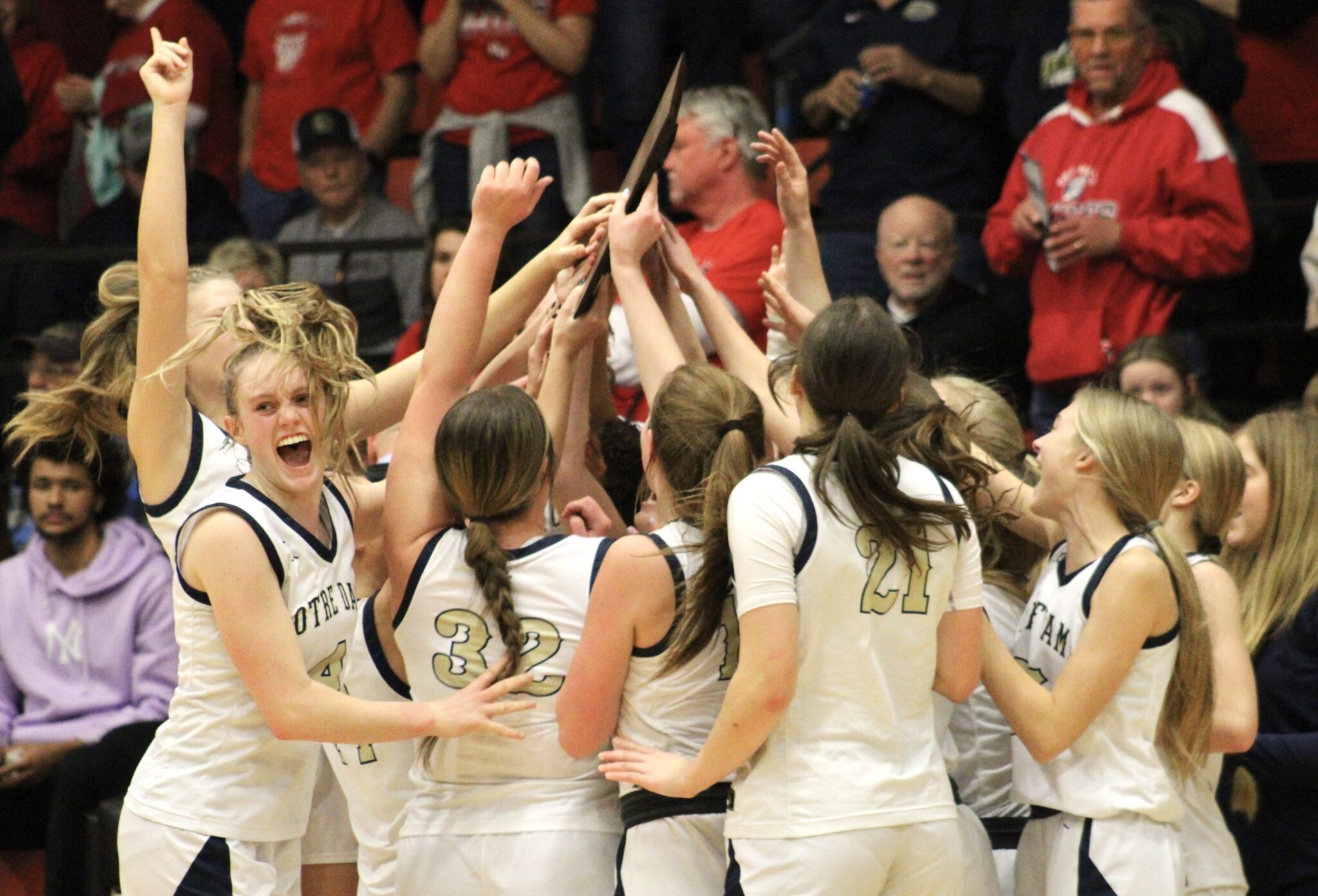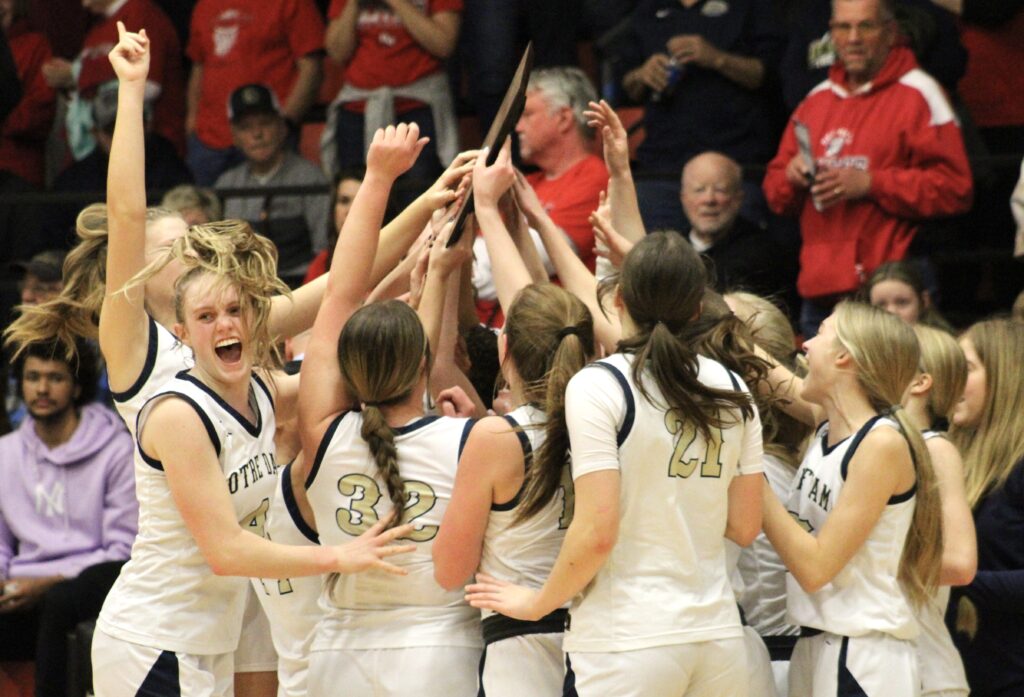 MACOMB, Ill. — The realization they'd achieved a significant goal meant a larger one is now within the Quincy Notre Dame girls basketball players' reach.
It also means the Raiders must maintain a workmanlike effort with everything they do.
They made it abundantly clear that's how they will approach the Class 2A final four after navigating their way back to Redbird Arena, parlaying a blanket-esque defensive effort into a 51-23 victory over Deer Creek-Mackinaw in Monday's Class 2A Macomb Super-Sectional at The Hangar.
Suddenly, the chance to defend their Class 2A state championship is one game away.
"It's obviously been in the back of our minds the whole season, and all of the work we've done has been to work toward that," Raiders senior guard Blair Eftink said. "It feels great to get that done. We want to win and do what we do. I just think it's really important for us to enjoy it and have fun.
"It's our last two games as a team and it's the last two for me ever. So just enjoy it, make the most of it and put in the work it takes to do that. Then we will celebrate."
One of three teams could spoil the ultimate celebration, the first of which is a foe QND owns a regular-season victory against.
Breese Mater Dei lost to the Raiders 44-32 in Breese in early December, but the Knights ran their win streak to seven straight games with Monday's 35-26 victory over Paris in the Salem Super-Sectional. The Raiders (34-1) and the Knights (24-7) will square off at 4:15 p.m. Thursday in the state semifinals at Illinois State University's Redbird Arena.
Byron (32-2) will face Chicago Butler College Prep (29-6) in the other semifinal at 2:30 p.m.
"Getting to Redbird Arena is an incredible accomplishment for this group that I'm super proud of, but we have our hands full with a Mater Dei team that knows us and has seen us and is playing incredibly well right now," QND coach Eric Orne said. "We have to have good preparation starting tomorrow after we enjoy this tonight and find a good place to practice Wednesday when we go up there.
"But we have the opportunity for this team to create a legacy."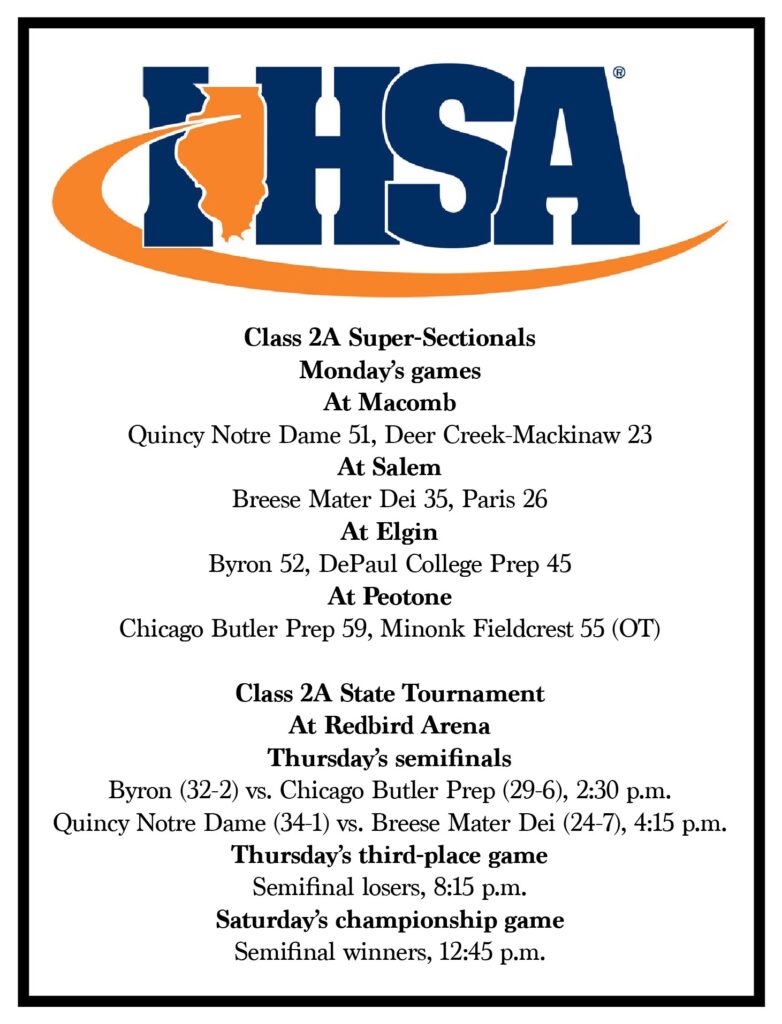 It already has. The Raiders are guaranteed the 12th state trophy in program history and have established a new single-season record for victories. The roster features the school's all-time leading scorer and all-time leading 3-point shooter, but it wasn't firepower that determined this outcome.
Defense did.
Deer Creek-Mackinaw (30-6) showed no signs of this being the first super-sectional appearance in program history, drilling 3-pointers on three of its first six possessions and taking a 9-4 lead before Orne called timeout with 4:09 remaining in the first quarter.
Yet, none of the Raiders showed any signs of panic in the huddle or on the floor.
"We can't afford to do that," QND senior guard Abbey Schreacke said. "There's no time to waste for us. We're always moving on to the next play."
Eftink scored on back-to-back possessions following the timeout to tie the game at 9. A pair of free throws by sophomore guard Sage Stratton and a putback by Schreacke completed a 9-0 run to end the quarter and give QND a lead it never relinquished.
"We definitely wanted a better start, but we've been through this before and we've overcome this before," Stratton said. "Coach Orne puts us through these situations in practice to train us for these moments. That's why we do so great at them because he's put us through it."
After going scoreless on eight consecutive possessions, the Chiefs got a 3-pointer from the right corner by Kenzie Knowles and a driving layin by Addison Swadinsky to pull within 16-14 with 5:38 remaining in the half.
QND responded with a 15-0 run to close the half and then limited Deer Creek-Mackinaw to one field the majority of the third quarter. At that point, the lead was 39-19.
"We were pretty confident going into the locker room at half, but we knew to not settle," Schreacke said. "Anything can happen in the second half. Coming out, it was like nothing changed. We just kept playing with the right intensity."
The Raiders allowed just four points in the fourth quarter, cementing their 27th consecutive victory.
Schreacke finished with 20 points, 15 rebounds and six blocked shots, while Eftink had 17 points, Stratton had eight and freshman forward Tristan Pieper added six. Swadinksy led the Chiefs with 11 points.
"Mackinaw came out and smacked us," Orne said. "They came out and shot lights out and made big 3-pointers. Then we call timeout and say on to the next play and just the process work. Once we got it tied up, we got control of the game back. Our girls never gave that up.
"They stayed with it and let the process of the season unfold and this is where it's gotten them. There's more to do and more work to be done, but they've done something special by getting back to Redbird Arena. It's part of their legacy."
Miss Clipping Out Stories to Save for Later?
Click the Purchase Story button below to order a print of this story. We will print it for you on matte photo paper to keep forever.