Raiders continue hit parade against Indians, run winning streak to 11 straight with Titans looming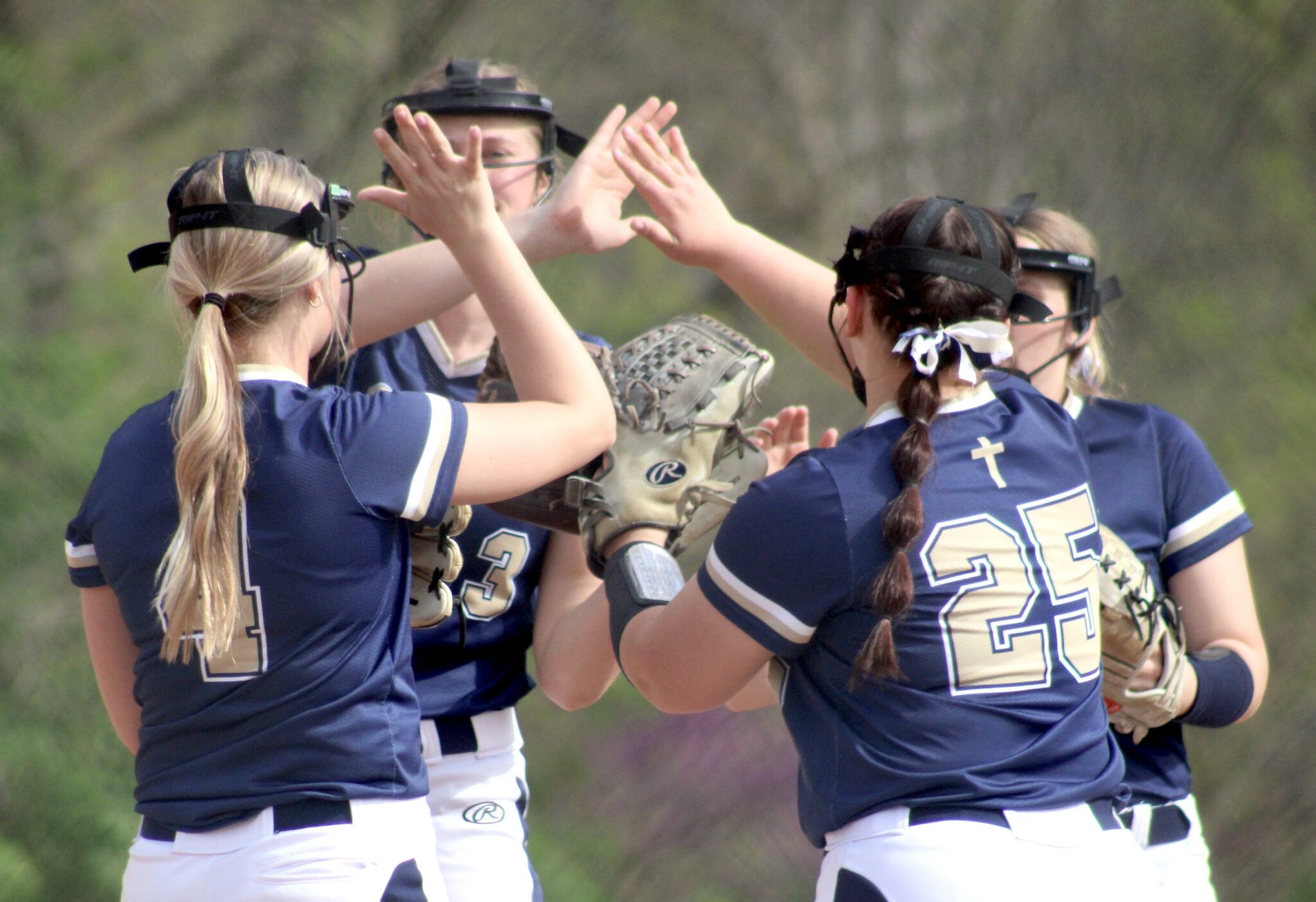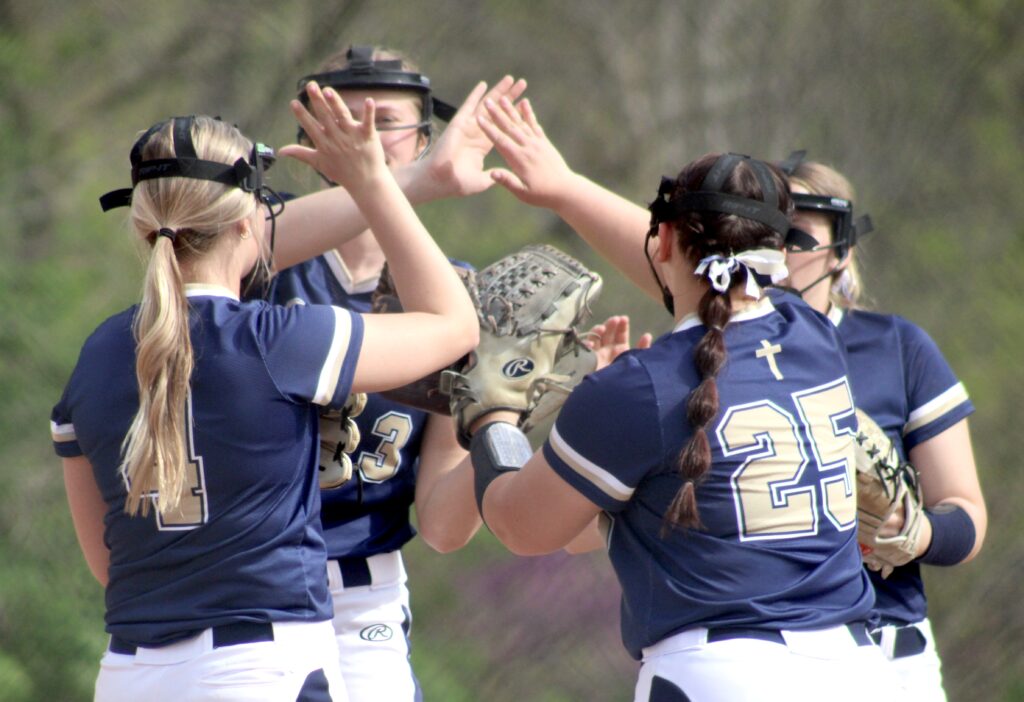 QUINCY — Addi Zanger understands there's a peaceful, easy feeling knowing the Quincy Notre Dame softball players won't let each other down.
It helps they're all on common ground.
"You want to get a hit, but there's no stress," the senior first baseman said. "We have good at-bats all the way through. It's a really fun team and a really fun atmosphere. We support each other when we hit, and we support each other when we don't. We pick each other up all the way through."
The Raiders hit all the way through, too.
Sparked by Caitlin Bunte's leadoff double Wednesday and fueled by an attack that produced 16 hits, QND ran its win streak to 11 straight games with a 12-4 victory over Payson Seymour in West Central Conference play at The Backyard.
"It's so much fun hitting in this lineup," junior pitcher/corner infielder Brooke Boden said. "We build a lot of momentum going with Caitlin at the top of the lineup. She really gets things going, and the rest of us just follow suit. It's really fun."
It has to be when the hits keep coming.
QND has pounded out 10 or more hits in eight of its 11 games. In the three others, the Raiders have capitalized on 15 walks and 13 errors. And putting the ball in play has been the Raiders' speciality, especially the last three weeks.
After striking out 13 times in the season opener against Calhoun, QND has struck out more than four times only twice. In the last five games combined, the Raiders have struck out nine times total, including none against Payson.
"I think we've done a good job so far learning how to start hitting earlier," Zanger said. "Earlier in the season, we'd start hitting in the third to fifth inning, mainly the second time through the lineup. Now, we're doing a good job starting off early."
It puts all the pressure on the defense. Although QND failed to score in the first inning against Payson, Boden led off the second inning with a double, Carlee Gilker drove in a run with a double and Payton Stupavsky plated another when she reached on an error.
In the third, Bunte led off with a home run, while Alyssa Ley and Gilker had back-to-back run-scoring knocks. Bunte's RBI double and Abbey Schreacke's two-run triple made it an 8-1 lead in the fourth.
Ley went 4 for 4, while Bunte finished 3 for 4 and Gilker went 3 for 4 with two doubles and three RBIs.
"I'm able to go up there with a lot of confidence as is everyone else," said Boden, who went 2 for 4 with two doubles and two RBIs. "I have hitters in front of me telling me, 'Hey, you've got it. Hey, you've got it.' They're being encouraging. It gives me so much confidence knowing if they can do it then I can do it."
Boden can also throw it a little, too. The right-hander worked five innings, allowing one earned run with seven strikeouts and three walks. Bunte for the final six outs, striking out four.
Ella Archer had two of Payson's seven hits, while Megan Kirby, Madilyn O'Dear and Archer each doubled.
"Boden ate up a bunch of innings for us and did a great job getting ahead of hitters," QND coach Eric Orne said. "Overall, she had a great game, offensively and pitching. She pitched really well."
Having a defense behind Boden that committed just one error helps.
"There is a level of play we want to keep playing at," Orne said.
The Raiders need to maintain that level with a trip to Chatham Glenwood looming Friday. The Titans are 14-1, tossed back-to-back no-hitters this week and have shut out six opponents.
"It's a totally different ballgame when we go to Chatham on Friday," Orne said. "We need it tremendously. The strength of our schedule gets better as we see the bigger schools, which is good. It's going to be a benchmark game for us."
The Raiders expect to grow from the experience.
"Chatham is going to really challenge us, make us work harder for hits," Zanger said. "We'll have to play more small ball. Do the things that count and not be taken advantage of by a good defense and let them walk all over us."
Miss Clipping Out Stories to Save for Later?
Click the Purchase Story button below to order a print of this story. We will print it for you on matte photo paper to keep forever.