Retribution is hers: Schreacke leads Raiders to victory in final crosstown showdown appearance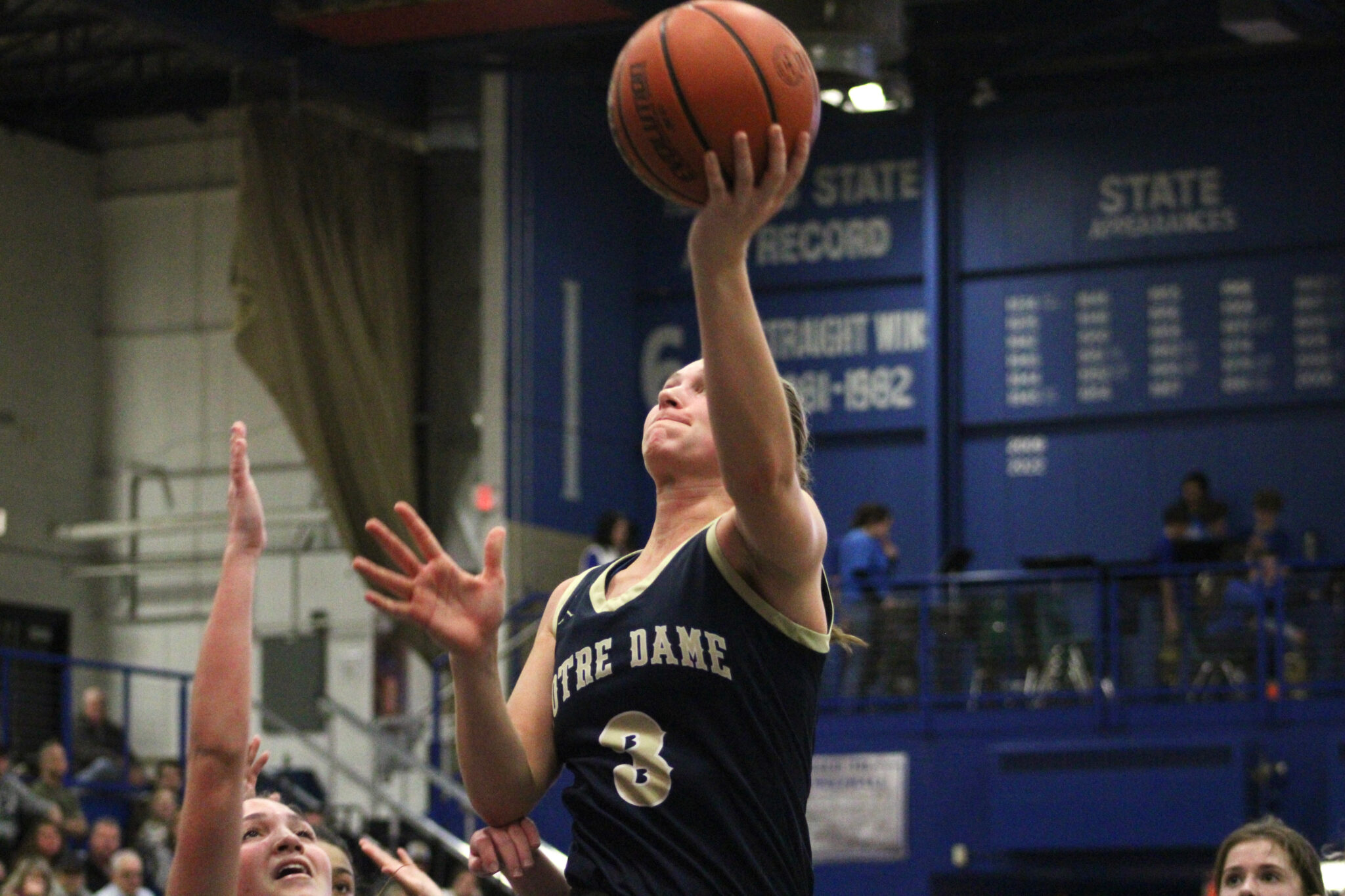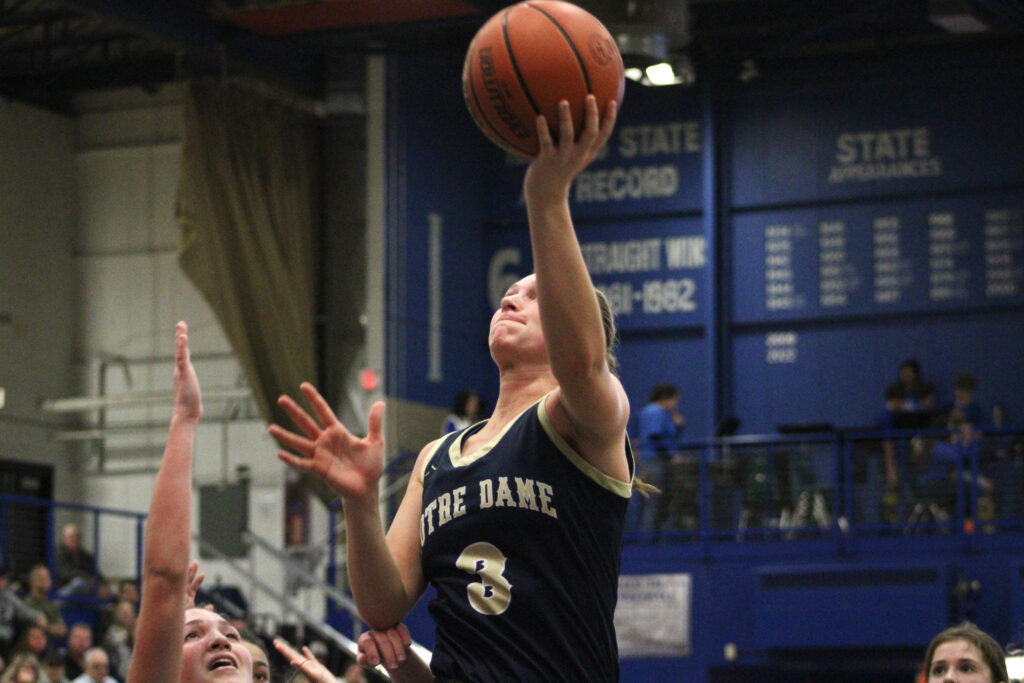 QUINCY — What took place once wasn't going to happen twice.
Abbey Schreacke made that abundantly clear.
By scoring six of the game's first 12 points Tuesday night and showcasing the variety of skills that make her the best player on the floor, the all-state senior guard put the Quincy Notre Dame girls basketball team in total control of its 57-35 victory over Quincy High School at Blue Devil Gym.
Schreacke finished with 26 points, but her will to win meant as much as any point she scored.
And she wasn't going to lose twice in the venerable facility, not after sitting on the last loss for the past two years.
"Definitely not," said Schreacke, who scored 26 points in her last Blue Devil Gym appearance, which was a 48-42 loss to QHS on March 13, 2021. "I saw some comments and things, people bringing that loss back up. So it was motivation."
Three seconds is all it took to see how motivated the top-ranked team in Class 2A was.
Schreacke won the game's opening tip, flipping it to freshman guard Ari Buehler, who drove straight to the basket for a layin and the lead just three seconds into the game. QND (24-1) never trailed thereafter, bolting to an 8-0 lead out of the gate.
"Before the game, when we were with the starters, Abbey and I were talking about how this is like a postseason atmosphere," said QND senior guard Blair Eftink, acknowledging a crowd of 1,500 or more that spilled into the upper deck on one side of Blue Devil Gym.
"Some of the younger girls haven't been in that atmosphere, but they handled it really well. We build off energy like that instead of it making us nervous. And when Ari can score at the beginning like that, it just builds everyone's confidence."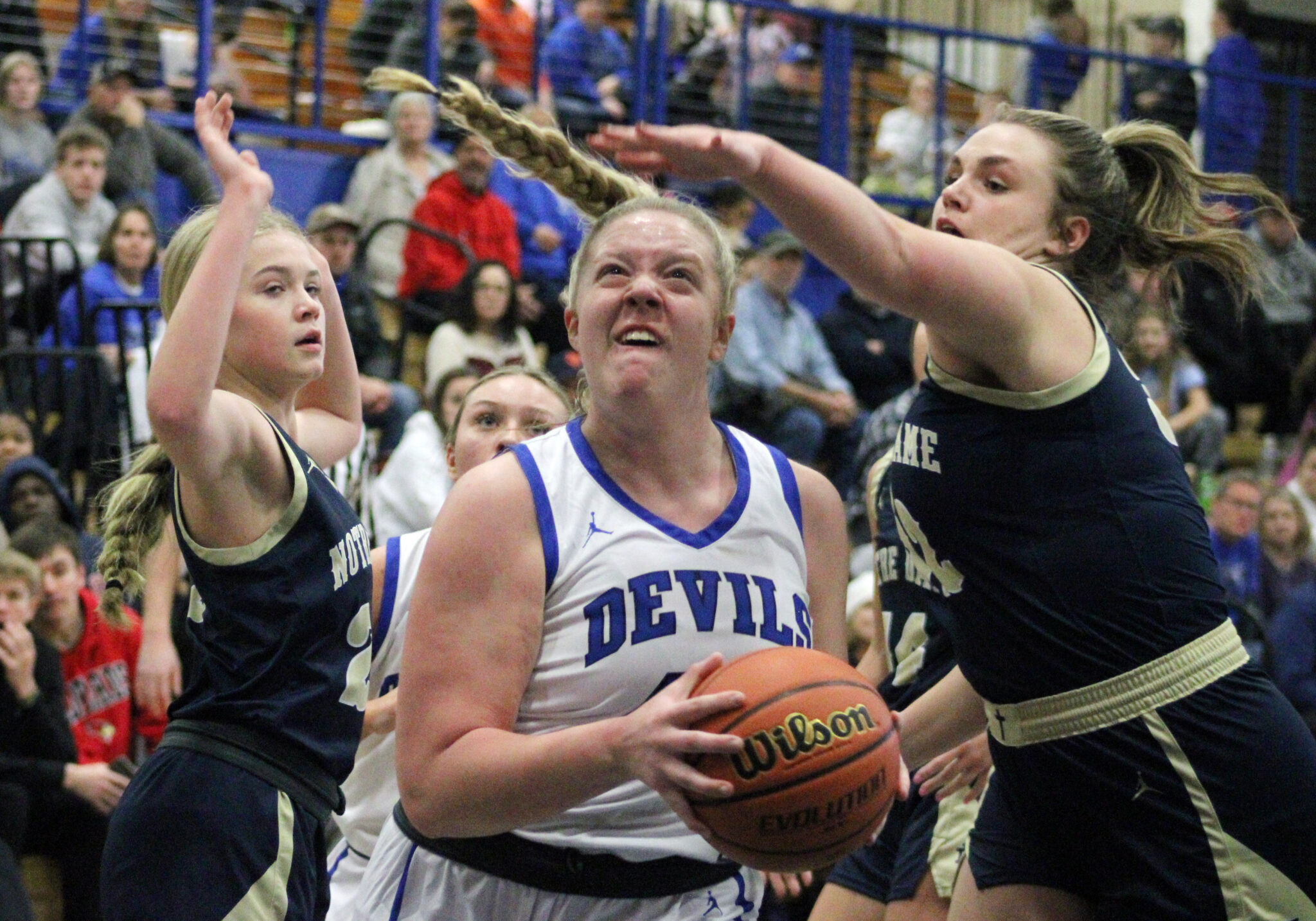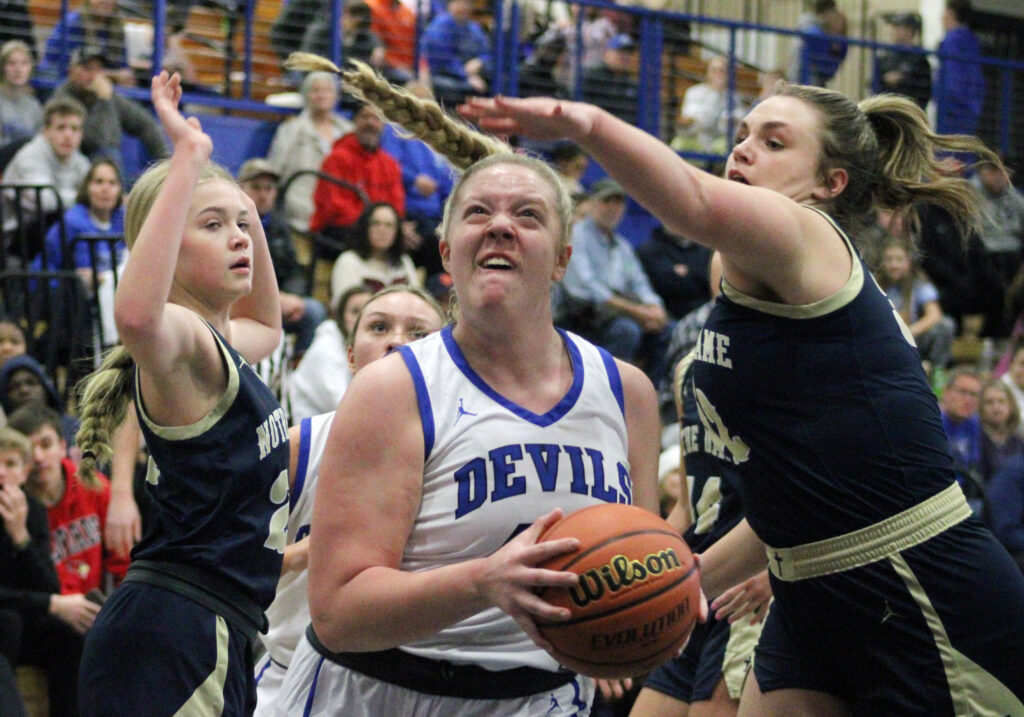 The Blue Devils (16-10) recovered from the opening salvo, going on a 9-0 run to turn a 16-6 deficit into a 16-15 game that forced Raiders coach Eric Orne to take a timeout with 5:25 remaining in the first half. QHS scored 10 of its 15 points in the paint with junior forward Taylor Fohey netting the first eight.
"That's something we really take pride in ourselves in," Fohey said. "We have a lot of resiliency. Being down, we didn't let it get to us, just figured out what we needed to fix and went from there."
Leave it to Schreacke to answer. She scored nine consecutive points for QND, starting with a three-point play and following it up with back-to-back 3-pointers. It allowed her to push the Raiders to a 30-20 halftime lead.
"The score I don't think reflects how we played," said Fohey, who led the Blue Devils with 16 points. "Honestly, it felt like we were with them the whole game, just keeping that competitive atmosphere up. It seemed they always had an answer for what we did. That's how it felt."
Another 8-0 burst to start the second half by the Raiders quelled the Blue Devils' comeback hopes. Eftink and Jenna Durst opened the third quarter with back-to-back 3-pointers, and Sage Stratton buried another trey at the third quarter buzzer.
"They have a lot of weapons and they shoot the ball well," QHS coach Brad Dance said. "We contested their shots for the most part and didn't give them easy looks."
Schreacke, who scored 21 points in the first half, had just three points in the third quarter.
"A lot of people had big plays at certain times," Schreacke said. "It wasn't just me. It wasn't just Blair or Sage knocking down shots. Ari got a great layup on a fast break. Jenna played really good defense on Taylor. It was a full team effort."
It needs to be for the Raiders, the defending Class 2A state champions, to have a shot at repeating.
"Playing these emotional games like this are always important," Orne said. "You just have to ramp yourself up. Two weeks from now, every game is going to have this magnitude."
That is why Dance found the silver lining in the loss.
"We handle some of the things they threw at us defensively," he said. "We didn't cave under pressure. That's something we can't do in the postseason."
Nor can they allow an opponent to have the motivation Schreacke found in her desire to make amends for two years ago.
"We came out in our shootaround and we met at halfcourt and I said, 'Are you ready?'" Orne said. "She looked at me and said, 'Yeah.' Two years ago, we walked off this court knowing we had two years left and there were some things we still wanted to accomplish. I think that game's driven us.
"Especially an athlete like her, that loves to win and has that will power to win, this game meant a lot to her. She was going to lead our way."
She felt she needed to do so.
"Especially for me, making my last mark here, that was big for me," Schreacke said.
Miss Clipping Out Stories to Save for Later?
Click the Purchase Story button below to order a print of this story. We will print it for you on matte photo paper to keep forever.