'Mentally tough' Blue Devils overcome early deficit to reach state quarterfinals for first time ever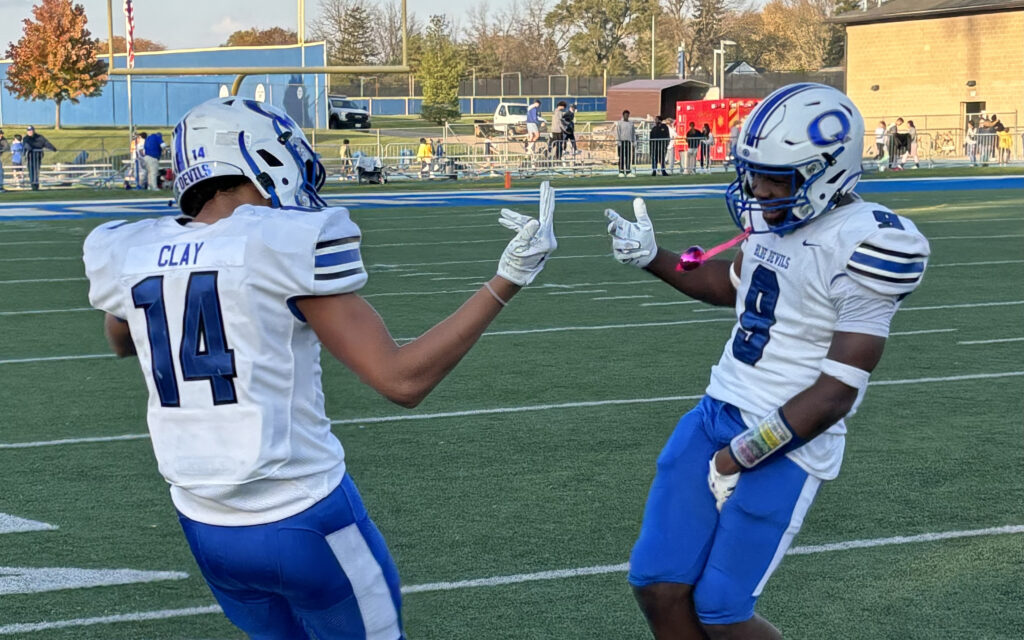 WHEATON, Ill. — Twelve minutes into Saturday's Class 7A second-round playoff game, the chances of Quincy High School extending its best-ever football season looked bleak.
The undefeated Blue Devils trailed Wheaton North 14-0. Their vaunted offense was stuck in neutra,l and their stout defense was having trouble slowing the Falcons' attack.
Yet, there was no panic on the Blue Devils' sideline.
"We're so mentally tough that we don't need someone to fire us up," senior defensive lineman Ryan Mast said. "We know we can bring it together and get the job done."
And did the Blue Devils ever get the job done.
They rattled off 33 straight points over the final three quarters and shut Wheaton North down in the process for a 33-14 victory. Quincy's reward is a state quarterfinal game next weekend at Flinn Stadium against state power Chicago Mount Carmel.
Game time and date for the battle between the third-seeded Blue Devils (11-0) and sixth-seeded Caravan (10-1) has yet to be set. Mount Carmel, ranked No. 1 in the Associated Press state poll throughout the season, advanced with a 49-15 victory Friday night over Mount Prospect.
To say Quincy struggled early would be putting it lightly. The Blue Devils managed just two first downs and 51 yards of offense in the first quarter. Meanwhile, the Falcons (8-3) picked apart Quincy's defense.
Wheaton North scored twice in the final five minutes of the opening quarter. The first score came on a 2-yard plunge by Walker Owens. Falcons quarterback Max Howser then connected with Rich Schilling on a 25-yard strike in the final minute for a 14-0 lead.
"We feel like any game that we are in is a winnable game, no matter what part of the game we are in," Mast said.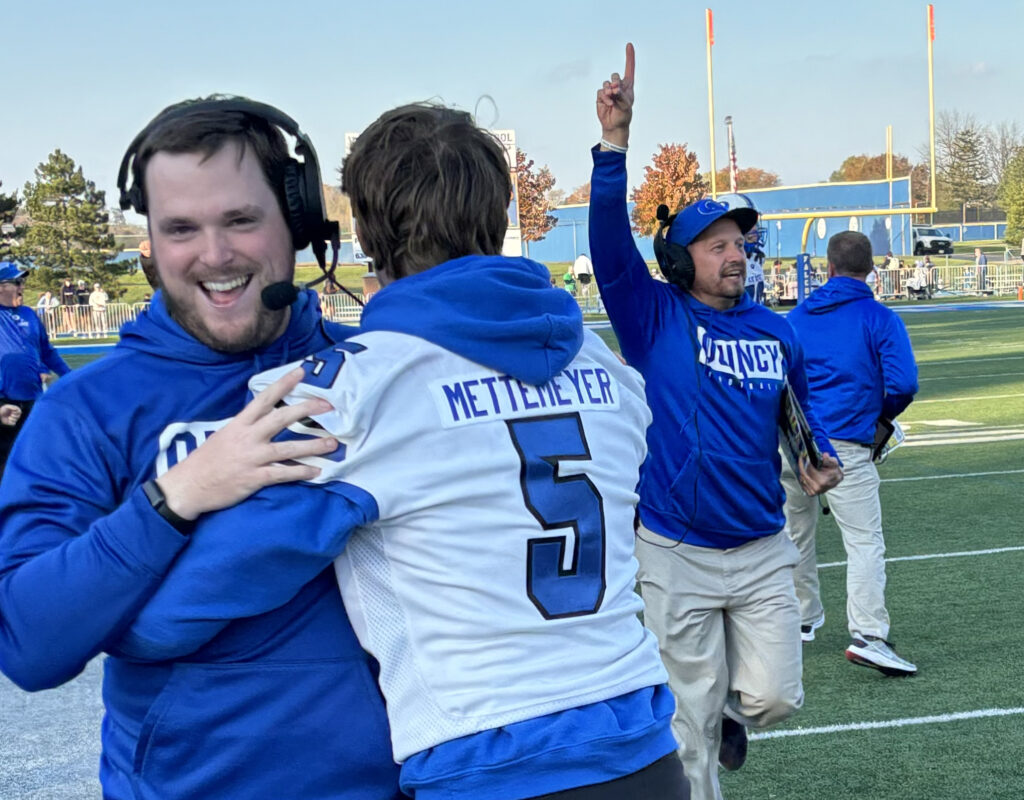 Quincy's offense and defense finally found a rhythm in the second quarter. The Blue Devils got the first of what would be nine straight stops early in the quarter. The Blue Devil offense then fashioned an 11-play, 67-yard scoring drive that ate up a little more than four minutes of clock. Adon Byquist capped the drive with a toe-tapping, 15-yard touchdown catch from Bradyn Little with 5:51 left in the half.
"That touchdown was big because it helped calm us down," Bradyn Little said.
A blocked extra point attempt did nothing to stop the building QHS momentum. Another defensive stop gave Quincy the ball back with two minutes left in the half.
Quincy struck quickly as Little fired a pass to Byquist down the left sideline. Byquist shed one would-be tackler at midfield and outraced another en route to an 86-yard scoring catch. A two-point conversion pass failed as Quincy went into halftime down 14-12.
"There are certain plays where Bradyn tries to get me the ball and that is one of them," Byquist said. "It was a great throw."
Said Quincy coach Rick Little, "Getting that score right before halftime was huge."
The second half featured a balanced attack. Jeraius RiceJr. touched the ball seven times on a nine-play scoring drive late in the third quarter. He capped it with a 2-yard run and added the two-point conversion to give Quincy the lead for good with 1:39 left in the third.
Quincy salted away much of the fourth quarter with a 13-play, 80-yard drive that took 7:39 off the clock. This time, Bradyn Little snuck in from a yard out for a 26-14 lead.
The exclamation point for Quincy came 30 seconds later when Rico Clay picked off a Howser pass and returned it 59 yards for a touchdown with a little more than three minutes to play.
"I was thinking, 'Did this just really happen?'" Clay said of his third interception return for a touchdown this season.
Quincy's defense held the Falcons to 250 yards of offense, just 20 of which came in the second half.
Bradyn Little finished 24-of-35 passing for 312 yards. Byquist caught nine passes for 187 yards. Rice finished with 115 yards rushing.
"This is a really good football team we beat today," Rick Little said. "(Wheaton North) plays a lot of good teams during the season. I can't say enough about how proud I am of our guys."
Miss Clipping Out Stories to Save for Later?
Click the Purchase Story button below to order a print of this story. We will print it for you on matte photo paper to keep forever.