Inside, outside, upside, down: Ability to run offense through Connoyer in paint allows Raiders to roll Bearcats in Shootout finale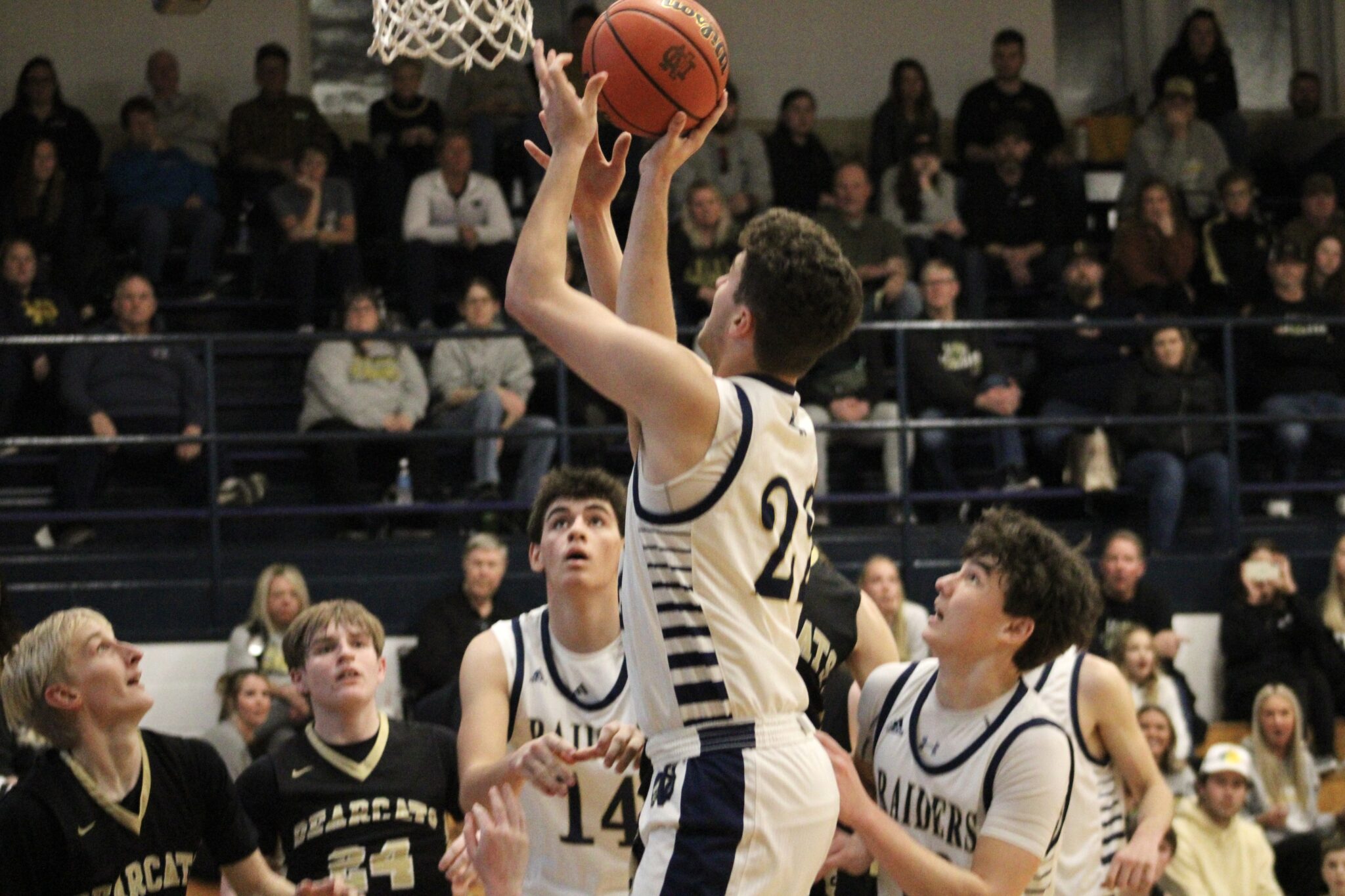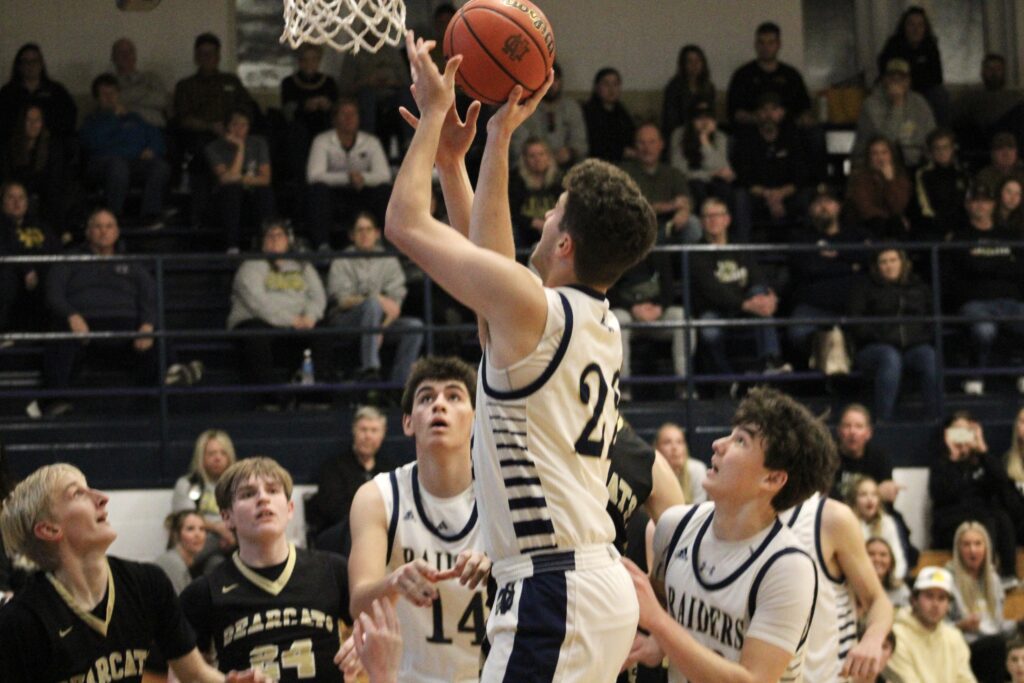 QUINCY — Alex Connoyer established a trend the Quincy Notre Dame boys basketball team needs to follow if its season is going to last another five weeks.
Starting with the first time he touched the ball Saturday night through his final offensive possession in the 67-40 victory over Cairo (Mo.) Northeast at The Pit, the senior forward attacked the rim with vigor and vengeance.
It resulted in 18 points and game MVP honors in the nightcap of the KHQA-American Family Insurance Superfan Shootout, but moreso, it served as a blueprint for how the Raiders need to play to win.
Everything goes inside-out, especially with a three-man frontcourt rotation of players between 6-foot-3 and 6-foot-8.
"If we get double-teamed inside, we can kick it out," the 6-foot-4 Connoyer said. "We can all play at the rim and be physical, but we can all pass the ball, too. Having that length and that height along with the idea to attack really helped."
With six regular-season games the next two weeks before Class 2A regional play begins, the Raiders (15-8) have the chance to firmly make this their identity.
"Coming out of this break, (QND coach Kevin Meyer) described it as like coming off two-a-days," Connoyer said, referencing the 10 days the Raiders had between games prior to the Shootout. "We just want to keep playing, keep playing well. We just need to stay aggressive."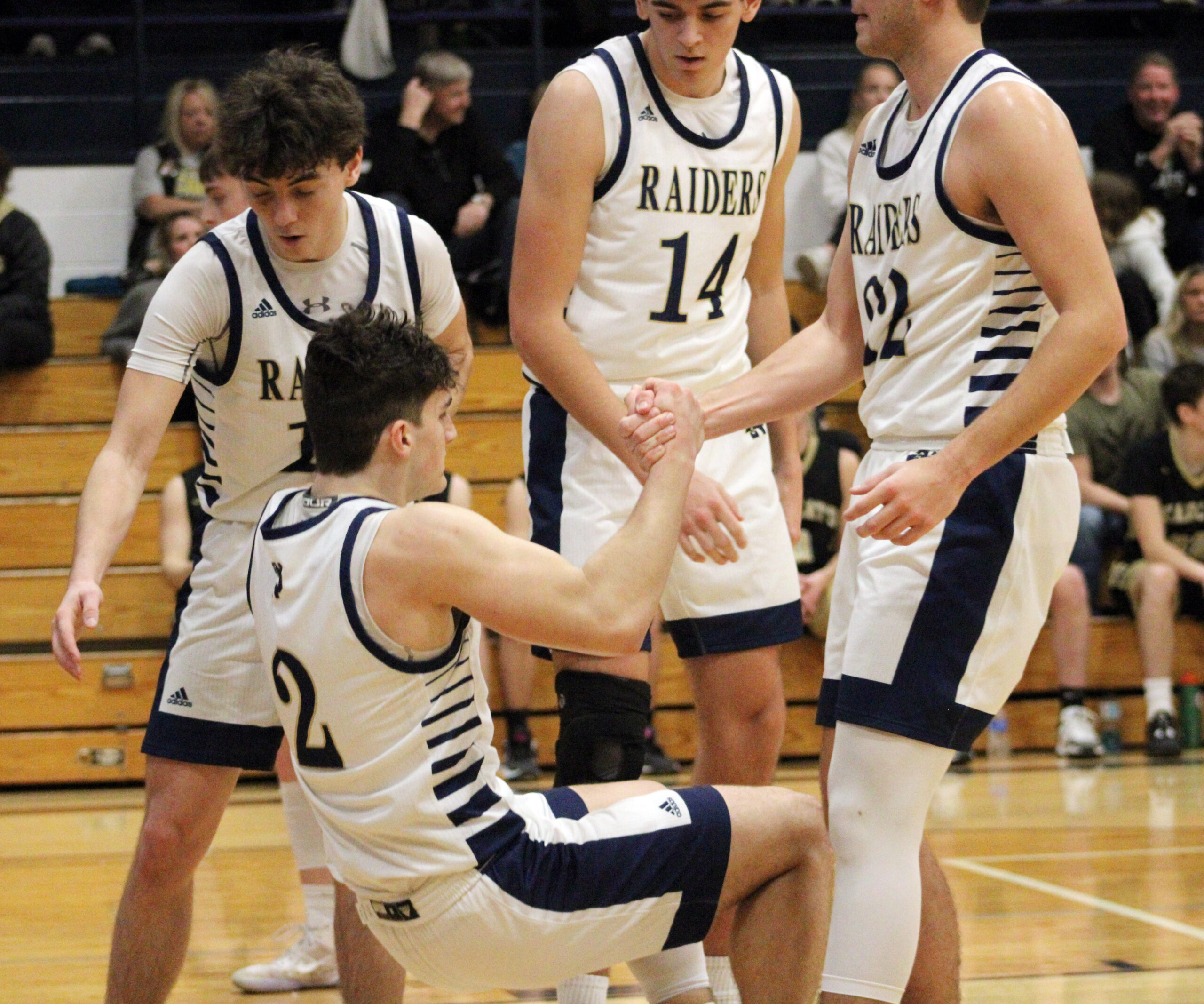 It set the appropriate tone against Northeast.
"Playing fast and getting the ball inside-out was really good for us," said senior point guard Jake Hoyt, who had 13 points.
Connoyer scored three times in the lane and Charlie Lavery hit a pull-up jumper from 12 feet in the first quarter, forcing the Bearcats to concentrate more on limiting paint touches. That allowed Hoyt and Braden Sheffield to each knock down a pair of 3-pointers in the second quarter as the lead ballooned to 34-19 by halftime.
A 27-point third quarter featuring eight field goals in the paint put the game away.
"We talked about it in pregame. We talked about it at the quarter break, We talked about it at halftime," QND coach Kevin Meyer said. "Getting paint touches is our big key. Friday night, we had 49 touches within 15 feet of the basket. Tonight, we had to have just as many.
"There were some shots we missed, but we had the mentality of get to the rim and attack."
The addition of two new bodies — 6-foot-8 senior forward Jake Wallingford in the starting lineup and a 6-foot-4 swingman off the bench in Sheffield — didn't change the game plan or the chemistry.
"A lot of good things connected on the floor," Meyer said. "This was a good weekend to see the brotherhood is still tight and we are dialing things in as we get closer and closer to the postseason."
The Raiders wanted to reiterate that for all to see.
"We wanted to come out here and show everyone what we can do and perform at a high level," Connoyer said. "Wally and BSheff have been practicing for a really long time, so it's not like anything knew happened. We've been playing together for a really long time. It's unfortunate we couldn't use them at the beginning, but in some ways, we're better off the way it happened."
Now all the pieces are in place, especially with Connoyer being the trendsetter.
"His hustle and determination in getting to the basket was huge," Meyer said. "He's a bulldog. It's easy to circle his name in the scorebook and make sure Alex Connoyer is going to play minutes. He gives everything every minute."
Miss Clipping Out Stories to Save for Later?
Click the Purchase Story button below to order a print of this story. We will print it for you on matte photo paper to keep forever.