Hoyt delivers on cue as Raiders beat Titans to capture Class 2A regional championship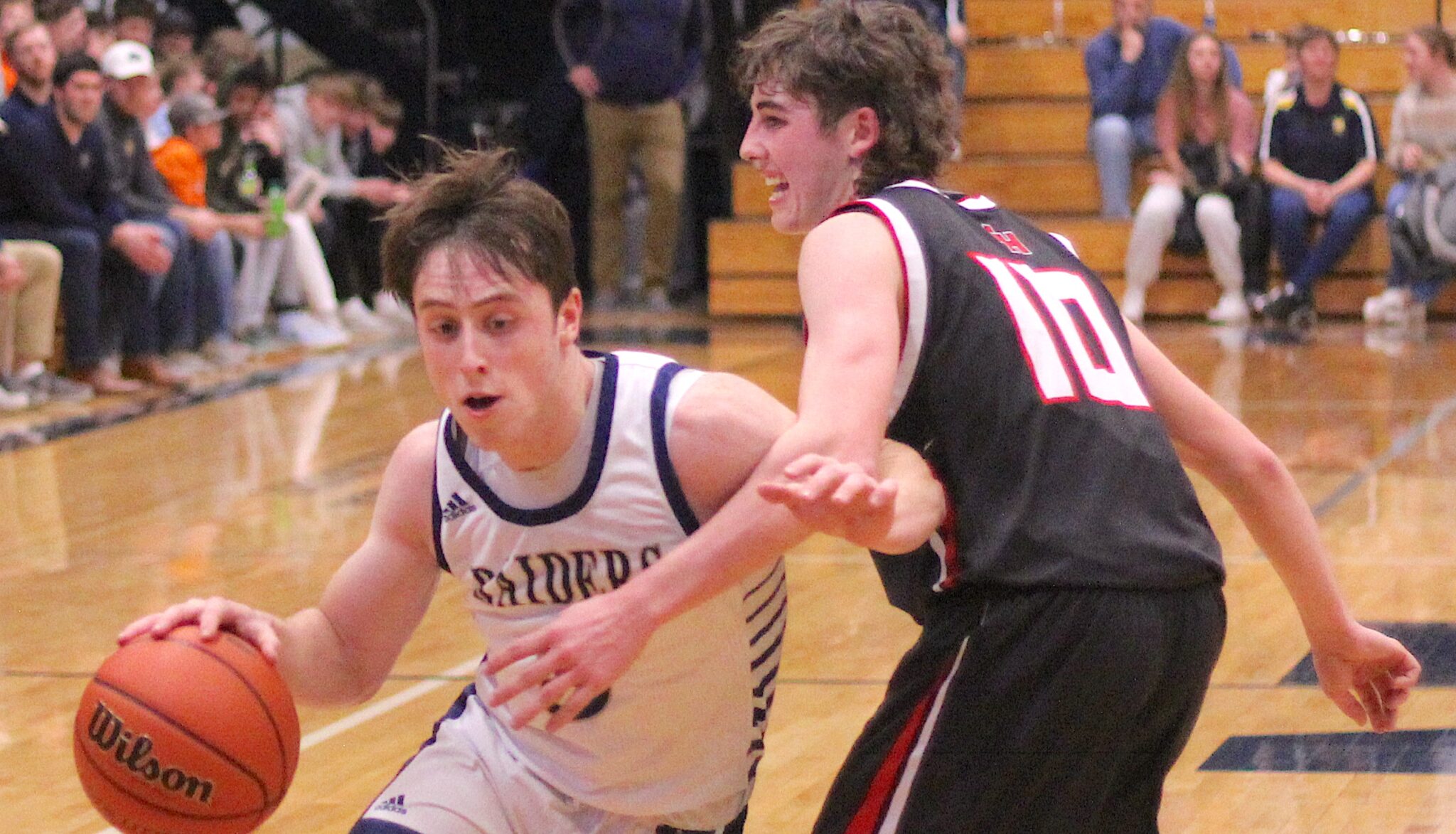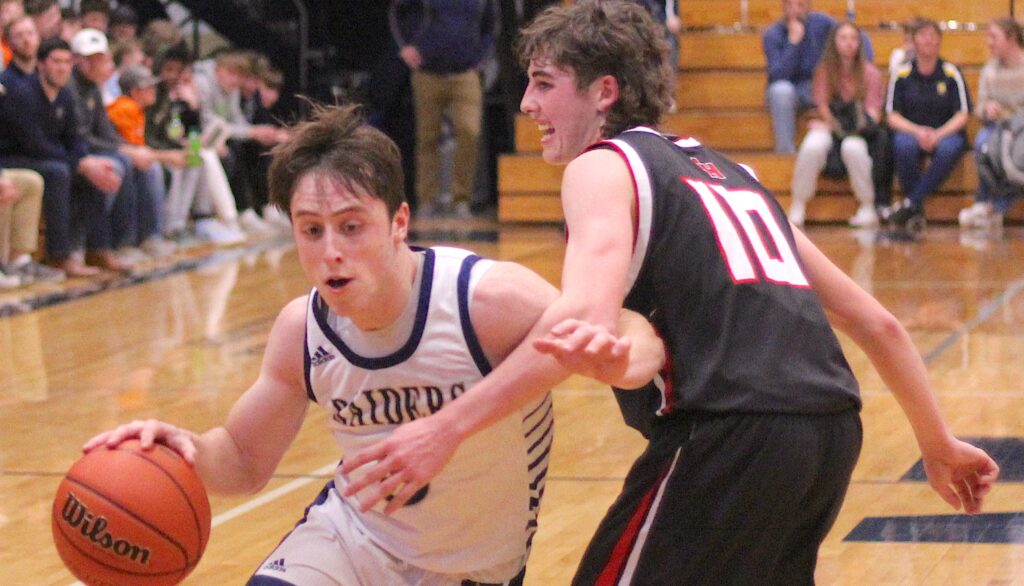 QUINCY — Jake Hoyt made sure the playful razzing he received ended with an exclamation point.
At Friday's pregame shootaround, the Quincy Notre Dame boys basketball coaches ran a set play for their senior point guard to shoot a 3-pointer and Hoyt missed the first attempt.
"We teased him a little bit," Raiders coach Kevin Meyer said. "He stayed there for four or five shots until he nailed one, and I told him coming in if they ran zone we're going to run a set (for him). We didn't get to that set, but we still got the same look, and he stepped right into it and nailed a three. I think that loosened him up."
A few hours later, Hoyt carried that free and easy mindset into the Class 2A QND Regional championship game, leading the way to a 63-46 win over West Hancock. It was the Raiders' second victory over the Titans in the last 10 nights and lifted them to Tuesday's Pleasant Plains Sectional, where they will face Normal U-High. The Pioneers won their own regional Friday night, defeating Williamsville 82-54.
Hoyt made a 3-pointer to start the game and finished with a game-high 17 points as the Raiders won their second consecutive regional title and fifth in the last eight seasons.
"(My teammates) keep trusting me and they keep giving me the ball," Hoyt said. "I got to repay them some time."
QND senior Jake Wallingford said it appeared Hoyt took the constructive criticism to heart.
"We were giving him crap at shootaround about stepping up and knocking down big threes and he sure did," Wallingford said. "He hit two or three big threes and an and-one at the end. We've got a lot of confidence in him."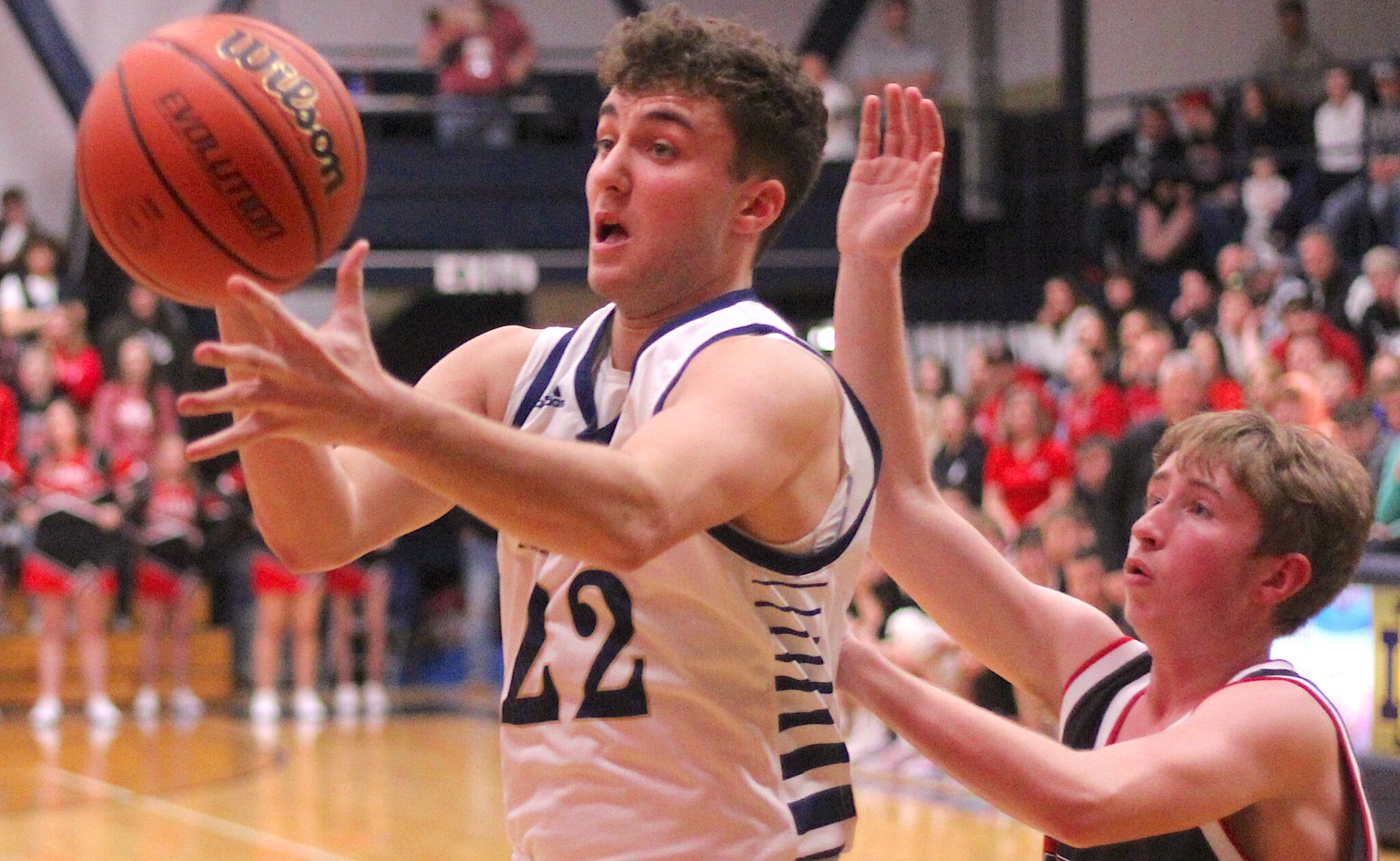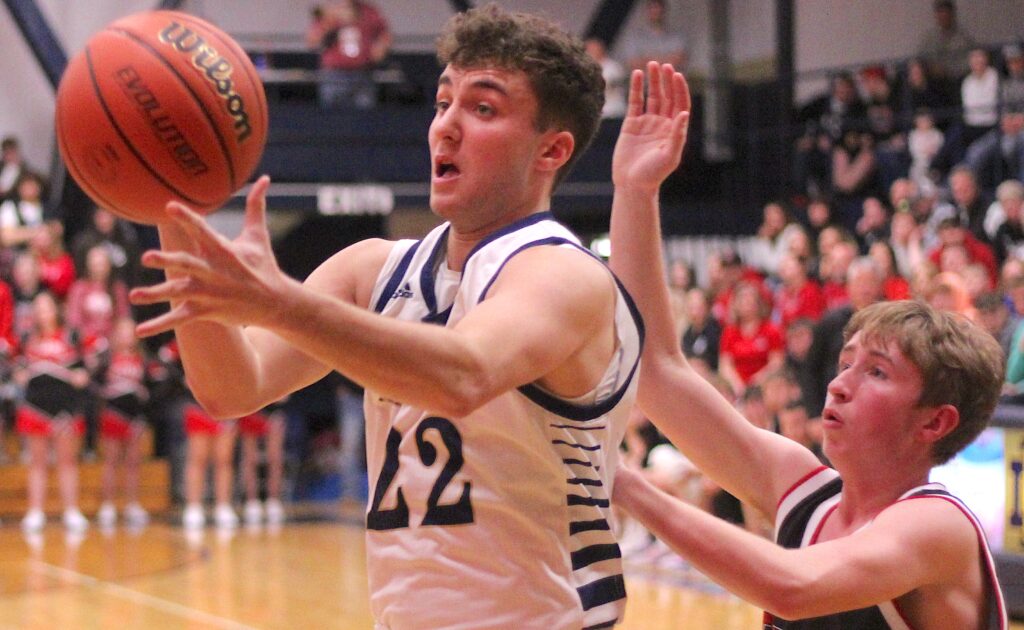 QND (23-8) led from start to finish. The Raiders had nine-point advantages at both the ends of the first and second quarters and built the lead to double digits early in the second half.
Once again, the Raiders used their muscle and length to outrebound the Titans at a two-to-one margin. QND had 28 boards compared to the Titans' 14.
"One of the big factors for us was making sure we won the rebounding part of it," Meyer said.
Wallingford, Alex Connoyer and Charlie Lavery all pulled down five rebounds, while Jackson Stratton and Braden Sheffield tallied four boards apiece.
"Coach Meyer said we needed to outrebound them like we did last week," Connoyer said. "Don't get outworked. Don't get outhustled. Just go get the ball."
Wallingford said it was a team effort.
"We knew coming in it was going to be a dogfight," he said. "We knew it was going to be scrappy and we were going to have clean up the boards and close out on threes and I think we did a good job of it."
West Hancock (24-9) missed all of its 3-point attempts in the first quarter. The Titans settled in a bit and made nine 3-pointers in the final three quarters but turned the ball over 12 times.
"We didn't rebound very well. We gave up a lot of offensive rebounds," West Hancock coach Jeff Dahl said. "Then at the end, in the fourth quarter, when we made a couple shots, we weren't patient enough to get a good shot after that and we turned it over."
Alec Hymes led West Hancock with 12 points, and Bryan Gerhardt contributed 10 points and added four assists.
"It sucks losing and it sucks not playing another game with my seniors, but we had 24 wins and two tournament wins. That's pretty good," Dahl said.
The Raiders had two other players in double figures as Connoyer had 15 points and Wallingford pitched in 12 points, including 10 in the second half. Stratton finished with eight points and three assists.
QND's 17-point margin of victory could have been more. The Raiders struggled at the line converting only 11 of 27 free throw attempts.
"We've got to get better and make some free throws down the stretch," Meyer said.
The Raiders extended their winning streak to 11 games, all of which since Wallingford and Sheffield returned to the lineup, and capped off an 11-2 record at home this season.
"I'm pretty happy. I've got chills going through my body," Connoyer said. "This place is special and to win the last game that I'll ever play here, and get a regional plaque, is amazing."
Hoyt was at a loss of words as he reflected on walking out of The Pit for the last time.
"This place is my home. I'll remember that forever winning a regional championship on my home floor," he said. "It's something special."
Miss Clipping Out Stories to Save for Later?
Click the Purchase Story button below to order a print of this story. We will print it for you on matte photo paper to keep forever.