'Go left no matter what': Fohey's save on final PK attempt lifts Blue Devils to regional semifinal win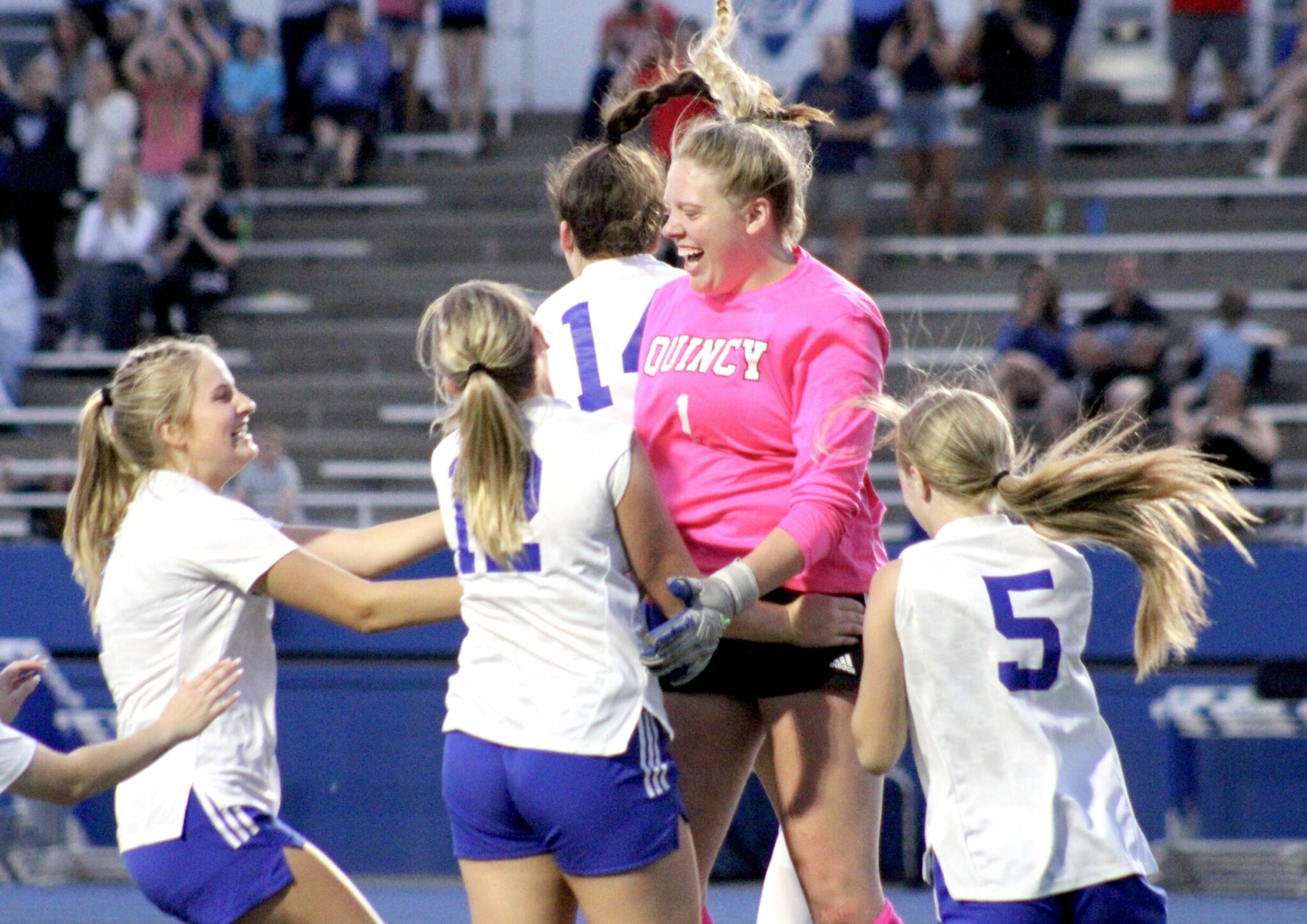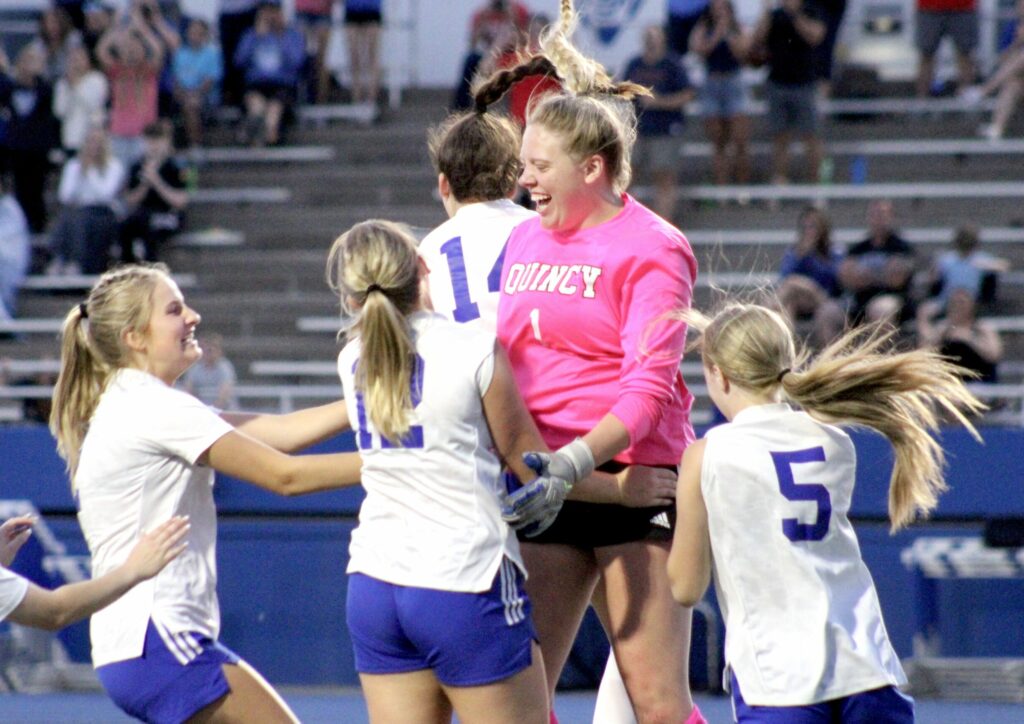 QUINCY — With a choice to make — left or right — Taylor Fohey kept hearing what Quincy High School assistant girls soccer coach Chad Struck had to say.
"He said, 'Go left no matter what,'" Fohey said. "I trusted him."
So left she went.
The QHS junior goalkeeper looked at how Granite City's Peyton Hatfield lined up to attempt the Warriors' fifth and final penalty kick in a shootout in Tuesday night's Class 3A Quincy Regional semifinal, heard Struck's words ringing in her head and made her decision. 
Fohey dove to her left, positioning herself perfectly to kick and bat the ball away. By making the save, she sent the Blue Devils to Friday's regional title game with a 2-1 victory at Flinn Stadium.
"For her, this is a night you never forget," QHS junior midfielder Bri Lannerd said. "She's now my favorite person in the entire world, and I don't think you can have a better performance than what Taylor had tonight."
Fohey made three saves in the shootout, while QHS's Breighlyn Thomas and Rian Moore both made PKs for a 2-1 shootout victory after the teams played to a 1-1 tie after 80 minutes of regulation and 20 minutes of overtime.
It was tied in large part to Fohey, who made 12 saves total, including a crucial one late in the second overtime period when Granite City's Madison Vasiloff split two defenders and laced a shot toward the far post. Fohey punched the ball to the wide side of the field and the Blue Devils cleared it.
"Oh, my gosh, Taylor's my best friend," senior center back Anna Morrison said. "Her saves set the pace for the whole team and made us more confident in ourselves."
With the Warriors controlling a significant amount of possession in the first half and limiting the Blue Devils to just two shots over the first 40 minutes, Quincy (13-4-3) was in search of a confidence boost.
It came early in the second half when Thomas made a hard-charging run up the left wing, chasing down a Fohey punt and getting fouled. Moore drove the subsequent restart into the box, and the Warriors knocked it out of bounds to give the Blue Devils a corner kick.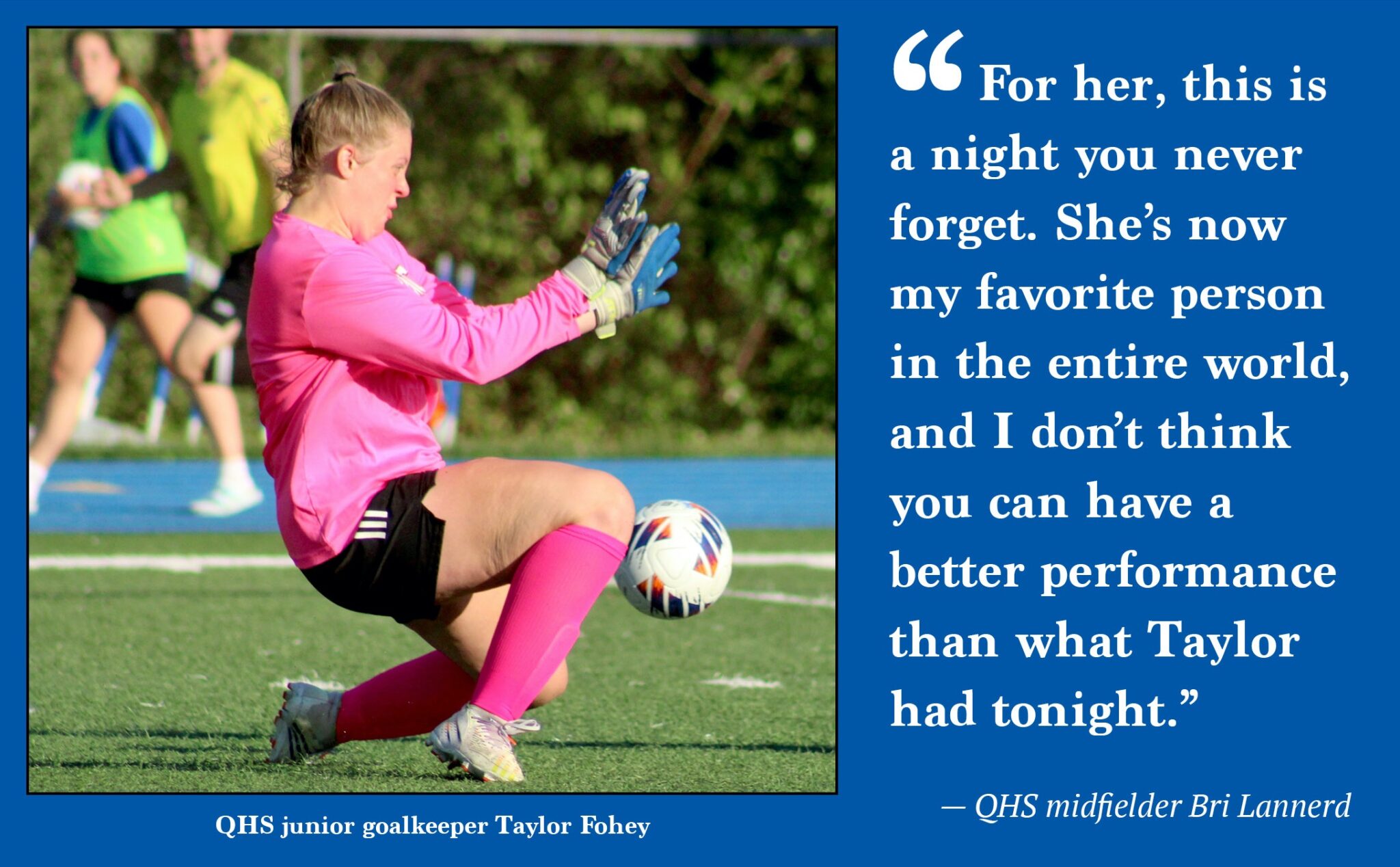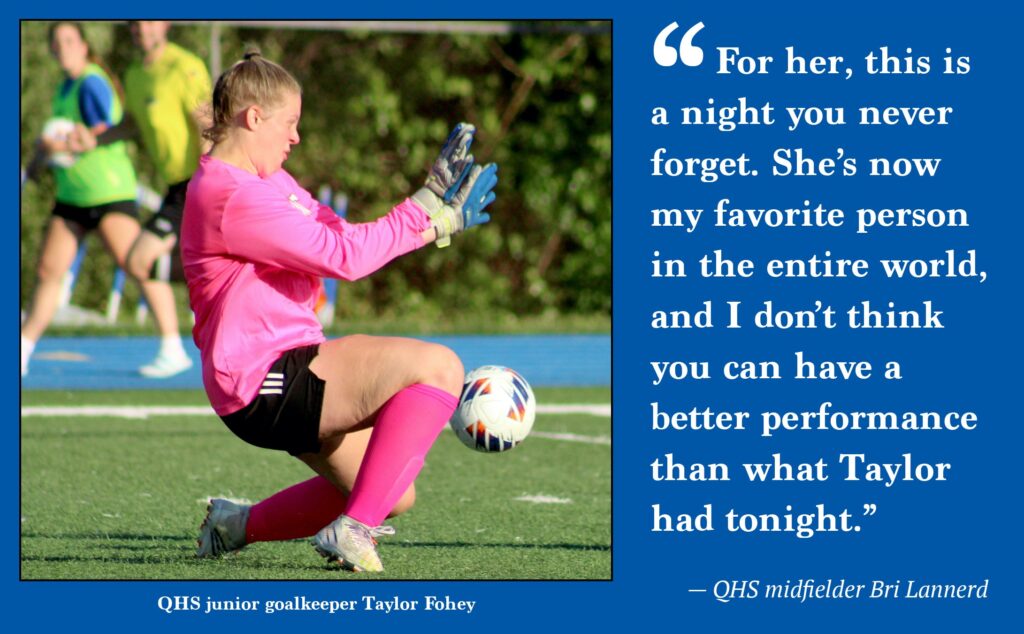 Moore sent the corner toward the back post, where Lannerd won the ball in the air and drove a header into the back of the net for a 1-0 lead three minutes into the half.
"It obviously gave us momentum. Every goal you score gives you some momentum," Lannerd said. "And it also put it in the back of our minds that we can do this, we're in this game and we can beat them."
Thomas' run met the challenge QHS coach Travis Dinkheller made at halftime to raise the intensity.
"It kind of ignited us and we were like, 'Let's get after this. Let's get going,'" Dinkheller said. "And then a great corner and a great finish, a great service and a great goal."
Seven minutes later, the Warriors tied the game by scoring off a rebound. They had two other quality chances in the second half, hitting the crossbar with 28 minutes to play and then hitting the post and missing the rebound with 25 minutes to go.
"In the first half, we were a little down, but we picked ourselves up," Morrison said. "We knew it was going to come down to this at the end."
And like the Blue Devils came to expect on this night, Fohey gave the Blue Devils the edge. Granite City went first in the shootout with Fohey diving to her right to stop the shot by the Warriors' Savanhna Khammanyvong.
"I think that set the tone for our girls, a little sigh of relief for everybody," Fohey said.
Thomas attempted Quincy's first PK and drove it into the right side of the net for the lead.
"Think of it like it's normal, like practice," Thomas said. "Do what I usually do and it works every time."
Having the lead was important.
"As important as it could be," Thomas said.
Both teams missed their second attempts and both made their third. After both missed in the fourth round, it came down to Fohey against Hatfield, the Lindenwood-bound midfielder. Fohey smothered the shot.
"I try not to guess as much, because I guessed on one and went the wrong way," Fohey said. "I try to focus on the angle of their hips. If they line up a certain way, I can tell which way they're going most of the time. Some of the girls use eyesight by staring at where they're going, but it doesn't work. I let them think I see where they're going.
"Reverse psychology. I got 'em."
After she got the last one, she paused briefly.
"Just had to take it all in," Fohey said. "A little second to myself before I get pummeled."
And she did, consumed by her teammates in a raucous celebration.
"I can't believe this could have been my last game tonight," Morrison said. "I'm so thankful it's not. Our group has a great opportunity."
The fifth-seeded Blue Devils will face second-seeded Edwardsville at 5 p.m. Friday at Flinn Stadium, a place where the Blue Devils have not lost this season.
"It gives us a big upperhand," Fohey said. "We're comfortable here. This is our home field. We're not ready to be done."
Miss Clipping Out Stories to Save for Later?
Click the Purchase Story button below to order a print of this story. We will print it for you on matte photo paper to keep forever.