Formidable front: Blue Devils' defensive line putting clamps on opposing rushing attacks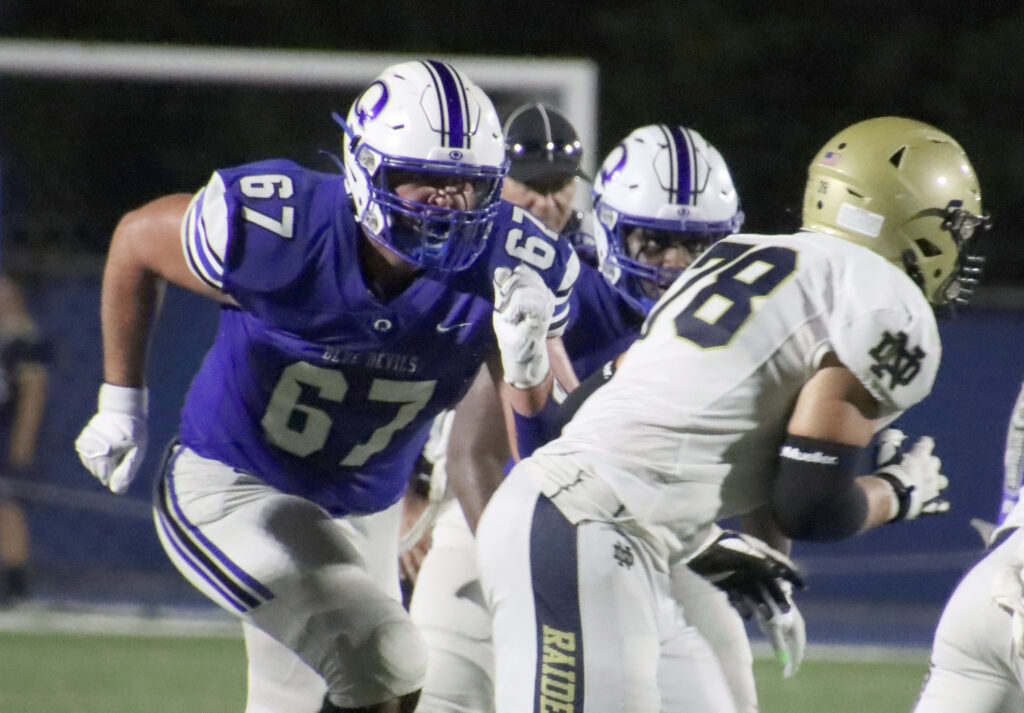 QUINCY — In the middle of watching Jeraius Rice run wild and the Quincy High School football team put on another offensive showcase, it was easy to overlook just how dominant the Blue Devils' defensive front had been.
That was until you took a glance at the stat sheet.
In last Friday's 40-6 victory at Alton, the Blue Devils allowed just 4 yards rushing. The Redbirds averaged just .29 yards per carry and six of their 14 carries went for negative yards. The Blue Devils also had three sacks and a forced fumble.
Overall, Quincy has allowed just 53 yards rushing in its two victories, catapulting the Blue Devils into the Class 7A state poll at No. 9.
"I would say confidence is high, but not too high," senior defensive lineman Ryan Mast said. "We're a pretty down-to-earth team. We know what we have to do, and we keep it in our heads every week that we're just going 1-0 every week until it's all over."
Run-stopping efforts that mimic the performance against Alton will go a long way to doing that.
"I thought our entire defensive line was ready to pursue and do a better job getting off the ball," junior defensive lineman Demarius Deverger said. "We are quick off the ball."
That's why the first two opponents are averaging just 1.5 yards per carry.
"Everybody talks about the shiny toys we have, but those guys get it done," QHS coach Rick Little said. "I would not want to block them for 48 minutes. I would not want to line up and block them for that length of time. That's where we hang our hat. We hang our hat up front."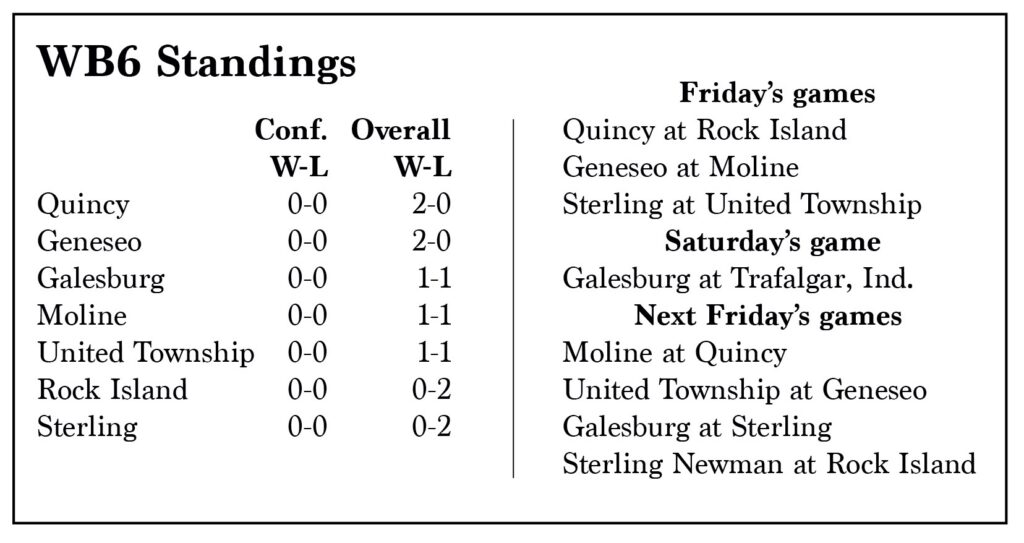 The Blue Devils will need to be stout up front to handle the Western Big 6 Conference slate.
"We know there are some run-heavy teams in the Western Big 6, so rushing yards is a stat we want to continue emphasizing and keep down," Mast said.
The Blue Devils open WB6 play Friday night at Rock Island, looking to set the right tone for a championship drive. The Rocks have won more conference titles (17) than any team in league history and often have been the bully on the gridiron.
"If we start off on a win, it boosts our morale and it kind of sends a message to the rest of the teams that we're not here to mess around and we're here to win," Deverger said.
With that said, none of the Blue Devils want to get too far ahead of themselves.
"This week, and we say it every week, this is the biggest game of the week," Mast said. "Obviously, we've played two games already, but it kind of feels like we're at the start of the season with the start of conference play.
"This game might not win us a conference title, but it could lose us a conference title. We can't underestimate any team, especially Rock Island."
Defensive coordinator Eric Gauer preaches that performance matters more than praise.
"He's told us we need to live up to that and not just say words and claim that title and then not prove it out on the field," Derverger said.
The Blue Devils are proving capable of being stout. The three cornerstones up front — the 6-foot-2, 260-pound Deverger, the 6-foot-5, 270-pound Mast and 6-foot-5, 265-pound sophomore Todd Smith — have combined for 11 tackles, three sacks and a fumble recovery.
The rest of the rotation — Kolton Smith, Keegan Wheeler, Noah James, Nathan Konrad and Kamryn Flachs-Hill — is unrelenting as well.
"They're not just big. They have good motors," Little said. "They have really good motors."
It feeds in to Gauer wanting this defense to be aggressive.
"He wants us to leave it all on the field," Mast said. "We drill on assignments constantly. We've had our playbook set since July, so the repetition is paying off. Leaving it all on the field is a big deal, as is knowing we're running the plays right every time. That muscle memory is key."
So is the camaraderie and respect the linemen have for each other.
"We need to encourage each other and put in the work on the field," Deverger said.
When they do, the Blue Devils' defensive front becomes a wall, just the way it did against Alton.
"We were just proud that our guys could get that done," Mast said.
If that's not immediately recognizable, that's OK.
"I don't really need praise," Mast said. "My praise is winning games. Knowing that we're holding teams to six and 12 points in a game, that's my praise."
Miss Clipping Out Stories to Save for Later?
Click the Purchase Story button below to order a print of this story. We will print it for you on matte photo paper to keep forever.