'Every week is a business trip': Caravan stay focused on title pursuit in dismantling Blue Devils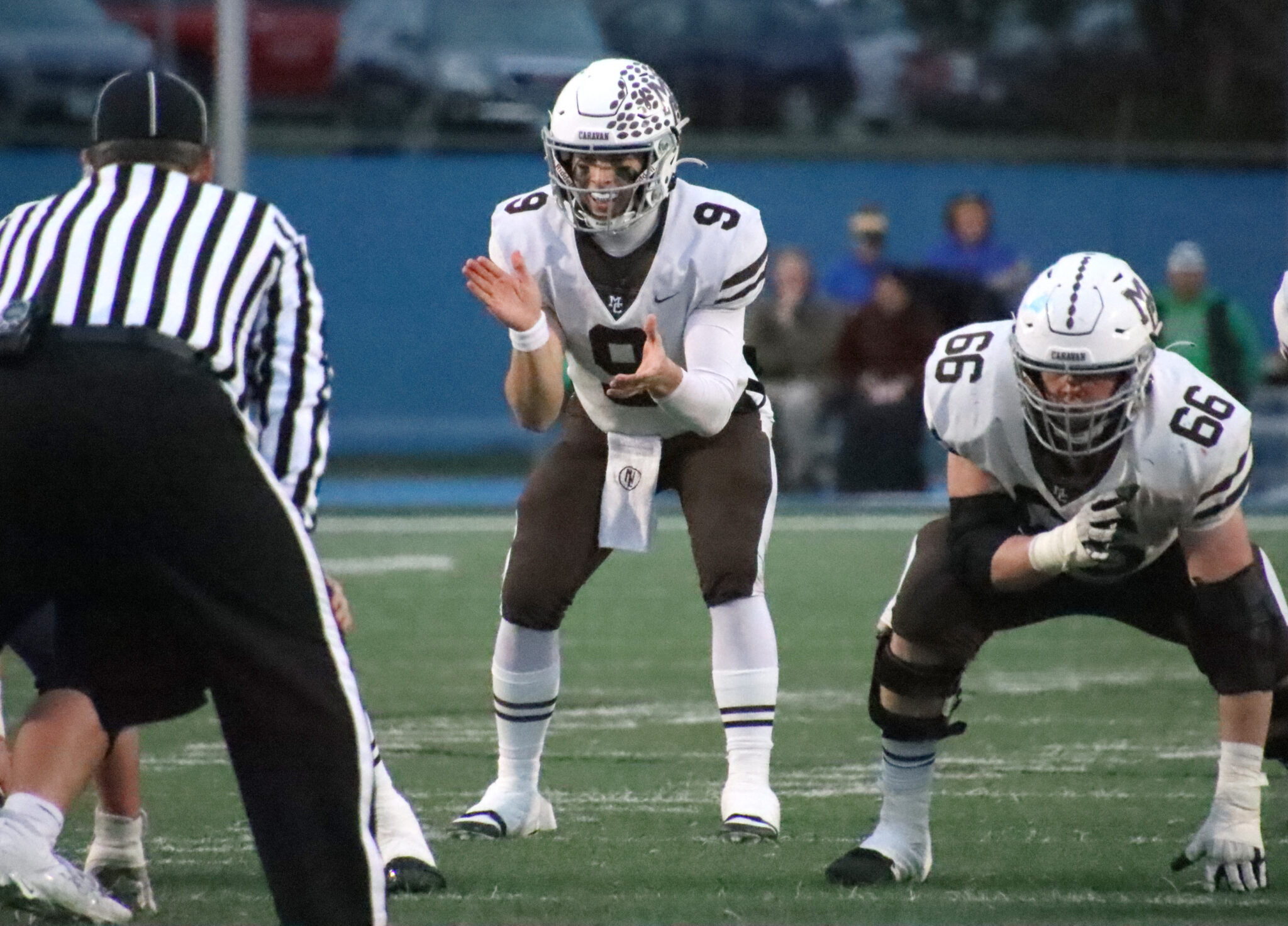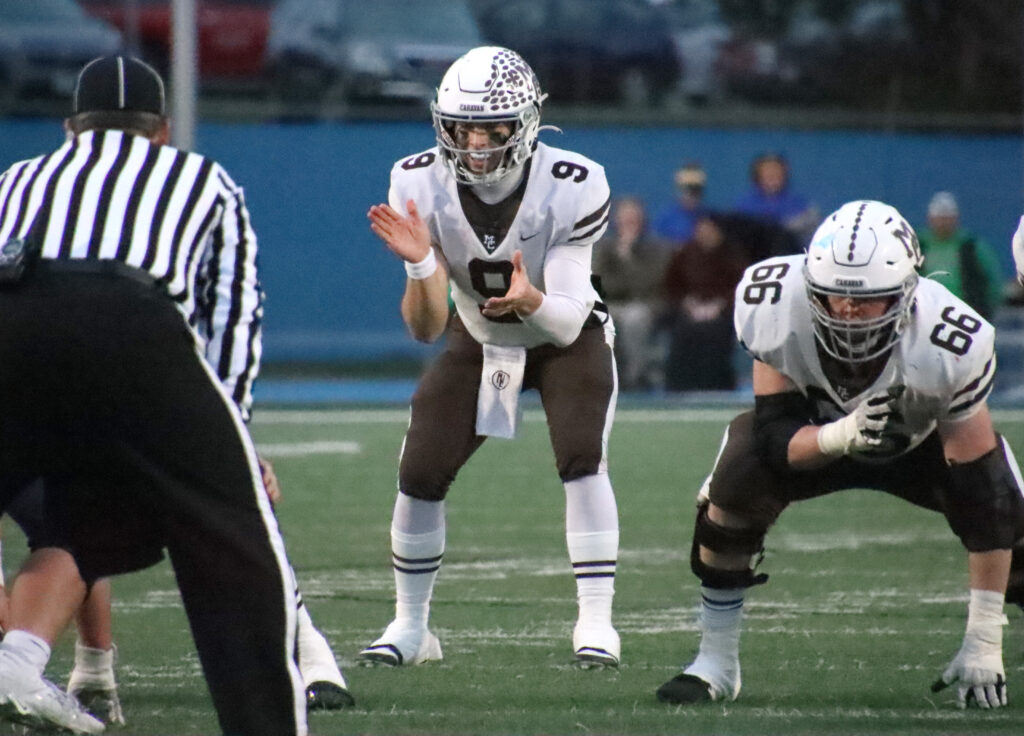 QUINCY — Traveling to Quincy to play a quarterfinal-round playoff football game was just another business trip for Chicago Mount Carmel quarterback Jack Elliott.
It was just longer than most.
"Every week is a business trip, whether we're home or away," the 6-foot junior said. "This one was five hours. It's a long way, but we're a pretty loose team and we came in and handled our business. We have to do that again next week and the week after."
Handling their business for two more weeks would put the Caravan in position to repeat as the Class 7A state champions. And based on their performance against Quincy High School on Saturday at Flinn Stadium, there's no reason to bet against the state's top-ranked team.
Elliott completed 18 of 23 passes for 369 yards and connected with five different receivers for touchdowns in the first half to propel Mount Carmel to a 47-0 lead en route to a 61-14 victory over the Blue Devils.
The Caravan, 11-1 and winners of 25 of their last 26 games, will face Batavia in the semifinals as they seek their 15th state title.
The ease with which Elliott carved up the Quincy secondary was stunning, and it put the game out of reach early.
He capped the Caravan's opening 10-play, 76-yard drive with a 2-yard scoring pass to Brayden Jordan. He followed that by scrambling to his left out of the pocket to avoid pressure to hook up with Darrion Gilliam down the left sideline for a 60-yard score.
Elliott then zipped a 15-yard pass across the middle that Darrion Dupree juggled and then caught while falling to the ground in the end zone to make it 21-0 with 1:34 left in the first quarter.
He tossed two more touchdowns in the final two minutes of the half against Quincy's beleaguered secondary — the first a 42-yarder that 6-foot-2 Kevin Gardner went up in a crowd in the end zone to haul in and the second a 16-yarder to Maurice Densmore streaking across the back of the end zone.
With that, Elliott's day was finished.
"We didn't know what to expect," he said. "They're a talented team on film, and we had to give them respect. We took what they gave us, and we've got so many weapons."
Mount Carmel entered the game planning to lean on Dupree, a 5-foot-10, 190-pound senior running back who has committed to Wisconsin — one of several Caravan players who have drawn interest from Division I college recruiters.
"Out of the 10 plays on our first drive, I think (Dupree) touched the ball eight or nine times," Mount Carmel coach Jordan Lynch said. "We were at the game with Wheaton (North), and that's a tough spot to play. So, we had a lot of respect for them going into the game and wanted to lean on our seniors.
"Then we noticed they were kind of light in the box, so we started pitching and catching using some of our bubble screens on the edge to get us going. Then, before you know it, we had everything going for us. We're gonna take what the defense gives us.
"We love getting our athletes the ball in space. It makes me a better coach. And when you've got No. 9 (Elliott) as your decision-maker, he's going to get you in the right spot and make the right read."
Record-setting Quincy quarterback Bradyn Little was not as fortunate.
Under pressure for most of the first half, he threw for only 143 yards and was picked off three times. He hooked up with Adon Byquist for a 54-yard touchdown in the second half, his 45th of the season, and finished with 23 completions on 38 attempts for 226 yards.
"The kid is a great quarterback, he's well coached and he can do multiple things," said Lynch, a Heisman Trophy finalist in 2013 as a quarterback at Northern Illinois University who later had stints with the Chicago Bears in the National Football League and the Edmonton Eskimos of the Canadian Football League.
"Our defensive front is pretty good, and we got a lot of pressure with our scheme. Anytime you can get a rush on the quarterback, it's tough for a 16- or 17-year-old kid to operate in the pocket."
Mount Carmel lived up to its billing by dominating every phase of the game. It shut down an explosive Quincy offense that had been averaging 44.7 points per game.
The Caravan limited Little's favorite target, speedy wide receiver Tykell Hammers, to three catches for minus-1 yard. Hammers entered the game with 73 receptions for 1,023 yards and 15 TDs.
Meanwhile, running back Jeraius Rice found little room to operate until scoring on a 17-yard burst in the third quarter when most of Mount Carmel's starters had departed. He finished with 56 yards rushing on eight attempts, which moved him past the 1,600-yard mark for the season.
Miss Clipping Out Stories to Save for Later?
Click the Purchase Story button below to order a print of this story. We will print it for you on matte photo paper to keep forever.