Edwardsville's goal in final minute results in heart-breaking loss for QHS girls soccer team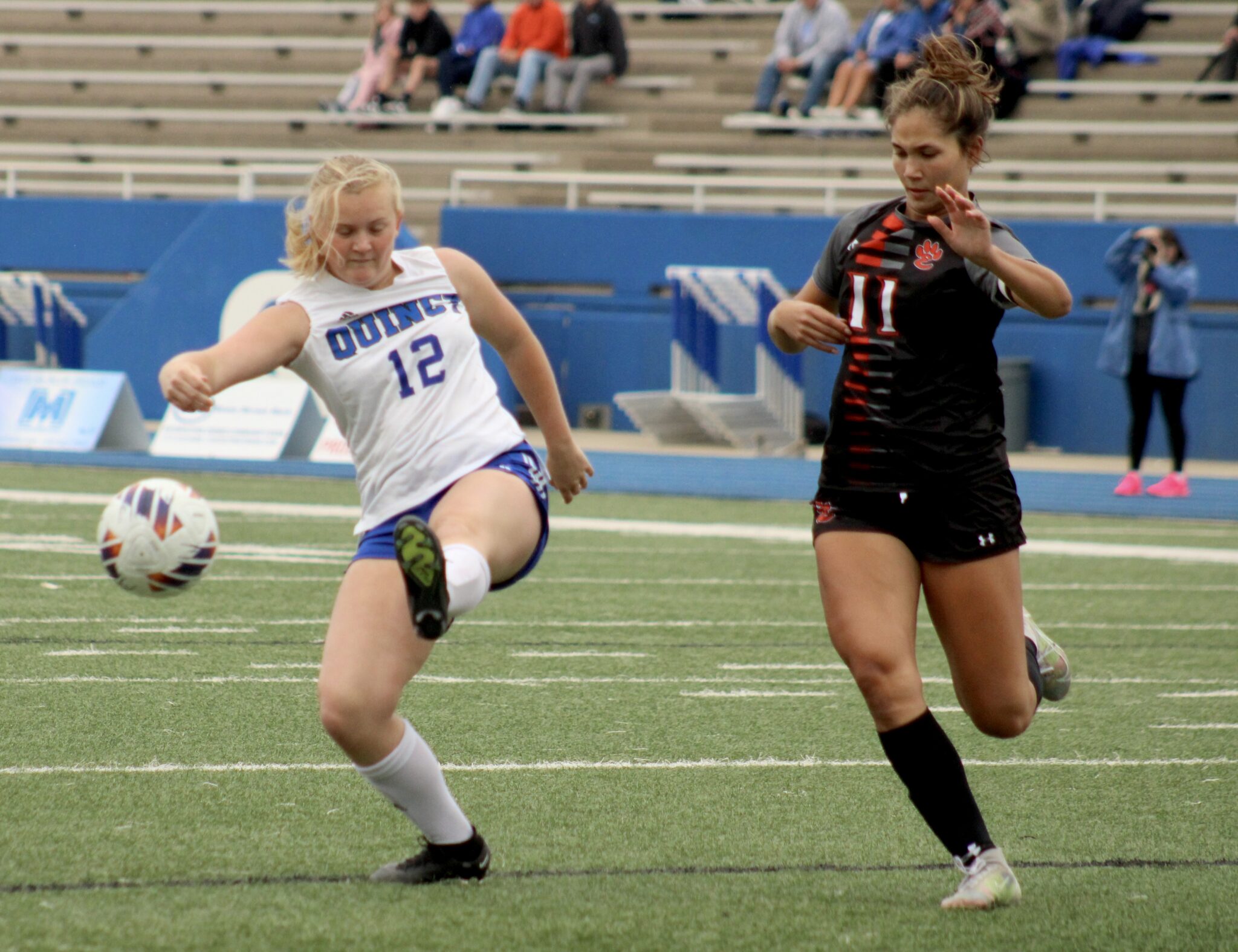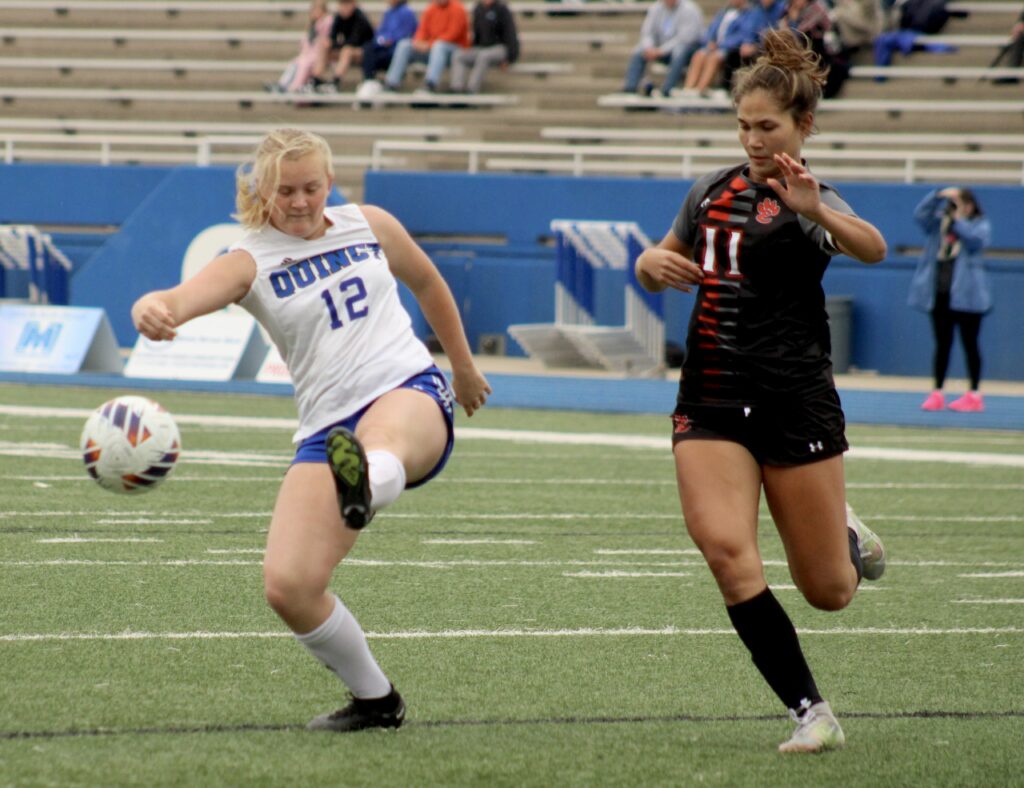 QUINCY — Travis Dinkheller offered all he could.
A hug. A pat on the back. An "I love you" to his players.
Those things matter in due time. In the moment, it's difficult to see past the tears of a season-ending loss, especially one that happened in such heart-breaking fashion.
The Quincy High School girls soccer team held Edwardsville scoreless for nearly 72 minutes, rallying to forge a 1-1 tie with overtime looming in the Class 3A Quincy Regional championship Friday night at Flinn Stadium. Then, with 29.5 seconds to play, the Tigers' Ulla Sharpe found herself on the fortunate end of a bouncing ball and buried a shot to give Edwardsville a 2-1 victory.
"It hurts," said Dinkheller, the veteran QHS coach whose team finishes with a 14-5-3 record. "Our girls worked really hard, so I hate it that this is how it ends for them. That's what hurts. You don't want to see them go out like that. It hurts to say goodbye to this group and this team."
Meanwhile, Edwardsville (19-3) advances to the semifinals of its own sectional and will face O'Fallon (16-3-1) at 4 p.m. Tuesday.
"Thank God," Tigers coach Abby Federmann said of what went through her head when the goal was scored. "At this point in the season, you don't want to go into overtime. I know Quincy just had to deal with it. We're the walking wounded. Everybody is. We're exhausted. You don't want to put those extra minutes on those girls. You just don't. So it's like, 'How can we avoid it?'"
Kylie Peel's ankle injury with 4:48 remaining in regulation forced Federmann to make a tough decision, and she decided to move Sharpe into the attack.
"She's one of our standout defenders," Federmann said. "I kind of pushed her forward because I wanted to score a goal, and if there is anybody in back that I know that can do it, it's her. Man, she was in the right place at the right time."
The Tigers earned a throw-in with 40 seconds to play and put the ball into the box. Although they were forced to recycle the possession to about 20 yards from the goal, a ball chipped into the goal mouth wasn't cleared and bounced in front of three Edwardsville attackers.
Sharpe pounced on it first, hammering a shot to the left of Quincy goalkeeper Taylor Fohey.
"She's one of those calm, collected players and if she has the opportunity she's going to be able to finish one off," Federmann said of Sharpe. "And she did."
It stunned the Blue Devils, who had shut out the Tigers after surrendering an early goal.
"You start thinking about overtime and then that happens," Dinkheller said. "You don't expect it."
Edwardsville's first goal was somewhat unexpected, too.
Seven minutes, 45 seconds into the game, Edwardsville had a throw-in from the left side that bounced in the box, wasn't won by either the Tigers' Brynna Archer or the Blue Devils' Ava Soltwedel and rolled into open space 15 yards from the goal.
Unmarked, Tigers forward Olivia Baca ran onto it and lasered a right-footed shot into the upper right corner of the net for her 26th goal of the season and a 1-0 lead.
"We were on our heels there for a bit," Dinkheller said.
The Blue Devils avoided falling further behind despite the Tigers' persistent attack. Quincy managed just two shots on goal in the first half — neither until 18 minutes remained before halftime — but went to halftime trailing 1-0.
A spirited halftime discussion led to more forceful attack from the Blue Devils, resulting in a penalty kick less than four minutes into the second half. Quincy midfielder Rian Moore buried the PK into the left side of the net to tie the game at 1.
"We came out with a different fire and a different intensity," Dinkheller said. "They showed a lot of heart and determination with how they played in the second half."
They also played more physical.
"Playing against Quincy is always tough," Federmann said. "They are such a physical team, and it disrupts how we play a little bit. We just have to figure out how to work through that adversity a little bit quicker. I feel we dominated much of the game when it comes to the soccer, but the physicality is something we have to adjust to."
Miss Clipping Out Stories to Save for Later?
Click the Purchase Story button below to order a print of this story. We will print it for you on matte photo paper to keep forever.