Connection to history: Evans sets up Anderson for record-breaking, game-winning goal in crosstown showdown
QUINCY — Consider it intuition or a sixth sense if you will, but some sort of extrasensory perception enables Brock Evans to know where, when and how to get Tanner Anderson the ball.
"Every time Tanner yells, I know where he's going to be even if I don't see him," the Quincy Notre Dame senior midfielder said.
When Anderson hollered late in Thursday night's game, Evans responded on cue.
History unfolded with their connection.
With four minutes remaining in a tie game against Quincy High School at Advance Physical Therapy Field, Evans took a pass from Anderson, held the ball momentarily and then drove a left-footed pass from 25 yards out deep into the box near the right post.
Having curled away to get behind the defense after his pass, Anderson met Evans' ball with a sliding right-footed volley, redirecting it into the upper part of the net to give the Raiders a 4-3 victory in the first of two crosstown showdowns this season.
"I put it right where I thought he'd be," Evans said. "I didn't know how close it was until I saw some of the videos. And when I saw the videos, I did not think he was making that shot.
"Oh, my gosh. It is unreal."
At that moment, he didn't realize the historic nature of the goal either. It was Anderson's 80th career goal, moving him past his older brother, Seth, as the Raiders' all-time leading goal scorer. Anderson has 15 goals in the Raiders' first seven games.
"It wasn't even in my mind when he scored that one it was record breaking," said Evans, who assisted on all three of Anderson's goals. "I was just thinking, 'Let's gooooo.' Then when they announced it, I was like, 'Oh, my gosh, that's even better.' A really cool moment for that kid."
Having it punctuate another remarkable chapter in the city rivalry made it almost surreal.
"To break the record on that type of goal is super special," Anderson said.
It's one that will be remembered.
"It was probably one of my best goals at Notre Dame so far," Anderson said.
There have been more than anyone else. Ever.
"He's a great player," QND coach Greg Reis said. "I enjoy watching him. I was fortunate to be able to coach him when he was a little guy, and you could tell back then he was going to be special. I've always said if you're the second brother and you've had an older brother who plays the same sport that pushes you and competes against you, there's always a chance for you to be really, really special.
"To Tanner's credit, he does a lot on his own. He works his butt off on his own. That puts him in the situation to be the player that he is. He's put himself in great soccer situations. I couldn't be more proud of him. For him to get it done this early in the season is awesome, and he can keep setting the bar higher and higher for everybody else to chase."
His place in history was nearly put on hold by another younger brother making a name for himself, too.
QHS's Carter Venvertloh, whose two older brothers — Zach and Ethan — were all-staters, helped the Blue Devils (4-2) overcome a pair of two-goal deficits as he scored in the 21st and 55th minutes. QHS erased the deficit entirely when Garrick Homan fought through some defensive pressure and scored the equalizer with eight minutes remaining in regulation.
"They showed a lot of character and resiliency to bounce back from being 2-0 down and clawing their way back into the game," QHS coach Ron Bridal said. "Our kids continued to work until the end and still had chances."
Instead of fretting at that point, the Raiders (6-1) regrouped and attacked.
"I can tell you one thing for sure," Evans said. "When we get knocked down, we try to stay positive, get our heads back up and come back stronger. Just because they tied the game doesn't mean we should keep our heads down and start thinking, 'Oh, we're going to lose.'
"We got our heads back up, started pushing forward, got the ball up the field more. All the lines came into focus and we got the ball into the box and ended up getting one in the net."
It's one that won't be forgotten.
"It was a special one," Anderson said.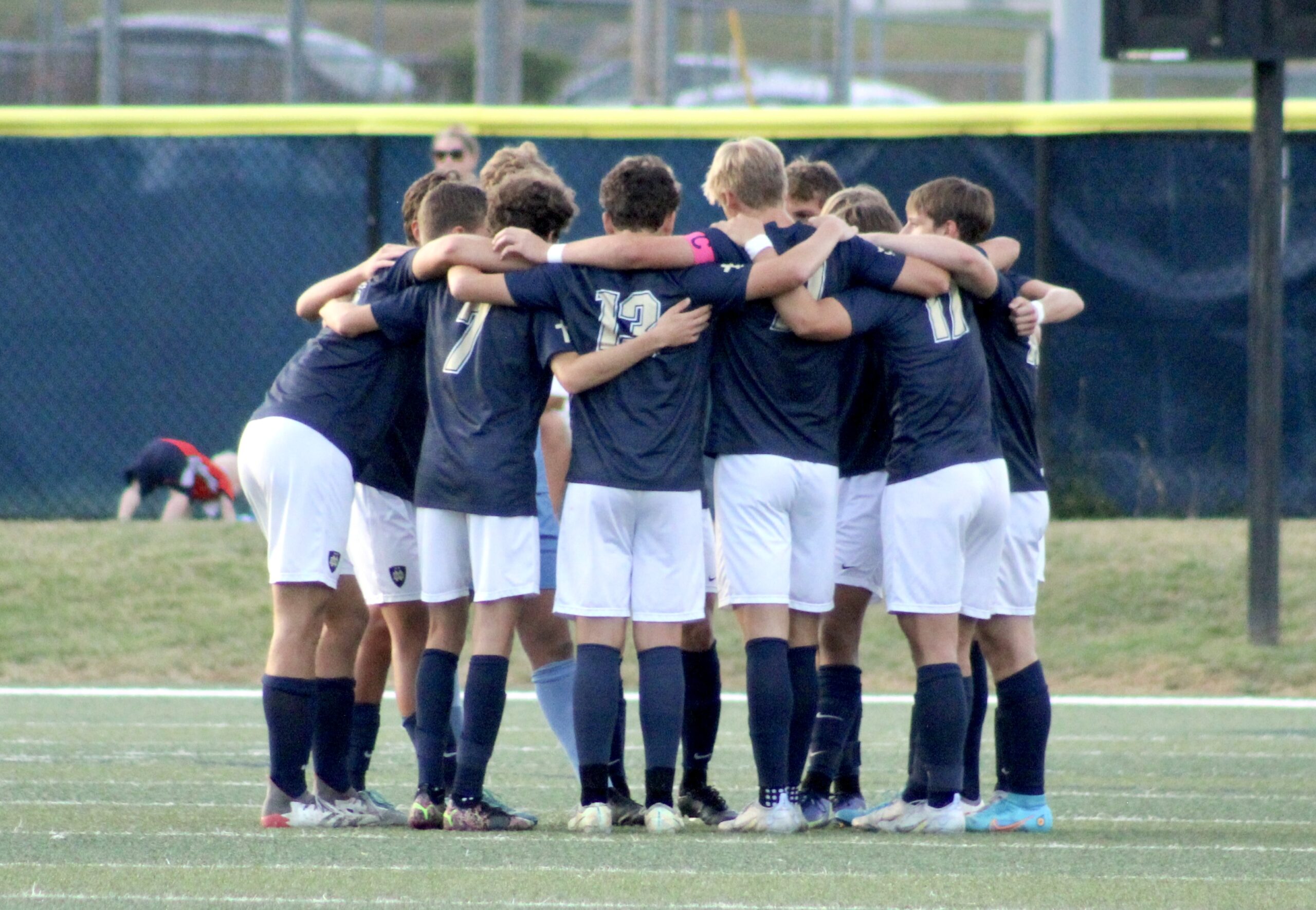 Miss Clipping Out Stories to Save for Later?
Click the Purchase Story button below to order a print of this story. We will print it for you on matte photo paper to keep forever.