Championship aspirations: Depth, talent, know-how give QND baseball players confidence they can chase state title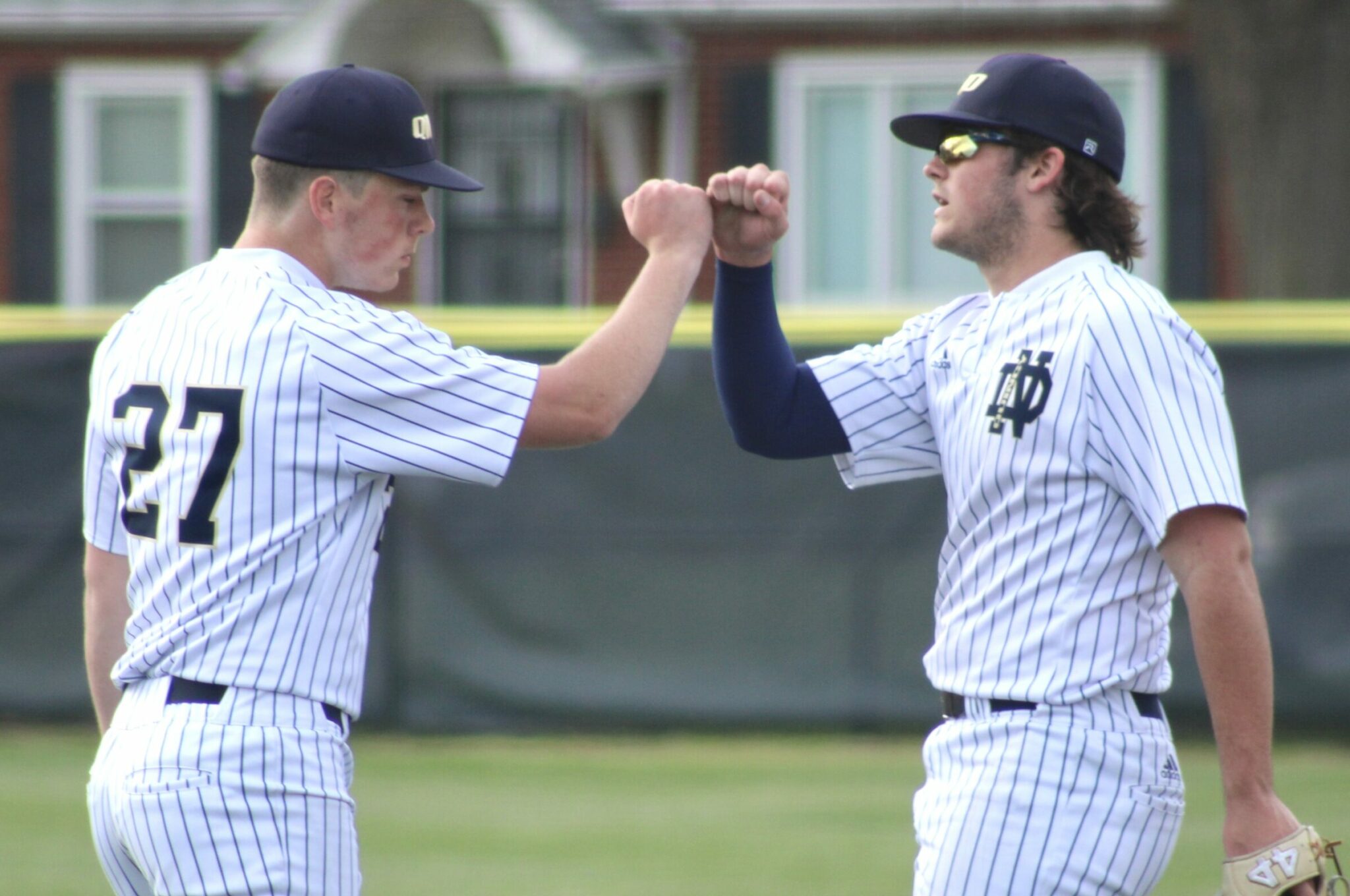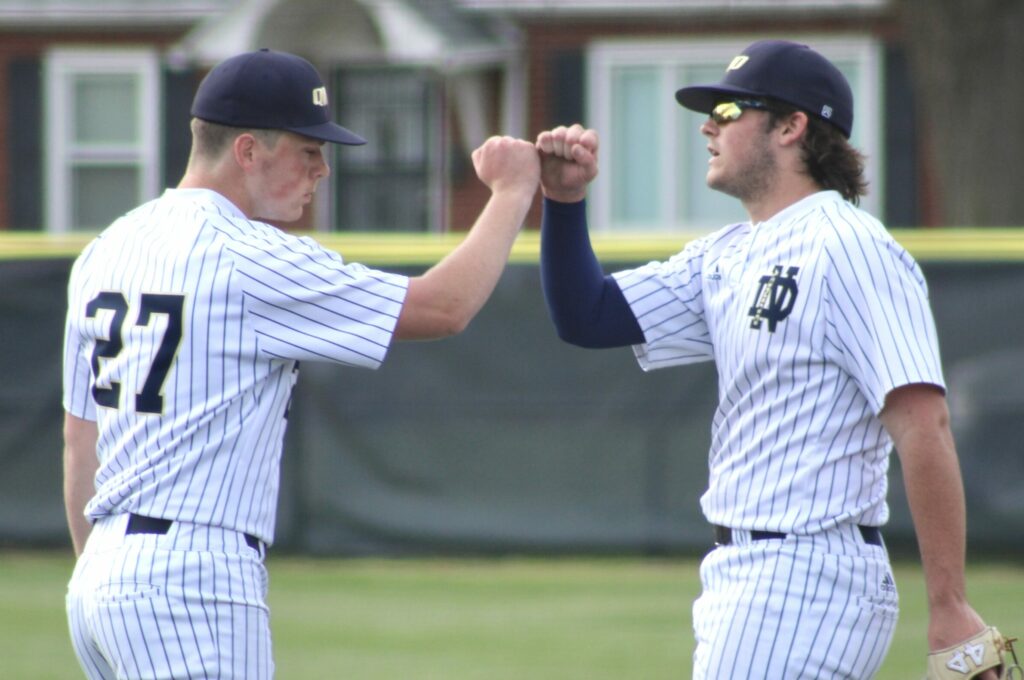 QUINCY — Dalton Miller admits the luxury of experience and camaraderie enjoyed by the Quincy Notre Dame baseball team can get taken for granted.
"We've been playing together for so long it's a security I've become numb to almost," the senior first baseman said. "Sometimes I can't say I appreciate the security of my teammates enough and knowing they're going to get the job done and they're going to be playing at a competitive level right along with me.
"But I always know they're right there and they all know I trust them and believe in them."
Blessed with that shared knowledge, the Raiders could make it a season unlike any other.
With eight seniors who have committed to play baseball in college, the Raiders have built a team seemingly destined for postseason success. There's pitching depth behind the 1-2 starting punch of right-handers Jake Schisler and Tyler Dance. There's nary a weak spot in the lineup, with six starters returning who each hit .326 or better last season.
And it's a group committed to the game as 85 percent of the varsity roster plays on traveling teams in the offseason.
"Everyone here wants to be here," senior shortstop Alex Connoyer said. "We have so many guys invested in this, guys who have been playing their whole careers since they were 10 with baseball in mind. I've been playing with a bunch of these guys for as long as I can remember. Finishing this off the right way is the goal."
Falling short of the state tournament last year sticks with them.
The Raiders went 32-3 and won 23 consecutive games before losing 5-2 to Maroa-Forsyth in the Class 2A sectional championship when they allowed five unearned runs. Maroa-Forsyth went on to finish fourth at the state tournament.
"That exit last year was not what we wanted. Absolutely not," senior third baseman Brady Kindhart said. "It gave us a taste of wanting more, and we want to get that state championship. So … there's a goal for us to chase."
The changes the Raiders must embrace in their pursuit of that are few but vital.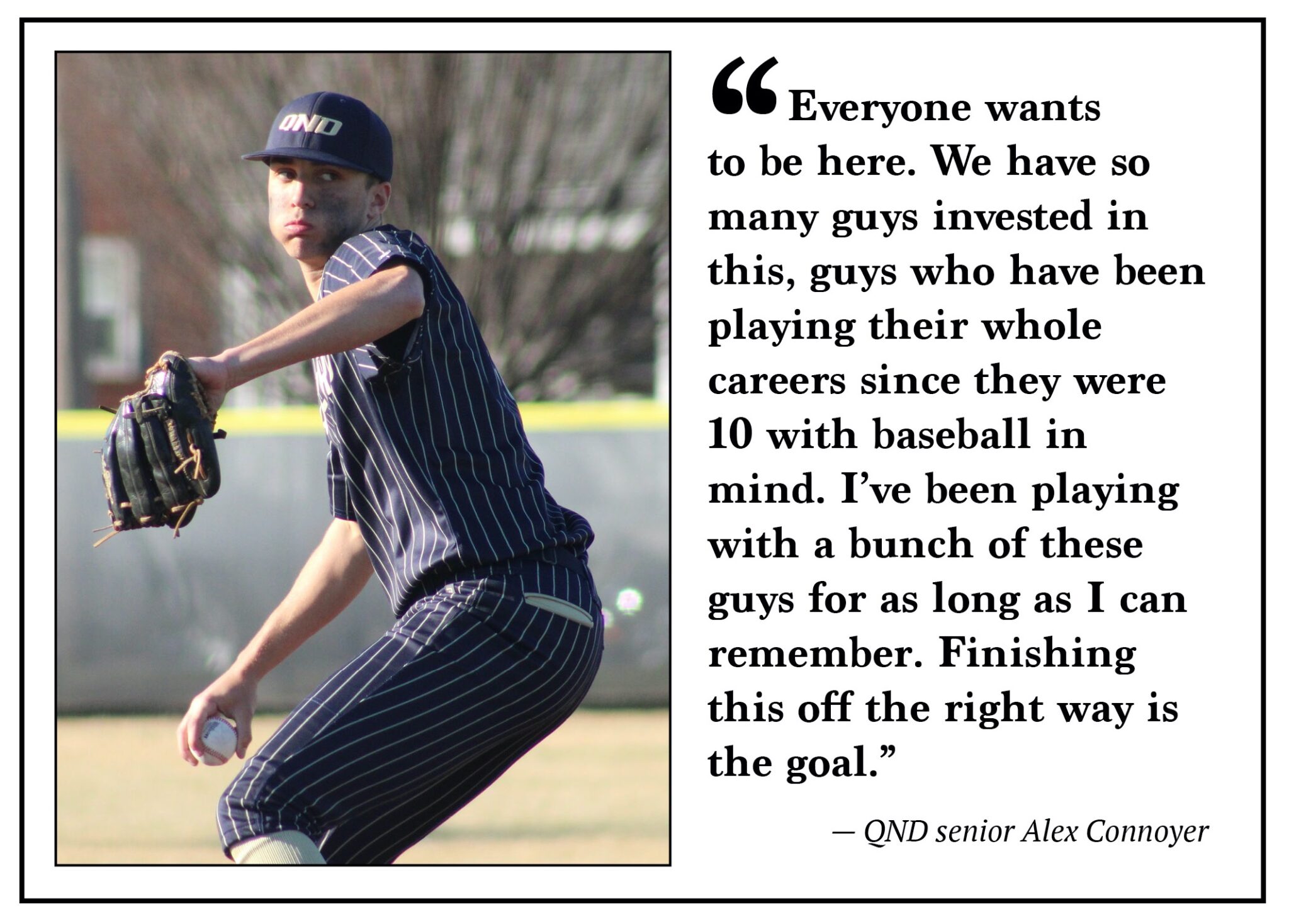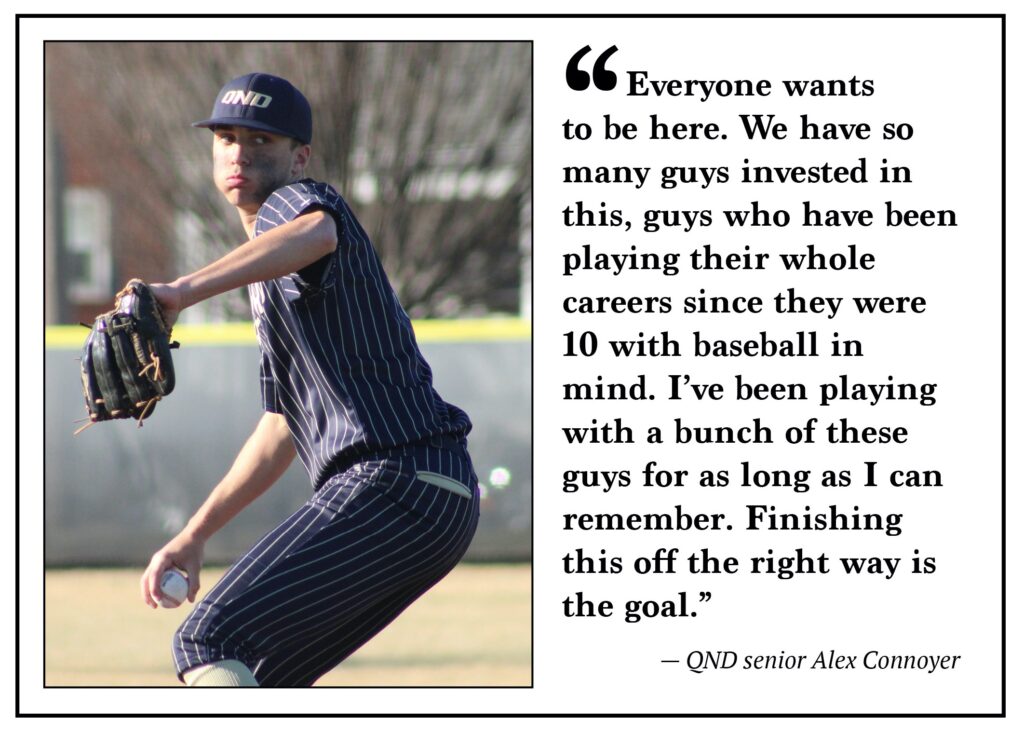 Tucker Tollerton, a senior outfielder, moves from right field to center field. Colin Kurk, who was one of the captains on QND's state championship boys soccer team last fall, takes over in right field. Schisler likely will play left field when not pitching, and the competition for the outfield when he pitches is stern.
The infield returns intact — Kindhart and Miller at the corners with Connoyer and senior Jack Linenfelser up the middle — and Michael Stupavsky is a two-year starter at catcher.
So, the biggest adjustment comes in the dugout. Rich Polak, a former QND assistant coach from 2012-16, replaces Ryan Oden as head coach. Oden resigned in December to devote more time to his family, specifically watching his son, Harry, play college baseball. But with his son redshirting this season at Maryville, Oden will serve as an assistant for Polak.
It simply enhances the comfortability that already exists.
Polak has coached or trained nearly every player on the roster through his Complete Game Training Academy, and his wealth of experience — he played in the New York Yankees organization and has coached at some level ever since — is welcome.
"Polak has had a good gameplan for us so far in getting our mindset right," Kindhart said. "We're all comfortable with him. It's all been good."
Polak echoed that.
"You don't have to get on them as much, but you still have to get them focused," Polak said. "And they've been focused. They're seniors and they know what they're capable of. Really, a lot of it is reminding them about the little things that are important. They take that coaching.
"We're very fortunate to have experience and guys who want to get better and be at their best."
More times than not, the Raiders were at their best last season.
Schisler went 8-2 with a 0.818 ERA and 69 strikeouts in 51 ⅓ innings, while Dance finished 5-0 with a 1.81 ERA and 50 strikeouts in 42 ⅔ innings. Another senior — right-hander Evan Kenning — went 4-0 with a 1.36 ERA and 29 strikeouts in 25 ⅔ innings and should get the opportunity to pitch more this season.
Connoyer, Tollerton, Kindhart and Miller all can throw if needed, too. Last season, Miller had four saves and will be the closer again.
"We just have to stay focused and play as a team," Schisler said. "We have all the talent in the world, but we have to focus in and just play our game and we'll be all right."
Having the luxury of each other to lean on guarantees it.
"I know I can rely on them, and they know they can rely on me," Schisler said. "Trust each other and we'll be good."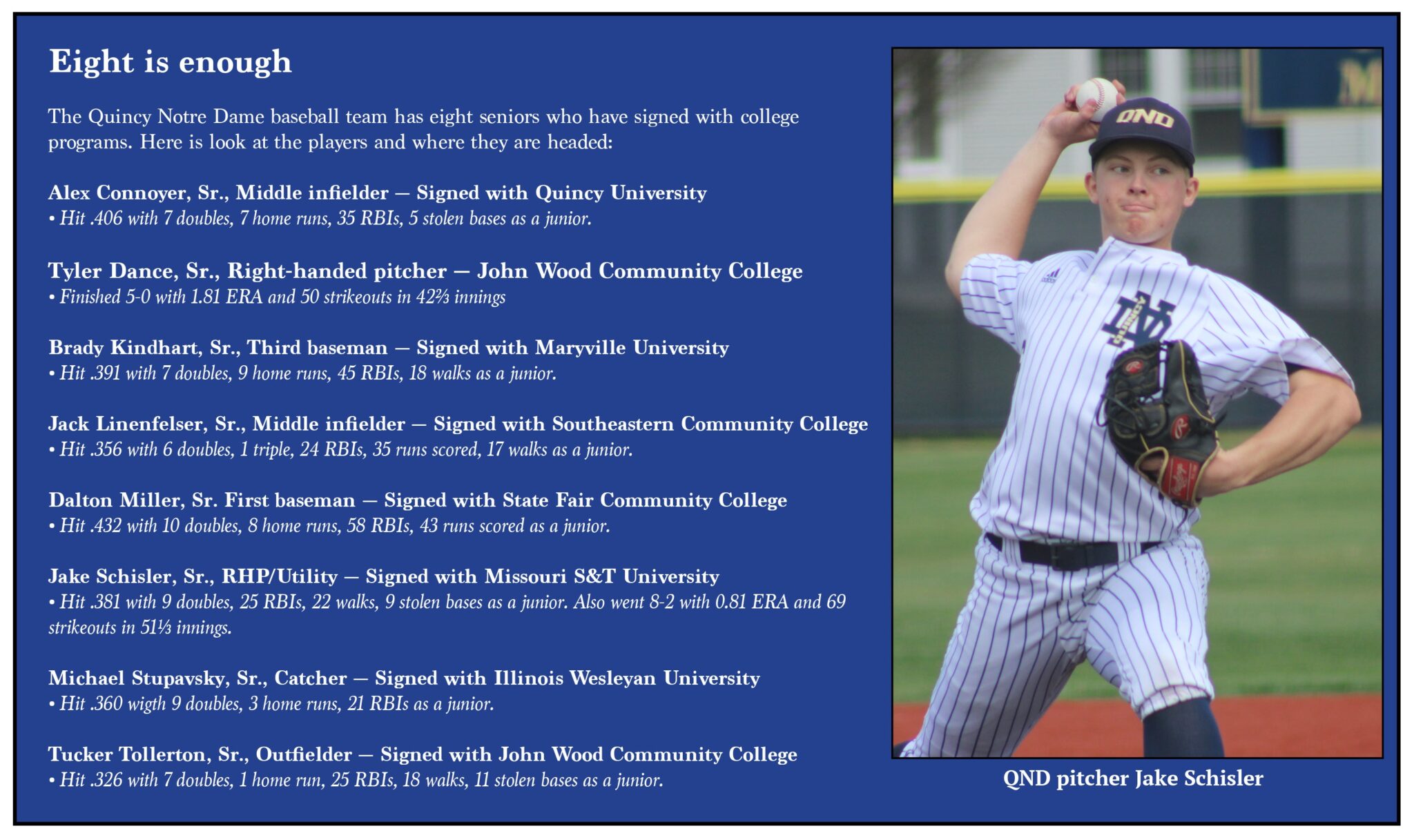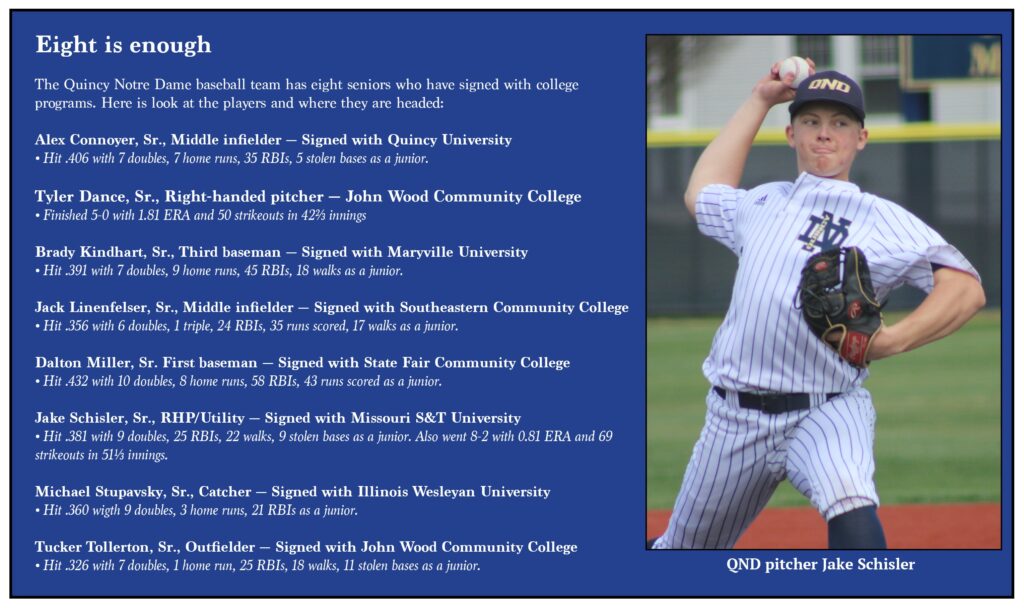 Miss Clipping Out Stories to Save for Later?
Click the Purchase Story button below to order a print of this story. We will print it for you on matte photo paper to keep forever.