Bulldogs pull away in second half to send Raiders to 0-3 start for first time since 2018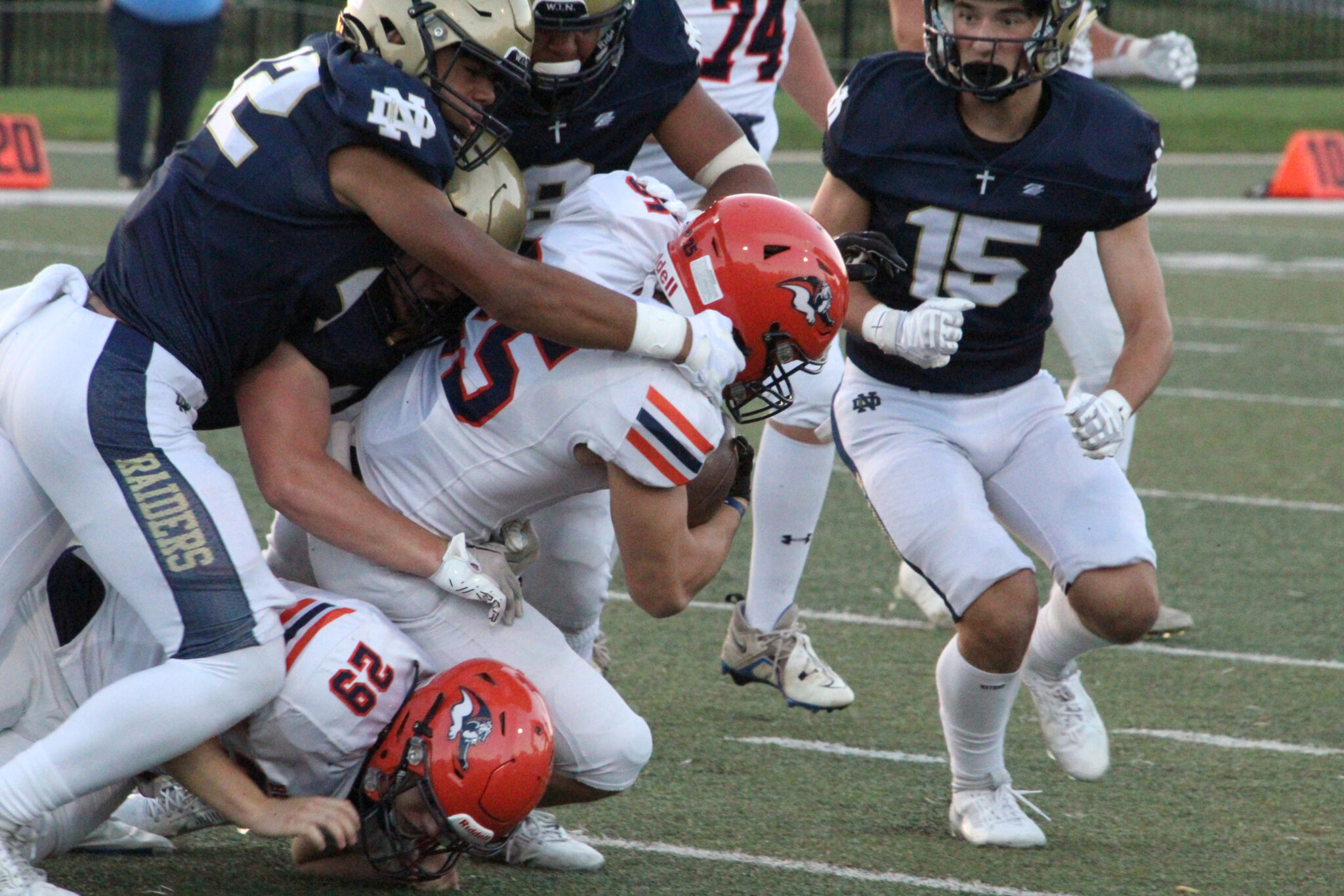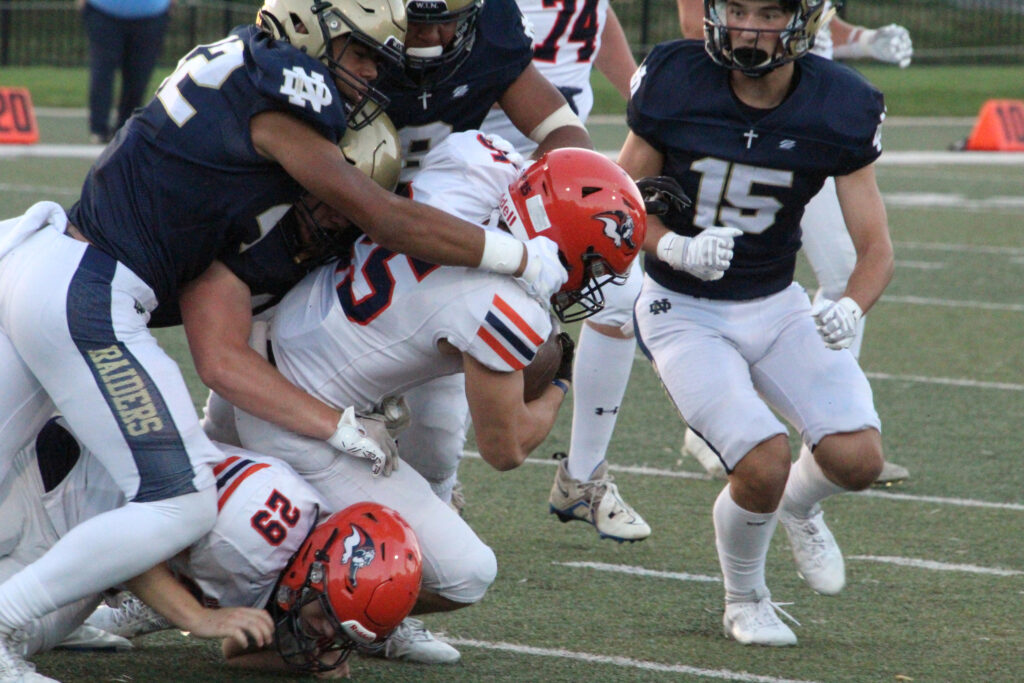 QUINCY — There may be brighter days ahead for the Quincy Notre Dame football team, but Raiders coach Jack Cornell didn't mince words when reflecting on his team's winless start to the season.
"Losing is never fun," Cornell said.
Mahomet-Seymour held QND scoreless in the second half and scored the final 28 points en route to a 42-14 victory Friday night in the Raiders' home opener at Advance Physical Therapy Field. The Raiders sit 0-3 for the first time since opening the 2018 season with four consecutive losses.
Early in the second quarter it looked like the Bulldogs may run away and hide. Junior running back Brock VanDeveer bullied his way into the end zone from 1-yard out to give Mahomet-Seymour a 14-0 lead.
After QND fumbled on its next possession inside its own territory, Mahomet-Seymour went right to the air when junior quarterback Lucas Dyer made one of his only mistakes on a deep ball and was picked off by Raiders sophomore defensive back Gavin Doellman, who streaked 90 yards down the sideline for a touchdown to put QND (0-3) within one score.
A couple minutes later, QND senior running back Denver Bryan raced into the end zone from 25 yards out to pull the Raiders within two points. The 2-point conversion on a pass from senior quarterback Noah Lunt to senior wide receiver Evan Goestenkors tied the game at 14 midway through the second quarter.
Mahomet-Seymour (2-1) had all the answers from that point forward.
Dyer and the Bulldogs' offense scored twice in a span of three minutes to end the first half. Dyer connected with junior wideout Trey Peters on a 10-yard pass to push Mahomet-Seymour in front 21-14, and Dyer threw his third touchdown pass of the first half to senior receiver Braden Pagel — a 29-yard strike — to push the lead to 28-14 with 1:02 left in the second quarter.
QND junior linebacker Taylin Scott, who had 22 tackles to lead the Raiders' defense, felt the effort simply wasn't good enough.
"We couldn't communicate enough so we let up a lot of big plays," Scott said. "I think that's why we failed as a defense tonight."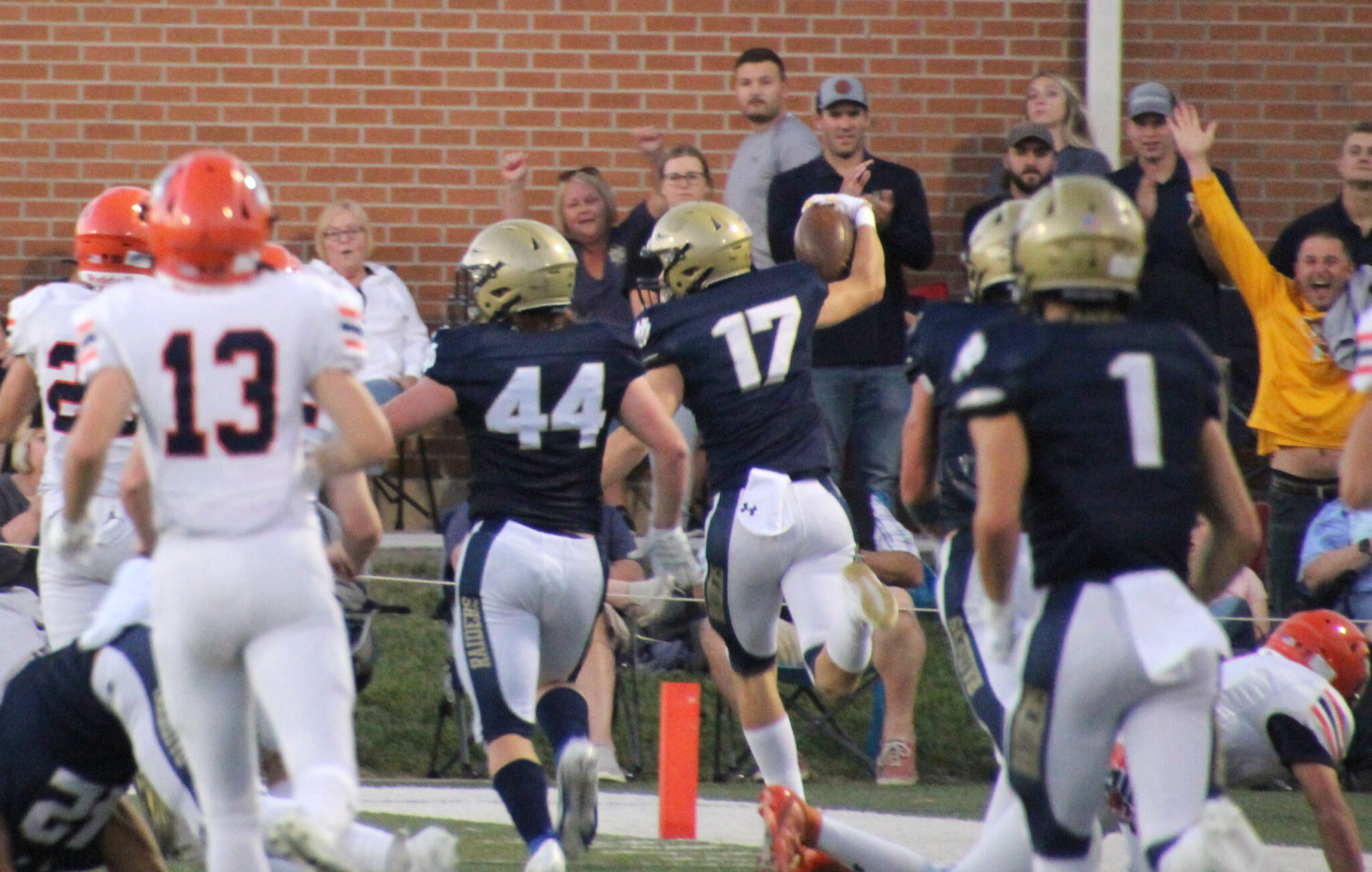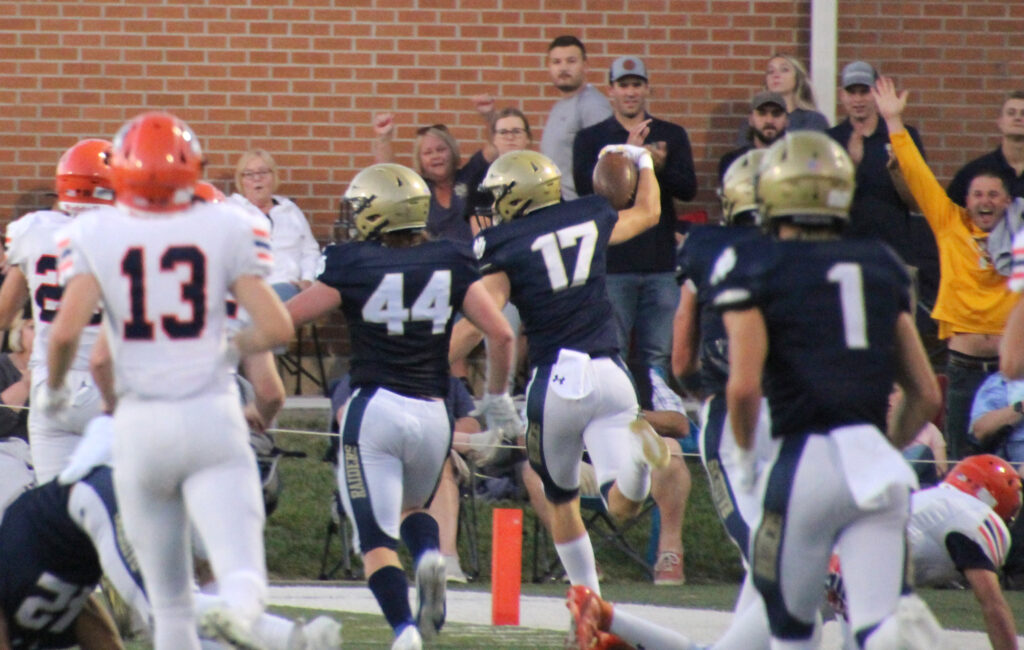 Mahomet-Seymour tacked on two more touchdowns in the third quarter to put the game out of reach. Dyer hooked up with Pagel for a 17-yard score, and five minutes later, sophomore running back Cade Ashby ran in from 2 yards out to increase the Bulldogs' advantage to 42-14. Dyer finished 25-of-39 passing with 311 yards and four touchdowns.
"They did a good job of running the football the first couple weeks. We know they're capable of throwing the ball and airing it out. I thought they picked their matchups and went after us," Cornell said. "We need to do a better job of adjusting and trying to get guys in the right spot, and when we do put guys in the right spot they got to make a play."
The Raiders have to become more effective and balanced when they have the ball. QND mustered only 124 yards of offense and had just 3 yards on the ground.
"We need to do a better job of blocking up front," Cornell said. "I think it's just a matter of us understanding our assignments. I think the majority of the night our guys were playing hard. We had a really good week of practice and we felt good about the plan coming into the game, but when we have our big play opportunities we have to come down (and score) and we weren't able to do that tonight."
Bryan doesn't see any of his teammates throwing in the towel despite the early season struggles.
"We know where we're at. We are all working hard," Bryan said. "I think we'll come back better next week."
Lunt completed 11 of 21 passes for 122 yards and an interception, while Bryan added 26 rushing yards.
"We knew the challenge we had these first three weeks and the teams we were playing but that's no excuse," Cornell said. "We left a lot of plays out there tonight that we need to make, and we've got to find a way in these next several weeks to make those plays. We've got six more games ahead of us and certainly every game is going to be critically important now that we're down in this hole."
The hole QND finds itself in is needing to win five out of its last six games to make the playoffs.
"You can't get back today or the last three weeks," Scott said. "We just have to keep looking forward, work harder, and hope for the best."
The Raiders have four of the final six games at home, including next Saturday's tilt with Lift for Life Academy, a state-ranked Missouri Class 2 school from St. Louis.
"All of our goals that we set out to accomplish at the beginning of the season are still right out in front of us," Cornell said.
"We know that we're in the part of our schedule now that every game is a must win."
Editor's note: Historical research regarding the Quincy Notre Dame football team's 0-3 start was inaccurate in the original version of this story. The Raiders are 0-3 for the first time since 2018 when they started 0-4 and went 3-6. We regret the error.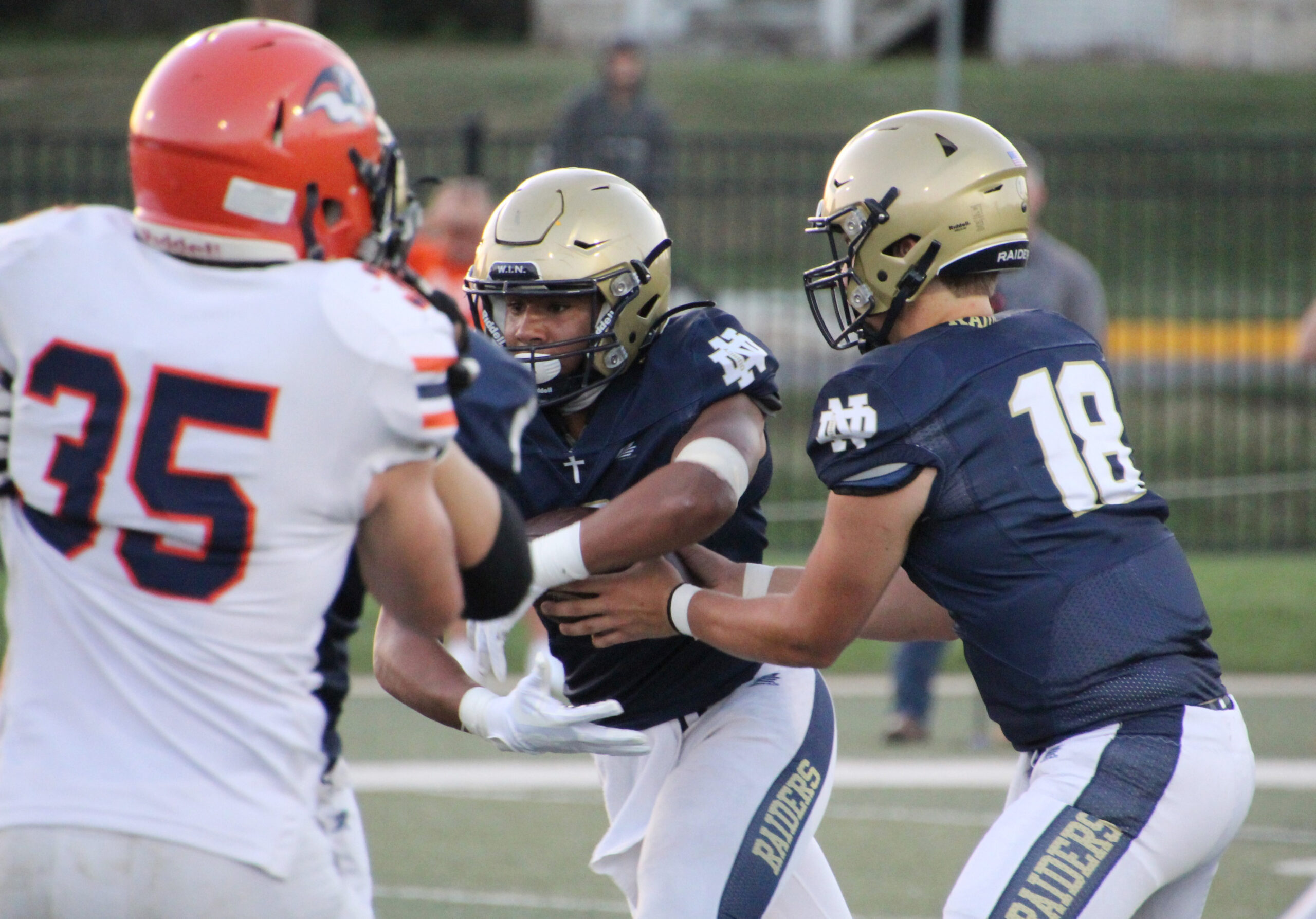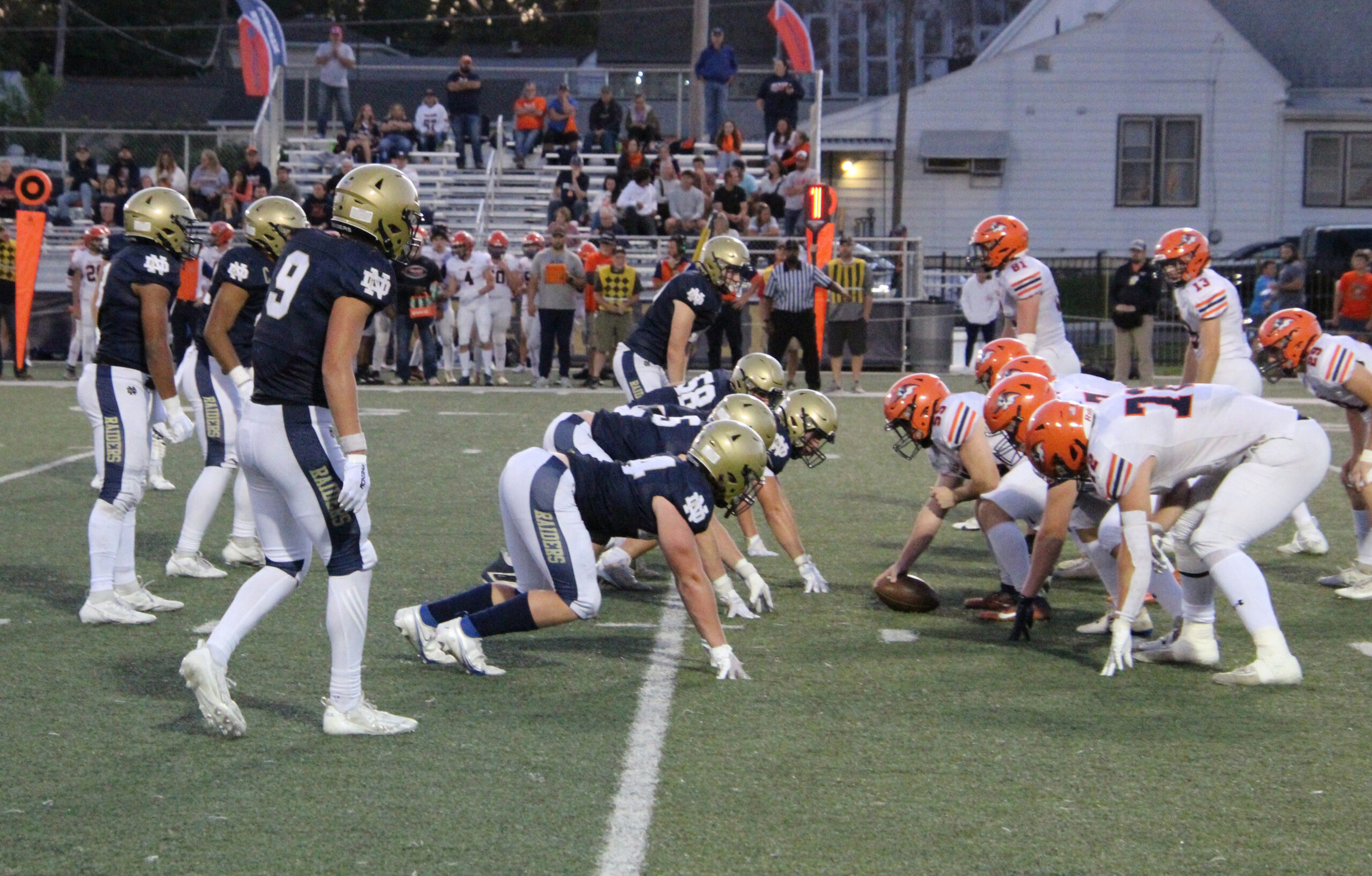 Miss Clipping Out Stories to Save for Later?
Click the Purchase Story button below to order a print of this story. We will print it for you on matte photo paper to keep forever.