Blue Devils show no fear while erasing fourth-quarter deficit against Phoenix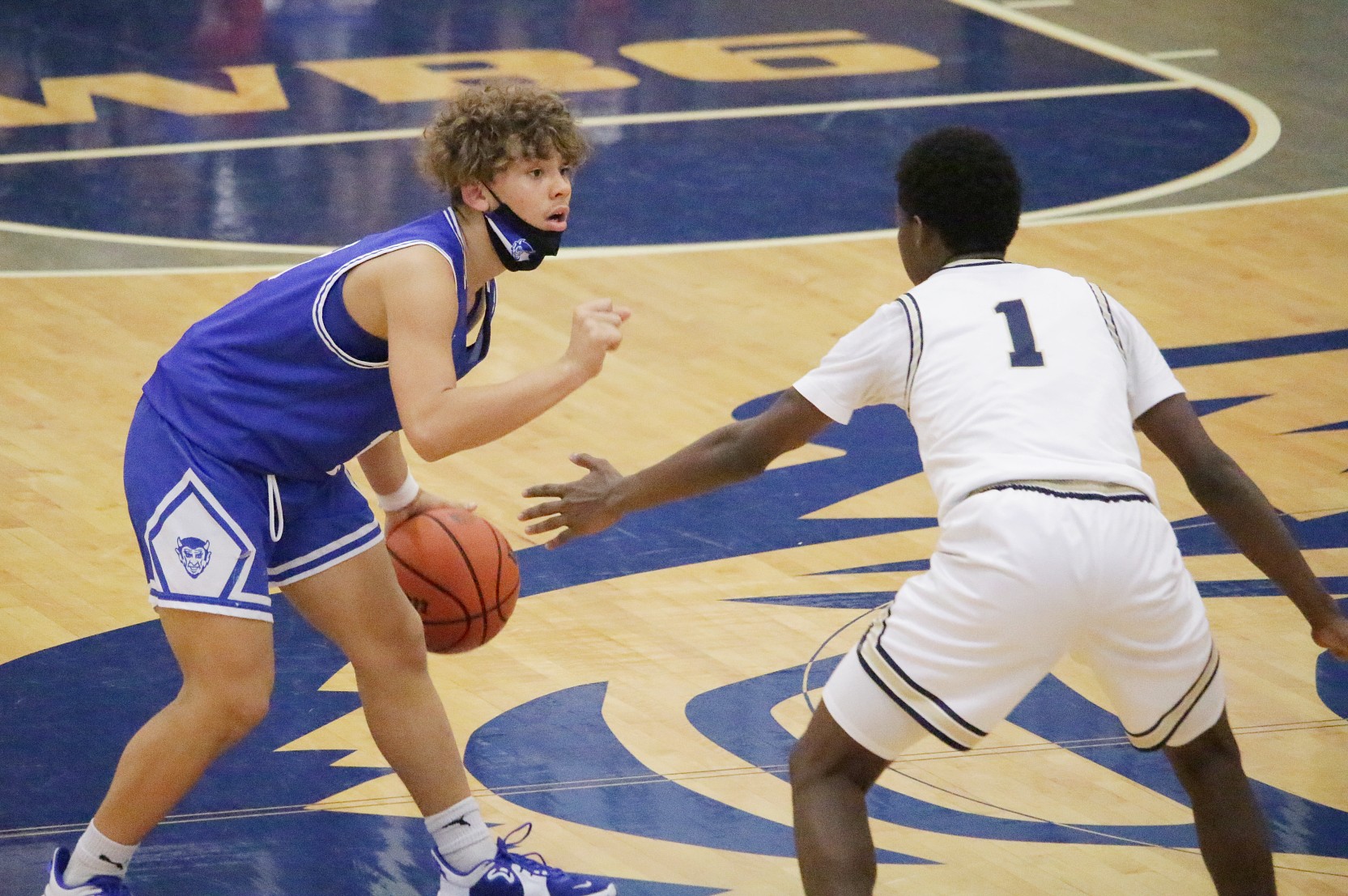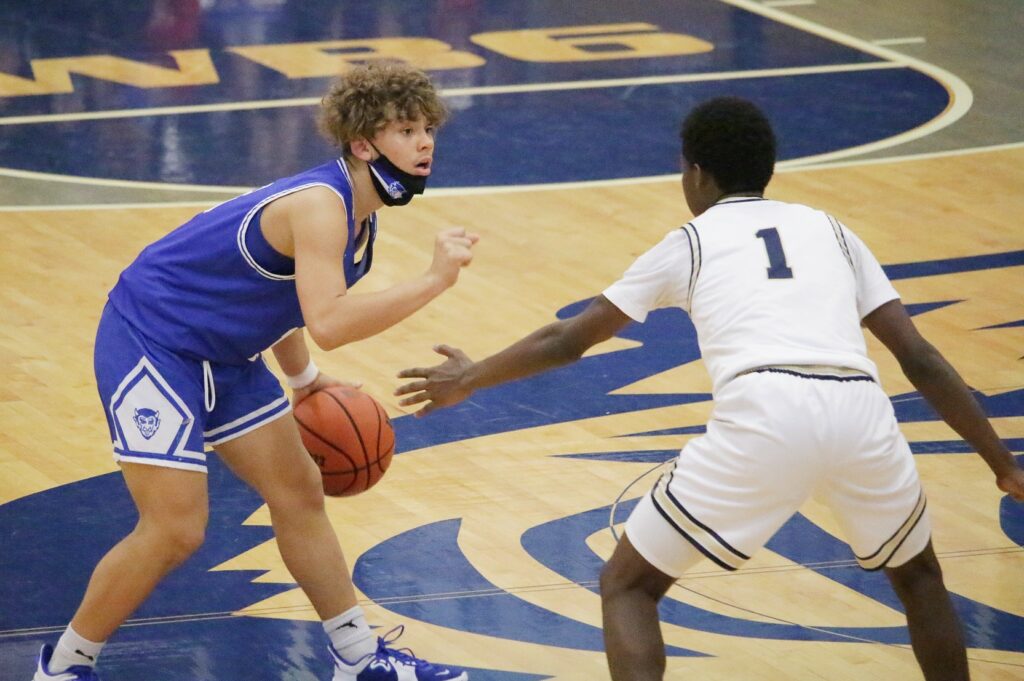 QUINCY — The way Keshaun Thomas sees it, there's no reason to be intimidated by any atmosphere or situation the Quincy High School boys basketball team might find itself facing.
"We just have to go out there and play," Thomas said. "You can't be scared of competition."
The freshman forward proved Friday night he's scared of nothing.
His teammates aren't afraid either.
Trailing Miller Career Academy by five points with five minutes to play Friday night in the 50th QHS Thanksgiving Tournament at Blue Devil Gym, Thomas played a critical part in the Blue Devils' resurgence. He had two offensive rebounds, three defensive rebounds and two points in an 18-4 finish that secured a 56-47 victory.
The 6-foot-5 Thomas finished with 11 points and 12 rebounds off the bench in just his second varsity game.
"I'm a role player on this team," Thomas said. "They need me to grab rebounds and hustle and be loud and talkative."
He did it all when necessary. QHS senior swingman Jeremiah Talton picked up two fouls in the game's first 70 seconds. Junior forward Sam Mulherin picked up his second foul with 2:28 remaining in the first quarter and the Blue Devils trailing 8-2.
It thrust Thomas into a critical role. On his first offensive possession after entering the game, he grabbed an offensive rebound and made the putback. Another offensive rebound early in the second quarter led to two free throws — the Blue Devils' first points of the second quarter — and sparked a 15-0 run that gave Quincy the lead.

"If you look on the bench, after you see Keshaun scoring, Sam is the first one on his feet," junior guard Reid O'Brien said. "He's his biggest cheerleader. That's what this team is all about. We're just rooting for each other and pulling for each other no matter what."
That includes encouraging each other to take shots they know are makeable.
Back-to-back baskets by Jeremiah Talton, who finished with a game-high 24 points and 13 rebounds, put the Blue Devils ahead 48-45 with two minutes to play. After getting a defensive stop, Quincy worked the ball around the perimeter where O'Brien caught it at the top of the key. Unguarded, O'Brien buried the 3-pointer for a two-possession lead and little bit of breathing room.
"I missed the last three pretty badly, but I was going to be ready to shoot the next one," said O'Brien, who airballed his previous 3-point attempt. "Luckily, I made it."
It was O'Brien's only made field goal.
"It felt amazing," O'Brien said. "Hearing the crowd erupt and you get all the momentum on your side, especially when you're that close to the end of the game, it's just great."
The Blue Devils fed off the crowd during both of their critical runs. They also leaned heavily on the underclassmen. Freshman guard Bradley Longcor III finished with seven points, freshman guard Dominique Clay hit a crucial 3-pointer in the second half and sophomore guard Ralph Wires finished with six points and was the primary ball-handler much of the second half.
"It takes momentum and you can't get down on yourself," Thomas said. "If you get down, they are going to keep scoring and scoring and scoring. The crowd was a big part of making sure we didn't get down. Every time we scored, the crowd would help us out."
It created a dynamic effort, especially on the defensive end. The Phoenix made just two of their final 12 shots and committed two turnovers over the game's final six minutes.
"It was a total team effort, just fighting every possession," O'Brien said. "It took a lot of fight in us, especially on the defensive end."
The youngsters' effort proved they belonged.
"Playing from behind in the fourth quarter is not always an easy thing to do and a lot could go wrong," QHS coach Andy Douglas said. "We just have a bunch of guys out there who forgot about other plays and focused on the next play every single possession.
"When you have guys who are willing to put turnovers behind them and missed shots and missed layups behind them and just go make another play, that says a lot for where your team is going."
The Blue Devils will look to wrap up another tournament championship at 7 p.m. Saturday against St. Mary's, a St. Louis area private school. The Blue Devils have won the tournament 34 previous and nine of the previous 11.
"We're going to have to get more rebounds," Thomas said. "We can't allow them to have second chances. We have to talk more and have better defense. We're fine on the offensive side, but we have to do better on defense."
Miss Clipping Out Stories to Save for Later?
Click the Purchase Story button below to order a print of this story. We will print it for you on matte photo paper to keep forever.