Blue Devils pick right time to make defensive stand, intercept Maroons' plan for last-minute rally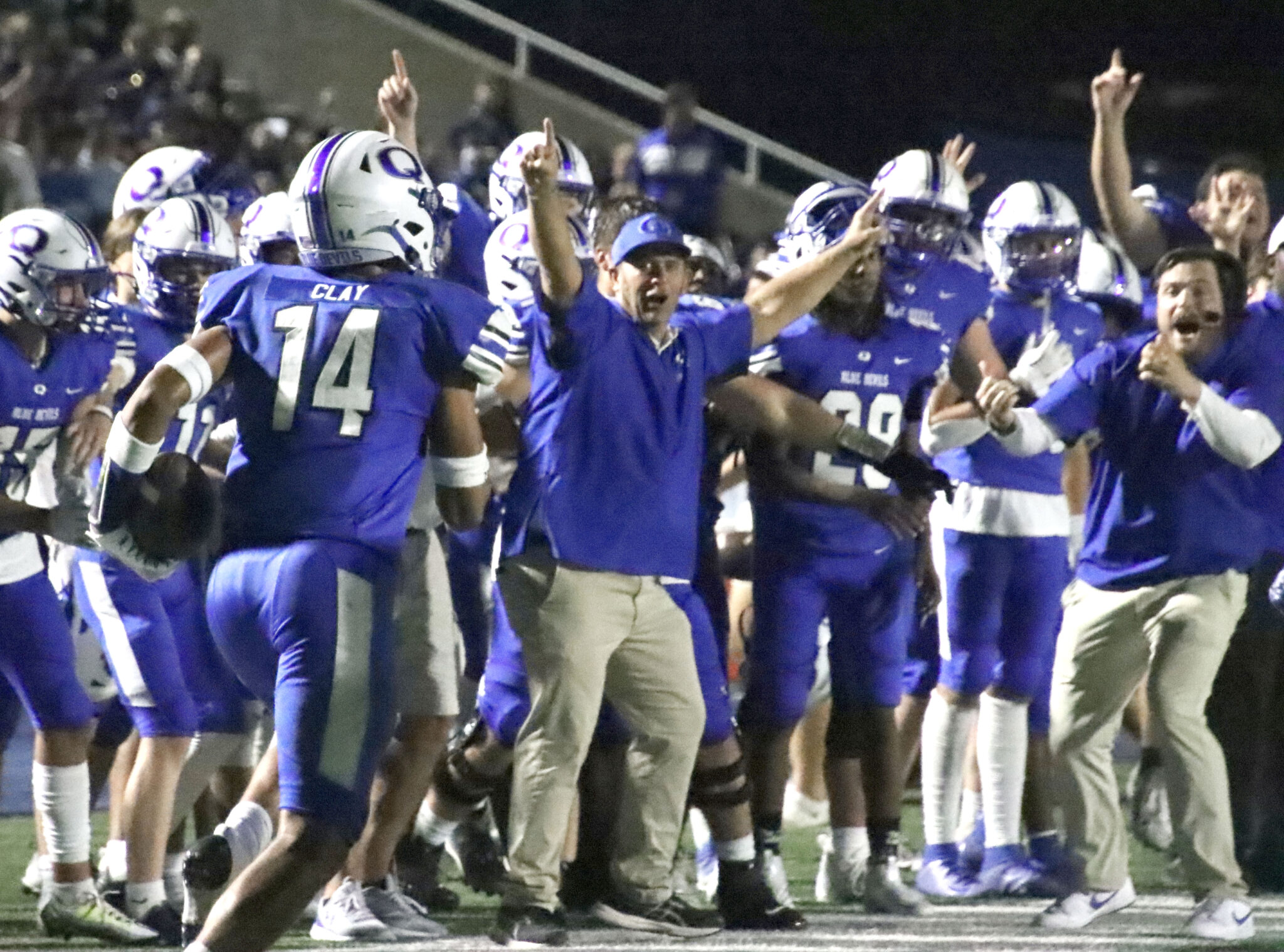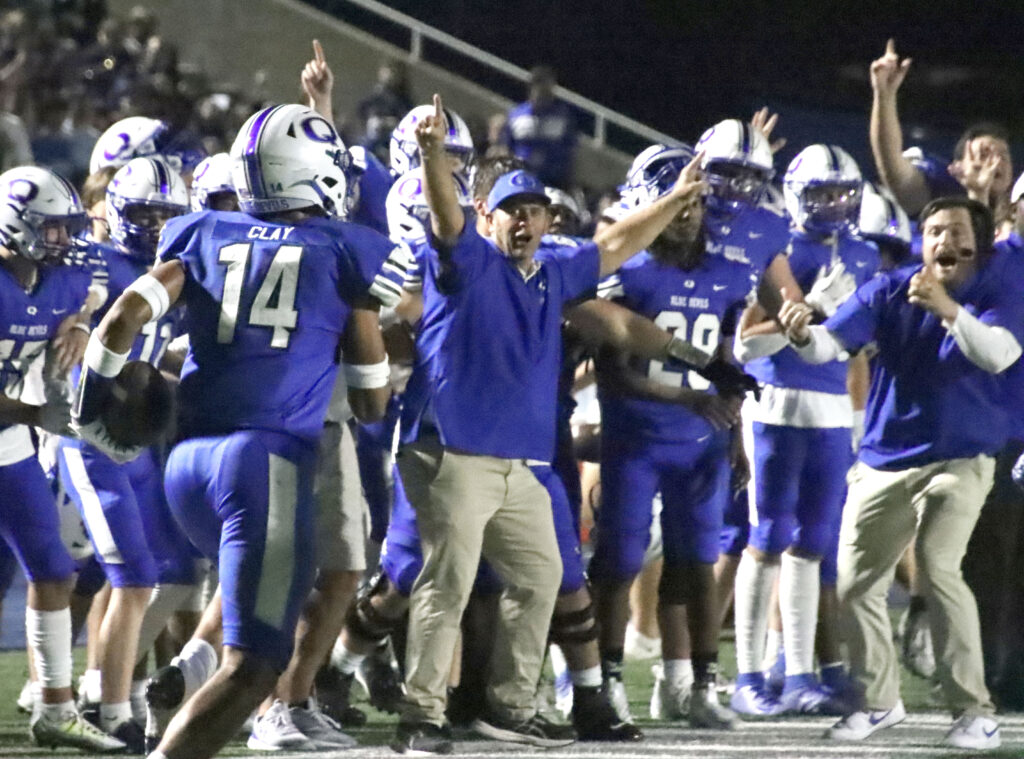 QUINCY — Rico Clay heeded the warnings the Quincy High School football coaches blared.
Moline quarterback Drew Phelps needed a warning not to throw Clay's way.
With the Maroons facing third and 15 from the Blue Devils' 25-yard line and trailing by seven points with 39.7 seconds remaining in regulation Friday night, Phelps threw a pass intended for wide receiver John Nienhaus at the front corner of the end zone.
Clay stepped in front of Nienhaus, intercepted the pass and returned it to midfield as the QHS sideline erupted. The Blue Devils then took a knee and whittled off the final 26.6 seconds of a 34-27 Western Big 6 Conference victory at Flinn Stadium.
"Coach was telling me from the sideline to watch the deep ball," the QHS junior cornerback said of his third interception of the season. "There were two split receivers and one of them was going to cross over. So that went through my mind. I saw (Nienhaus) run a post, and (Moline's Chase Stephens), I lost vision of him. So I kept following (Nienhaus).
"I see the ball fly out and I speed-turned to get there. After that, I knew it was mine."
A defense that had its feet held to the fire for the first time this season desperately needed a play like that in order to survive.
Quincy (4-0, 2-0 WB6) turned the ball over on downs at the Moline 26-yard line with 2:35 to play, and the Maroons needed just two pass plays to pick up two first downs and reach midfield. A pass breakup by senior cornerback Jack Mettemeyer seemed to stall Moline's momentum.
However, Phelps threw a 9-yard pass on fourth and 5 from the 45-yard line to sustain the drive.
"It got kind of sticky there," said QHS coach Rick Little, whose team had outscored its first three opponents 136-25.
The Maroons (1-3, 0-2 WB6) reached the 21-yard line with 51.7 seconds to play. After another Mettemeyer pass breakup, Quincy junior linebacker Jack Hammock sacked Phelps for a 4-yard loss on second and 10. That set up Phelps going for the end zone and Clay playing the hero.
"This is an important standpoint in our season," Hammock said. "Last year, we had a good season, but we lost to Moline and our defense wasn't there. This year, we came out and knew what we needed to do and we finished it."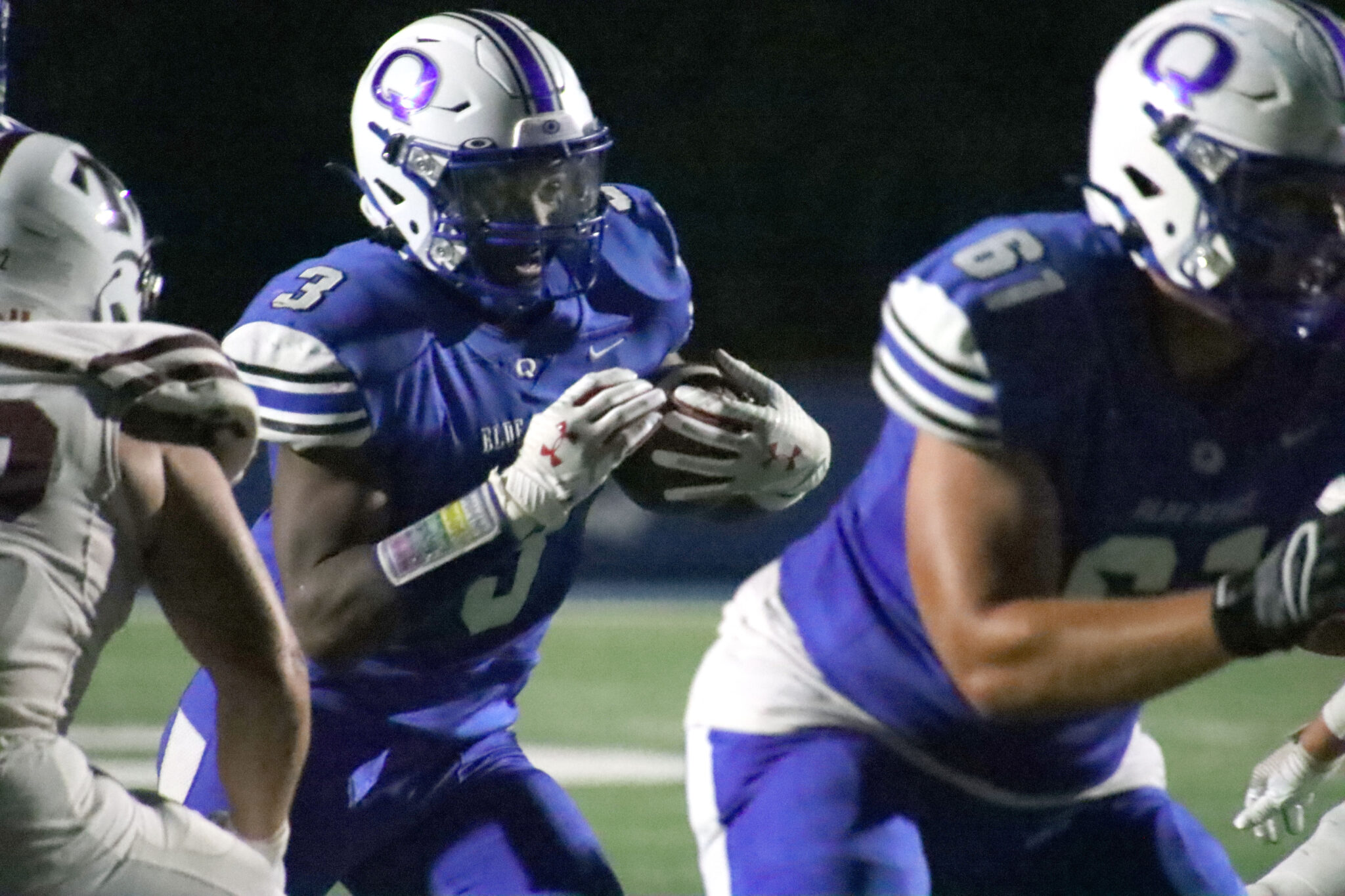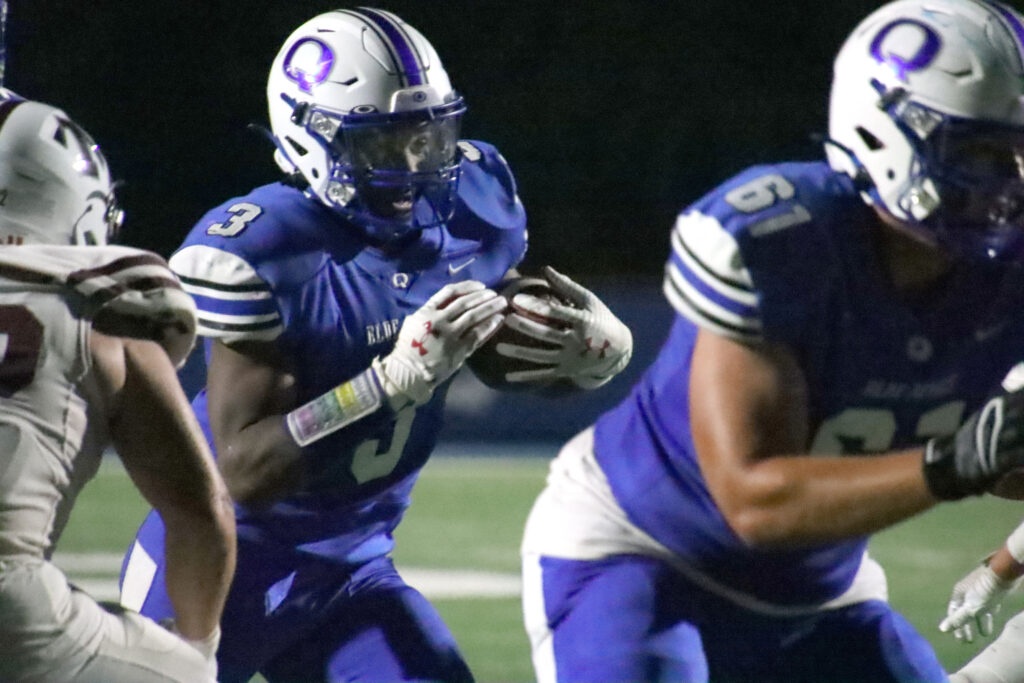 It took resolve the Blue Devils had to prove they had.
Leading 19-6 after Tykell Hammers scored on a 49-yard pass play from Bradyn Little with 3:29 remaining in the first half, Quincy attempted an onside kick. However, the Blue Devils were flagged for interference, giving the Maroons possession inside Quincy territory. An unsportsmanlike conduct penalty against Quincy moved Moline into the red zone, and Pablo Perez scored on a 4-yard run with 1:23 to go to make it a one-possession game.
Just 20 seconds later, the Maroons' Adrian Cooper intercepted Little on a pass over the middle and returned it 36 yards for a touchdown and a 20-19 halftime lead.
Quincy hadn't trailed all season until then, and the body language heading to the locker room suggested the Blue Devils were in a bit of shock.
"I gave them about three minutes to whine and cry, and then I said, 'All right, you're done. That's done,'" Little said. "Before the game, I like to tell them their fortunes, and I told them, 'Guys, here's what is going to happen. Moline's going to punch you in the mouth. At some point, you will be punched in the mouth.'
"At halftime, it was kind of like, 'Oh, gosh, I heard Coach talk about this, but I didn't think it'd be like this.' That's what we were experiencing. We had the lead just evaporate, and it was kind of like, 'What just happened there?'"
The intermission lasted long enough for the Blue Devils to shake it off.
They took the opening kickoff of the third quarter and went on a 5-minute, 4-second drive that culminated with Jeraius Rice Jr. scoring on a 3-yard run. A two-point conversion reception by Adon Byquist put the Blue Devils ahead 27-20.
"Being down at halftime really motivated us," Rice said. "We were in the locker room and we were like, 'It's time to go. It's time to turn it up.' That's what we did."
Moline answered Quincy's third-quarter salvo by tying the game when Perez scored on a 4-yard run with 2:08 remaining in the third quarter. It led to the Blue Devils turning to Rice to yet again regain the lead.
The junior tailback scored on a 4-yard run with 7:42 to play for a lead the Blue Devils wouldn't relinquish. Rice finished with 133 yards and three touchdowns on 22 carries. He also caught six passes for 70 yards.
"Like our coach always says, big-time players make big plays in big-time games," Rice said. "I feel like I'm a big player and this was a big game. Check, check, check."
Little completed 21 of 27 passes for 257 yards and two touchdowns, while Hammers had seven catches for 113 yards. Caeden Johannessen caught a 2-yard touchdown pass in the first quarter for the Blue Devils. Ty Douglas led the QHS defense with 11 tackles and a fumble recovery.
Perez rushed for 80 yards and three touchdowns on 16 carries, while Corbin Schnell led the Maroons with 103 yards rushing on 17 carries. Moline rushed for 243 yards and finished with 352 yards of total offense, but the Blue Devils withstood the punches the Maroons threw.
"At halftime, we went into the locker room and knew we had some things to fix," said Hammock, who finished with seven tackles. "We held each other up and we made sure everyone knew what they needed to do. We came back out here and we hit them right back."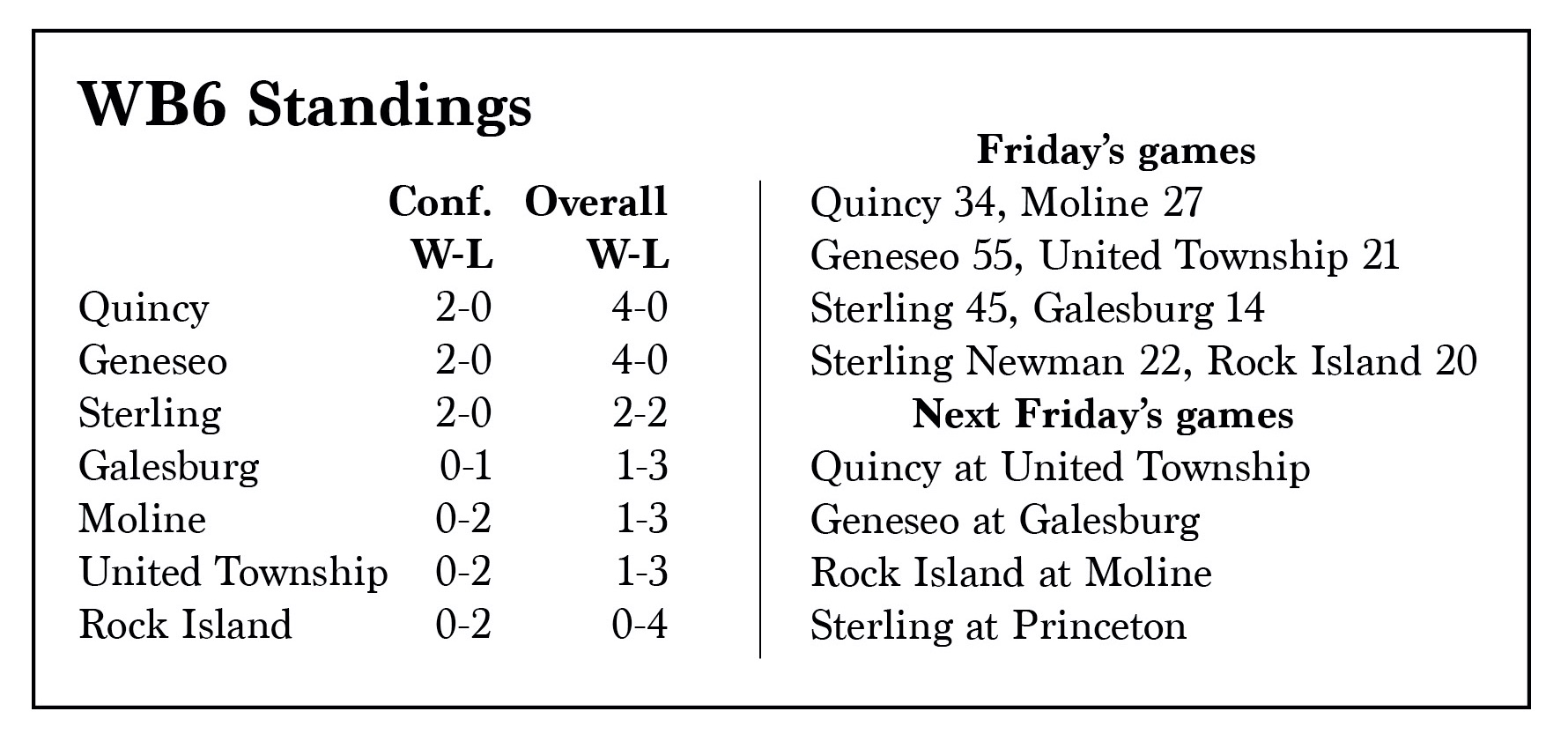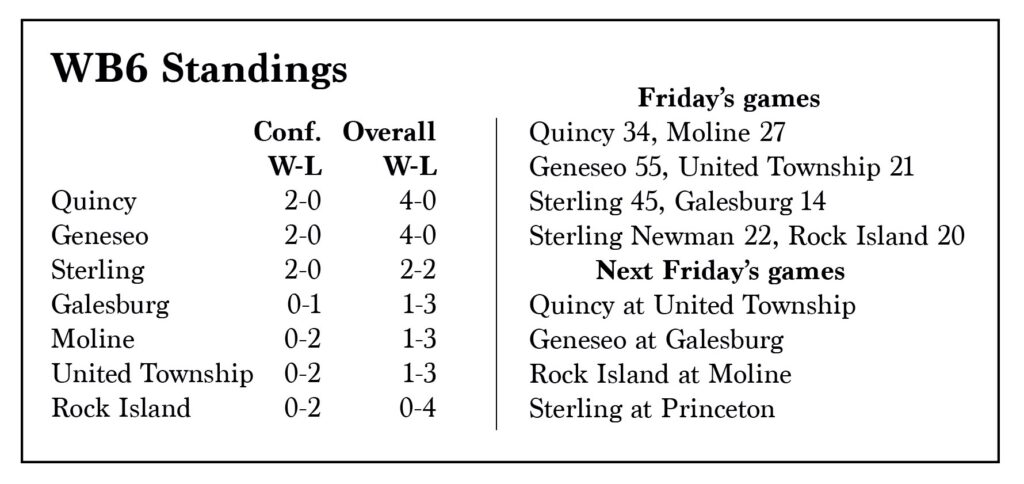 Miss Clipping Out Stories to Save for Later?
Click the Purchase Story button below to order a print of this story. We will print it for you on matte photo paper to keep forever.