Blue Devils outduel Raiders, while QND's Cucuk overcomes ankle injury to win final home match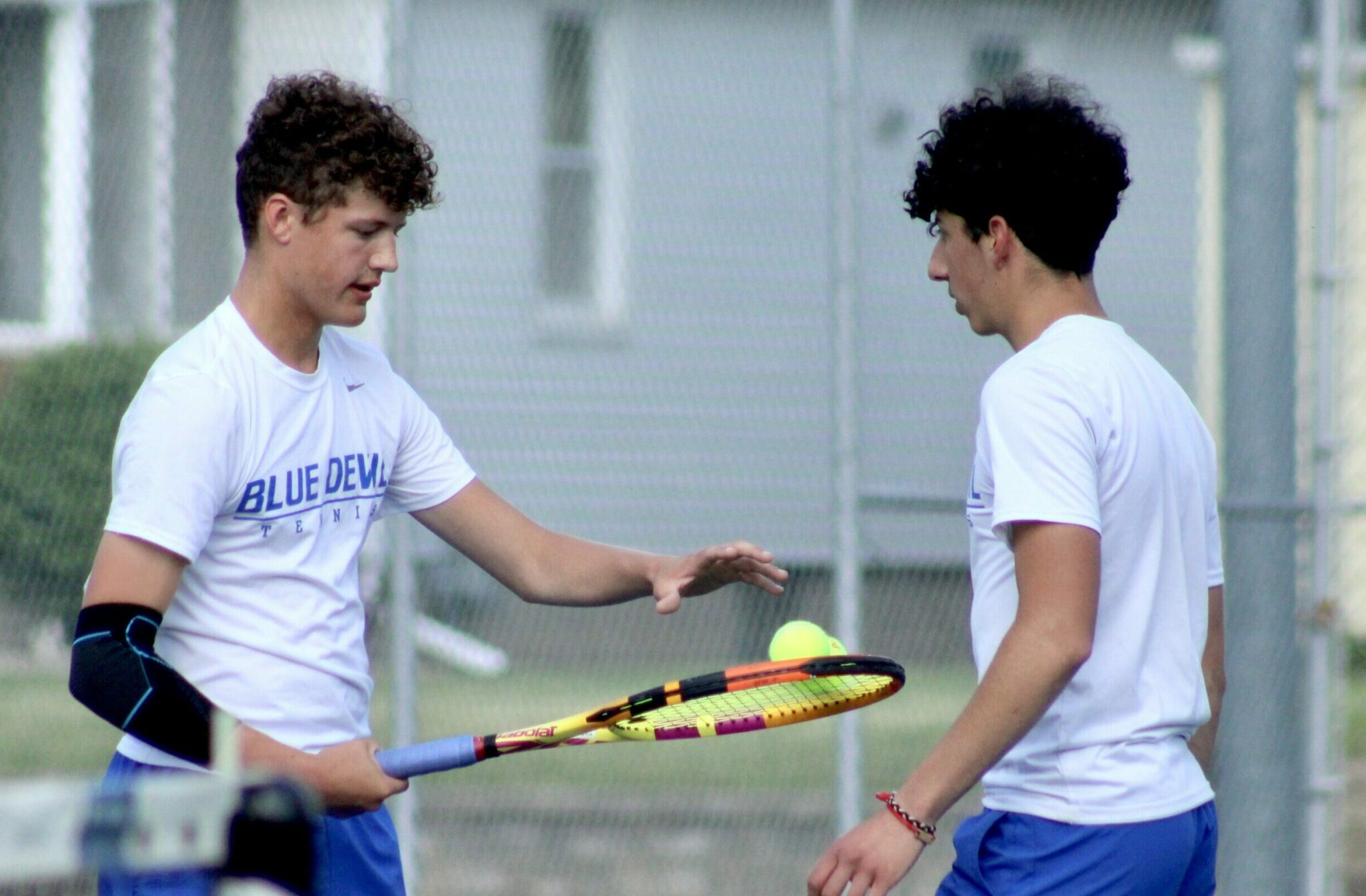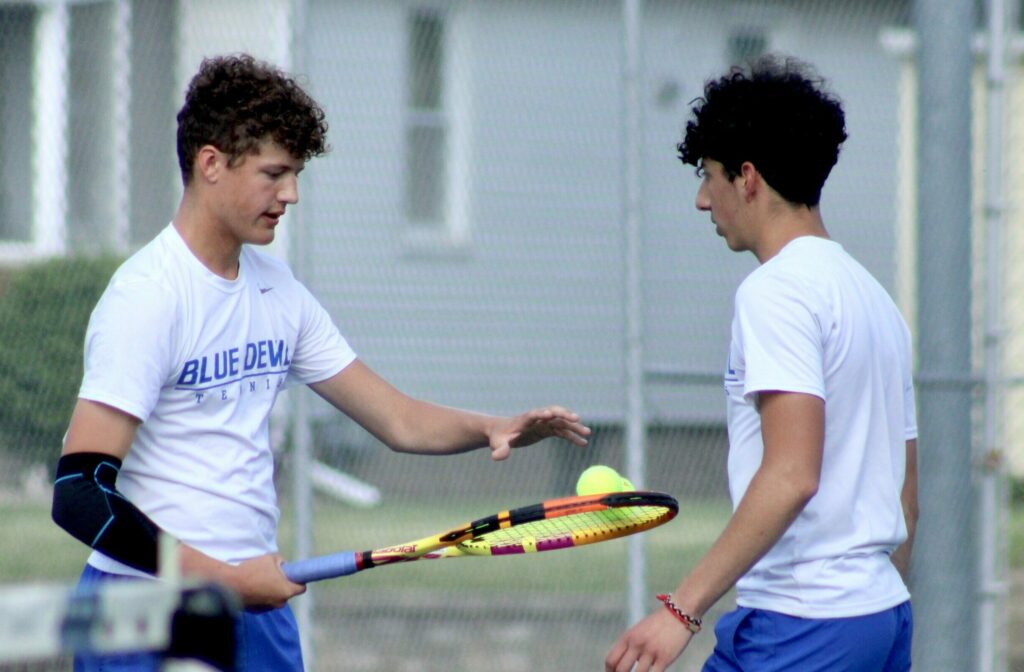 QUINCY — The manner in which Marko Cucuk tripped and fell, hitting the hard-court surface on Court No. 1 at the Greeman Tennis Center in Reservoir Park with a thud, created immediate and obvious concern.
"I knew I fell really hard," said Cucuk, the No. 1 singles player for the Quincy Notre Dame boys tennis team. "I thought I really messed something up."
So he laid there for a moment and took a deep breath.
"The first thing I thought was I hope it's not serious," Cucuk said.
It wasn't, at least not enough to force him to withdraw from the final dual of the regular season. Cucuk gingerly finished the first set, hobbled through the second set and finished off a 6-0, 7-6 (9-7) victory over Quincy High School's Will Hanlin on Tuesday afternoon.
"It'll be OK," Cucuk said. "I just tried to keep on pushing forward. It was bothering me a little in the second set, but it's all good now."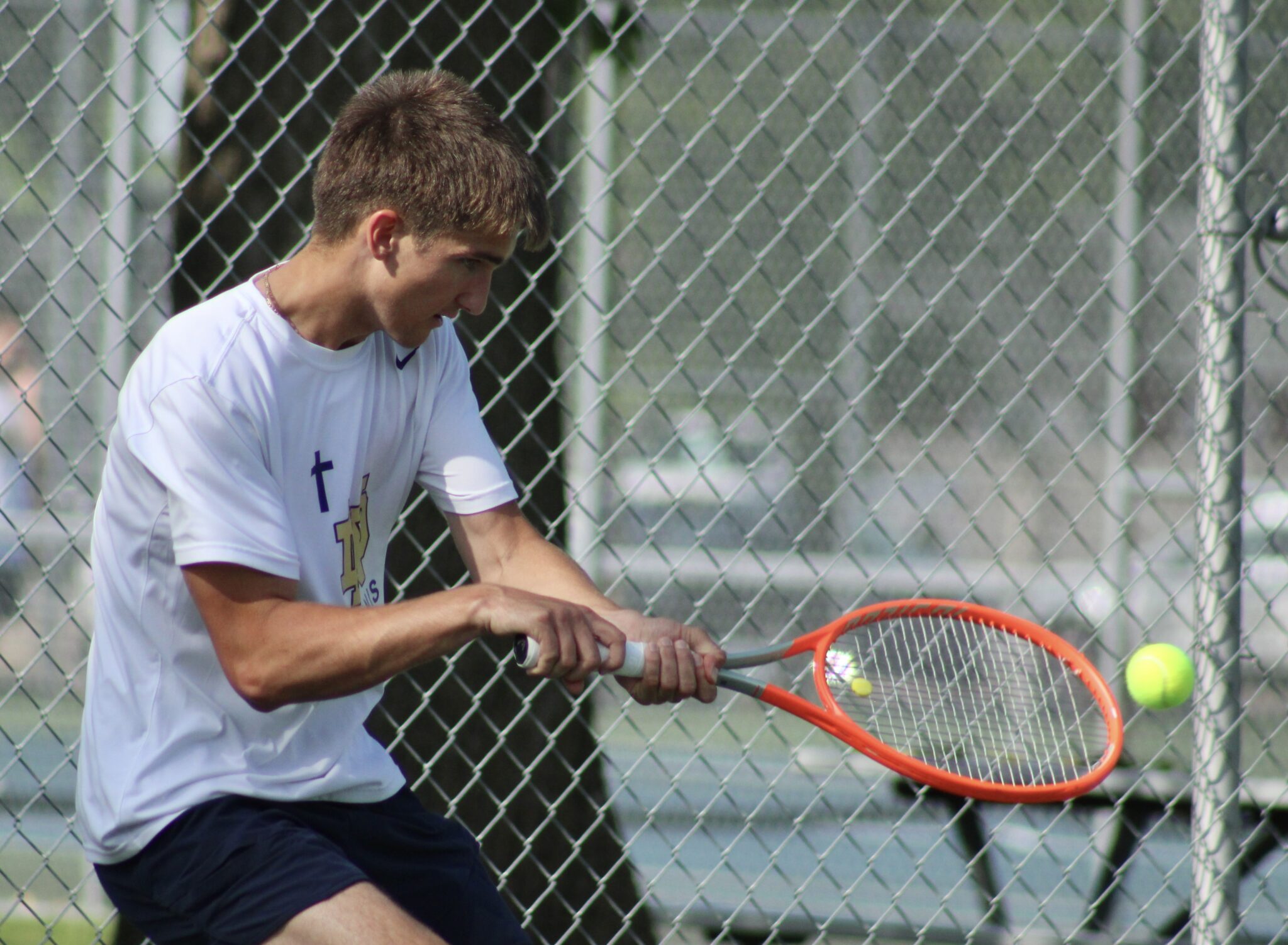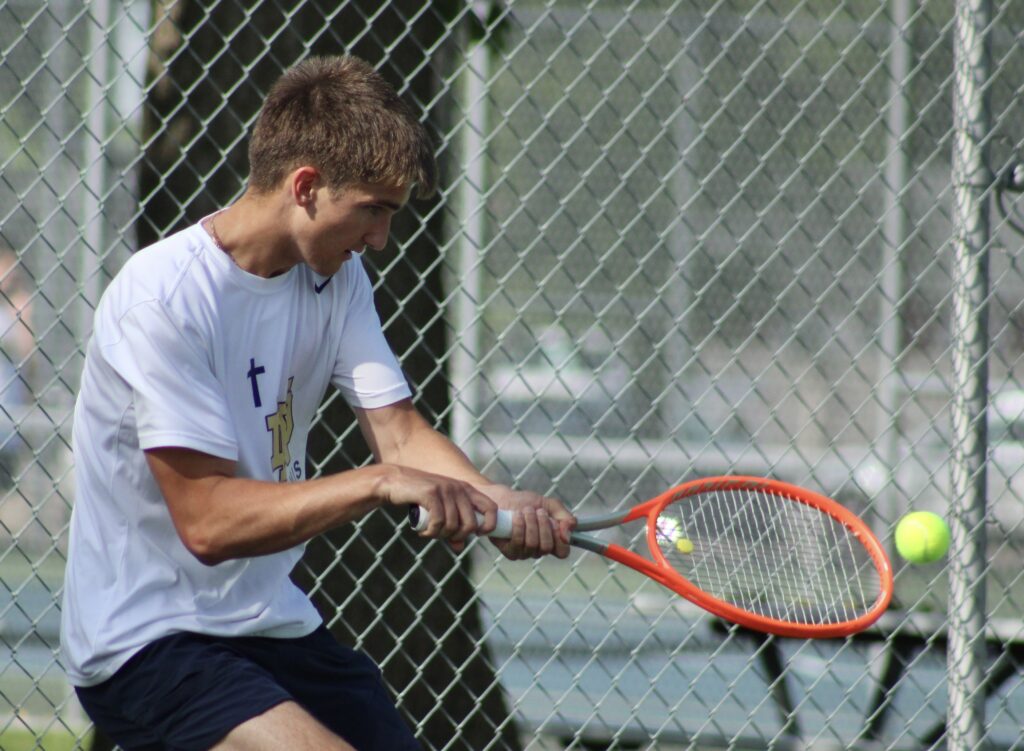 The Blue Devils' depth could be described as "all good now" as well.
QHS won the dual 7-2 to sweep the season series, having beaten QND 5-4 on April 24. The Blue Devils won four of their five singles matches in straight sets, along with earning an 8-6 victory at No. 2 doubles and an 8-1 victory at No. 3 doubles.
It provided a fitting sendoff for Hanlin, the Blue Devils' lone senior who has been a source of strength and leadership for this youthful team.
"I just wanted to come out and play," Hanlin said of Senior Day.
At the same time, he showed his teammates to never give in.
"It's a very emotional sport," Hanlin said. "You really have to have the mentality to stay tough through a match and keep it going. There's no clock. You can't just hold the ball and expect to win. You have to keep playing and grinding."
Hanlin and Surya Reddy suffered an 8-3 loss to Cucuk and Colin Larson at No. 1 doubles, and the QHS senior knew he'd have a difficult match against Cucuk in singles. But his ability to make Cucuk move side-to-side, especially after the ankle injury, opened up areas to attack, and Hanlon led a majority of the set.
"I felt like I was a little more consistent than what I normally was," Hanlin said. "I've just been grinding."
Hanlin forced Cucuk to rally to send the second set to a tiebreaker, which Cucuk won 9-7.
"I love that competitiveness," Cucuk said. "I don't like the boring matches. I like to lose a little bit so I get more pressure on myself."
The pressure was shared. The Blue Devils' Anderson Knapp won a second-set tiebreaker at No. 5 singles, beating the Raiders' Aden Smith 6-3, 7-6 (7-0), while QHS's Ethan Stark won 7-5, 2-6, 10-5 at No. 6 singles over QND's Matthew Boudreau.
Reddy beat Larson 7-5, 6-2 at No. 2 singles, while QHS's Trevor Nelson won 6-4, 6-1 over Alex Strong at No. 3 and the Blue Devils' Jason Derian won 6-4, 6-4 over Daniel Dyer at No. 4.
It sends the Blue Devils to the Western Big 6 Conference tournament Friday at Galesburg with some momentum, while Cucuk and the Raiders gear up for the Class 1A sectionals, which will take place at Chatham Glenwood on May 19-20.
Winning his final high school match Reservoir Park meant quite a bit, too.
"End it on a win in the regular season for the last time ever," Cucuk said. "If I didn't win, it would stay in my consciousness. I don't think I'd be able to sleep. I'm kidding about that, but it would bother me. So this is good, a good little boost."
And Cucuk said there are no worries about his tender ankle.
"I'll still always play tennis, no matter the injury," Cucuk said.
Miss Clipping Out Stories to Save for Later?
Click the Purchase Story button below to order a print of this story. We will print it for you on matte photo paper to keep forever.