Blue Devils capitalize on tide-turning moments, beat Panthers yet again with offensive onslaught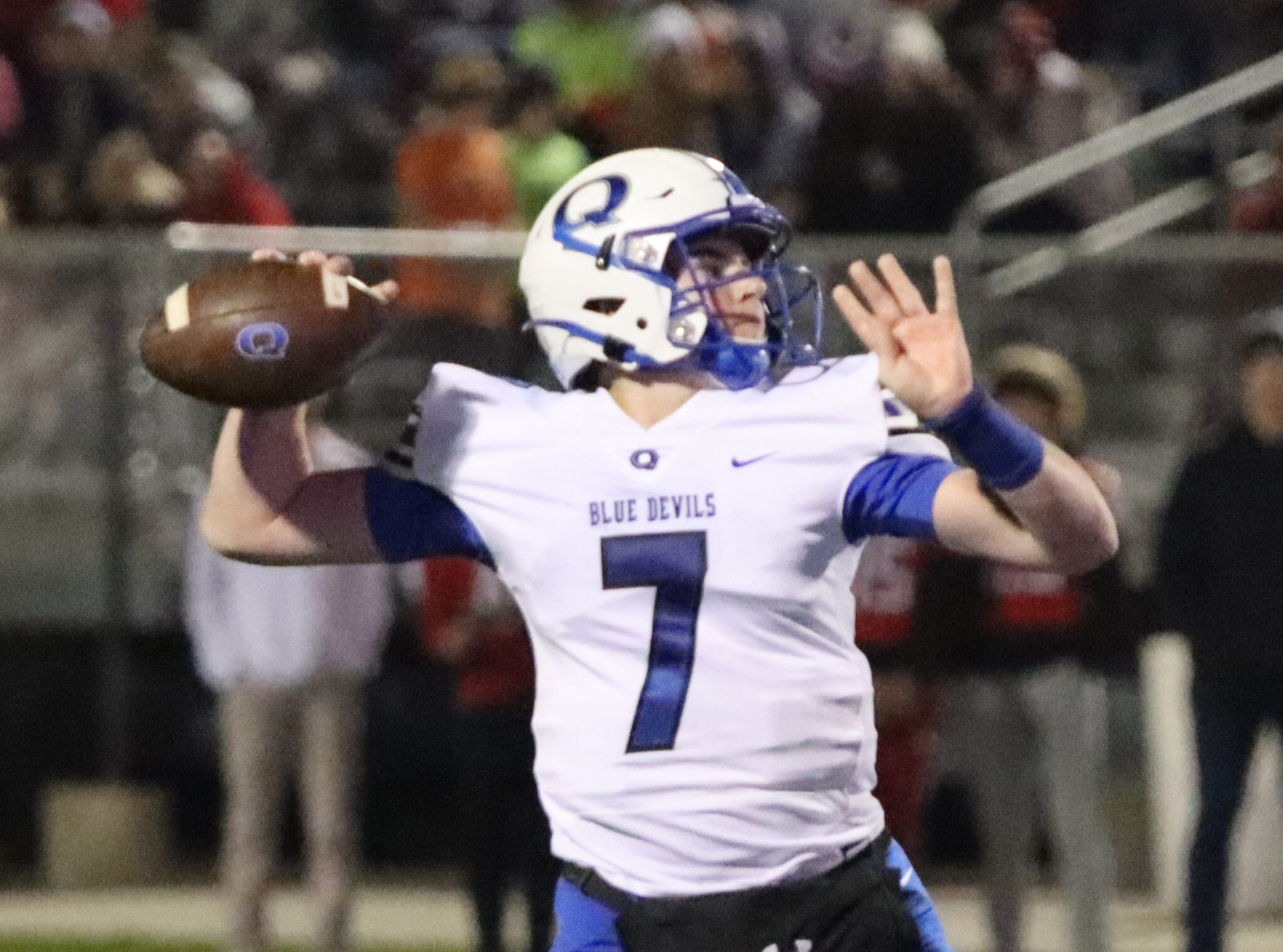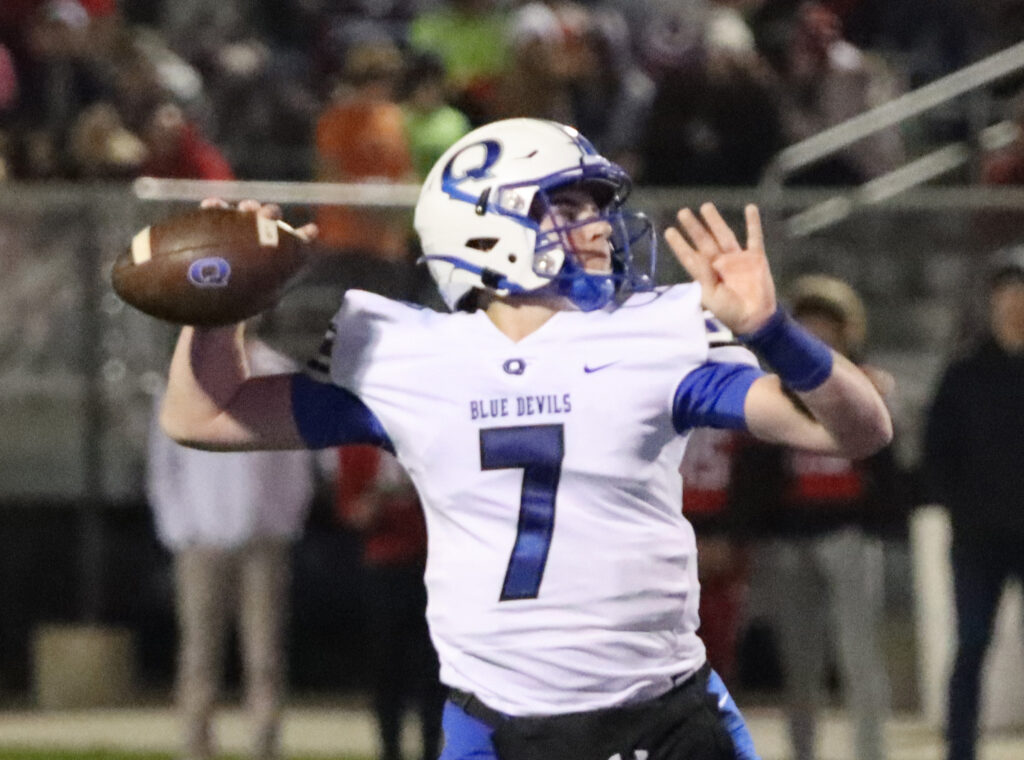 EAST MOLINE, Ill. — Three plays changed everything for the Quincy High School football team.
Sure the final score ended up 63-27 with the final 14 minutes played with a running clock, but the Blue Devils needed the tide-turning moments to shoot down United Township in Friday night's Western Big 6 Conference matchup at the Soule Bowl.
With the Blue Devils trailing 7-6 and facing fourth and 7 from just inside the 50-yard line, it might have been a good time to punt and pin the Panthers deep in their own territory. Quincy coach Rick Little had other ideas.
QHS quarterback Bradyn Little completed a pass to Caeden Johannessen to pick up the first down. A couple plays later, Bradyn Little dropped a pass over a UT defender into Adon Byquist's hands for a 29-yard touchdown.
"It has always been a struggle for me on fourth-down plays," Rick Little said. "I always feel like we can make the play, and I just don't like to punt the ball when we have the players we have. It seems to be that we have a high level of getting the job done."
That play put the Blue Devils (5-0, 3-0 WB6) on top and they never lost the lead in beating the Panthers for the 21st consecutive time.
However, Panthers quarterback Matthew Kelley wasn't going away easily. He finished with 216 yards rushing off 15 carries and two touchdowns; and he completed 11 of his first 12 passes.
"Kelley is really a good player," Rick Little said. "He does a lot of things and he really battles. He was hard to stop."
Following a Quincy touchdown that made it 35-14 with 1:31 left in the first half, Kelley carried his team to a TD with 31 seconds left to cut the lead to 35-20.
That's when the second play that defined this victory occurred.
A penalty on the ensuing kickoff put the Blue Devils on the Panthers' 45-yard line. On a swing pass to wide receiver Tykell Hammers, the junior made one cut and went 45 yards for a touchdown to make it 42-20.
"Our mindset was to throw the ball to the outside, get some yards and get out of bounds," Rick Little said. "I just wanted Hammers to get the ball and get us closer. He did a lot better than closer."
Added Bradyn Little, "We have so many players who can make plays. I think it makes it tough for the opponents to know who is getting the ball."
Still, the Panthers tried to claw their back into the game to start the third quarter. After UT picked up a first down, the third critical play made by QHS put the game away. Kelley fired a deep pass that QHS junior cornerback Rico Clay read immediately and intercepted at midfield. He returned his fourth interception of the season for a touchdown to make it 49-20.
"(United Township) was hard to stop, especially(Kelley) in the first half," Clay said. "They were damaging us, and at halftime, we knew we had to slow them. We got (Kelley) stopped the first few plays of the second half and that forced them to throw. The pass seems like (Kelley) wasn't throwing it as hard as he had been and I saw it coming all the way. I stepped in front of the receiver and I had it all."
The Blue Devils added another TD on Jack Mettemeyer's second TD reception to make it 63-20 with 2:45 left in the third quarter to invoke the mercy rule
Mettemeyer's two touchdowns made him one of three Quincy receivers who hit paydirt. Byquist grabbed a pair of TDs among his five receptions for 140 yards, and Hammers grabbed five passes for 102 yards and a couple TDs.
Little completed 19 of 24 passes for 334 yards and those six touchdowns.
"It all starts with the five big guys up front," the junior quarterback. "I have been sacked one time all season, and that makes it so easy for me to see the game. Then, you have a great running back to keep the defense honest.
"I don't know if the six touchdown passes are the most I've had, but it's all about every player. We have so much faith in the defense and the two interceptions in the third quarter were really big."
Added Clay, "It is so much for playing for this team. We've played together for a long time. We enjoy our team and we just love to play."
QHS junior running back Jeraius Rice Jr. continues to average more than 100 yards per game. On Friday, he ran 15 times for 131 yards and two touchdowns; and he hauled in three passes for 19 yards.
Miss Clipping Out Stories to Save for Later?
Click the Purchase Story button below to order a print of this story. We will print it for you on matte photo paper to keep forever.