Anything you can do, Leo Cann do better: Senior forward's hat trick lifts Raiders to victory over Blue Devils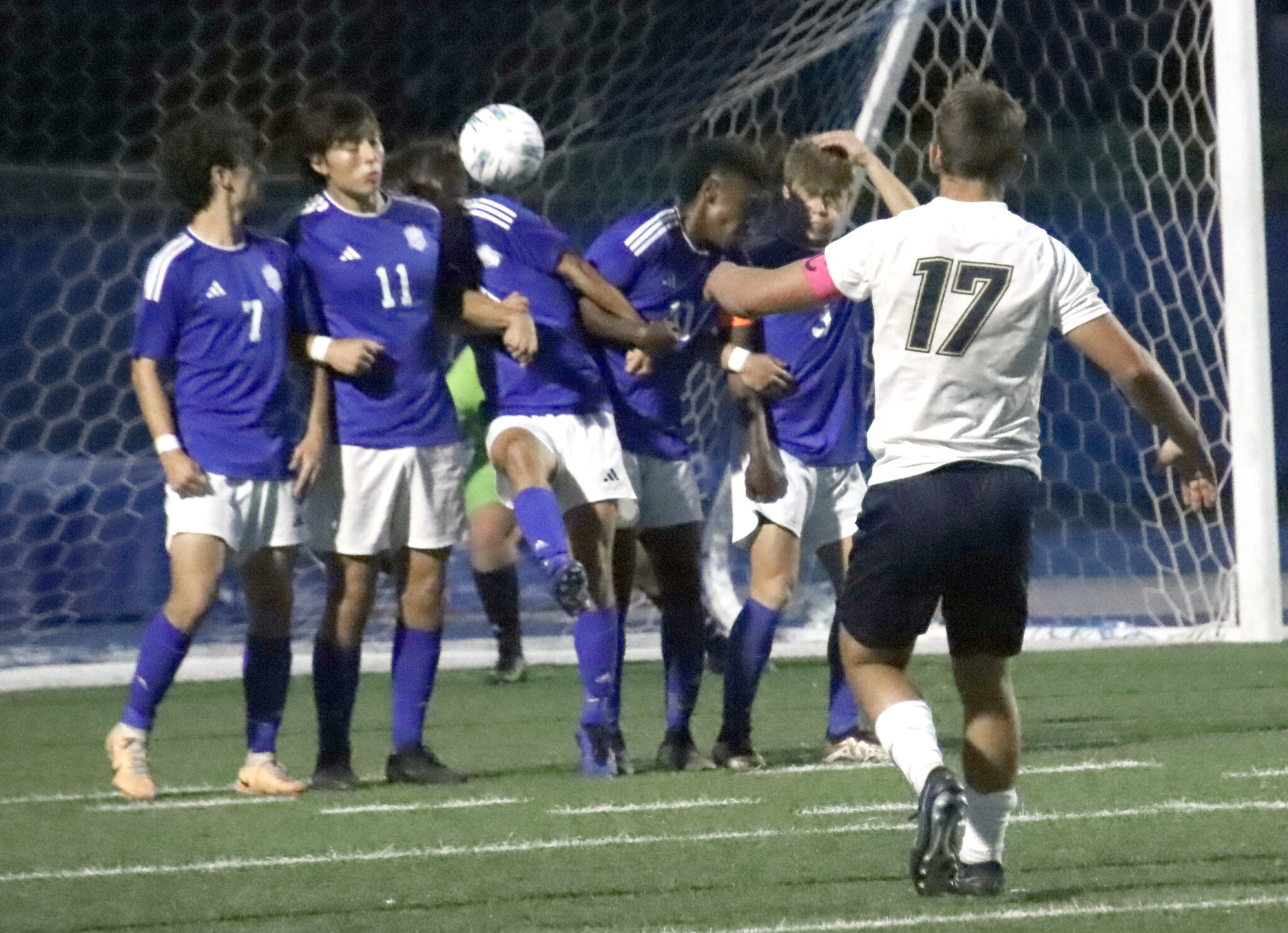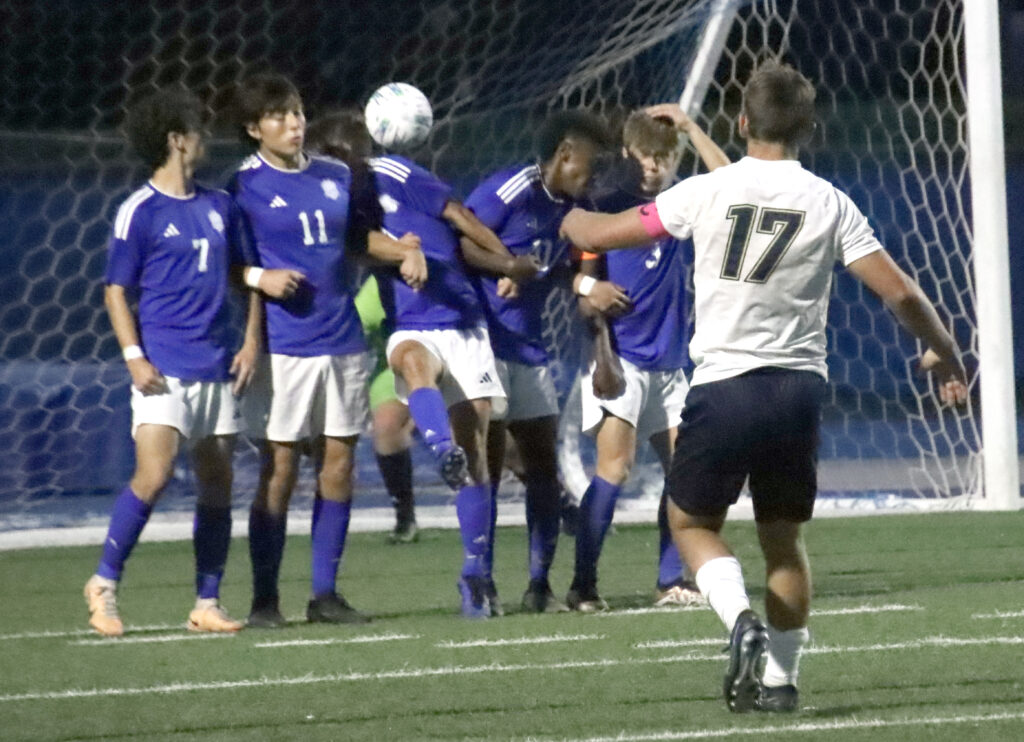 QUINCY — Leo Cann has played at Flinn Stadium only once each season throughout his high school soccer career.
Yet, two of his most memorable moments happened on his rival's home turf.
As a sophomore, Cann scored the lone goal in the second half of the Quincy Notre Dame boys soccer team's 1-0 victory against Quincy High School. Thursday night, he tripled that, recording a hat trick as the Raiders held off the Blue Devils for a 4-2 victory.
"I love this place," Cann said. "This stadium, the energy that people bring, it's just awesome. To get another win here is special. I haven't lost here yet."
Neither he nor anyone in QND's senior class has lost to QHS anywhere.
The Raiders are 5-0-2 in the last seven meetings in the intra-city series and could become the first class to go unbeaten in the city rivalry since the QHS Class of 2015 went 6-0-2. The Blue Devils outscored the Raiders 12-5 during that stretch.
This group has outscored the Blue Devils 21-6 so far in this unbeaten streak with Cann's hat trick the fourth such occurrence. QND had three hat tricks ever against QHS prior to Cann's freshman season.
"That felt great," Cann said.
The manner in which the Raiders (4-3) built their lead and hung on to it made the moment even better for Cann. Tied at 1 at halftime after the Blue Devils answered a goal by QND's Elliot Hendrian with Logan Epping scoring off an Andrew Brown assist, the Raiders took advantage of a restart to seize control.
Five minutes into the second half, after a foul near the top of the penalty area on the left side, Cann curled a shot over the Blue Devils' defensive wall and into the lower corner of the net for the lead.
He doubled the advantage less than three minutes later when he hit a left-footed cross from 20 yards out on the deep left wing that carried into the far netting.
"It changes everything," QND center back Rylan Fischer said. "All the momentum goes our way. Their attitudes change. It changes the pace of the game."
Cann's evolving talent is a big part of that.
"We've talked to Leo and we're trying to get him to go left," QND coach Greg Reis said. "He floated the one over the goalie, and Leo may have been the most surprised person in the stadium. But I'm constantly trying to get him to go left because everyone is overplaying him to right. His left foot is good enough to go that direction.
"He just has to keep pushing himself and forcing himself to go left to open it back up to the right. If he goes left, he can make things happen."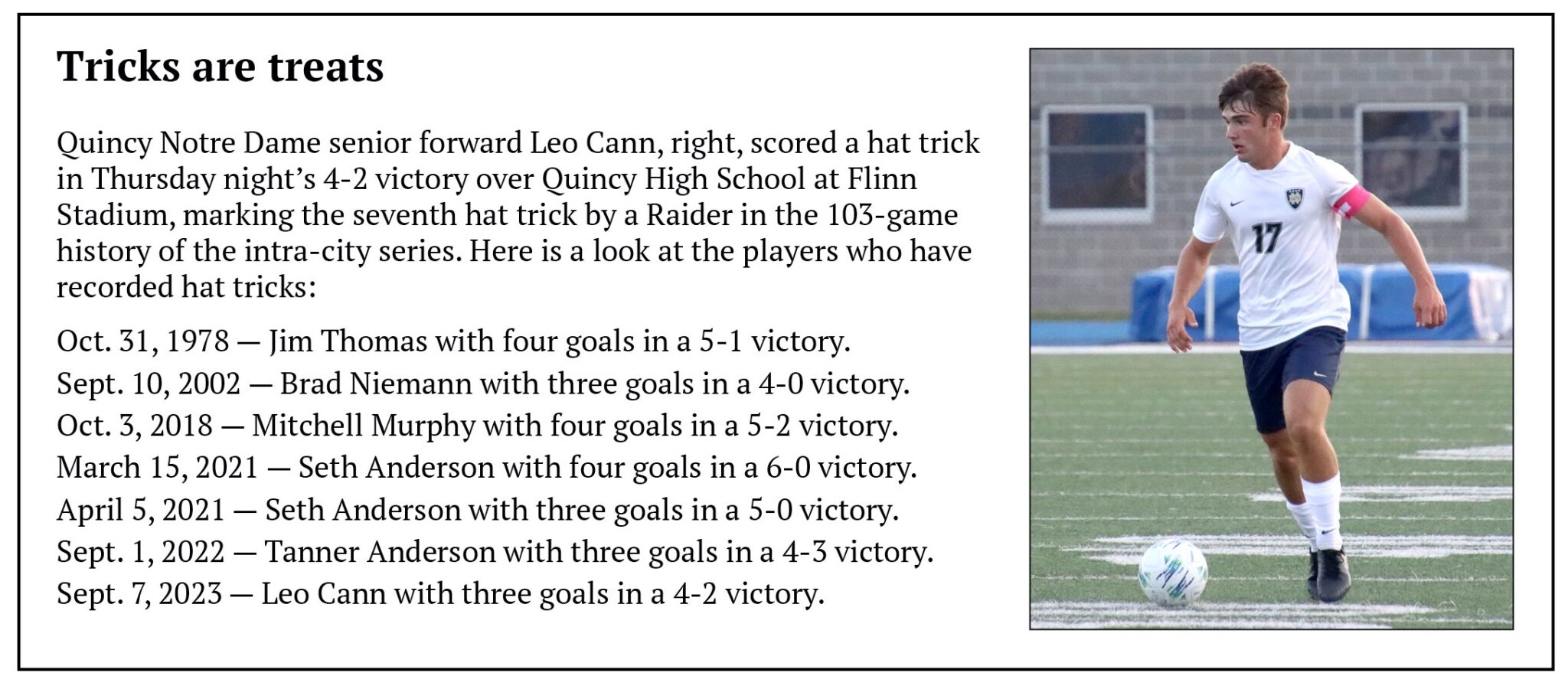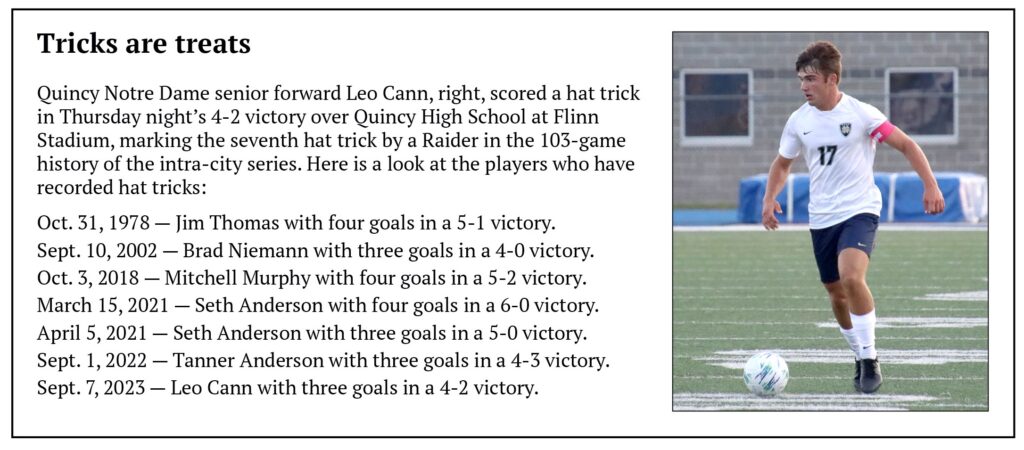 Every goal Cann provided proved necessary.
The Blue Devils (2-4) erased the 1-0 deficit in the first half by grinding, and they answered Cann's early second-half salvo by continuing to attack. Andrew Brown was fouled in the box on a run to the right corner, resulting in a penalty kick Biruk Rosen buried to make it a 3-2 game with 28 minutes remaining.
"We're going to be a team that fights no matter what team we play and no matter how good they are," QHS senior midfielder Evan Sohn said. "We're going to keep fighting no matter what the odds are."
Two minutes later, the Blue Devils earned three corner kicks in a row and felt like they had the Raiders on their heels, but they didn't convert on those opportunities.
"We had about a 10-minute spell there where we were creating opportunities, and we just couldn't find the back of the net," QHS coach Ron Bridal said. "We just have to capitalize on one of those and execute. We kept going and kept getting those opportunities, but we just didn't find the back of the net.
"Unfortunately, a turn of events there when we lost a player made it hard to continue to press."
With 16 minutes remaining in regulation, QHS sophomore Trace Routh received a yellow card for a foul and was hit with a second yellow card as he walked toward the bench, resulting in a red card that left the Blue Devils playing a man short for the remainder of regulation.
Bridal received a red card arguing the call and was ejected. Both will miss Saturday's game at home against O'Fallon.
QND took advantage of the situation to put the game away.
A minute after Routh's ejection, Cann collected the ball at midfield, split two defenders and placed a right-footed shot into the lower left corner of the goal for the 4-2 advantage.
Yet, Cann was clear that the halftime talk in the locker room led to the second-half surge more than anything else.
"Honestly, it was to be more aggressive," Cann said. "QHS is always an aggressive team. We had a couple of younger players who went in on some tackles a little soft. It took some yelling at halftime by Greg, me and the rest of the coaches to let them know what they needed to do differently."
"That's probably the best our three midfielders have played all season," Reis said. "They were very good at challenging and winning balls and just competing out there."
Channing Trevino asserting himself in the midfield helped.
"Channing has a little more physical presence," Reis said. "He's kind of been a utility player. He's played all over. He was a nice add-in to the middle and did a nice job of holding things up for us."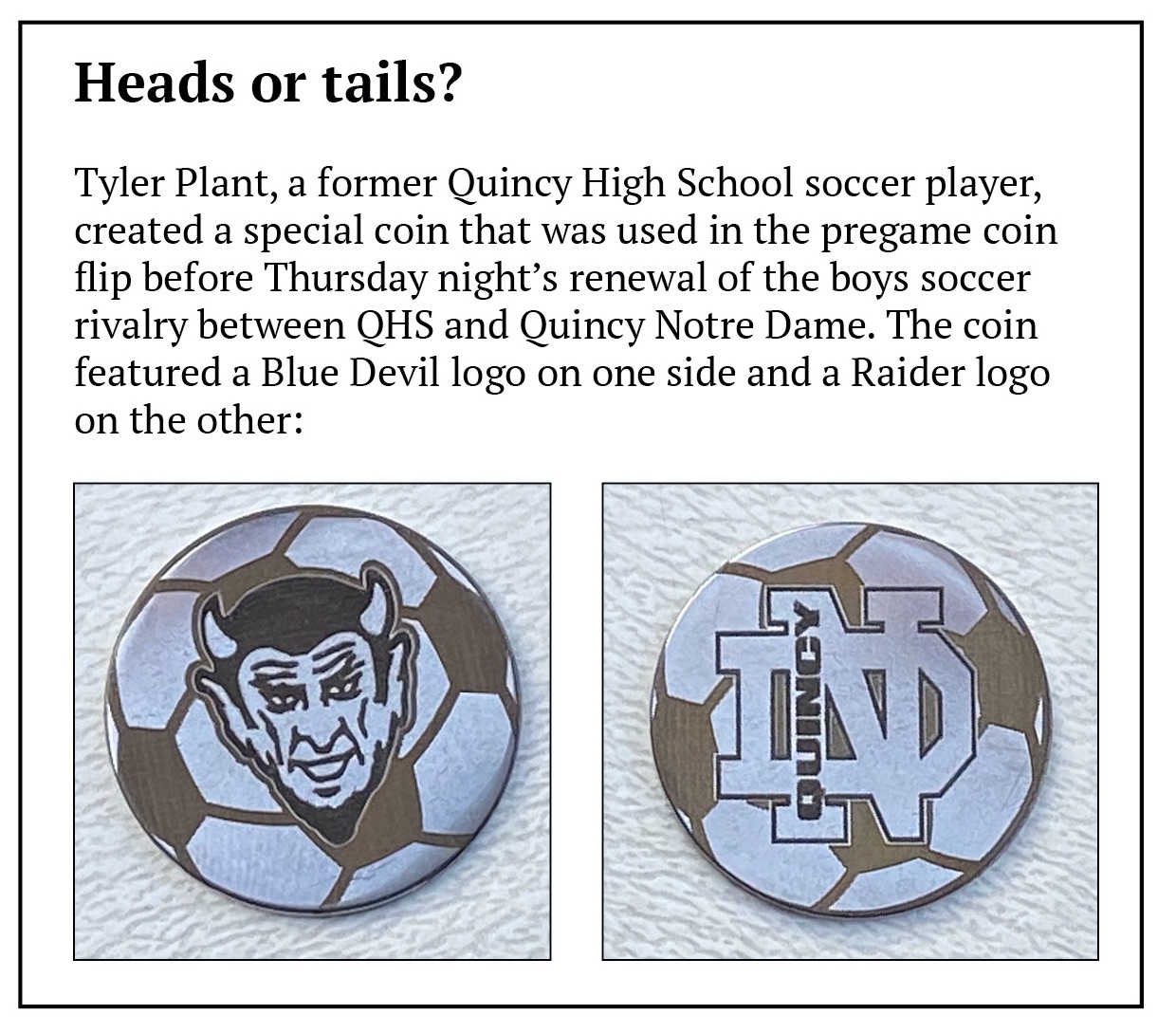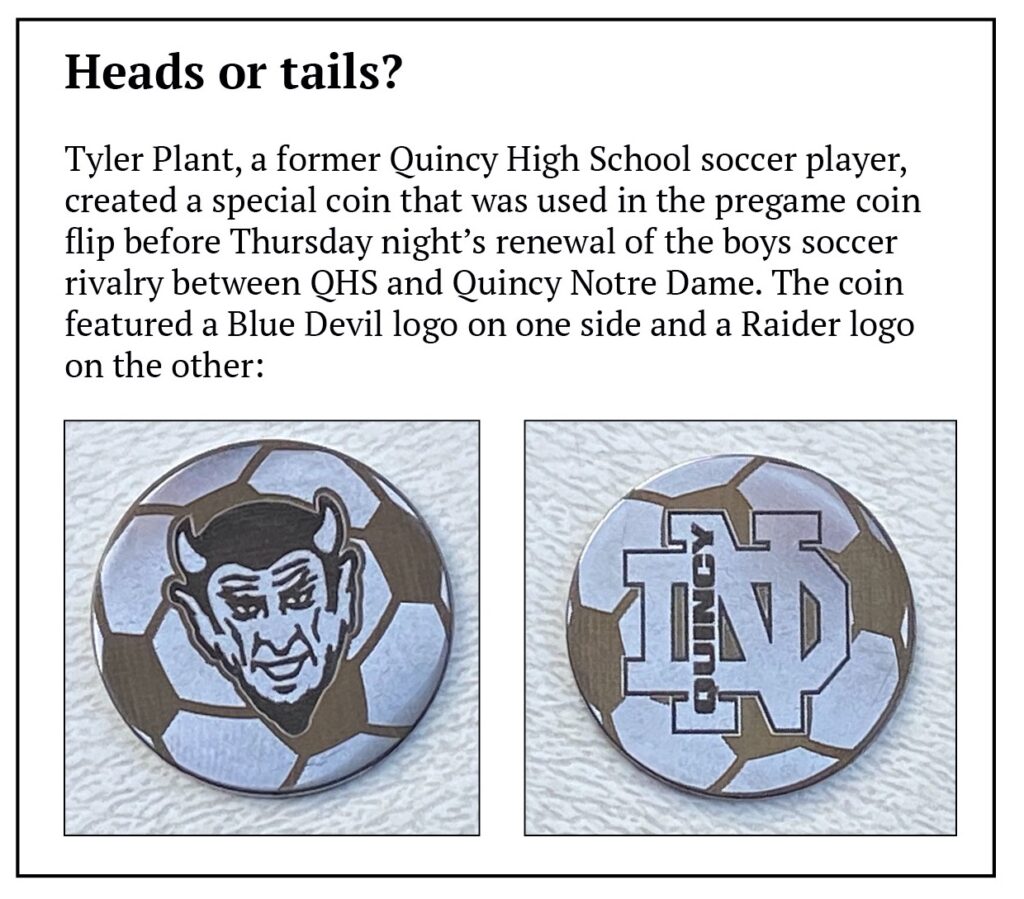 Miss Clipping Out Stories to Save for Later?
Click the Purchase Story button below to order a print of this story. We will print it for you on matte photo paper to keep forever.