'And it was nothing but net': Mulherin's first career 3-pointer punctuates Blue Devils' WB6 victory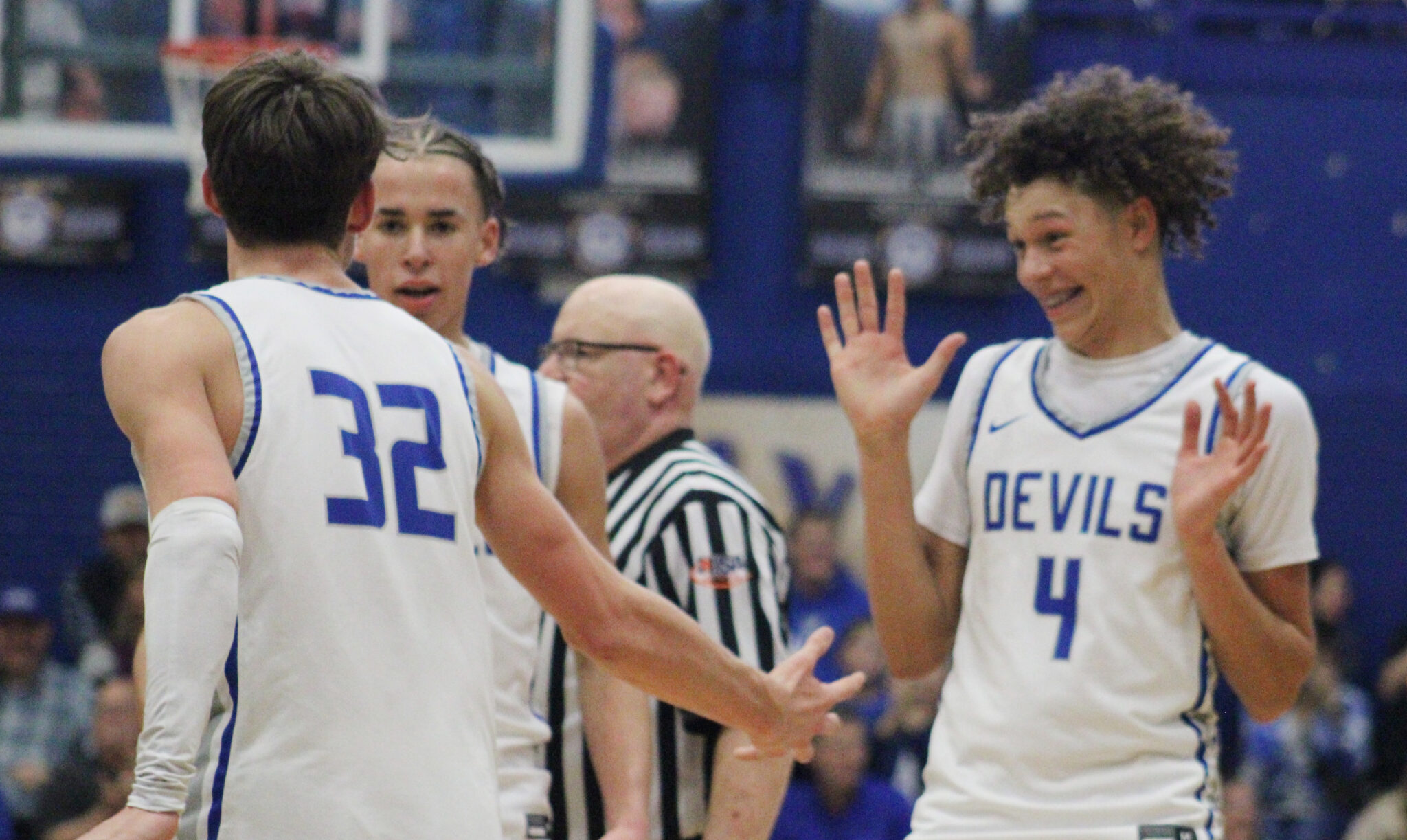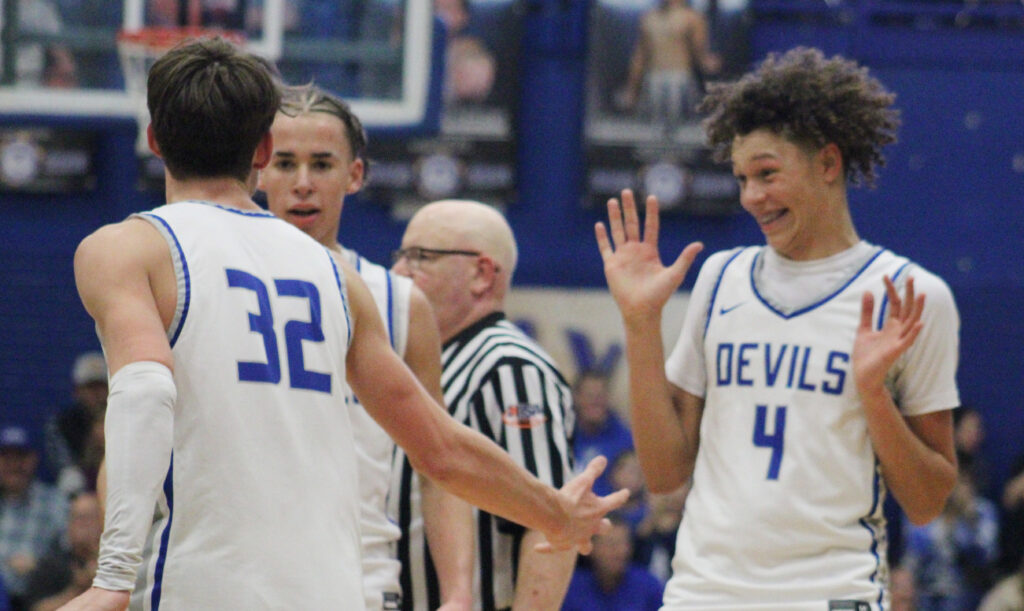 QUINCY — Sam Mulherin could say he's one and done. But why do that?
The Quincy High School senior forward relished making a buzzer-beating 3-pointer — the first 3-point attempt of his high school basketball career — so much so he's ready to put his perfect shooting percentage on the line with another try.
"Oh, absolutely," Mulherin said with a big grin. "It's something I enjoyed. And the three points instead of two is nice as well."
Mulherin's 3-pointer from the right corner in front of the QHS bench as time expired in the third quarter gave the Blue Devils, ranked eighth in Class 4A, a comfortable 39-22 lead over United Township on Friday night. They finished off a 63-51 Western Big 6 Conference victory in front of a filled-to-the-rafters Blue Devil Gym crowd.
One of four games played on the first night of the fifth Quincy Shootout, the atmosphere and the boisterous crowd made the moment all the more memorable for Mulherin.
"Stepping out of my comfort zone and shooting the basketball, that's definitely cool," Mulherin said. "It's something special."
The joyous and slightly dumbfounded reaction of his teammates amplified that.
"It's definitely cool when guys step up and get the chance," junior forward Tyler Sprick said. "I'll be honest, in practice, he hits them. It's one of those situations where we're surprised, but he's made enough that he earned the chance to take that shot.
"And it was nothing but net, so what can you say?"
It was the type of dagger the Panthers could never make.
Leading the WB6 with 65 made 3-pointers and shooting 36.3 percent from beyond the arc in league play, United Township wanted to lean on its perimeter shooting to offset Quincy's determination to score in the post. However, the Panthers went just 1 of 16 from 3-point range through the first three quarters and finished 4 of 25 overall.
"We watched film, we played them before and we let them hit some shots, which you don't know if they're going to make, but that time they did," Sprick said. "You have to lock down on the shooters. You have to know who guys are. That's one thing that makes our defense so great.
"We study and work at it and know what we need to do."
The same holds true on the offensive end.
And in this case, the Blue Devils (18-2, 7-1 WB6) needed to pound the post. Sophomore forward Keshaun Thomas scored nine of Quincy's first 13 points, and 17 of the first 21 points were scored at the rim or from the free-throw line following attempts at the rim.
Sprick buried a pair of 15-foot jumpers in the first half, and Bradley Longcor III nailed a 3-pointer in the final minute of the half as the Blue Devils took a 25-13 lead into halftime.
In the second half, Mulherin thrived in the paint, scoring five times in the lane in the fourth quarter and finishing with 14 points. Longcor led the Blue Devils with 17 points, and Thomas finished with 11. Bristol Lewis led the Panthers with 20 points.
"We had to establish the post," said Quincy coach Andy Douglas, whose team will face Kansas City (Mo.) Staley at 7:30 p.m. Saturday. "We may not have the size advantage tomorrow night, but tonight we did. We wanted to get the ball in to both of our post guys. They're both really good passers and take opportunities when they can."
Mulherin capitalized on his opportunity to be a marksman. So does that mean he has the green light to shoot?
"Uh, no," Mulherin said with a smile.
Douglas laughed when asked if Mulherin gets the green light now.
"He does until he misses one," the coach said.
No one knows when the opportunity for that will come.
"We'll see," Sprick said with a mischievous grin. "He better be open."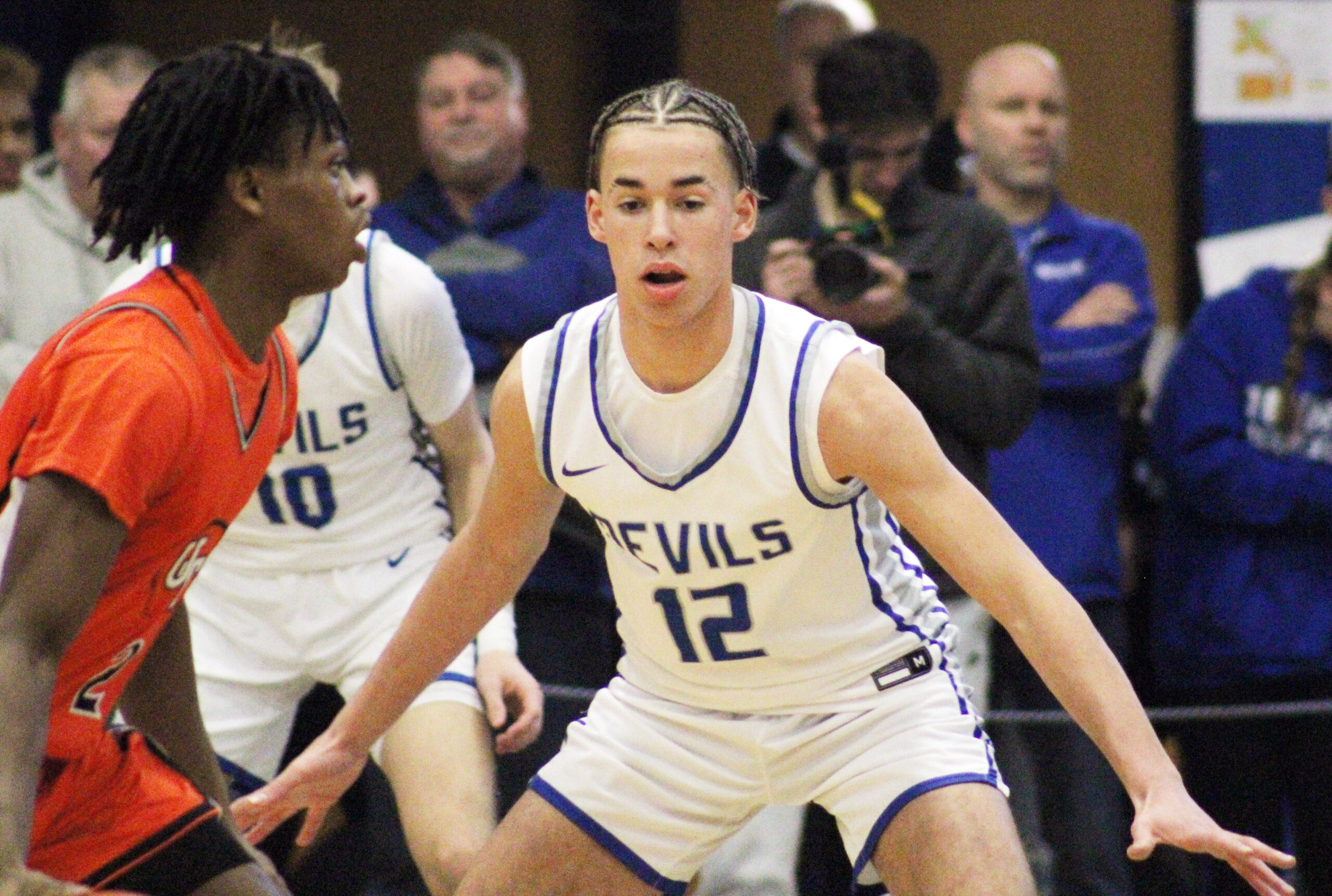 Miss Clipping Out Stories to Save for Later?
Click the Purchase Story button below to order a print of this story. We will print it for you on matte photo paper to keep forever.