A player's perspective: Former QND girls soccer standouts reflect on Longo's impact on tradition-rich program last 34 years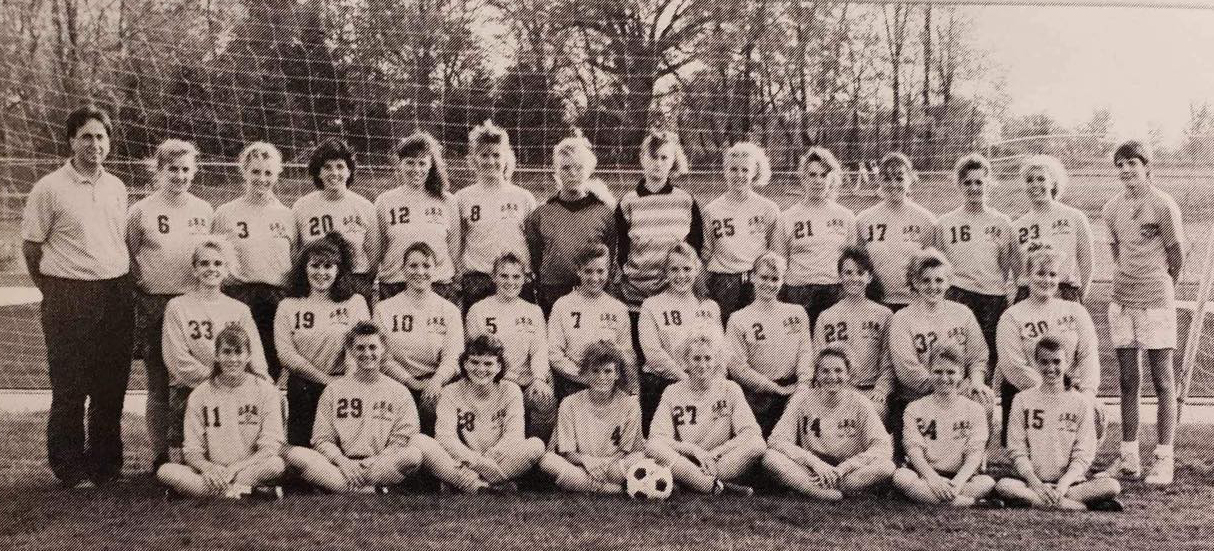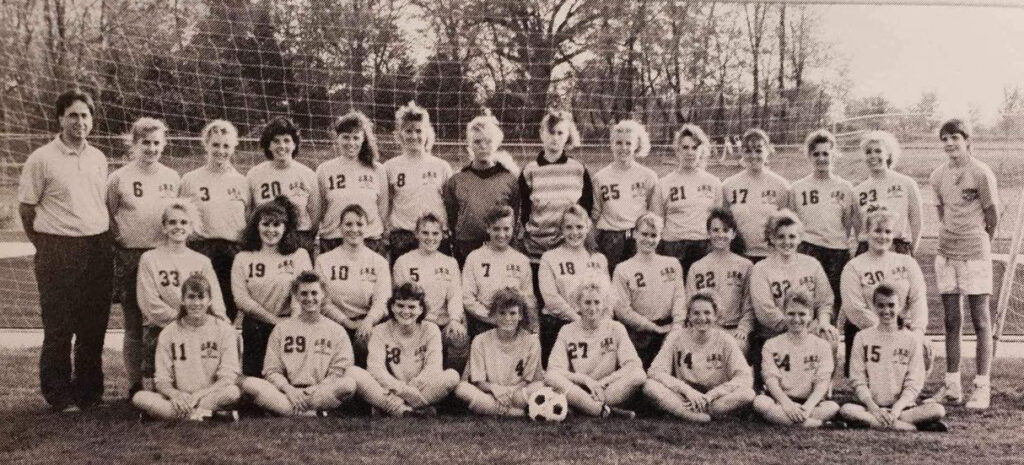 QUINCY — The winningest girls soccer coach in Illinois High School Association history impacted the lives of those he coached far beyond the white lines.
That became abundantly clear with the reaction three decades worth of Quincy Notre Dame players had Tuesday when Mark Longo announced he was retiring following 34 years at the helm. Longo won 608 games and six state championships over the course of his career in which he has been the only head coach in program history.
Here is what some of his players spanning all three decades had to say about his impact:
"When a group of us approached Coach Longo in 1990 with the idea of starting a girls soccer program at QND, we had no idea of the success that was in store down the road! We held a meeting to judge the interest level, a ton of girls showed up, and the decision was a yes. So they bought us some long-sleeved gold t-shirts, pressed on a number and the QND logo, and we were ready to go!
"For the two years I played for Coach Longo, several things were a constant. We were taught to work hard, have fun, and care about our teammates. From the practices on that bumpy grass field, to the bus rides, to the game preparation and play, we worked hard, we had fun and we cared about each other and our coaches. And we knew Coach Longo cared about us. He also challenged us and made it fun at the same time … "Score a goal with your head and you get a free dinner at my house!" I honestly don't remember if I ever earned the free dinner, but I can clearly remember Danielle Peters scoring 3 headers (YES, 3!) in one game off of my corner kicks! I know I loved those assists and the subsequent WIN that day, and I'm sure she enjoyed that dinner…
"Coach Longo clearly carried those things through the years at QND, growing what started as an idea, turned into a team, and then into a winning PROGRAM with a strong culture. This is evident certainly not only in terms of winning percentage and trophy earning, but in things like team building events (Derby day at Coach Longo's house!), his summer camp with a flyer that reads, "this is not a baby-sitting camp, this is a camp where STATE CHAMPIONS are born!", his Facebook live videos where he highlights the players, and last but not least the team tagline, RSKA!!!
"Playing for Coach Longo was an honor and he impacted me not only as a high school player, but also as a college player, and even as a mom raising young soccer players. Thanks, Longo, for all you have done not only for me, but for all those who came after me. We are all better because of YOU!"
— No. 6 Tina Dietrich Yontz, Class of 1991
"What can I say. Coach Longo was a phenomenal coach. One of the best for sure. My freshman year was the first year of girls soccer at QND. He helped develop the program from the beginning into the program it is today. With him coaching we worked hard but it didn't seem like work because Coach Longo always made it fun. Whoever is filling Coach Longo 's shoes sure has big ones to fill."
— No. 16 Tara Althoff, Class of 1993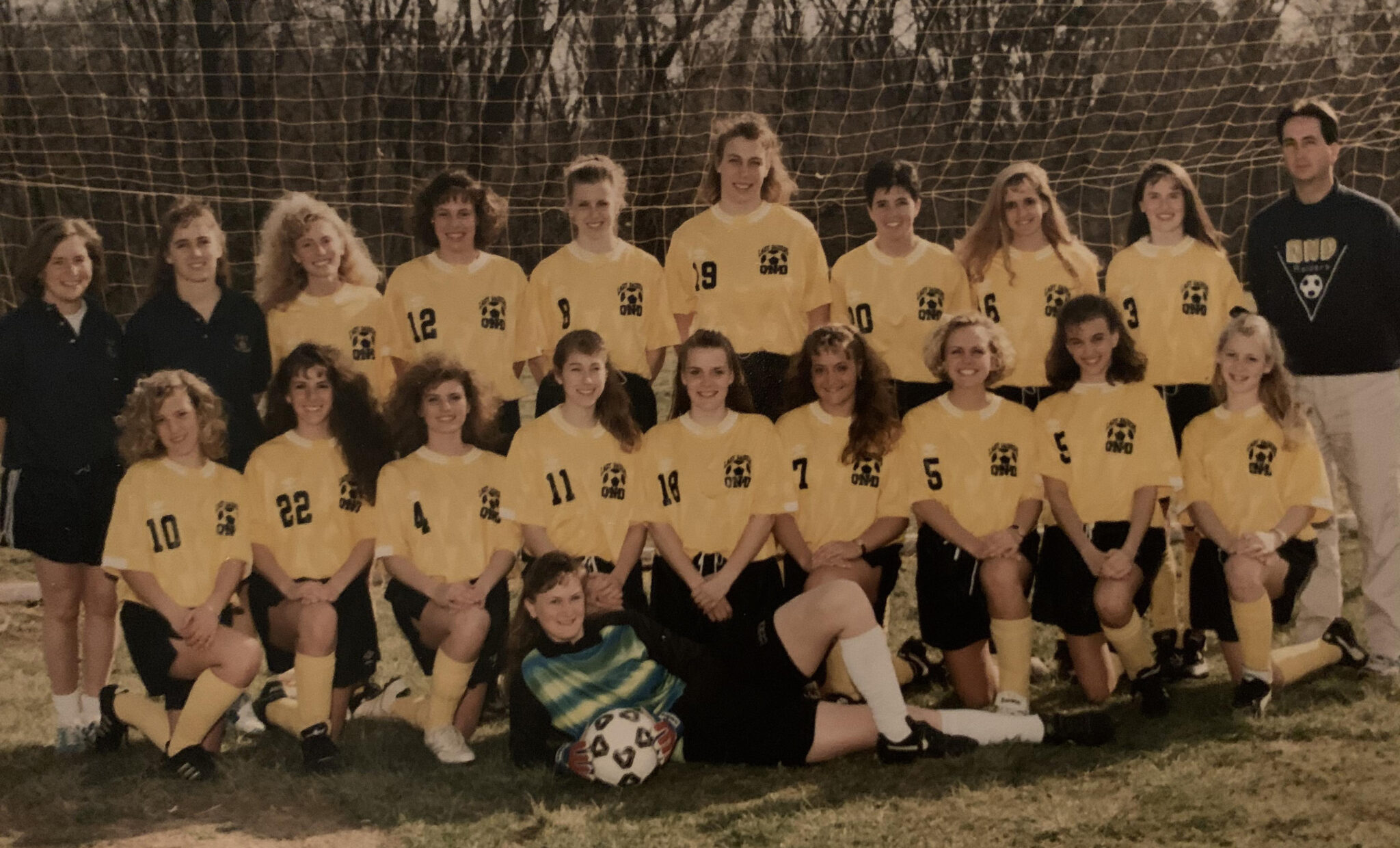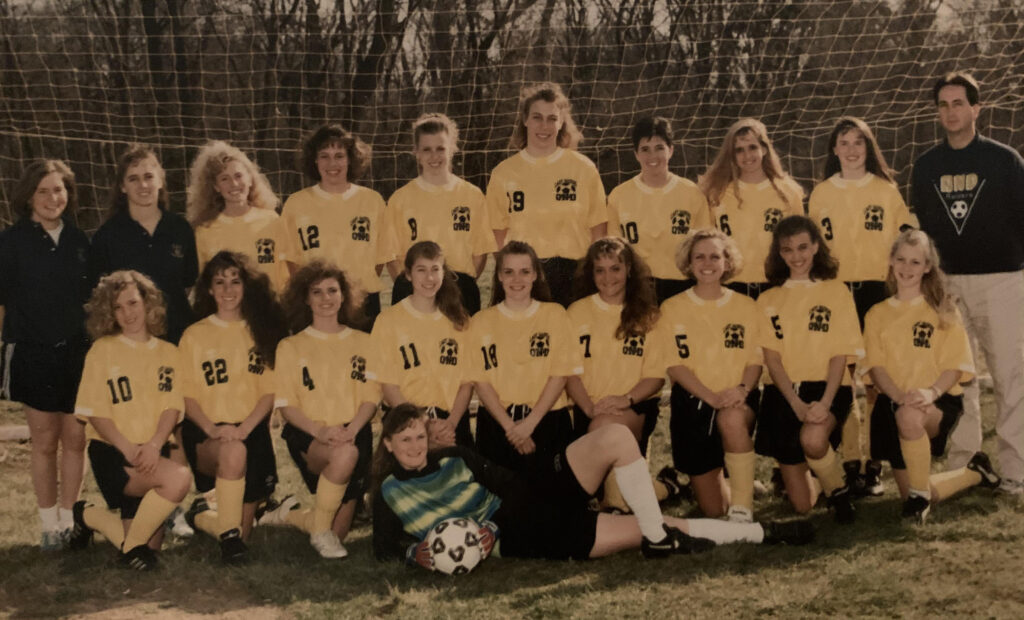 "Coach Longo has certainly made his mark on QND Soccer & among the esteemed faculty/staff for the last 34 years. His career has been marked with guiding some seriously great female student-athletes to be leaders in their sport & in life.  His longevity of living this grind of coaching life is admirable, as is his love & support for his family. Kudos to a storied career, Coach Longo, thank you!"
— No. 8 Lori Thomas Khazen, Class of 1995
"Mark Longo is the entire reason QND Lady Raider soccer even exists. His legacy makes it possible for every generation of player that follows his tenure as a coach, to play. The program he built is the reason every little girl who loves soccer attending a private school in Quincy, dreams of being a Lady Raider. His legacy is the reason every Lady Raider who continues their career beyond high school to the collegiate level is possible. I think most Lady Raider Soccer Alum would even agree that same legacy is the reason we all dream(ed) our own little girl would take that field under the same lights we did. His legacy will live on at QND. As a soccer alum, the fond memories I have of my time being coached by him will remain with me always."
— No. 10 Tiffany Gallamore-Steinhauser, Class of 1995
"When I think of my experience with the QND girls soccer program, I remember we always had fun. You would think it would be all of the wins and success, but for me it was about the day to day, the relationships, the experience of it all. I was lucky enough to play with a lot of competitive and talented players who knew how to win, but if and when those wins didn't happen we still had fun. Coach Longo was responsible for creating this environment you wanted to be a part of and play for. With my past coaching experiences, I would always reflect back on this time and ask myself is this fun? Am I creating an environment the players want to be in, play in and be a part of? If I wasn't, I knew I wasn't doing my job. Creating those types of environments, while also trying to win, it is the hardest part about coaching. I give so much credit to Coach Longo for always being able to that do this consistently over the last 34 years and giving all of his players that space."
— No. 00 Katie Awerkamp Farrell. Class of 2003
"I'm so proud to be a Lady Raider, and it all started with a leader that believed in us. Coach Longo had the ability to take a group of hardworking young ladies, motivate them to be their best, both on and off the field. He cultivated an environment where everyone was encouraged to be themselves, and because of that, we had a bond that was unbeatable. We trusted one another, we had fun, and we kicked some freaking butt. Cheers, Coach Longo. Thanks for believing in us, and making it so much fun."
— No. 11 Kim Koenig Paul, Class of 2003
"Mark Longo leaves a legacy behind him. One that has shaped the future for QND girls soccer. There has been a lot of dedication and time spent over many seasons building and cultivating women's soccer players for their futures. He is a large part of many athletes successes. He leaves behind big shoes to fill and many lasting memories to the QND girls soccer program!"
— No. 6 Jessie Thomas Huckey, 2003
"Mark Longo set the standard of the winning culture for QND girls soccer. He had high expectations for his players that allowed us to become better soccer players and people. Longo is the face of QND girls soccer, and the successes he had year after year is a testament of his dedication to his players and the program."
— No. 21 Cassidy Foley, Class of 2014
"Coach Longo's enthusiasm and dedication for the sport, his athletes, and the QND Lady Raider program has made lady raider soccer what it is today. Without his winning mentality and ability to make the game fun, I don't think we would have as much success as we did as players. Congrats to Longo on his retirement and wish him the best!! RSKA!"
— No. 8 Riley Hummert, Class of 2016
"Mark Longo cared so much about every single one of his players over the years. Whether you were one of his star players or someone who had never touched a ball before, he made sure you felt like you belonged on the team."
— No. 7 Hannah Peters, Class of 2018
"Mark Longo is retiring and it is bittersweet. He has been an integral part of QND women's soccer athletics program for so long. Coach Longo has been an incredibly positive influence on so many of us. He led many of his teams to state victories and remained in contact with players even after their time at QND. He never missed an opportunity to reach out and wish me good luck on my collegiate games or offer his support through my knee injuries. He genuinely cared. That is what makes him so unique to the girl's soccer program. At the end of the day, when you are done playing soccer, you might not remember the score, but you will remember who was there to support you. He created a legacy that will be felt for years to come. While I am happy for him to move on to the next chapter of his life, it is hard to imagine the school's sports program without him."
— No. 19 Erin Barnes, Class of 2019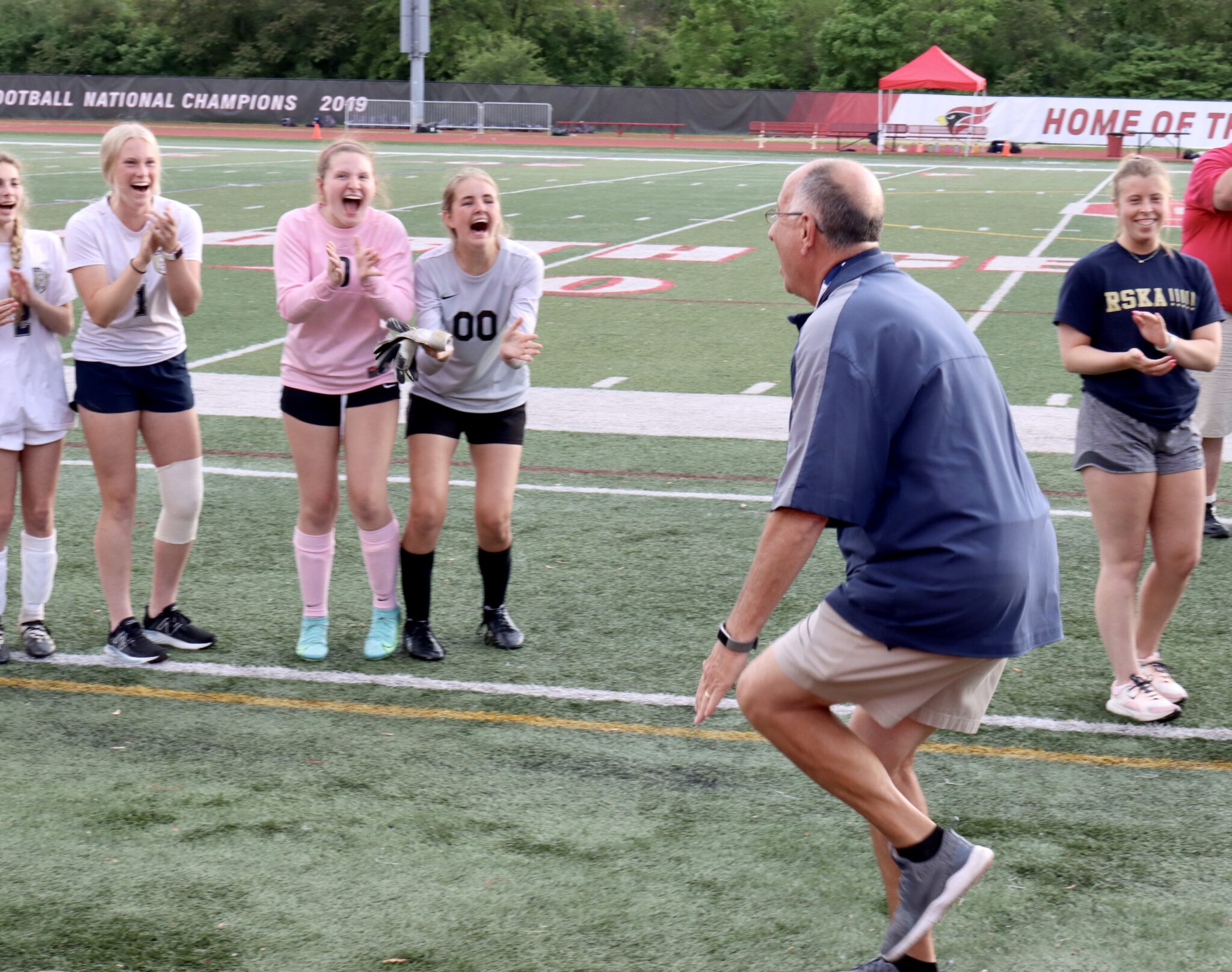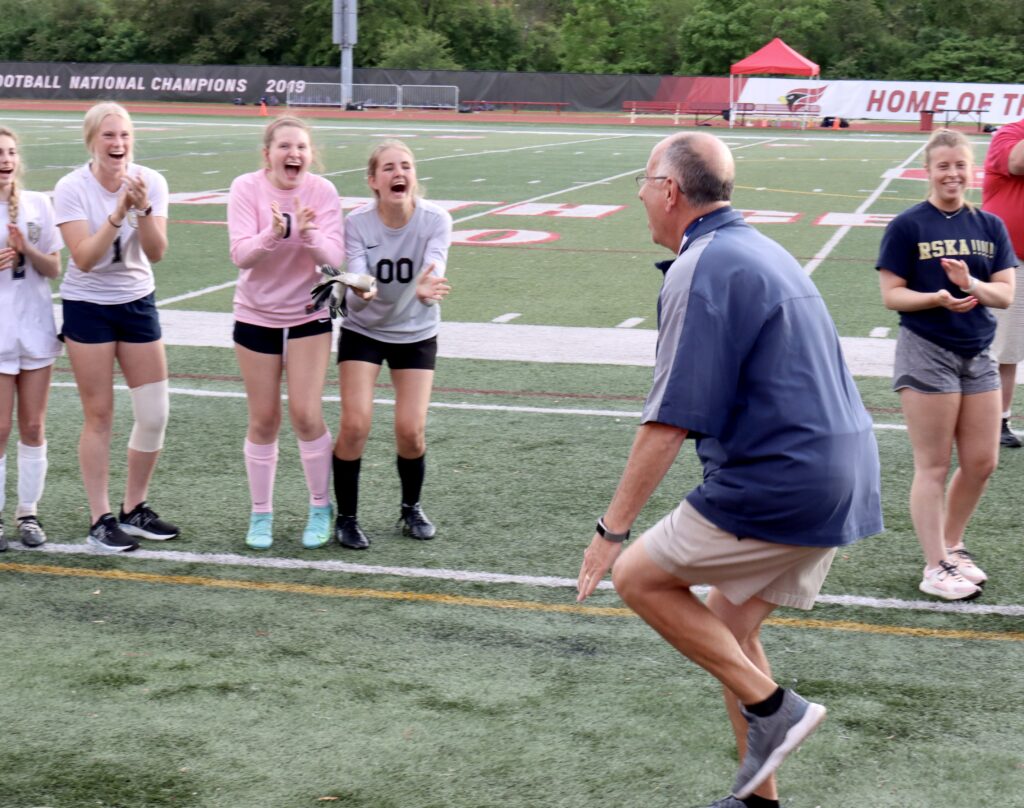 Miss Clipping Out Stories to Save for Later?
Click the Purchase Story button below to order a print of this story. We will print it for you on matte photo paper to keep forever.